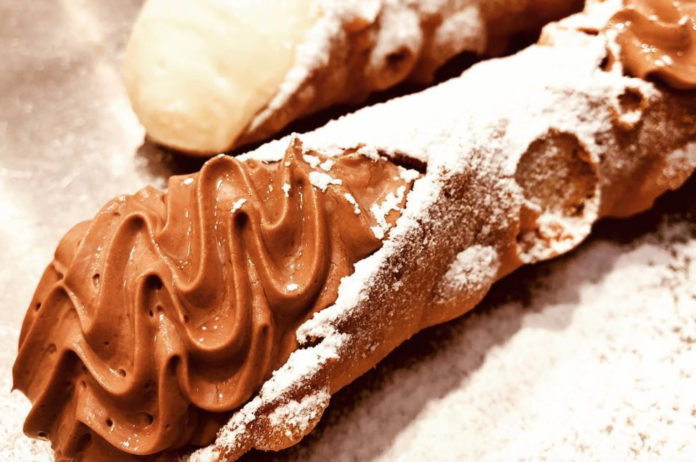 When Italians hear the name Caruso, opera comes to mind. "The man with the orchid-lined voice", Enrico Caruso, was one of the first musicians to document his voice on recordings, and through he died relatively young, he was the most admired operatic tenor of the early 20th century.
In 21st Century Sydney, it seems the name Caruso is again on people's lips, not just Italians this time, because of what's passing through the lips – delectable Italian delights like continental and gelato cakes made to order for all occasions, and now also via a thriving cafe in Wetherill Park which brings together the sweetest aspects of Italian cuisine with the pleasures of (Italian-inspired of course) Australian cafe culture.
In the bustle that is Pasticceria Caruso, I discover there's a little bit of show business at play once again in the Caruso name. Their famed Cannoli Bazooka filled with 50 mini cannoli, is a worthy rival to Black Star Pastry's strawberry watermelon cake as most instagrammable dessert in Sydney, while they now have Australia's first Cannoli Truck winning over the kind of #foodierazzi who will only eat food if it's served to them from a roadworthy vehicle.
View this post on Instagram
Spreading the appreciation of cannoli to new audiences at events such as the Bella Vista Farm Foodtruck Festival, the Peakhurst Night Markets and the Ramsgate Growers Market via their Cannoli Truck is all part of the steadily out-rolling visions of Giuseppe Caruso, which includes the opening of a new Pasticceria Caruso in Rhodes.
The Caruso showbiz spark doesn't end there, signore e signori, because Pasticceria Caruso have also been closely involved in the setting of a Guinness world record for the most cannoli eaten in 30 seconds demolishing the old record by quite a few mouthfuls.
They're also pretty famous in the Sydney Western Suburbs for their radio ads on Smooth FM which Giuseppe's 12-year-old son Christian has been delivering since he was eight.
"There's no call to action in the ads," Giuseppe admits. "They're mostly just my son talking about what his dad's been up to."
Can young Christian's affecting radio voice take the Caruso name to heights yet imagined? There's just one more Caruso to out-point, the alpine chirrups of The Whistling Caruso gloriously rendered by The Muppets.
It's been a colourful ride so far, and a fast ride considering it was only six years ago Giuseppe opened a factory producing Italian cakes, and their Stockland Mall Wetherill Park cafe now turns over 10-15 casual seatings per day. They're selling hundreds of sumptuous continental cakes per week, and people can still collect cakes from their factory seven days a week.
Indeed when it comes to cannoli, Giuseppe reveals they're making about 3500 per week, and they're supplying their cakes wholesale to a number of cafes and cake shops around Sydney. One of their secrets is working with boutique PR agency Rojo Consulting which came about because they lived next door to Giuseppe's mum – leading to these adventures in publicity & entertainment that a few more Sydney cafes could learn a bit from.
"We think of ourselves as the cake version of Willy Wonka & The Chocolate Factory," Giuseppe confesses, being sufficiently perfectionist about the brand they're building that they ensure their two refrigerated Caruso trucks are washed twice a week to ensure the lustre is never dimmed.
View this post on Instagram
Their 8 full-time staff in the Caruso cake factory use a couple of hundred kilograms of ricotta each week producing continental cakes, ricotta strudels, ricotta cakes, limoncello cannolis and other Italian small cakes as well as "cakes that Italian oldies used to eat as kids which we're now bringing back and selling to the younger generation".
The cafe prides itself on using a lot of products from the shops which surround it, as well as getting through about 30-35 kilos of Vittoria Coffee each week which is pretty awesome considering they've got 6 other coffee outlets within cooee of their cafe. They also serve Bondi Chai and a range of teas and soft drinks including Chinotto and San Pellegrini sparkling mineral water.
Pasticceria Caruso
Ph: (02) 9604 1703
Kiosk 8 Stockland Mall, Wetherill Park
www.pasticceriacaruso.com.au
facebook.com/pasticceriacaruso
instagram.com/pasticceria_caruso