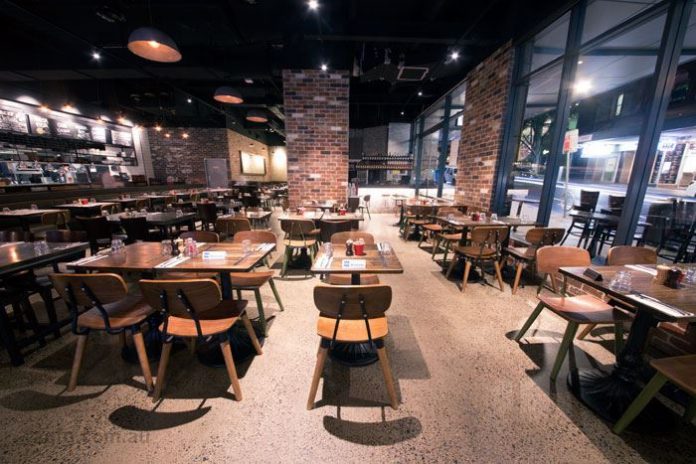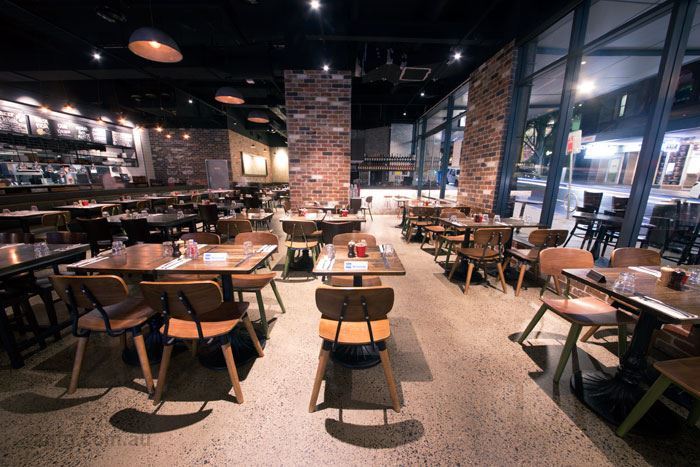 Italian cafes and restaurants abound in Sydney because Italian food is simply delicious and the people making it are generally dedicated & passionate about their craft. Whether you're looking for pasta, wood-fired pizza or other delicacies, the places below are many of the best …
Olio Kensington Street
210 Kensington St, Chippendale Ph: 02 9281 1500
Italian food is more than just pizza and heavy creamy sauces. This is what Olio Kensington Street (which means olive oil) is bent on showing Sydney locals. Award-winning, Sicilian-born Chef Lino Sauro highlights seasonal seafood, couscous, saffron and local ingredients in his menu. Vegetarian friendly and degustation menus are also available.  olio.kensingtonstreet.com.au  facebook.com/Olio.Kensingtonstreet
One Ford Street
1 Ford St, Balmain Ph: 02 9818 4232
Modern Italian and Mediterranean dishes is what you can expect at One Ford Street in Balmain. The food and setting takes you to Europe and the Mediterranean. The outdoor area could be a fast favourite spot. They have gluten free options and vegetarian friendly menu featuring seasonal produce and awesome seafood and incredible wine. onefordstreet.com.au  facebook.com/OneFordStreet
Otto 
Area 8, 6 Cowper Wharf Road, Woolloomooloo Ph: 02 9368 7488
Expect to be dazzled with Otto's harbour location. A modern Italian restaurant, Otto is beloved because it has more than Italian food and have something for everyone. It is vegetarian friendly with gluten free and vegan options. Kid friendly and with outdoor seating, Otto has a full bar where you could order your fancy. A Sydney dining experience is never complete if you have not had the Otto experience. ottoristorante.com.au/sydney  facebook.com/ottoristorantesydney
Pilu at Freshwater On the Beach Moore Rd., Freshwater  Ph: 02 9938 3331
If you are up to tasting the wonders of regional Italian Sardinian cuisine, drop by Pilu at Freshwater. Set in a heritage listed Beach house the food is the perfect complement to the stunning scenery preparing only the freshest locally sourced ingredients cooked in contemporary Italian style. They are open for lunch and dinner and have several function spaces for special events. pilu.com.au  facebook.com/Piluatfreshwater
The Restaurant Pendolino Shop 100 Level 2  The Strand Arcade 412-414 George St., Sydney Ph: (02) 9231 6117 Pendolino Restaurant is an established Italian fine dining restaurant in Sydney's Strand Arcade which has vegetarian, vegan and gluten-free options, a full wine bar and features a range of artisanal pasta handmade fresh everyday. Their venue is open for functions and events and is even wheelchair accessible. facebook.com/PendolinoStrandArcade  pendolino.com.au
Rosetta Ristorante 118 Harrington St., Sydney Ph: (02) 8099 7089 Elegance and sophistication are the defining attributes of Rosetta in Sydney. Their food is as exquisite as their surroundings focusing on the freshness of the ingredients with classic Italian cooking and seafood course. They serve lunch, dinner and drinks which inclues classic wines that will go well with your choice of dishes.  facebook.com/rosettaristorante  rosettarestaurant.com.au/sydney/home
Sagra Restaurant 62 Stanley St, Darlinghurst Ph: 02 9360 5964
Sagra in Italian is a time to celebrate a single seasonal ingredient and enjoy it at its peak with the community. A meeting of food, community and culture which is the key essence of Sagra restaurant. Their menu changes depending on fresh local produce and the bet ingredients to give you the best dishes on a daily basis. sagrarestaurant.com.au facebook.com/sagrasydney
Sotto Sopra G04/316-324 Barrenjoey Rd, Newport Ph: 02 9997 7009 Translated as 'upside-down' expect some surprises from this relaxed Italian Trattoria on the beach. They have vegetarian and vegan options as well as being fully licensed with the Coravin system in place to ensure access to exceptional wines. Enjoy your food a la carte or on the more Italian style of sharing, tasting, feasting. sottosopra.com.au/ facebook.com/sottosopranewport
Uccello Level 4, 320 George St, Sydney Ph: 02 9240 3000 A rooftop setting, poolside and every dish a knock out, this is Uccello. Offering seasonal produce with an Italian flare, their menu boasts of a taste of a truly authentic Italy. Their lavish surroundings and relaxing atmosphere makes it a popular spot for clubbing and client meetings. Uccello boasts of an amazing list of wines to complement your meals. It might become a tad more lively later in the night. merivale.com.au/uccello facebook.com/UccelloRestaurant
Via Alta 197 High St., Willoughby PH 02 9958 1110 Via Alta is an Italian-style trattoria with vegetarian options that offers classic Italian flavours and serves breakfast, lunch, dinner and coffee. The menu changes seasonally but remain true to the essence of northern Italy. BYO wine is permitted although they do have a wide range of Italian wines to compliment your choices.  http://www.viaalta.com.au/ facebook.com/viaaltawilloughby
The Welcome Hotel Dining Room 91 Evans St, Rozelle 02 9810 1323 The Welly, as this place is known by the locals, has been given the name because legend says, that the original owner welcomed warmly an Irishman and his dog Winston. The Welcome is living up to its name on excellent hospitality, exciting Italian cuisine, a space to feature craft beer dedicated to local brewers. Here you will find that you're always welcome at The Welcome.  thewelcomehotel.com.au facebook.com/TheWelcomeHotel
The Sawmill Italian Cafe & Restaurant 7 Duneba Ave, West Pymble Ph (02) 9498 6565 The Sawmill Cafe, Restaurant & Pizzeria pays homage to the history of the Pymble area via the use of natural and recycled timber throughout its space. Pymble and its surrounding areas was once a major supplier of timber to the early Sydney colony. True also to its Italian tradition, the Sawmill maintains a feeling of warmth in the food lovingly prepared and served from the freshest of produce, as well as their warm-hearted service which ensures diners feel very comfortable. Much recommended in the evenings are their wood-fired pizzas. "Absolutely amazing. We had driven 13 hours from Queensland and arrived almost on closing. The staff tailored food to what they could do and served us with professionalism and a warmth you only see in the best restaurants. Absolutely fantastic, we will be back!" – Kieran.
Macchiato 338 Pitt St, Sydney NSW 2000 Ph: 02 9119 7761 http://macchiato.rtrk.com.au Got a craving for traditional wood-fired pizza? Macchiato offer delectable pizzas with slow-rise crusts and a variety of innovative gourmet toppings. Then wash it down with a fortifying creamy coffee. Home of top-notch pizza, pasta and coffee, along with speedy, friendly service in a stylish and relaxing atmosphere.
Criniti's http://www.crinitis.com.au/ 291 Church St | Parramatta, Sydney, New South Wales 2150 Ph: 1300 274 648 The only restaurant of its kind in Sydney that offers 1 meter pizzas with your choice of up to 3 varieties of toppings. They have anything and everything from BBQ ribs to wood-fired pizzas; from risottos to pastas and calzones to salads. For Frank Criniti: "Hospitality' of the south and the genuineness' of his kitchen for us restaurateurs are still sacred."
Bondi Trattoria http://www.bonditrattoria.com.au/ 34 Campbell Parade Bondi Beach NSW 2026 Ph: 02 9365 4303 Located at the south end of iconic Bondi Beach, Bondi Trattoria offers an exceptional menu, a fusion of Italian and modern Australian cuisine, in the relaxed and newly refurbished surroundings. Whether for breakfast, lunch or dinner, a coffee, snack, or evening meal, 7 days a week Bondi Trattoria continues to maintain its reputation for great service, fresh quality food and of course the sensational views.
Ristorante Italiano 360 http://www.360italian.com.au/ Rocky Point Rd Sans Souci, NSW 2219 Ph 02 9529-4933 Ristorante Italiano 360 embraces you with Southern Italian warmth and hospitality from the moment you arrive. They take pride in their fresh pastas, first class meat, poultry and game, succulent seafood & delectable desserts, all hand crafted to gratify your tastebuds.
Alfredo at Bulletin Place http://www.alfredo.com.au Bulletin Place – City Sydney NSW 2000 Ph: 02 9251 2929 Bulletin Place has returned to its glorious days with Alfredo's authentic Italian restaurant. They do all the favorites, from oysters to beef carpaccio, risottos to hearty steaks. They had been recognized as one of the best Italian Restaurants in the World by the President of the Italian Republic.
Appetito http://www.appetito.com.au/ 135 George St, The Rocks NSW 2000 Ph: 02 9247 1920 Superbly located in the heritage precinct of Sydney, Appetito features floor to ceiling glass windows enabling you to relax and soak up the beautiful surroundings. A warm ambience, innovative Italian cuisine and excellent service ensure a memorable dining experience.
Rossini at the Quay http://www.rossini.com.au/ Shop W5, West Podium/ Young St, Sydney NSW 2000 Ph: 02 9247 8026 Named after composer Gioachino Rossini, the restaurant's vibrant atmosphere and tempting menu has made it a renowned eating place for over 24 years. Whether you're looking for a quick coffee or glass of wine before catching the ferry, a meeting point for a snack with friends or a three-course meal before the opera – Rossini Cafe/Bar/Restaurant is the place to be.
A Tavola – Bondi http://www.atavola.com.au/ Shop 2 / 75-79 Hall Street Bondi NSW 2026 Ph 02 9130 1246 The inspiration for A Tavola (meaning "to the table") derives from head chef and owner Eugenio Maiale's childhood. He invite diners to share his childhood experience and understand the beauty and simplicity of good homemade pasta. The labour intensive process of making manmade pasta, such as maccheroni alla chitarra, is repaid in full by the freshness of the finished product.
Essenza Italian http://essenzaitalian.com.au 560 Crown St, Surry Hills Sydney Ph: (02) 9698 8907 Like a Tuscan trattoria, Essenza Italian offers a warm and rustic setting whilst maintaining a commitment to traditional Italian cuisine as shown in its selection of breads, pastas, salads, steaks, veal, chicken and seafood specialties. Be a VIP at Essenza Italian for the night with an open and comfortable atmosphere but providing an intimate feel.
Italian Village http://docksidegroup.com.au/restaurants/italian-village 7 Circular Quay W Sydney NSW 2000 Ph: 02 9247 3666 Italian Village offers an extensive international menu. Executive Chef, Adam Birtles has combined popular modern Australian cuisine with a hint of Greek, Mexican, Asian and Indian infused specialties, as well as the restaurant's traditional Italian favourites.
Livoti's Trattoria, Deli & Panino Bar 13-15 Francis St, Dee Why Ph: (02) 9981 3550 Livotis offers quality Italian food at a reasonable price in Dee Why on the Northern Beaches. By far one of the best Italian restaurants in the area, very authentic Italian. Generous sizes and very reasonable prices. The garlic bread is mouth watering, bococcini salad is awesome, as is the calamari and the garlic prawns. For something simple, go the neapolitana penne or basil pesto. Mouth-watering is the best way to describe their food. You can not go past the family atmosphere and Facebook fans say "OMG the food". Authentic and real and loads on a plate, if you want Italian and by that we mean a real Italian experience cooked with love then Livoti's is the place for you. The tiramisu is one of the best in Sydney.
42 Bannerman Trattoria e Bar http://www.42bannerman.com.au/ 42 Bannerman Road Glenhaven NSW 2156 Ph: 02 9899 5608 The trattoria is specifically an Italian institution more akin to an eating club than a conventional restaurant. There are no menus and always casual service. The food is made on the premises from what is grown and gathered from the local farms assuring the local clientele, they are eating fresh and always local seasonal produce cooked to order.
Angelo's on the Bay http://www.angelosonthebay.com.au/ Prince Edward Park, Phillips St Cabarita, NSW 2137 Ph: 02 9743-2225 Angelo's on the Bay affords panoramic water and park views from its Federation style building in Prince Edward Park. Boasting innovative seafood cuisine prepared by Chef Mario Pedavoli, a visit to Angelo's promises to be very memorable. Its floor to ceiling glass windows enable you to relax and fully enjoy the surroundings, or you may choose to dine "alfresco" on the verandah.
Buzo Trattoria http://www.buzo.com.au/ 3 Jersey Road Woollahra NSW 2025 Ph:(02) 9328 1600 Buzo Trattoria is an award winning Italian Restaurant in Woollahra / Paddington, East Sydney. Great restaurant with warm and relaxing atmosphere, fine dining, top wine list & friendly staff.
Otto Ristorante http://ottoristorante.com.au/ 6 Cowper Wharf Road Woolloomooloo 2011 Ph 2 9368 7488 Otto Ristorante reinvents the flavours of Italy in stylish new forms. Accompanied by amazing service, attracting local and international acclaim for its ambience and style, Otto is one of Sydney's most popular and best-loved restaurants, providing guests with the unparalleled "Otto experience."
The Restaurant Pendolino http://www.pendolino.com.au/ Shop 100, Level 2, The Strand Arcade/412-414 George Street Sydney NSW 2000 Ph 02 9231 6117 Pendolino specializes in regionally-inspired Italian cuisine featuring some of Australia and Italy's most prestigious extra-virgin olive oils and food and wine products. Beyond these amazing olive oils the Restaurant Pendolino features a range ofartisinal pastas made on the premises in a dedicated pasta kitchen with all pastas made from flour and organic eggs.
Popolo http://www.popolo.com.au/ 50 McLachlan Ave. Rushcutters Bay NSW 2011 Ph: 02 9361 6641 Popolo in Italian means people – and that's whom this Sydney restaurant is built for. Popolo's food philosophy embodies the diversity of the Italian regions surrounding the Tyrrhenian Sea. In these regions there's a stark simplicity to the pastas, meats, seafood and pizzas. They offer an authentic and memorable dining experience with a total focus on exquisite produce.
Icebergs http://www.idrb.com/ One Notts Avenue Bondi Beach, NSW 2026 Ph: 02 9365 9000 Maurice Terzini now heads the Italian charge at Icebergs Dining Room and Bar. A cherished encounter enhanced by the inspired cuisine of Icebergs Dining Room and Bar in an atmosphere of relaxed elegance. Every guest is invited to appreciate the uplifting experience afforded by such a rare location.
Ristorante Buon Ricordo http://buonricordo.com.au/ 108 Boundary Street, Paddington NSW Ph: 02 9360 6729 Buon Ricordo (Italian for Good Memory) opened in 1987 dining at Buon Ricordo invokes a feeling of warmth and intimacy. The menu is a blend of classical dishes that reflect the traditional, authentic flavours and techniques of Italian cuisine and head chef Armando Percuoco's signature dishes.
Lucio's http://www.lucios.com.au/ 47 Windsor Street Paddington NSW 2021 Ph: 2 9380 5996 Lucio's Italian Restaurant was established in Paddington in 1983 and enjoys a remarkable reputation for exceptional Italian food and magnificent Australian Art. The combination of great food, great service and great art on the walls is one of the best dining experiences you can imagine.