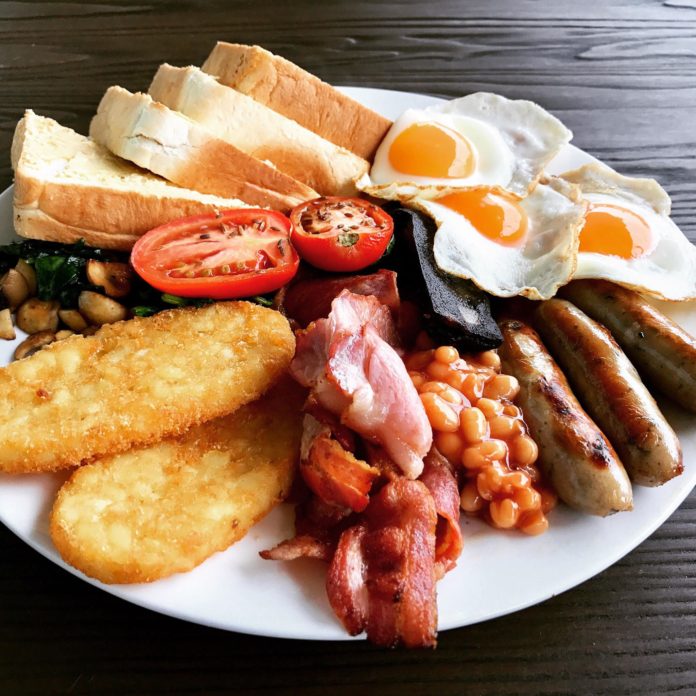 In the quaint urban village of Dulwich Hill there's a wide assortment of cafes, from trend-setters such as Sideways which seems to mainly cater to local mums-with-prams, to The Stable which sets a perfect scene for digital gypsies with laptops, to Bar Valente which seems to take coffee most seriously of all. But then just around the corner from the Strawberry Fields patisserie, which is awesome, is a cafe which has also found its own necessary niche – the "home of Suburgia" – welcome to the nichely-unique one and only Shoe Chef Cafe.
What makes The Shoe Chef Cafe different from all the rest is its appeal to genuinely hungry people. Don't just think Big Breakfast, think Mega Brekky. Think burgers of the most gloriously spectacular variety or think Schnitty Benedict, an orgasmic pairing of chicken schnitzel with eggs and Hollandaise sauce that somehow no chef ever thought of before? Divinely optimised for addictive pairing with one's taste buds.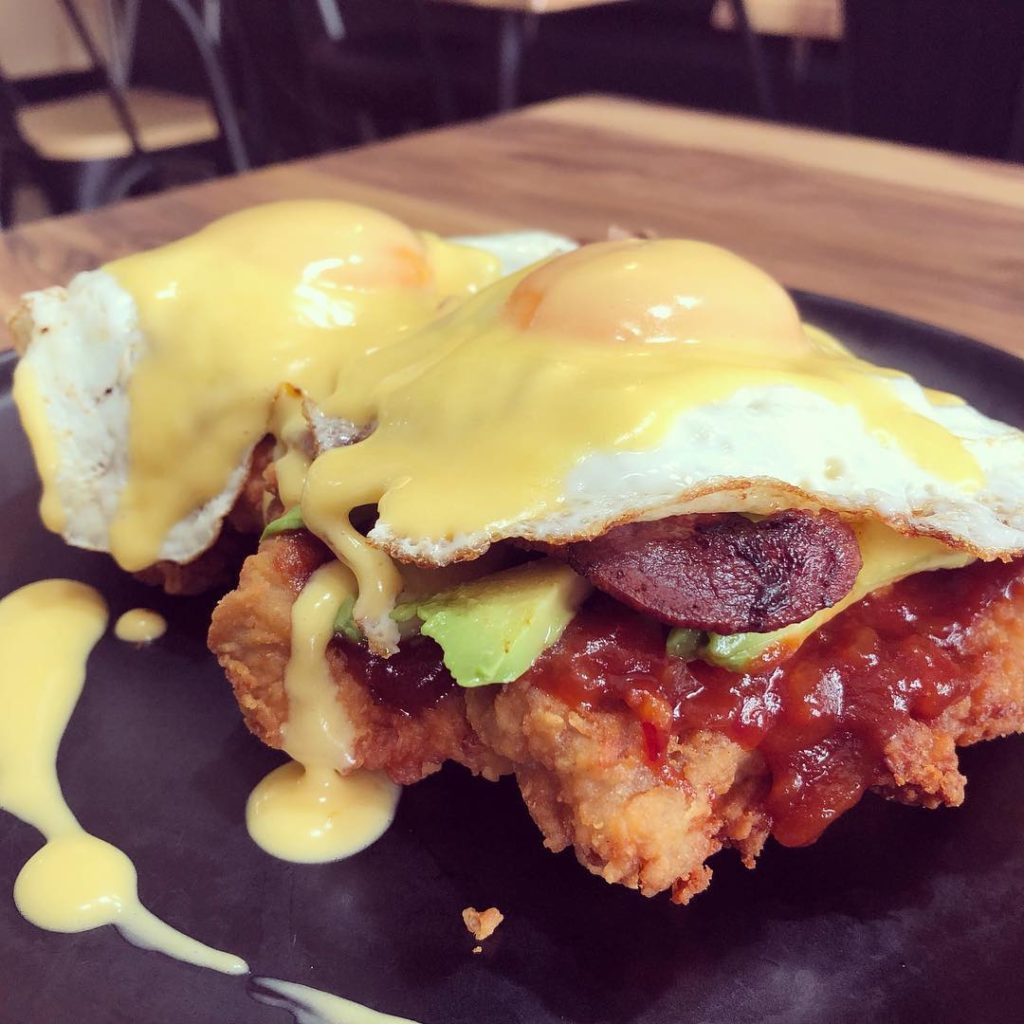 Owner Mike Jeffries started The Shoe Chef Cafe three years ago with a clear intent – to be homely and hearty, to not change the foodie universe, and to deliberately not be a hipster cafe, nor to have any healthy options on the menu … on this last matter, there's a tipping of hat to vegans, vegetarians and some of the options are accidentally healthy, possibly anyway.
He's been tempted to call their Big Breakfast "the Dirty Breakfast" to clearly differentiate it from clean eating. "We're not an Acai place," he states, "there's no kale smoothies, no quinoa." Instead he proudly declares "we've been encouraging heart attacks from day one."
But then this Salpicon is quite the schizz when it comes to a healthy snack defying the mission statement: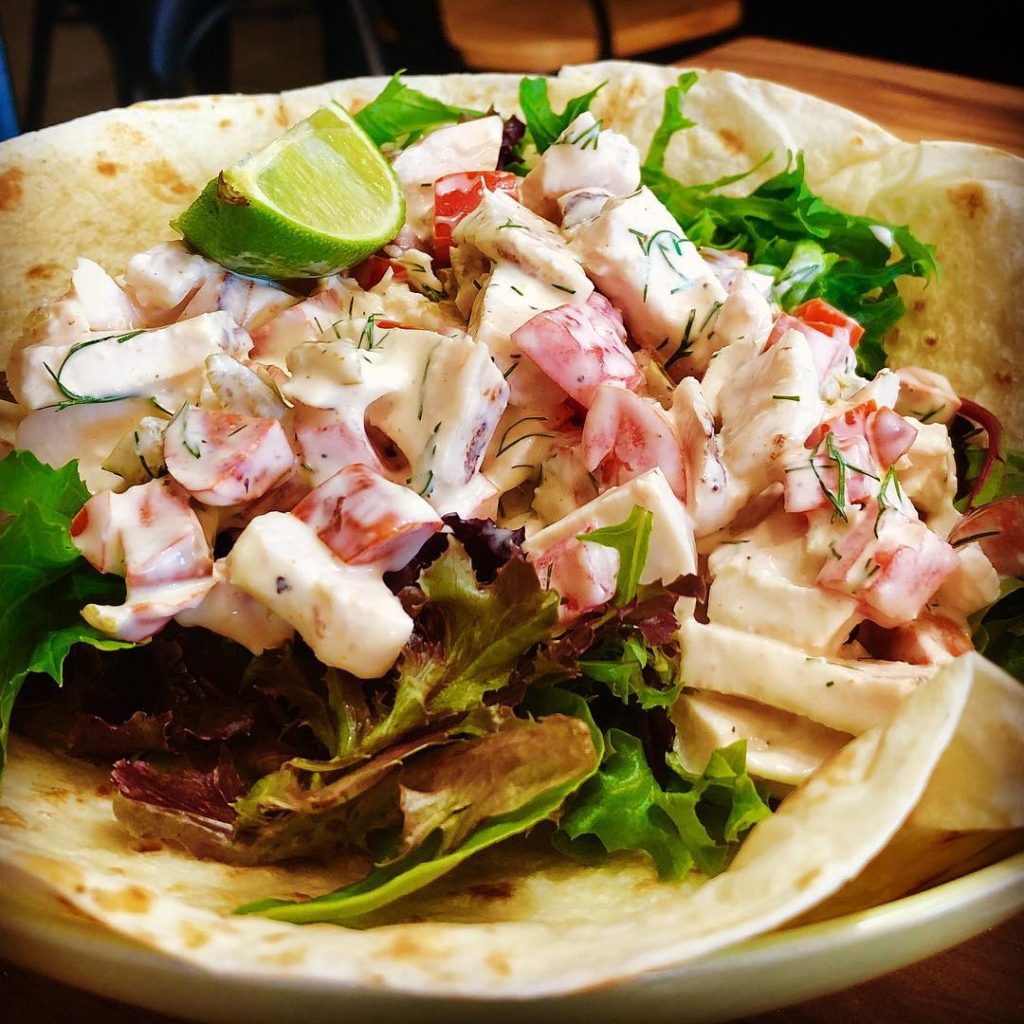 The Shoe Chef Cafe harbours, somewhat like a pair of socks within the shoes, an extra layer of functioning hospitality concept – and one which has captivated burger lovers in the Dulwich Hill area so much that word of mouth means they come from places afar like Marrickville, Hurlstone Park, Canterbury, Lewisham, Summer Hill, Parramatta and even Newtown, Glebe and Parramatta.
It's known as Suburgia – and its a Thursday, Friday and Saturday night "burgers and beer" extravaganza between 5-9pm. The burgers are burgier at Suburgia. It's a bit of a local craze – but you can still join it – burgers and hotdogs for aficionados of gourmet burgers which satiate the soul as well as the waistline.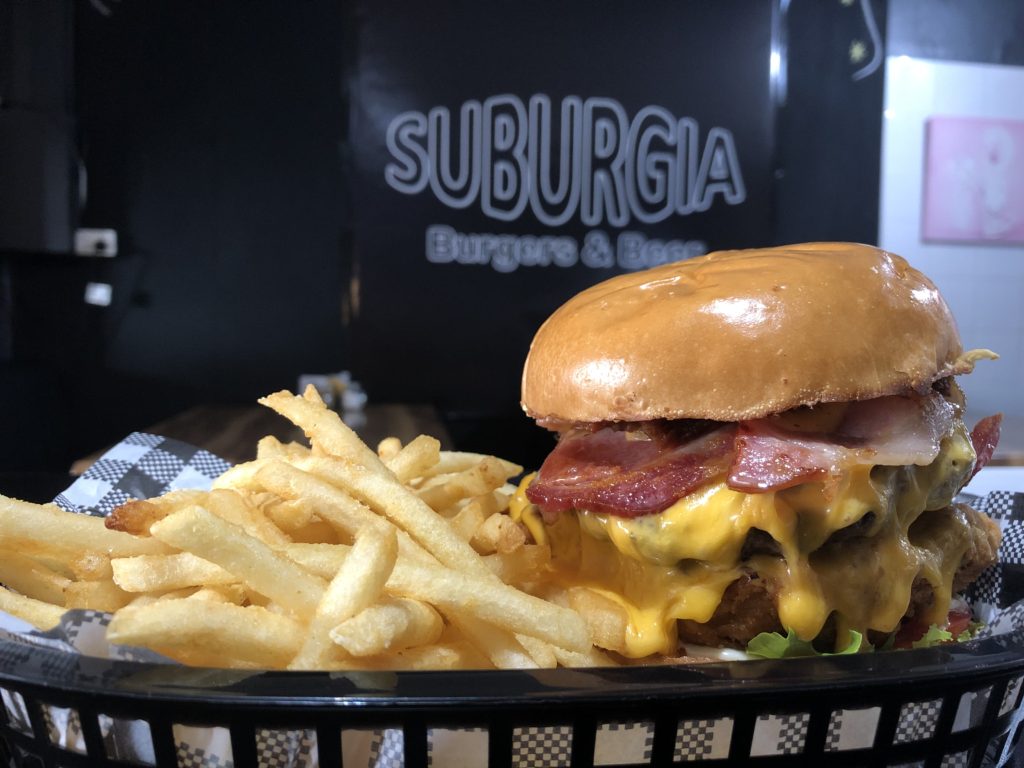 Outside the main agenda, you can skirt around the edges of The Shoe Chef Cafe's most assertive menu items and instead of banana bread, why not try their home-made pear raspberry bread, instead of their smoothies or frappes, why not have an blood orange bitters to wet your whistle, instead of coffee, why not indulge in a Bondi Chai and instead of a Salpicon El Pollo, why not indulge in their Croque Señorita?
And why the name The Shoe Chef Cafe? Mike confesses to have an obsession with shoes – he owns 262 pairs! This Imelda Marcos of the Inner West also created his own shoe range and sold 500 pairs to shoeminaries such as Russell Crowe and Glenn A Baker.
The Shoe Chef Cafe
Ph: (02) 8068 6107
426 New Canterbury Rd
Dulwich Hill
https://www.facebook.com/ShoeChefCafe
https://www.instagram.com/theshoechefcafe