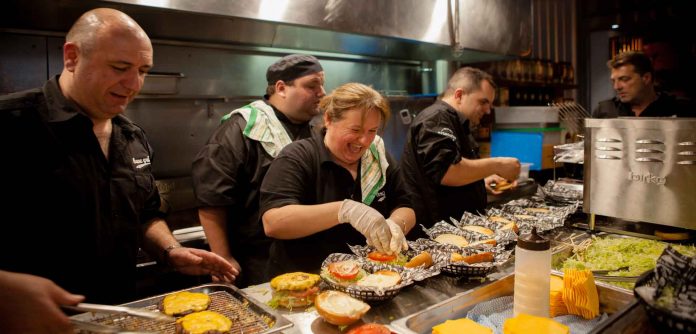 High on the list of things we thought we'd never see is a burger joint being one of Sydney's most in-demand places for a Valentine's Day dinner. But, dear Sydneysiders, this has now come to pass. Suddenly beefy burgers, and perhaps most intimate of all, Bare Grill on Bourke's Epic Mac & Cheese are the epitome of romantic dining – who woulda thunk it?
Originating in La Perouse, a cafe that does a roaring trade to this day, Bare Grill On Bourke had some work to do winning over Surry Hills locals when they opened on Bourke St in October 2016. And the first six months weren't easy. Sydney inner east people know what they like, and what they like most of all is cosy little bars where they get the perk of inhaling the fumes from everyone else's cocktails, that's how close they are to them.
A surprisingly spacious venue, that's a little unexpected for a start. And a place that does the southern hemisphere's most indulgent burgers, this was not what Surry Hills was meant to be about. It seems it is now.
Take for example their Grizzly Bare – four beef patties, four American cheddar, four bacon, Bare sauce, served with a side of fries. Can anyone match this?
Bare Grill can. For them it's simply not enough. Their menu also includes, for die-hard burger types, the Randy Santel Challenge – the ultimate Death burger – 10 patties, 10 cheese, 10 bacon, Bare sauce, milk bun, 3 cheeseburger spring rolls, 6 buffalo wings, mac & cheese, fries. Is this dish even legal? Currently it is. Get in and try it before it's banned.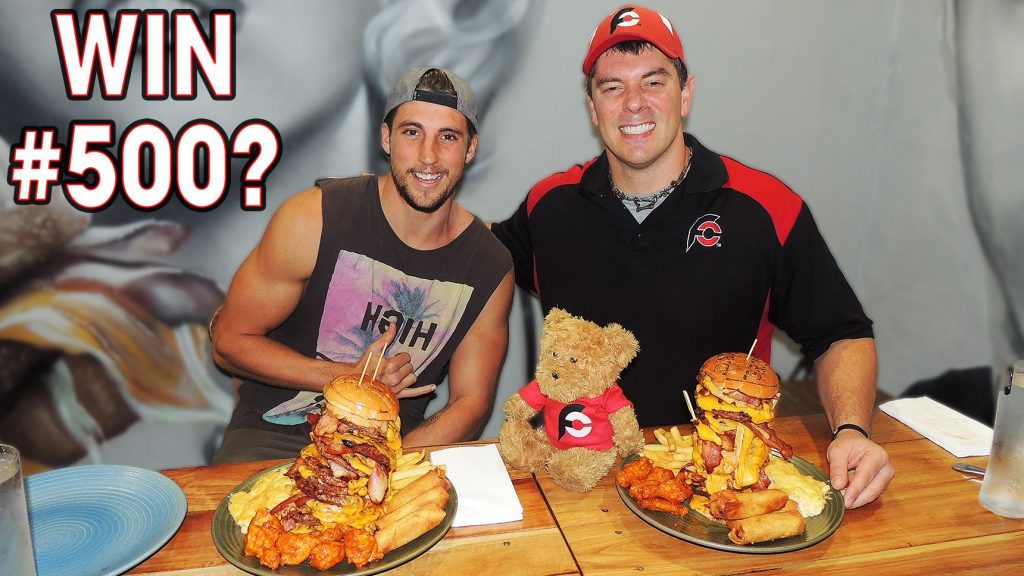 Of course … draw your collective breath everyone … for most diners, more humble gastronomic creations are en vogue. The Bare features just one patty, one American cheddar, caramelised onions, lettuce, tomato and Bare sauce. This seems to be enough for most, but there are some sumptuous and not necessarily over-indulgent alternatives.
The Cure was one we enjoyed on a recent visit. Double beef patty, jalapeño, bacon, hash brown, four American cheddar, gherkins, fried egg, Bare sauce.
Owners Manuel and Joe, and their dedicated staff, have won over the local community and we suspect we know a couple of reasons why.
Firstly, their diners are mostly buffed. These diners are fit, they're gym enthusiasts if not outright junkies. And therefore, working out all the time, they're ravenously hungry. These people don't want little luxury high-end-dining morsels. A gym-induced hunger needs serious attention.
Secondly, it's the raclette. Your burger is served, it looks amazing … then suddenly the waiter appears, massive loaf of Swiss cheese in hand, the top layers of which are molten. Mmmm is that for me? With your permission, he generously scrapes the molten cheese directly onto the top of your burger. This is apparently what us inner-East Sydneysiders have wanted in our lives all along. We've wanted it on our burgers, but Maccas and HJs, so imprisoned by their formulas, have been unable to offer it. Finally it's taken a young upstart like Bare Grill on Bourke to lead the field far into the new millennium.
And that, dear friends, is love. Blokes can burger-fest together and have a bromance. And they say couples who keep feasting together, keep beasting together. So Bare Grill on Bourke has got all the right ingredients. For mine, I partook of the Miss Piggy because, call me ever-so-2016, I'm still in love with pulled pork. So Miss Piggy's combo of pulled pork, coleslaw, homemade BBQ sauce and jalapeño was always going to hit the spot.
Having recently become licensed, they have a great selection of wines and their mixologist James produces excellent cocktails. And then there's the desserts – well of course, Bare Grill On Bourke has no intention of letting the intensity slip when it comes to the size and taste of their "creations" you might call them. The phrase "leave some room for dessert" has never needed so much dissection – firstly, if you've gone hard earlier, how can you have space for dessert? Secondly, how much space have you got?
Thundering Applause
"The staff at Bare Grill are amazing. Coming up with extremely innovative food ideas, such as raclette cheese melted onto burgers, cheeseburger spring rolls, and some amazing mac and cheese." – Jesse.
"The food is amazing and the plate-up is divine. Their different entrées are a culinary experience that can't be missed. Cheese burger spring rolls 5 stars. Mac n cheese 5 stars. Raclette anything 5 stars. They tasted so good! The head chef clearly takes pride in his work. The ambience has always been peaking every time I've been there. Not a sad face. The chef to customer report is fantastic. Very friendly. The vibe is a good representation of the Surry Hills' cuisine scene." – Jessica.
"The best hamburger in all over the world ever! I strongly recommend this place!" – Antony.
Bare Grill on Bourke
Ph: (02) 8964 4214
15/425 Bourke St, Surry Hills
www.baregrillcafe.com.au
facebook.com/baregrillonbourke
instagram.com/baregrillonbourke