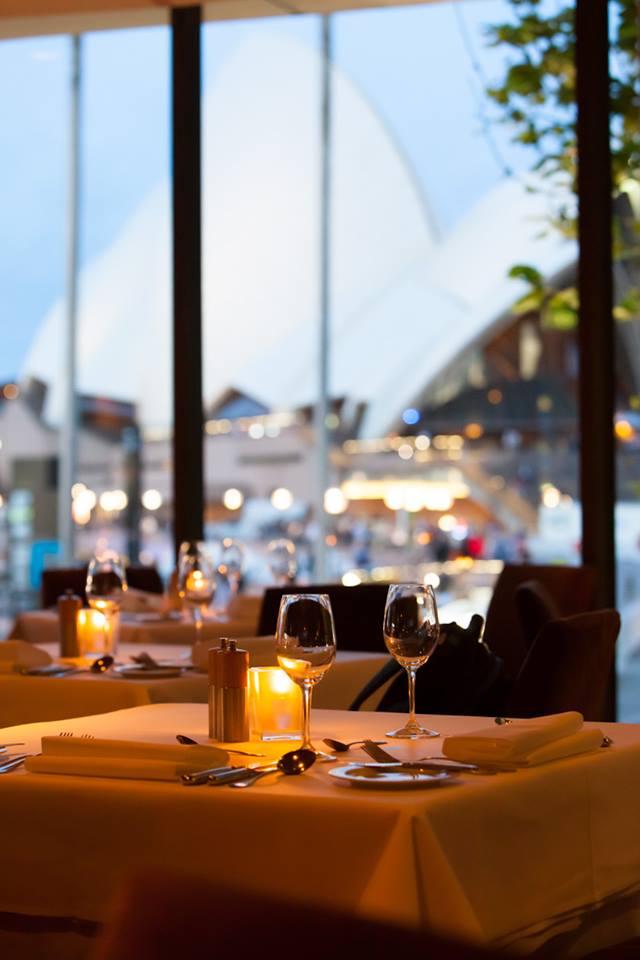 A wonderful choice if you are planning to have dinner with a hot date in Sydney
Aria
1 Macquarie St, East Circular Quay, Sydney Ph: 92522555
www.ariarestaurant.com
If you are planning to have a romantic dinner with your loved one, you would certainly want a place with a great view. Aria Restaurant could definitely be your best choice. Since it is very close to the Opera House, you could already tell that it provides you a great view while enjoying your dinner. If you are planning to go to the Opera House later to watch its special shows, then this is the restaurant that could surely be the best place to wait for showtime.
Bather's Pavilion
4 The Esplanade, Balmoral, NSW Ph: 99695050
www.batherspavilion.com.au
The Bather's Pavilion is a very beautiful restaurant that is located at Balmoral Beach. This may even be your choice if you are planning to have a date by the beach. The food here is great and bringing your special date here can indeed be impressive. What makes it even more appealing is that the restaurant gives you a very wonderful view of the ocean. If you love seafood so much, you would surely be surprised at the number of choices here.
Billy Kwong
Shop 3, 355 Crown St, Surry Hills, NSW Ph: 93323300
www.kyliekwong.org/billykwongs.aspx
Just by the name of this restaurant, you could easily tell that this specializes in Asian, particularly Chinese cuisine. Indeed, you could try to impress your date by introducing her to a number of Chinese dishes that she may not have even tried yet. It is not just the food that is great. The interior of the restaurant actually possesses an oriental aura. With the furniture and the design of the interior, you could surely imagine yourself being in China.
Bistro Moncur
Woolahra Hotel, 116 Queen St, Woolahra Ph: 93632519
www.woollahrahotel.com.au
A date in a French restaurant is a sure-fire formula to make your date like you even more. This is what you would definitely experience once you go to Woolahra Hotel and enter its restaurant, Bistro Moncur. This restaurant specializes in French classics, which are foods that are definitely mouth-watering and yet elegant. Aside from this, the restaurant takes pride in its wide variety of French and Australian wines. These would go well with the food that you order from the restaurant.
Blue Orange
49 Hall St, Bondi Beach, Sydney Ph: 93009885
Blue Orange has been a hit among the young adults in Sydney. You could tell that it is a favorite hub of the younger generation just by the design of the interior as well as the types of food that it offers to guests. It has a casual atmosphere yet it never ventures too much in being mediocre. This is what makes Blue Orange very popular among Sydney's young. The music is also great and the young could surely relate to it very easily.
Celsius Restaurant
66 Pitt St, Sydney Ph: 82140496
www.celsiusrestaurant.com.au
Celsius Restaurant is a wonderful choice if you are planning to have dinner with a hot date. Of course, it is not just its name that makes it a fitting choice. The food here, prepared by its chef, has always managed to get more than enough praises from the customers. This is the reason why you should try this place along with the person that matters most to you. The chef is very experienced and it is because of this that you could be sure of getting great-tasting food on your plate.
Chikyu-Ya Japanese Cuisine
Eastern Suburbs, 106 Ebley St, Bondi Junction Ph: 93869534
A date who loves to eat Japanese food may seem difficult to satisfy. This is especially true if you are not even knowledgeable about the Japanese restaurants in the city. A great suggestion in this regard is Chikyu-Ya. This restaurant is best known for the manner that it prepares its Japanese dishes. The teriyaki fish has always managed to amaze the guests. This is why you should actually try this once you dine here. Aside from this, you may also feast on sushi and teriyaki chicken, which are also the favorites.
Essen Restaurant & Beer Café
133-135 Broadway, Ultimo, NSW Ph: 92113805
www.essenrestaurant.com.au
Essen Restaurant & Beer Café has the best schnitzel not just in Darlinghurst but in the entire Sydney area. You could bring a date here and enjoy all that the restaurant has to offer. These are a lot actually and not just schnitzel. You could enjoy the restaurant's other popular orders, such as beefy cabbage rolls, and deep-fried camembert. Other favorites that you should try are sauerkraut, spatzle, poached veal, and confit of duck with duck sausage. These are all at affordable prices.
Giardinetto Italian Restaurant
62 Stanley St, East Sydney Ph: 93613633
www.restaurantgiardinetto.com.au
Giardinetto Italian Restaurant has been in business for 25 long years. This definitely shows that this restaurant could guarantee great food for its guests. As an Italian restaurant, you could be sure that the interior design gives an atmosphere that is both rustic and romantic. Because of this, it would certainly be great to bring your date here. Aside from having a great time with your date, you could certainly have the chance of eating the best foods that Italy has to offer.
Longrain Restaurant & Bar
85 Commonwealth St, Surry Hills Ph: 92802888
There is no doubt that Longrain Restaurant & Bar is a great choice for a place to have a memorable dinner with your date. It is here that you would surely get to taste some of the best foods that you could have on your plate. However, there is a downside to being such a popular restaurant. The place easily gets filled up. This is why you should make sure that you have reservations. If not, you should come early.
La Boheme Czech Restaurant
Shop 9, 332 Darling St, Balmain, Sydney Ph: 98100289
www.laboheme.net.au
A romantic conversation could only be achieved if you actually find yourself and your date in a place that encourages it. This is what you would surely get from La Boheme Restaurant. This restaurant specializes in Czech cuisine, which is somehow exotic in many respects. Once the food is on your table, you could definitely make the conversation even more interesting, which could only make your date have a good impression of you even more. The wines are also very exquisite.
Lucio's
Inner East, 47 Windsor St, Paddington Ph: 93805996
www.lucios.com.au
As an up-market Italian restaurant, it may seem that Lucio's is not an immediate choice that you would have if you are going to have a dinner date. However, if you are bent on impressing your date and if you could afford it, you should not pass up on the chance to dine here. Aside from the delicious food items that you could find in the menu, the atmosphere in the restaurant really gives an aura of luxury. This is why it has always been the choice of Sydney's more affluent population.
Peronis Restaurant
48 Station St, East Parramatta, Ph: 96332889
www.peronisrestaurant.com.au
Peronis Italian Restaurant is a place where you and your date could feast on the most unique culinary delights. You could attribute this to the chefs who are experts when it comes to Italian cuisine. Aside from the amazing menu that you would find, you could order any of the vintage and contemporary wines that are available in the restaurant. Proving further that this is a great dining venue, the restaurant is a favorite when it comes to wedding receptions.
Port Orient Asian Fusion Restaurant
Level 2, Shop 449 Harbourside Shopping Centre, Darling Harbour Ph: 92829922
A fun time with your date is always something that would last in your memory. This could be achieved if you make it a point to take her to a restaurant that promises not just great food but also wonderful entertainment. These two things you would find in Port Orient Asian Fusion Restaurant. It is here that you would be able to satisfy your appetite with a great combination of Asian food and modern Australian cooking. Of course, the place gets lively with entertainment.
Café Sel et Poivre
263 Victoria St, Darlinghurst Ph: 93616530
A French restaurant is definitely going to impress your date. This is true only if you actually make a good choice of restaurant. One particularly good choice would be Café Sel et Poivre. You could order some of the most popular dishes that guests often have on their tables. Among the most favored ones are braised beef cheeks with burgundy sauce and potato puree, slow-roasted lamb, and blue swimmer crab bisque. To cap your dinner, you should also get a bottle of good French wine.
Swell Restaurant
465 Bronte Rd, Bronte Beach Ph: 93865001
www.swellrestaurant.com.au
Swell Restaurant is certainly a good place for a swell date. This restaurant boasts having some of Sydney's best kept secrets when it comes to culinary experience. If you do some research about this restaurant, you would find out that it has actually won a number of major awards. However, what you would really like about this is that it sells its food at very reasonable prices. Since it is opposite the Bronte Beach, this could give you and your date a nice beachside dinner.
Tetsuya's
529 Kent St, Sydney Ph: 92672900
www.tetsuyas.com
You may find it hard to believe that you could have a dinner of Japanese cuisine in luxury. This is because most Japanese restaurants are casual in terms of atmosphere. However, Tetsuya is very much different because it does give you and your date a unique experience in a classy Japanese restaurant. Using natural seasonal ingredients but prepared in the classic French way, the food here is definitely unique. This restaurant may indeed be very expensive when compared to others. But you would never regret your spending once you have tasted the food.
Pool Caffe
94 Marina Parade, Maroubra Ph: 93140364
Dining with a special someone while having a nice view of the ocean is enough to spark a conversation that could easily turn romantic is indeed a wonderful thing. This is not something that is difficult to realize if you have your dinner here at Pool Caffe. This restaurant has in fact been the choice of many couples who are planning to have a romantic dinner. The fresh ocean breeze and the amazing food that you could have on your table would surely be bonuses in your date.
Vrindavan Indian Restaurant
261 Harris St, Pymont Ph: 95661135
www.vrindavan.com.au
Flirting with your taste buds may seem to be strange and impossible. However, this is because you must have not yet tried bringing a date to an Indian restaurant. If you have decided to finally do so, you should consider Vrindavan Indian Restaurant. You could tell that this is a great choice because it is not just the locals that love to eat here but also tourists. Home-styled Indian cooking is what you are going to enjoy here. The food is rich with traditional Indian flavors.
Watermark
2A The Esplanade, Balmoral Beach Ph: 99683433
www.watermarkrestaurant.com.au
Balmoral Beach is popular not just among the tourists but the locals as well. This is primarily because of the many wonderful sights that people could see in this part of the city. However, if you are taking your date here, there could be no other better option for dinner than Watermark. This restaurant offers cuisine that is largely influenced by Asian cooking. However, there are many on the menu that is also fusion in terms of flavor. Your date would surely love it here.