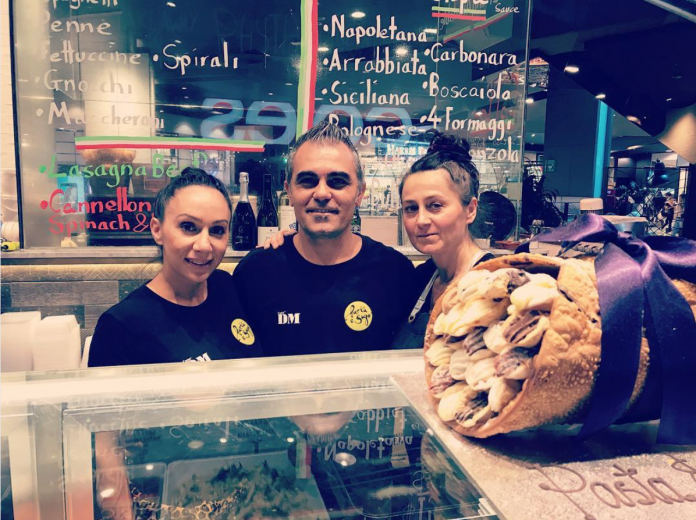 Why does anyone want to be famous? You know what's important? Having lunch. Pasta. Seeing my friends. Is that so crazy?
This quote by Sherry Stringfield sums up the ethos for most people who love pasta. And few love pasta with such passion and dedication as Daniele Giuliano, owner of a pasta oasis in, of all places, Bondi Junction's Westfield shopping centre.
Daniele's been making pasta for 20 years, and for the last three years Sydney folk have had the opportunity to taste and savour his delectable wares by visiting Pasta e Sugo Bar which is just outside of Coles, walked past thousands of times a day by people in a shopping daze who have yet to discover the delights of their Italian food right under their noses.
Yet for the many who do stop by, once they've experienced Pasta e Sugo's range of pasta, they come back for more. "This is food I grew up with and now we're making it available to all people either to eat in or take home and share with family and friends in the true Italian tradition", says Daniele.
We all know what pasta means, though it comes in so many varieties, but the "sugo" in their name may need translation – it's Italian for sauce, and indeed for most cuisines, it's the sauce that separates the average chef or restaurant from the mighty.
The sauces to choose from, just their mere mention, turns a pasta-lover's mind soft. A weakness that's oh-so-human. To be weak is human, to eat is divine. Here's your choices:
Napoletana, Arrabbiata, Siciliana, Bolognese, Pesto, Carbonara, Boscaiola, Quattro Formaggi (four cheeses), Gorgonzola, Burnt Butter & Sage, and Aglio e Olio.
Step 1, you choose the sauce, then Step 2, you choose the pasta – spaghetti, tagliatelle, fettuccini, ravioli spinach and ricotta, gnocchi, maccheroni, or gemelli (twin spirals). There's lunch, or take-away, and they also have catering available though not for delivery, you have to pick your order up.
And yet that's not all when it comes to Pasta e Sugo, for they have an expansive array of other Italian specialities on offer. A divine Octopus Salad for instance, Chicken Parmiggiana,  home-made Spinach Lasagna, Bruschetta, Eggplant stuffed with rice and mixed vegetables, Stuffed Capsicum with Napoletana Sauce, Chicken Schnitzel (maybe not so Italiana), Bacon and Egg Panino, Arancini, Italian Meatballs, and also a tantalising array of Mixed Salads.
Should you wish to leave space for dessert, or you just prefer to visit Pasta e Sugo for an authentic Italian dessert, then you won't be disappointed.
On the day we visited we sampled a Strawberry Crostata – home-made by Daniele's dad, some Cannoli, a Baked Ricotta Cheesecake and slightly less Italian but new on their menu and proving popular, their Nutella Oreo Cheesecake. That truly finished us off.
Plus using the excellent coffee from Caffe DM they make cappuccino, a flat white or an espresso just like the Italians make it – which is not surprising, considering they're authentic Italians themselves.
So next time you're down the Coles end of Westfield Bondi Junction, do yourself a favour – shake off your consumeristic zombie-ism, or look up from your mobile phone – and see the beauty of Italy right there, it pretty much is the greatest cuisine in the world.
Pasta e Sugo Bar
Bondi Junction Westfield (jn front of Coles)
500 Oxford St, Bondi Junction
Ph 0419 299 207
facebook.com/PastaeSugoBar
instagram.com/pastaesugobar