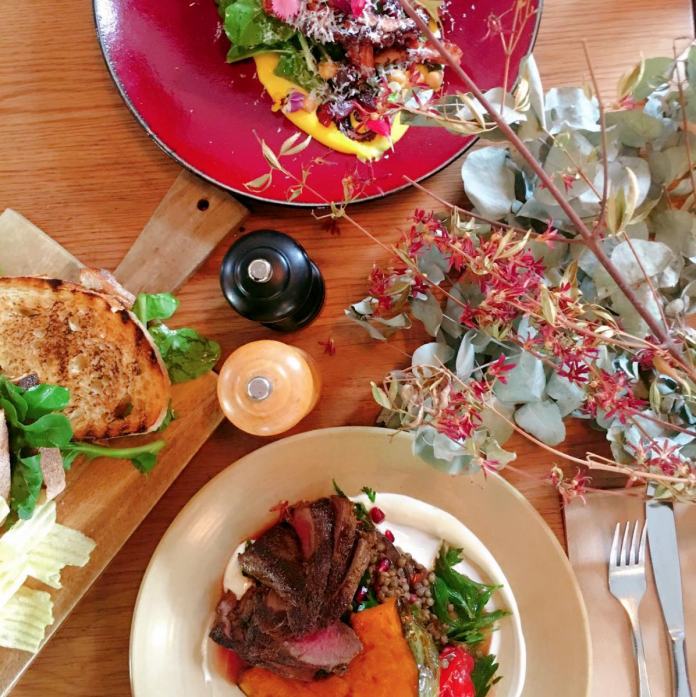 The Incinerator's striking interior design, ambience and quality food makes it one of the most iconic cafes on Sydney's Lower North Shore not just for dropping in for a memorable cafe experience, or dinner on Friday and Saturday nights, but for private and exclusive events as well.
The Incinerator's philosophy is to offer a seasonal and sustainable menu made from the freshest produce available, to continuously strive to deliver personable, professional and generous service and to become an integral part of the local community and parklands.
Customers can choose from a dine-in or take-away menu that is characterised by fresh, seasonal produce and a selection of premium quality pastries and other baked goods.
A feature of the Incinerator's stunning open kitchen is a wood-fired oven. The Incinerator's menu is completed by fresh bottled juices, smoothies and coffee by The Grounds Roasters. As an interesting quirk, the cafe is licensed to serve alcohol from 10am – but there's no BYO.
For lunch there's many delicious options such as:
– Wood Roasted Spanish Mackerel with a shaved fennel, olive, citrus and dill salad.
– Poached chicken salad, roasted cauliflower, silverbeet, freeka (cracked green wheat), agrodolce.
– Char grilled green asparagus w soft poached egg, truffle, Egyptian dukka, lemon crumbs.
– Wood Roast prosciutto wrapped figs, goats cheese mousse, rocket and vinocotto.
– Crisp fried zucchini flowers stuffed w haloumi and broad beans, Tunisian tomato salad.
– Grilled Lamb loin, maple roast pumpkin, lentil, parsley, eggplant and mint salad, smoked yoghurt.
– Crispy Fried salt & pepper soft shell crab, sriracha aioli, pea tendril and sesame salad.
– Ceviche of Hiramasa kingfish w finger lime, coriander and pomegranate.
Breakfasts are great too, here's some fine delights:
– Raspberry coconut chia pudding w coyo and fresh berries.
– Buttermilk hotcakes with a berry compote & coconut ice-cream.
– Green breakfast bowl: soft egg,kale and haloumi,beetroot hummus and white quinoa.
– Nduja wood baked eggs,tomato and capsicum stew,basil,toast.
– Eggs benedict: baby spinach, shaved lucas leg ham, poached eggs and real hollandaise.
– Bircher muesli with passionfruit,dried appricot and mint.
– Acai Bowl w fresh mango & orange crumbs.
While the Friday and Saturday night dinners boast many choice selections such as:
– Wood roasted lamb rack, grilled onions and spinach jus, potato dauphinoise.
– Char grilled Grainfed Scotch fillet(600g), cooked medium, w rocket, truss cherry tomatoes+chimichurri.
– Harry's catch, our fish purveyor's best seafood, cooked by Jeff.
– Crisp wood roast Borrowdale pork belly, caponata, yoghurt, black garlic and nastursiam.
– Ceviche of Hiramasa kingfish w finger lime, coriander and pomegranate.
As for private events space seats up to 50 people inside the cafe and up to 100 standing with range of configurations available and is licensed to sell liquor until midnight.
The team at The Incinerator will collaborate with you to match your event requirements with a food, drinks and service package to ensure your special occasion is unforgettable, as they work with their clients to create a warm and relaxing environment and deliver delicious and approachable food in either a 'shared table' menu for seated dinners or canapes for cocktail style occasions.
Designed by Walter Burley Griffin and built in the 1930s, The Incinerator stands tall as a high-quality destination which leaves an indelible imprint on the minds of all who visit. We can't get enough of it!
Feedback From Local Foodies
Absolutely amazing food and service! A great experience for breakfast, lunch and dinner with a different vibe and feeling to most Cafe's. Would definitely recommend anyone who likes their food and coffee to go! Especially love the dinner service. Very personalised, professional and intimate. – Chrys
Fabulous food especially the buffalo mozzarella and tomato salad. Yum! Loved the gin and tonic with lime sorbet. Really good service, nice and friendly but attentive. Would definitely recommend this restaurant. – Sandra
I love everything about the Incinerator. The food, the atmosphere, the staff and the ease of parking. I've been coming since the day it opened its doors and it has not disappointed me in any way since. Fabulous place! – Ambereen
The Incinerator
Ph: (02) 8188 2220
2 Small St Willoughby
http://theincinerator.com.au
facebook.com/theincineratorwilloughby
instagram.com/theincinerator