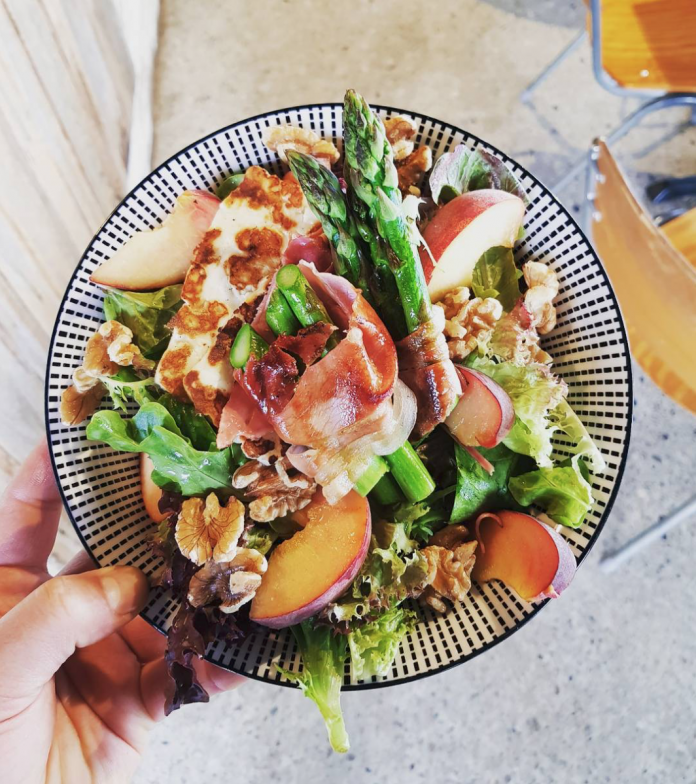 Ever eaten a Flying Pig? How about a Miss Maroubra? Or what about an Opah!!! They're not my exclamation marks, but the menu writer of Two Fives. Creative writing is alive and well in cafe-land, in Rosebery anyway.
Two Fives provides a relaxed modern family-friendly space with quality food – they pride themselves on fresh seasonal produce with all food made to order along with juices and smoothies. Coffee is supplied by a boutique local roaster and is priced reasonably, good on you Riccardo and team.
Reasons abound why Two Fives is much-loved, and the colourful menu is just part of it. For breakfast you can enjoy their Dragon Bowl – Pitaya and Mango Puree stacked with Cocoa Granola, Shaved Coconut and Fresh Fruit. Or their Breakfast Bruschetta – 2 Poached Eggs, Avocado, Fetta, Basil, Tomato on Sourdough Toast. Or their Porky Potter – Smoked Chorizo, Pulled Pork, Goats cheese in a Tomato Salsa with 2 poached eggs and Turkish Toast. Sounds like the creativity started over a couple of strong morning coffees.
Homage is paid to the inner-urban social hazards with The Cure – Bacon, Two Fried Eggs, Rocket, Tomato, Potato Rosti & BBQ Sauce on a Turkish Roll, while for something more debonaire, the Open Sesame consists of Sourdough Toast, Smashed Pumpkin, Rosemary Fetta, 2 Poached Eggs & Watercress. Other quirky breakfasts include the Classic Pom (English Muffins begin the best of British), the Egg Salute, the Guilt Free and in contrast the Builder's Brekky.
Here's how the lunch sandwiches at Two Fives work – choose your bread from Turkish, Sourdough or Soy Linseed. Then make a choice, here's four we struggle to go past:
Opah!!!: Lamb Burger, Fetta, Beetroot Relish, Tomato, Lettuce & Caramelised Onion.
Smokey Pig: Pulled Pork Shoulder, Tomato, Coleslaw, Rocket & Smokey BBQ Sauce, Served with Crackling.
Miss Maroubra: Ham Off The Bone, Tomato, Onion, Cucumber, Coleslaw, Cheese, Avocado, Herb Mayo & Lettuce.
Ring Of Fire: Smoked Chorizo, Grilled Capsicum, Fetta Cheese, Onion Rings, Lettuce & Chilli Mayo.
And as for the salads, they too are colourfully attired, both of moniker and method, eg the Rockin' Rice: Cauliflower Rice, Baked Pumpkin, Green Beans, Sultanas, Halloumi & Harissa Yoghurt Dressing. Or the very punny Hey Pesto: Lettuce, Carrot, Sweet Potato Rosti, Fetta Cheese, Cucumber & Pesto.
Catering Excellence
Two Fives cater for all occasions – big or small, corporate or private they have you covered with the following catering categories:
Morning & Afternoon Tea Boxes – a selection of in-house made sweets and savouries.
Signature Sliders, Bread Rolls & Hot Dogs
Salad Trays
Fruit Platters & Fruit Cups
Soup Kettles & Cheese Boards
High Fives For Two Fives
My partner and I went here for the first time yesterday, happened to find them on Instagram… and have to say the coffee was great, service was great and the breakfast burger "the cure" was absolutely delicious, just what I needed! And the added crunch of the hash brown was delicious. Will be seeing you guys soon. – Claire
Two Fives is my go to point for a healthy option, cheap day meal or even catering my personal events. Love the service, atmosphere, people and that it's kid friendly… Can't wait to see the new location… Riccardo the owner really knows how to see the positive in everyday! – Stephanie
Had breakfast catered by Two Fives on the morning of my wedding and it was such a treat! The food was absolutely delicious and very well presented. Guests from overseas were commenting how nice the food was! Everything was delivered on time and Riccardo made the process such a breeze. I highly recommend these guys! Keep up the good work! – Yvonne
Two Fives
Ph: (02) 9669 1611
353-355 Gardeners Road
Rosebery
www.twofives.com.au
facebook.com/Two-Fives-509179629117675
instagram.com/cafetwofives