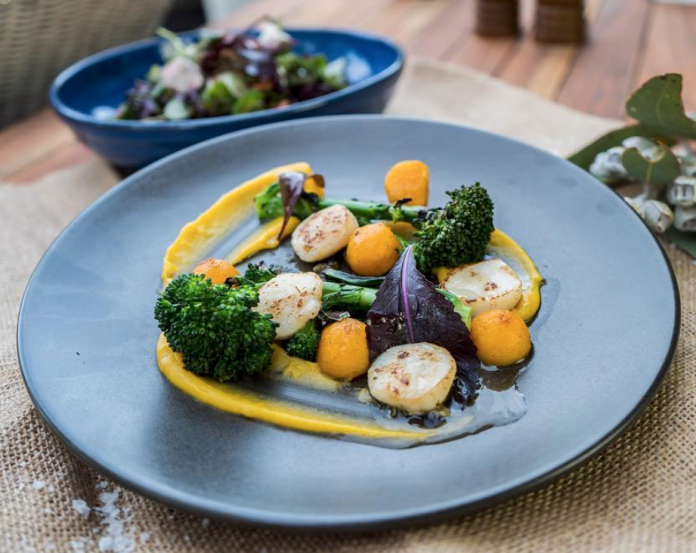 When Troy and Madeleine Frater took over Dunes Restaurant & Kiosk a few years back, their first week saw them host weddings on the Thursday, Friday and Saturday. After that baptism of fire, they've never looked back.
Dunes Restaurant's menu can be described as Modern Australian with Japanese inspirations – as Troy's background is with Toko in Surry Hills as well as 2.5 years at Quay.
Their Seafood Platter is a very popular dish, as is their Kingfish Sashimi. Another stand-out is the Twice-Cooked Half Duck, and their Grain-Fed Beef Fillet keeps the local carnivores more than content.
For dessert their 5 Texture Chocolate Cake rivals their Mandarin-Vanilla Creme Brûlée for extraordinary memorableness, while they have a Bar Menu which can whet any liquified appetite.
And all of their gourmet luxury is just set so fine in a breathtaking landscape. The northernmost aspect of Palm Beach, with a picturesque view of the Barrenjoey Lighthouse, Dunes Restaurant has been skilfully designed to take full advantage of the idyllic surroundings with several dining areas available for all types of weather and occasions.
It's therefore no surprise to find that Dunes is a much-sought-after destination for weddings, with their manicured gardens and surrounding natural Australian flora, they offer the perfect setting for an intimate ceremony to include pre-reception drinks. Or if you are looking for a larger reception, they can cater for a seated or a cocktail style event.
Troy and his team are happy to create menus to suit every couple. They can also help you with everything from the celebrant, flowers and decorations, to pointing you in the right direction for a good photographer in the area.
"Every couple wants something special that truly represents them. We take great care in accommodating your wishes and help you create the celebration of your life," is Dunes' key message.
Equally enjoyable if you're of a mind for something more casual, is the Dunes Kiosk. Families and friends can enjoy a meal outside – you can be as barefoot and sandy as you like – in a breezy Mediterranean courtyard equipped with basket chairs and umbrellas.
Whether you've visited Palm Beach to swim, surf, play or trek, Dunes Restaurant & Kiosk will leave a rich memory that will most likely last a lifetime.
Radiant Endorsements
Here's what some recent visitors to Dunes have to say about their experiences:
"I've had lunch and dinner at Dunes quite a few times, and due to positive experiences, decided to have my wedding reception here. It was the best night ever, amazing food & service, great atmosphere, and working with Madeleine in the lead up to the big day was a dream. She always responded extremely promptly to any queries I had, and was so helpful, lovely & easy to work with. When we first decided on Dunes as our reception venue, there was actually a different owner & chef, and we were a bit worried when informed that this had changed, however we actually had a much better experience with Madeleine, and the food was even better than it had been previously. Can definitely strongly recommend Dunes as a wedding venue & also just for lunch or dinner."
"We recently had the reception for our wedding here.. Madeleine and her team were absolutely amazing … All staff made the day run so well and the food was world class.. We could not fault one thing.. Would recommend Dunes to anyone looking for a wedding venue or just a bite to eat."
"One of my favourite restaurants in Sydney. Beautiful spot, wonderful food and delightful staff. Had my husbands 70th birthday there – wonderful day."
Dunes Restaurant & Kiosk
Ph: (02) 9974 3332
1193 Barrenjoey Rd
Palm Beach NSW 2108
www.dunespalmbeach.com.au