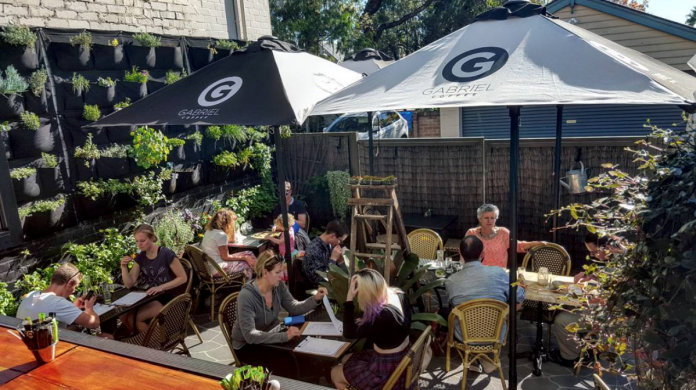 A courtyard full of edible plants is the quirk which piques the curiosity of first-time visitors to The Hanging Ladder, but it's not the only lasting impression when they leave. Its friendly atmosphere is instantly palpable, the cafe oozes art-gallery design, and the freshest of ingredients linger on the palate – for fresh and delicious is what gives this place a well-deserved spot among the many foodie highlights of Balmain-town.
Brekky delights include the Super Breakfast Salad of rocket, spinach, assorted nuts, quinoa, avocado, chia seeds and poached egg; in complete contrast, The Greasy Spoon of bacon, sausage, beans, black pudding, hash brown, mushroom, roast truss cherry tomato, eggs and toast; or the Eggs Benedict with poached eggs, hollandaise and spinach with your choice of pork & fennel sausage, citrus-cured salmon, bacon, portobello mushroom or ham. Lush, richly textured dishes are their signature.
Lunch is a sandwiches, salads or burgers affair. For the first, a salmon or steak sandwich, B.L.A.T. or roast pumpkin sandwich with goats cheese, caramelised onion, pistachio and rocket are all at the gourmet end of the spectrum. The second offers a beetroot salad, crisp skin salmon fillet with nicoise salad, chicken salad or roast pumpkin and quinoa salad. While in the third category The Hanging Ladder reveals a ribald secret – it's regarded as the best burger joint this side of the equator by those who have partaken of their lavish creations. The Hanging Gardens themselves are somewhat more humble – they're happy to promote as "the best burgers in Balmain".
Dinner is primarily a burgerish occasion, so this is where they shall be detailed: The Original Oz is a 150g beef patty, tasty cheese, tomato, beetroot, pineapple, lettuce, fried egg, bacon and bbq sauce. Their USA is a lethally absorbing 150g beef patty, zucchini pickles, cheese, bacon, tomato sauce, mustard and aioli. While their Buttermilk Fried Chicken and Chilli Chicken are full of flavours that you just won't find at your local burger joint. The Portobello is The Hanging Garden's vegetarian option, with grilled marinated portobello mushroom, eggplant, capsicum, feta and tzatziki.
"Our beautiful beetroot, roast capsicum & goat cheese bruschetta. Topped with edible flowers grown in our garden courtyard." Dining al fresco among their most munchable shrubbery, whether for breakfast, lunch, or on Fridays and Saturdays, dinner, you and your friends may well contemplate the quaint urban joys of this inner-west peninsula. Balmain folk take their coffee very seriously, more seriously than Newtown or Melbourne we'd suggest, but it ain't just Balmain people who are fond of The Hanging Ladder – they're a destination for pretty much the entire Sydney metropolitan area – because once word of their unique qualities gets out, distance is no barrier.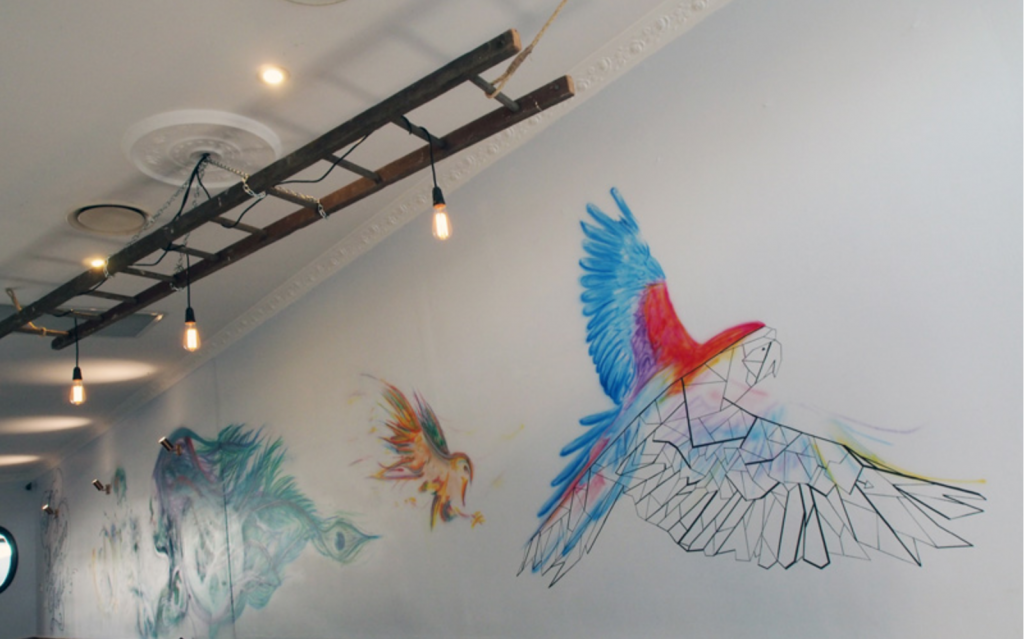 Rave Reviews
"Well, well, well…That was the best burger I've ever had. I found the Hanging Ladder through the fatties burger appreciation society and thank god. Amazing! I had the Oz burger w/ an additional Mac n Cheese patty. Delicious. The egg was cooked to perfection. Nice and runny. The beef cooked medium and bacon just right. The other toppings made the burger as Aussie as it is always meant to be. I can't wait to go back and try something else off the menu. Had a couple of friends with us too and agreed…'Best Burger in Town!'"
"Absolutely phenomenal service. So kind to dogs, bringing them snacks and water. Staff are all so friendly. Very relaxed and comfortable atmosphere. Great menu and an all around fantastic place to eat. I found it once and have come back almost every weekend since. Great job guys."
"Seriously the best burger of the neighborhood for sure!! The chips are super crunchy and fluffy soft inside, and do I even have to go on about the burger!? So juicy and the sauce is the killer!!! Big thanks for the chef because they just closed the kitchen when I walked in but opened up just for this gorgeous courtyard for relaxing chat with your friends and family… amazing vibes and so warm and welcoming thank you!"
"Humans and dogs are welcomed @ THL. A number of alternative spaces to choose from, my favourite being the outdoor courtyard where my dog and I can linger for coffee and nibbles. It's not unusual for staff to appear with dog treats! This is my daily go to spot to catch up with Andrew and his bubbly team."
The Hanging Ladder
Ph: (02) 9810 5255
485a Darling Street, Balmain
www.thehangingladder.com.au
https://www.facebook.com/thehangingladder/
https://www.instagram.com/thehangingladder/