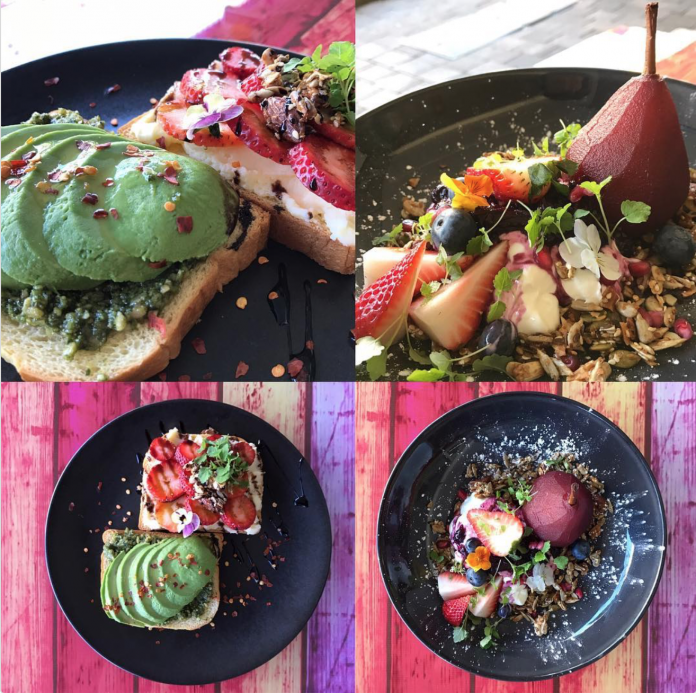 Double Cross Espresso Bar has rapidly established itself as a Crows Nest favourite among locals who are highly enthusiastic about cafe lifestyle making Sydney's high cost of living seem totally worth it.
As an example, check out this absolute rave by a local fan:
"We CANNOT get over how awesome this place is. All the staff are super friendly, highly responsive and will let you know if there is a bit of a wait (for food, as you sit down). Beautiful matcha lattes (you add your own sugar however sweet you like it), and sensational pour-over coffees. The new menu is a delight – tonkatsu chicken brioche is a winner but the star that steals the show is the soufflé omelette. The osso bucco melts in your mouth and the duck is beautifully cooked – presentation also beautiful. Great blend of Japanese and European food – fantastic technique. What a gem of a place!"
And another: "My favorite place for coffee, food, and a bit of a laugh. They know how to take care of their customers."
"Life is short, visit Double Cross Espresso Bar instead" may indeed be the catch cry for Sydney lower north shore cafaholics as there's an enthusiasm for this place which is pretty much unparalleled – the zesty sparks of the team who run this espresso bar are infectious and pretty much like long blacks, addictive once you've tasted just enough.
Owner Samuel Lee is into fusion. He and his business partner, Quinton Ng, have established a modern relaxed venue serving casual food with an Asian twist. Sam and Quinton were friends working in the hospitality industry for 4-5 years and one day came together with the common dream to own their own cafe. The name originates from both of them, as they both identify with two different nationalities which they believe represents the cafe in what it is; an Asian twist on modern food. Hence the name Double Cross.
But … there's more …
After opening in Crows Nest, they've then been able to open a second Double Cross venue at number 8 Broadway in Chippendale. More cool groovy cafe power to them we say!
More than ever-so-worthy of standout mention on their menu is their take on mentaiko spaghetti, a Japanese-Italian dish made with marinated cod roe. It uses a soy-sauce and lemon base and has a crème fraiche and egg on top. The result is a subtle marinated-cod flavour (nutty and not much fishy) or you can choose to blend the cream in to enjoy a taste similar to the creamy prototype.
But also very appealing at lunch is their Tonkatsu tomago sando – pork katsu, Japanese style egg roll, kewpie mayo served with katsu sauce on brioche.
Here's two of their breakfast items which keep Double Cross Espresso Bar popular before noon:
Souffle omelete ramekins – Korean soy cured blue swimmer crab, fluffy omelette served with sourdough.
Chicken karaage benedict – 63 degree eggs, brioche, rocket, chicken karaage served with hollandaise sauce.
Big Up For More Positives:
– complimentary sparkling water is served
– their central location is a hole in the wall that specialises in coffees, pastries, and jaffles
– the jaffles were mentioned in Gourmet Traveler
– pooches are welcome – Double Cross is a dog friendly cafe
– all foods are not rich but, caffeine whispers, are pretty addictive
– and as the below image shows, Double Cross value their customers' loyalty & community spirit so much they keep their customers' loyalty cards on a wall, so their customers don't have to carry them around: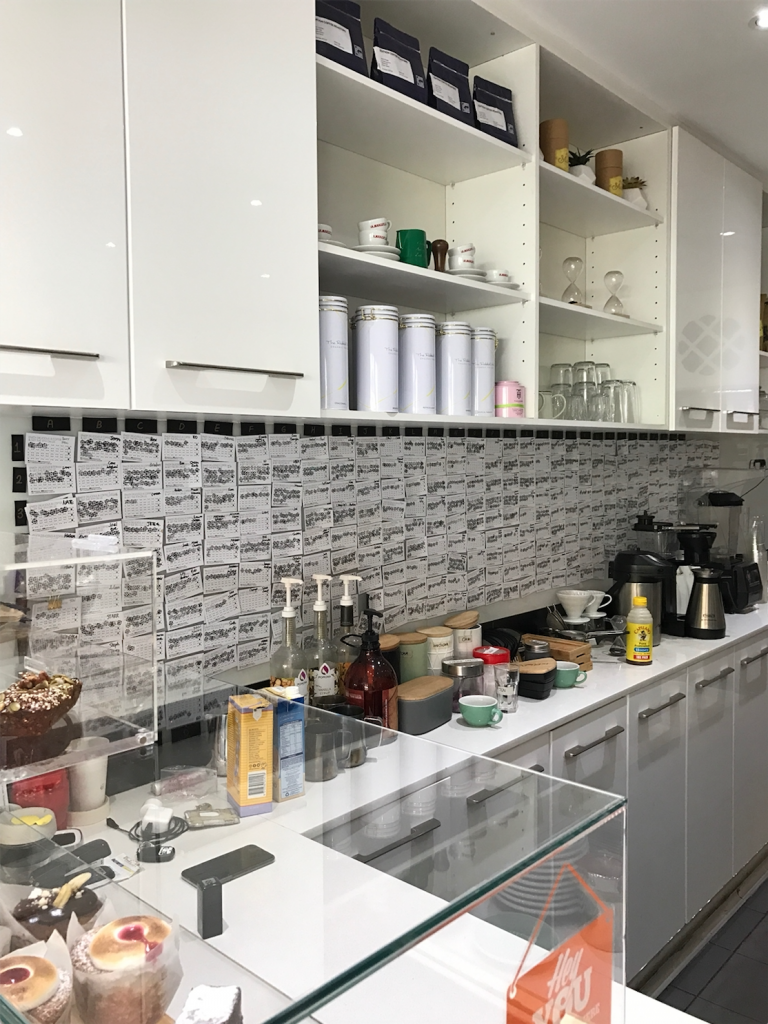 So it's no surprise even more members of the public are happy to speak out about the merits of Double Cross:
"Newest espresso place in Crows Nest but possibly the best of the lot. Solid food, happy and passionate staff, and of course great beans and brews across the range. Try their Batch Brew for something smooth, and hit up their 63degree eggs for a sumptuous brunch experience."
"Double Cross Espresso Bar has impeccable coffee, outstanding service, quality food and nice decor and ambience. Nice touch to get a complimentary jug of sparkling on tap too. Will definitely be back!"
Double Cross Espresso Bar
Ph: (02) 9438 1058
facebook.com/doublecrossespressobar
instagram.com/doublecrossespressobar
118 Willoughby Rd Crows Nest
AND: 8 Broadway Chippendale