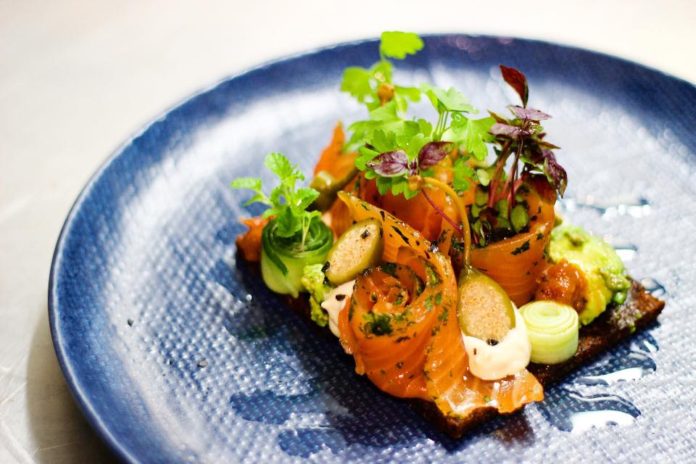 A charming Roseville cafe with British colonial decor which feels like it's been around forever, Cafe Nate has in fact only been around for just on a year …
Owners Chris and Rachel took over the location of 23 Hill Street after it had served as a fish and chip shop for many years because the building had a special resonance. It was once Chris's family home, and the fireplace in Cafe Nate's back room was one Chris can say he garnered warmth from as a two-year-old.
With such personal history, it's no wonder Cafe Nate possesses a spirit which attracts and keeps its clientele. The people dining on the morning we visited looked like they were etched into the scene permanently. Foodie attractions which are a must-try for first-timers are the Cafe Nate House-cured Salmon with caper berries, tomato relish, horseradish aioli, pickled cucumber, avocado & herbs on pumpernickel – or the Smashed Avocado with roasted pimento, mixed herbs, Meredith goats cheese on grilled rye bread drizzled with mild chilli EVO oil. Sure, smashed avocado has been in the news far too much this last year, but this Aussie invention is now huge in New York and so it's worth a reprise – unashamedly, we still love it.
Among the pleasurable flavours, Cafe Nate has a deep spine of nurturing, well expressed in their Paleo Granola Bowl – a delicious mix of seeds, nuts, coconut and goji berries with coconut yoghurt and seasonal fruit – both vegetarian and gluten free.
But the nurturing gets positively esoteric when you probe a little deeper – even cellar-deep, you might say, for this is where the subterranean Cafe Nate water filtration system does its magic – sending reverse-osmosis pure filtered water to a self-serve water station, the coffee machine and even to the kitchen – yep everything at Cafe Nate is cooked in water which is both fluoride and chlorine-free #tastesbetter …
Unlike most suburban cafes, which tend to be followers rather than leaders, Cafe Nate likes to stand out from the crowd especially in the coffee department. They decided not to go with "the majors" as Chris called them, but to create something unique – a true specialty coffee, working devotedly with head barista Yada (who hails from Thailand, known better for green curries than green beans).
As Chris says, in the pursuit of a flavour profile they're happy with, a unique house blend, they will taste-test 12 different Ethiopian strains, or 12 different Columbian options or batches of Brazilian beans, or Mexican, to eventually find their way to something they're deeply connected with and proud to present to their local caffeine addicts. It means people come from St Ives, Killara and Artarmon for Cafe Nate's coffee, and you can buy their blends to enjoy at home too.
A comfortable cafe, Nate is also committed to the community aspect. They had a day where coffee was free, but people were also free to make a donation, and they raised $1000 for the International Justice Mission charity which works to get children out of poverty, slavery and prostitution.
It's all part of Cafe Nate's sense of purpose and direction – for the core event which triggered its start-up was Chris finding out he had skin cancer. He'd been working mostly outdoors, being a handyman for the Hire a Hubby company, and so he and wife Rachel realised he was going to have to work indoors. With no hospitality experience, but with the benefits of a carpentry licence standing them in good stead for their strip-out then fit-out, this dynamic duo created a wonderful space, which has become a perfect cafe.
They also have plenty of powerpoints and wifi and unlike a lot of Sydney cafes, do not begrudge people sitting for hours on end with their laptops. The look might approximate Singapore's historic Raffles Hotel, but the function is definitely contemporary.
There's plenty more on Cafe Nate's eclectic menu to enjoy, with healthy folk likely to find themselves torn between the Superfood Salad and the Nourish Salad. To get a sense of one of them at least, the Superfood Salad features quinoa, root vegetables, kumara, feta, LSA scotch egg and chickpeas nestled in a bed of rocket, spinach and herbs. Vegetarian and gluten-free to boot, it's about as healthy as cafe lifestyle gets.
Or for more liquid options, there's organic teapots and a sticky chai latte courtesy of Bondi Chai as well as a matcha latte and coconut milk as a coffee option – move over soy lattes, outta the way almond, rice or macadamia milks, the coconut milk from Milk Lab makes a cappuccino not ever forgotten.
Cafe Nate
23 Hill St, Roseville
www.cafenate.com.au
facebook.com/cafenate
instagram.com/cafenate_