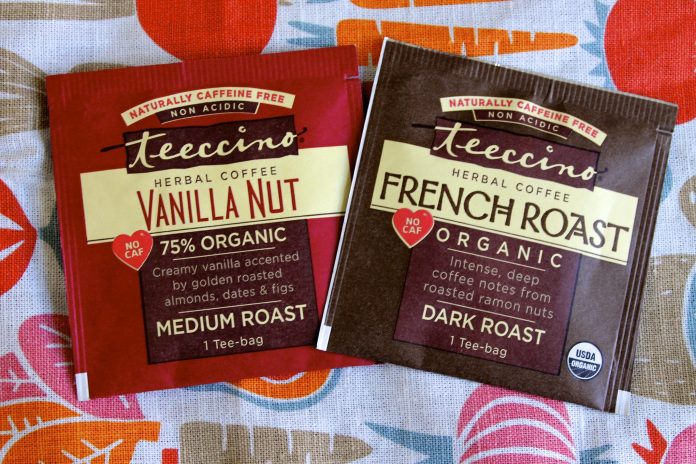 Coffee and insomnia. For many people, the two go hand in glove, especially if the wicked bean is partaken of after the midday hour. Others, my mother for instance, can order a strong coffee in a restaurant at 11pm and yet be snoring by midnight. I'm definitely of the former brigade and I'm certainly not alone. So much as half a cup of the mildest soy latte five minutes after noon and I'm scaring the bejesus out of vampires until dawn. Hence my enthusiasm for the arrival of Teeccino on these shores. True, they clock up a few food miles to get here ~ being produced in California ~ but I'm conscious of the greater social good that Teeccino's many varieties of satisfying flavours bring to coffee-sensitive souls who are no longer wired until all hours, but are deeply unconscious when their sanity needs them to be.
Now I know what you might be thinking, does a herbal coffee live up to the taste of a real cup of beans? For many, myself included, I was somewhat hesitant, with Teeccino originally sounding like some limp and watery, upturned pinky kind of drink, which is a horrible thought for the average coffee drinker. Like so many of my frankly ridiculous presumptions, I was in fact quite wrong.
May I be the first to say this tastes like real coffee!
Just so you're aware my favourite blend of coffee in this big wide world of ours is something called Blue Mountain, it's an almost mystical blend which I discovered when living in the mountains of Asia and therefore assumed to be of Himalayan origin, but it turned out to be Jamaican, seriously! It's my coffee of choice for the sheer amount of nuclear in a cup it provides. I manage to make it barely drinkable by adding a lot of unhealthy things like condensed milk to it.
Teeccino in comparison is not as strong as my maniacal evil genius type coffee, it sits right in the middle of the spectrum and is therefore very appealing to all types of coffee drinkers. It's even healthy enough to give to children. Again I'm serious, it tastes great, no caffeine, no sugar needed as it contains figs and dates which give it that one spoonful of sweetness and much better for kids than giving them a hot chocolate.
That's probably one of the most important things you'll get from this concoction, it is a really healthy drink, would I go out on a limb and say it's the new wheatgrass shot? Yes, yes I would make an outlandish claim like that, I'm even willing to back it.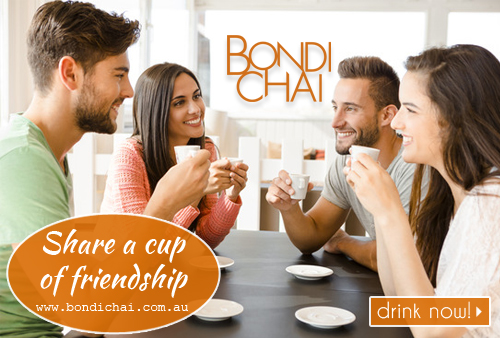 Coffee is great, but it's a lot like chocolate, you want it in your mouth but once it gets into your system it's not that great for you, caffeine can cause all sorts of problems avoided by switching to Teeccino. Also, not a lot of people realize that coffee is quite acidic, for people who have trouble with symptoms brought on by acidity Teecino is the drink to switch to.
It contains twice as much natural potassium as your average sports drink, potassium is the ingredient in sports drinks which make them, well, sporty! It helps to oxygenate the brain which leads to improved mental and even physical performance.
Which got me thinking, what are the other benefits to drinking a herbal coffee as opposed to my usual morning kick start?
I was pretty astonished to find that the caffeine in coffee actually causes the body to seep vital nutrients, I'm talking about losing 50% of your iron intake per meal because you've indulged in a cappuccino. Let's not beat around the bush here, that's a lot. This is besides the calcium loss and also besides the fact that caffeine causes your metabolism to jump around and store sugar in your food as fat on your body!
Yes! Caffeine is making me fatter than I already am, which has just horrified the pants right off of me!
So did I back my 'the new wheatgrass shot' idea or did I not! I think I might've just made my outlandish claim proud.
If you're looking for a kickstart to the day, or the afternoon, or the oddity of a midnightish coffee (come on beanophiles, we've all been there), get some Teeccino in you, lots of natural get up and go, tastes great and won't have you hooting away until 3am needlessly!
To find out stacks more about Teeccino, check out their website www.teeccino.com.au or follow them on Twitter via www.twitter.com/teeccinoAUS
More Teeccino Links: