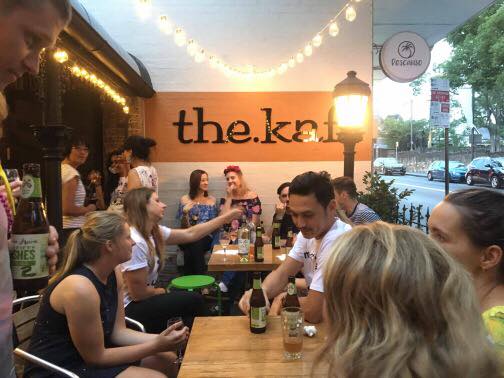 << UPDATE: SORRY TO SAY, THE KAF IS NOW PERMANENTLY CLOSED >>
"The only way to make sense out of change is to plunge into it, move with it, and join the dance," said Alan Watts, but that's not how Digi.Kaf owner Paul Dore felt when he realised that after 22 years, he was going to have to move his life's work to some unknown location.
After this tumultuous 2017, in 2018 the re-named The.Kaf has emerged, better than ever, at 199 Glebe Point Rd, against the odds. It has many new features which have expanded the scope of the much loved Digi.Kaf … it's licensed for a start. And open for dinners on Thursday, Friday and Saturday nights with tapas available from 2.30pm on those days.
The interior of The.Kaf's new location is gallery-like, its humble cottage front a disguise for the spacious, light, airy and arty atmosphere within.
What's been very much kept is the team's dedication to the food. "We give our diners the dishes they don't have time to do," says Paul of his menu. Eg the Devil's Eggs which take seven hours to create, sitting on the stove all day, simmering down. Hint: some of this sauce ends up as pasta sauce or in their Paleo Burger.
Or the Pork Belly, which done The.Kaf way is a three-day job: poach it first, then weight it (crushing it) for 24 hours, then prep for service. The result is a triumph of slow-cooking – deep-down flavour.
The.Kaf's risotto, meanwhile, has been the same risotto for 21 years. Perfect rice with grilled chicken pieces, sliced snow peas, baby spinach and a creamy basil pesto sauce, topped with fresh shaved parmesan and toasted pide on the side. Why change a winning formula?
The.Kaf's lunch menu changes weekly, so you may encounter impeccable dishes like their Thai Tiger Prawn Salad instagrammed above: wild-caught tiger prawns tossed with crisp mixed leaf, fresh sliced chilli, sliced snow peas, rice noodles, crushed peanuts, spring onions and a spicy house-made, oil-free, finger lime, ginger and chilli dressing. Or you may not. But most of the time you will …
As for breakfast and brunch, their menu is HUGE – literally and numerically. Here's just a few of the highlights:
– Omm.com – light and fluffy two-egg omelette with tasty cheese plus your choice of two fillings, served with toast. The fillings available are: bacon, ham, smoked salmon, roast tomato, mushrooms, roast capsicum, spinach, kale or shallots.
– Arabian Breakfast – cafe-created beetroot relish alongside oven-baked field mushrooms with golden pieces of grilled haloumi, zatear-rolled poached eggs and spiced, crisped pita bread.
– Benedict – they make their own hollandaise sauce which is velvety smooth, lounging atop thick sliced wholemeal toast topped with thinly sliced, grilled, double-smoked ham and two soft-poached eggs.
And the above Blueberry Waffle is a breakfast and brunch menu item. Some people start off their days in very sweet ways.
The Delights of Dinner
Dinner at The.Kaf is starting to wow people who've discovered them. Besides the afore-mentioned Pork Belly and Risotto, here's some other very appealing reasons to visit on Thursday, Friday or Saturday nights:
– Fajitas – cafe-pulled pork or chicken served with fresh-made guacamole, shredded tasty cheese, caramelised options, iceberg lettuce, cumin spiced blackens and sliced jalapeños.
– Catalonian Spaghetti – fresh spaghetti tossed with spicy grilled chorizo, sliced spanish onion and wild rocket, in a rich house made tomato napoli topped with fresh shaved parmesan cheese, garlic toasts on the side.
– Steak – 250g grass fed sirloin steak, grilled to your liking, served with crisp beer bettered chips and spicy house-made bbq sauce, fresh-made red cabbage slaw on the side.
They also have Asian Chicken Salad, Fish & Chips, a Cheese Burger and a very family-friendly Kids Menu, but then there's their … tapas menu!
The.Kaf's tapas includes the following plates: arancini, prawn taco, meatballs, patatas bravas, calamari fritti, grilled chorizo, dip platter (a selection of house-made dips such as black and green olive tapenade, fresh beetroot relish and smooth hummus served with garlic sourdough crisps and toasted turkish pide), chicken skewers, wings, nachos, antipasto and a cheese board … yep, plenty to select from!
Praise Coming Thick and Fast
Amazing pancakes – really fluffy and tasty. Great coffee. Other breakfasts have been good as well. Great service and a really nice vibe about the place. Can sit outside and watch the street or inside is spacious. – Ben
My favorite brunch place in Sydney ever since I discovered about 10 years ago. New location is awesome and the quality of food and service are as excellent as always. – Iris
Been going to this kafe for over 20 years. Same owner. Great quality food, coffee and atmosphere. New location. Even better. Still going strong 2 decades later. – Keith
Fantastic lunch at the new site. Fabulous food and great service as ever. Eight of us and not one complaint. Thanks Paul and the crew. – Jonathan
The.Kaf
Ph: (02) 9660 3509
199 Glebe Point Rd, Glebe
www.thekaf.com.au
facebook.com/digi.kaf
instagram.com/digikaf