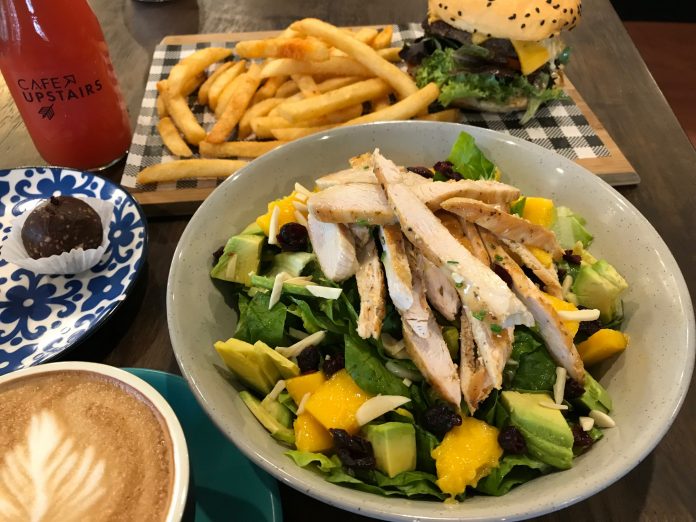 Are you one of those kinds of people who likes to know where doctors dine? Where lawyers lunch? Where entrepreneurs eat? When it comes to doctors and nurses, Cafe Upstairs in Kingswood is next to Nepean Hospital, so most days it's got more medicos in the house than you'd find in your average operating theatre.
While they're easily spotted as many of the medicos take their stethoscopes conspicuously with them, they ain't the only ones there – for Cafe Upstairs is surrounded by cosmetic surgeons, physiotherapists, medical imaging experts, paramedics, dentists and neurosurgeons – the types of professionals who want delicious and super-fresh food – Cafe Upstairs doesn't discriminate – it gives it to them, it gives it to all.
So if you're in need of some cafe therapy with a side of allopathic medicine, Cafe Upstairs is the place to be. It's rumoured Nepean Hospital patients congregate there too as a welcome change from hospital food. And I suspect, a diversion from the hospital atmosphere. For Cafe Upstairs is all about life, celebrating the moment, and eating healthily, though they have some irresistibly less-healthy options too.
But let's start with something sublimely perfect – we deeply enjoyed their Summer Salad with chicken, mango, avocado, cranberries, pine nuts and almonds – it was the freshest thing we've eaten all year and somehow it lightened the soul.
In contrast, it was impossible not to try their Upstairs Burger, beef with cheese, pickles, lettuce, tomato and upstairs sauce: "it's all in the sauce". Hits the spot as well as you'd want it to. And if like any great burger, it puts you at risk of a cardiac arrest, you couldn't be in any better cafe in Sydney!
A scrumptious start to the day is their Toasted Breakfast Wrap with scrambled eggs, cheese, baby spinach, avocado & fetta, with the option of adding bacon … healthy? Bacon is always healthy.
Cafe Upstairs also has a selection of pies such as chicken and leek, braised pepper steak, pumpkin and feta quiche, and spinach or feta frittata, with the option of adding mash and green beans or a side of chips. Be sure to check out on their lunchtime wraps and deluxe sandwiches such as the Mediterranean – eggplant, pesto, semi-dried tomatoes, olives, feta & rocket on Turkish bread – delightful.
Their coffee is great, they have a pretty wide range of teas, and they also serve Bondi Chai as well as hot chocolate, milkshakes, smoothies and they also produce cold-pressed juices bottled in-house such as the watermelon, pineapple and mint which we enjoyed on our visit. Popular with many is their Fruity Chai Smoothie which features strawberries, yoghurt, Bondi Chai and ice-cream.
Cafe Upstairs has some unique aspects such as it makes a great casual meeting space, there's plenty of room so you can have a private meeting – it's developing a niche as a handy place when you have to sit down with a group of people. You can even reserve a table to 6 or more people by calling (02) 4722 9173.
Private functions are also possible up to a maximum of 100 people, and it wasn't long ago that the Commonwealth Bank bussed a group of people up for a function. Also it's a nice community cafe, with local artists putting their artwork on the walls and selling them, and there's a book section for reading or on the day we were there, knitting.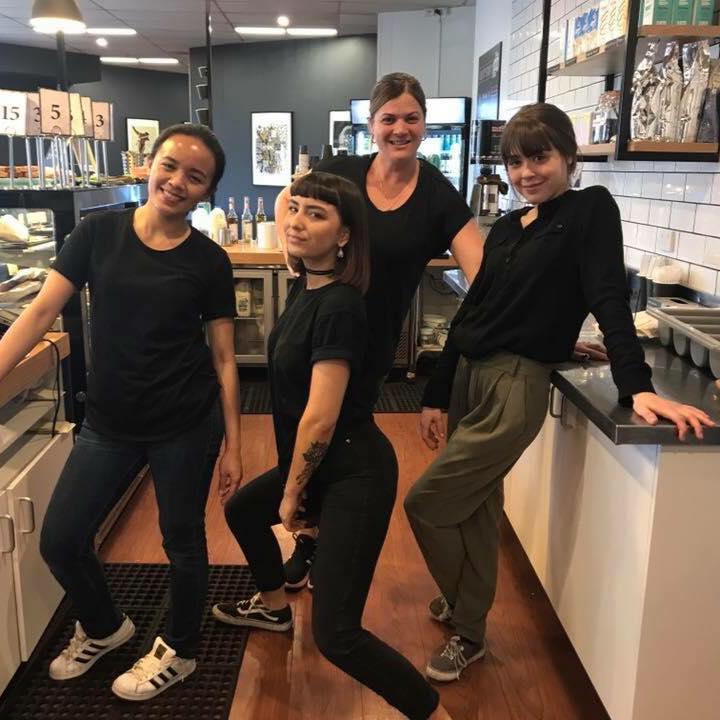 While there you may wish to try the protein balls created by Yum Artisan Creations – we had the vegan peanut butter as well as the chocolate mint – delicious and energising.
Cafe Upstairs also offers catering – generally mixed wraps and sandwich platters – and a take-away menu is also available from their website. They don't mind if you call ahead and order breakfast or lunch. Because this is a cafe that loves to please its local community – when it comes to finding the best Western Sydney suburbs cafes, or even the best Penrith cafes, Cafe Upstairs is a good place to get to know.
Cafe Upstairs
Ph: (02) 4722 9173
Suite 102, 64-68 Derby St, Kingswood
http://www.cafeupstairs.com.au
https://www.facebook.com/cafeupstairs1
https://www.instagram.com/cafe.upstairs