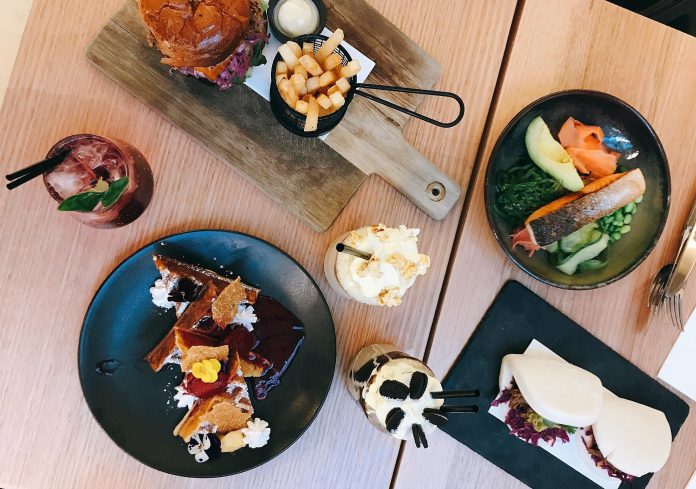 The Creamery & Co
Shop K2303, Macquarie Shopping Centre
Cnr Herring & Waterloo Roads, North Ryde
facebook.com/creameryandcomcq
instagram.com/creameryandcomcq
Foodie destinations come in many shapes and sizes, but it's not anticipated by many that a cafe inside North Ryde's Macquarie Shopping Centre might be perched on the edge of culinary trends, bringing much-admired urban coffee culture to this commercialised suburban hub – welcome to the very pleasant surprise that is The Creamery and Co.
Originating in Canberra, where it's carved out community approval in a place called Gungahlin The Creamery and Co landed about a year ago on a pedestrian crossroad between four "mini-majors" as fashionistas would describe them – Zara, Seed, Mecca Maxima and H & M.
The Creamery & Co evokes images of an ice-cream parlour, and indeed in Canberra it started life as a dessert, cake and coffee destination. However upon setting up in Sydney, they realised the locals were on the hunt for some quality gourmet food – why limit yourself to desserts when what the locals are craving is a BBQ Brisket Steak Sandwich, an Asian-fusion Grilled Salmon Poke Bowl, Fresh Avocado on Soy & Linseed Toast, or Salted Caramel Pancakes. Not that the locals knew they were craving them until they popped up on The Creamery & Co's menu. Ah, that's what I want to eat … but I never knew it during all the years it wasn't an option.
A myriad of interesting dishes tantalise. Chocolate Porridge with Greek yoghurt, berries and granola is an eyebrow-raising option for chocophiles anywhere. Spanish Baked Eggs come with chorizo, red pepper, sofrito sauce, goat cheese and sourdough. Sure there's conventional dishes on the menu too, such as the man-friendly The Creamery Breakfast: eggs your way, bacon, sweet potato rosti, pork sausage, spinach grilled tomato, herb and garlic mushrooms on sourdough.
However, located between the above-mentioned fashion-houses, it's not unusual that the majority of people who have picked up on how good The Creamery and Co is, are women. And for them, the strongest appeal of a morning is the Fresh Avocado on Soy & Linseed Toast, coming as it does with tomato salsa, feta, rocket, radish salad and a poached egg.
The Creamery and Co pride themselves on making the food themselves, whether it be the secret sauce and ingredients in their Southern Fried Chicken, all the cakes they bake themselves, even the syrups for the drinks they make themselves, they even make the caramel themselves for their marvellous pancake. Their aim is to be healthier, lower in sugar, no preservatives, avoiding freezing anything, or serving up anything that is mass produced. Chefs Michael and Guillaume even slow-oven-bake the BBQ Brisket Steak for the steak sandwich for 12 hours. The cakes are also baked daily, nothing is retained overnight.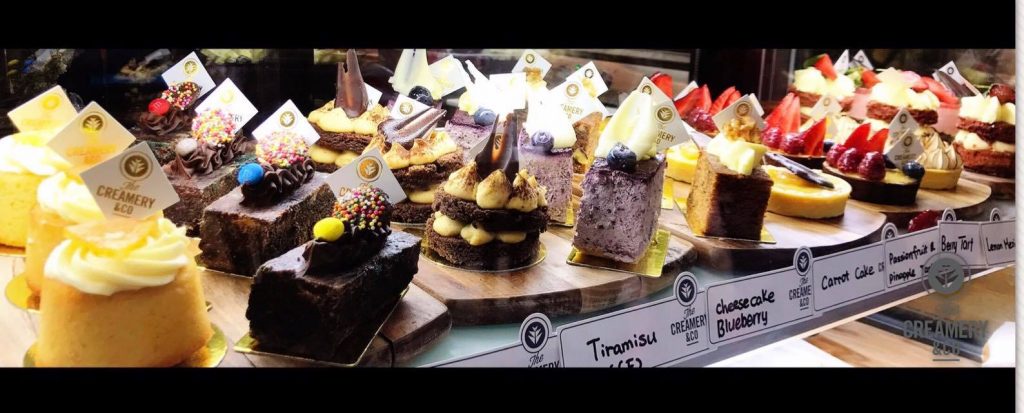 Truly the heart and soul of flavoursome, fresh and healthy eating is right here in the middle of an unlikely destination – the Macquarie Shopping Centre.
Even when the shopping centre has a couple of late-night fashion events on, The Creamery & Co take up the opportunity to put on their own VIP-invite-only coffee tasting night where recently they introduced their guests to the US$681-per-pound Esmeralda coffee from Panama, serving it cold-drip and accentuating the occasion with tapas.
For this cafe, nothing needs to stand still. Experimentalism is what they like to do, rotating their specialty coffees weekly and to keep things interesting, we recommend you try their red velvet latte – like you might enjoy a red velvet cake, you can enjoy a hot liquid version. Tastes a bit like white chocolate in fact – is a must for the tastebuds and the instagram files.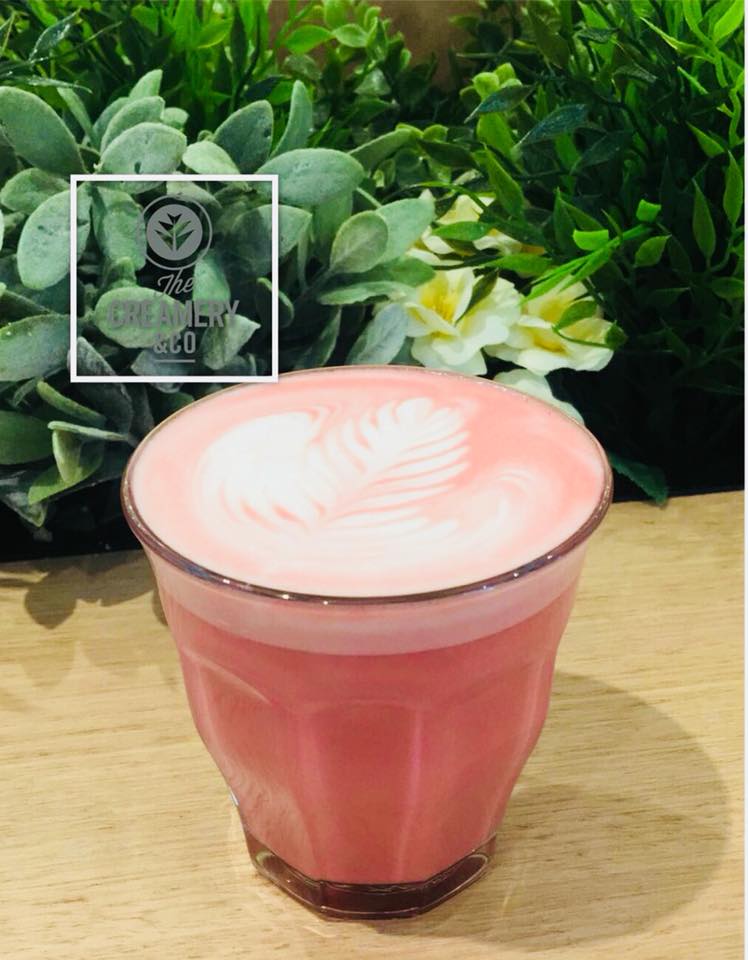 Desserts are still a must for a cafe who, dictated by shopping centre hours, remains open from 9am to 5pm seven days a week. That afternoon sugar hit among shoppers? They can enjoy lemon meringue (made with the juice from real lemons, not from lemon juice out of a bottle), carrot cake, brownies, orange & almond cake, black forest, tiramisu, baked cheesecakes, and muffins the flavour of which changes every two days – combinations of flavours might be banana and caramel, peach and white chocolate, or raspberry and coconut.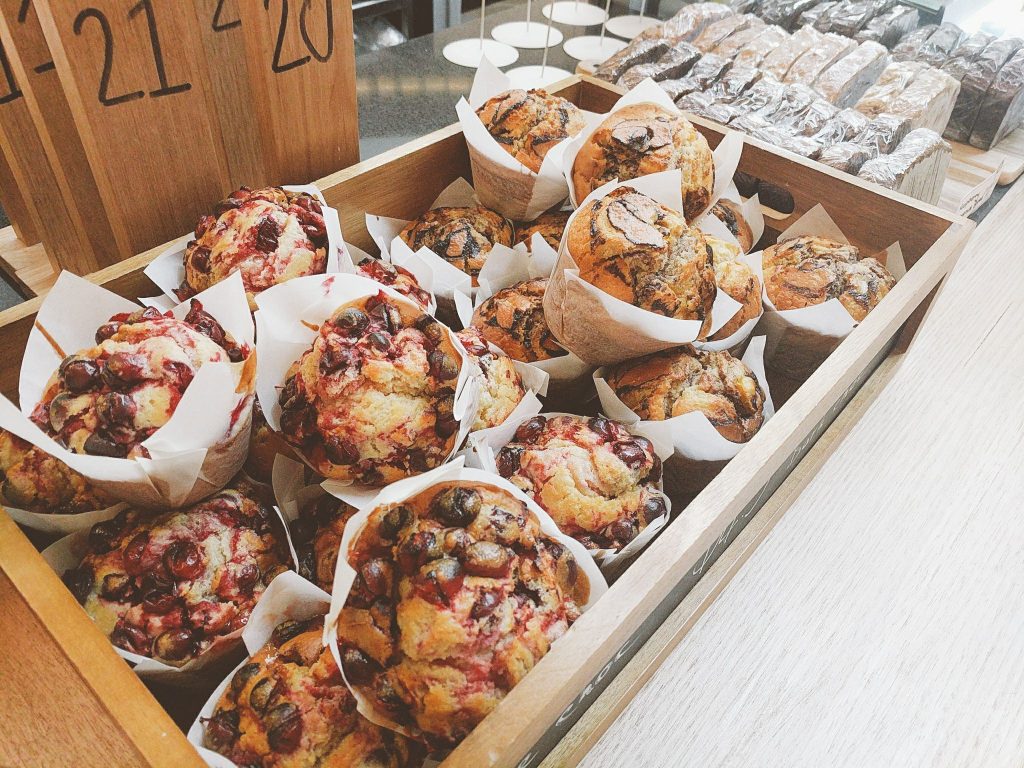 We all have our utopian visions of what a perfect cafe should look like. For many, it's best encapsulated by Cafe George V on the Champs Elysees in Paris, just a lovely short distance from the Arc de Triomphe. French history, great coffee, expensive champagne and debonair waiters all in one grandiose spot.
The Creamery and Co may not be quite that idyllic location, but having an outside cafe in North Ryde isn't much point. A view of office buildings ever on the rise isn't exactly what cafe culture is about. However the food and drinks are as good as France's Cafe George V, but at a third of the price. And there's something of an oasis about this cafe. It's air-conditioned, it's spacious, it's contemporary, and the food is classic yet more than enough trendy. It's good to get something different on a cafe menu.
And oh, that red velvet latte – the colour to launch a thousand instagrams.
The Creamery & Co
Shop K2303, Macquarie Shopping Centre
Cnr Herring & Waterloo Roads, North Ryde
facebook.com/creameryandcomcq
instagram.com/creameryandcomcq