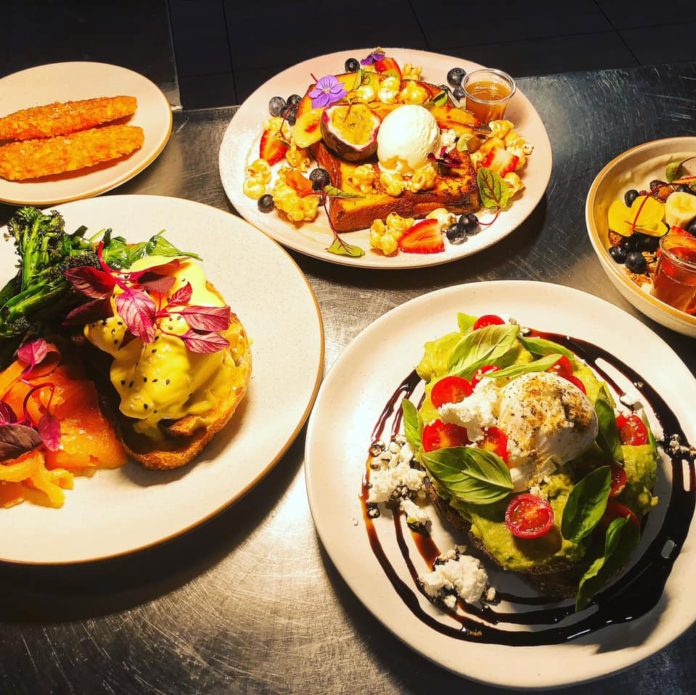 Off the overly-beaten suburban track to Cherrybrook Village, which the locals bemoan as a commercial rat-race, is a gem of a foodie destination which offers an alternative preferred by rabbits rather than rats – The Burrow, by its very name, implies a cosy hidey-hole where one might chew contentedly on leafy greens in a sanctuary of one's own making. In their case, nestled in the Apple Tree shopping centre about a kilometre up the road from the "village", they're certainly happier in the quiet end of town.
And yet while ultra-healthy dishes such as the Nourish Bowl – organic brown rice with red cabbage, edamame beans, cherry tomatoes, cucumber, shredded carrot, sesame seeds, coriander & Japanese dressing (add grilled chicken, crispy skin salmon, or grilled steak) may sound initially like the 2019 version of rabbit cuisine, The Burrow caters to pretty much every palate found in Sydney, with Osso Buco Ragu rivalling the rotating burger specials like their Pulled Pork Burger or their Salt & Pepper Squid, as dishes popular above the turf, as well as in the surf, not just below-ground.
View this post on Instagram
Surf-wise they have a golden rule in an ever-changing menu – the fish must be Australian – because some rules are best never broken. Eg the Pot Pie must be weekly – so one week it's Chicken, Leek & Mushroom, another it's Beef Cheek & Mushroom, yet another it's Osso Bucco, and another its Lamb Ragu. Winter warmers … mmm.
"We're particularly focused on sourcing fresh ingredients from the local markets and producing simple but excellent quality food for all to enjoy," says co-owner Justin Camilleri, who with partner Christine launched The Burrow on 1st July, 2018, after the space was known as The Schoolyard Cafe previously.
Head chef Andy Cooper embodies dedication & flair in his approach to every aspect of the food: "At The Burrow we love to constantly evolve our menu, creating new and exciting dishes, while always maintaining our fresh food standards and keeping oldies but goodies on the menu.
"Our current feature dishes are our Housemade Granola which looks almost too pretty to eat, our Buttermilk Chicken Burger and our Nourish Bowl for the healthy eater."
Justin, however, admits that the French Toast is their signature dish, which sounds strange … French Toast as a signature dish? Until you see it.
View this post on Instagram
Brioche French Toast with salted butterscotch sauce, vanilla ice-cream, caramelised banana, seasonal berries & popcorn. We may be making a wildly uninformed call here, but this might just be the world's most luxurious French Toast … ever.
On Friday & Saturday nights The Burrow serves up a dinner menu to whet the appetite of locals who don't want to sit at home, but nor do they want to hoik themselves into the city. Pork Ribs and a Mega-schnitzel are just two of the hearty offerings and being fully licensed, the team at The Burrow are keen to tempt you towards their forthcoming incarnation, when The Burrow remains a cafe but also morphs into a bar-restaurant in time for summer. A current rotating craft beer special, evolving prowess with cocktails, and a planned cocktail-bar-style renovation suggest that while Cherrybrook prides itself on being a leafy backwater, The Burrow is forever on the move, or to mix in a metaphor, digging deeper.
Many more delights await the hungry or thirsty visitor to The Burrow, with the recent arrival of a Beetroot & Meredith Feta Salad already proving a winner: roasted beetroots, mixed leaves, glazed dutch carrots, lentils, Meredith feta & walnuts with a maple dressing – add grilled chicken breast to taste … one of The Burrow's finest salads ever. Then there's vegan options, gluten-free cakes a-plenty, fantastic coffee, Bondi Chai and a wide assortment of quality teas, and some specialty smoothies for people who like to remain part of the cool crowd even in winter.
As a final expansion of their vision, The Burrow is also starting to attract local catering clients, because the word-of-mouth about their excellent standards cannot be silenced.
"Our ultimate vision for The Burrow is to be that Third Space, the first being home, second being work and the Third Space being that somewhere in between that you can escape the hustle and bustle of everyday life."
The Burrow in Cherrybrook
Apple Tree Shopping Centre
132 Shepherds Drive, Cherrybrook
(02) 9980 8010
www.theburrowcherrybrook.com.au
facebook.com/TheBurrowCherrybrook/
instagram.com/theburrowcherrybrook/