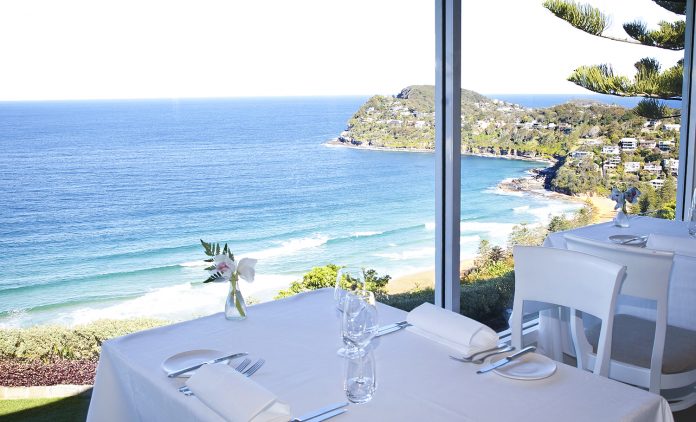 Sydney's Northern Beaches stretch seemingly endlessly along a magnificent coastline. The perfect place to bronze, snorkel, swim or surf. And if you're feeling hungry, all of their seaside suburbs offer fantastic food and coffee to die for. Discover these unique local dining destinations on the Northern Beaches …
Dunes Restaurant & Kiosk
Ph: (02) 9974 3332
1193 Barrenjoey Rd
Palm Beach NSW 2108
www.dunespalmbeach.com.au
Dunes is a much-sought-after destination for weddings, with their manicured gardens and surrounding natural Australian flora, they offer the perfect setting for an intimate ceremony to include pre-reception drinks. Or if you are looking for a larger reception, Dunes can cater for a seated or a cocktail style event. Troy and his team are happy to create menus to suit every couple. They can also help you with everything from the celebrant, flowers and decorations, to pointing you in the right direction for a good photographer in the area. Equally enjoyable if you're of a mind for something more casual, is the Dunes Kiosk. Families and friends can enjoy a meal outside – you can be as barefoot and sandy as you like – in a breezy Mediterranean courtyard equipped with basket chairs and umbrellas. Whether you've visited Palm Beach to swim, surf, play or trek, Dunes Restaurant & Kiosk will leave a rich memory that will most likely last a lifetime.
Twenty Four Restaurant & Bar
Ph: (02) 9981 2061
24 The Strand, Dee Why
www.24deewhy.com
www.facebook.com/24DeeWhy
Like most of the cafes and restaurants on The Strand, Dee Why's beachside boulevard, Twenty Four boasts ocean views and a relaxed atmosphere. The menu combines Australian classics with some unexpected flavours from around the world which seem included to surprise and ultimately satisfy the senses. Twenty Four simultaneously appeals to the executive dining set, taking their steaks very seriously – Scotch Fillet, Eye Fillet and Rib Eye each occupying a trinity of highest-price items, all steaks served with slaw and your choice of one side and one sauce – their sauces are gluten-free and this is where they vary from conventional steaky scripts, offering not just mushroom and barbeque, but also a scrumptious gorgonzola jus, as well as chimi churri. Mains cater to pretty much every tongue on the Sydney foodie radar, nota bene this quick run down the menu: John Dory Fish 'n Chips, Prawn & Mango Salad, Pumpkin Salad, Half Roast Chicken, Wagyu Beef Burger, Chicken Burger, John Dory Fish Burger, Veggie Burger, Pumpkin & Mushroom Gnocchi, Spaghetti Allo Scolglio with Mixed Seafood, and Crispy Skin Barramundi. In catering to a broad range of tastes, Twenty Four also has plenty of vegetarian and gluten free options, making life easier for those with dietary requirements.
Papi Chulo
22-23 Manly Wharf, Manly Ph: 02 9114 7341
https://merivale.com.au/venues/papichulo
facebook.com/papichulomanly
Relish the big flavours that Papi Chulo is known for using the best ingredients to complete your dining experience. Luscious marinated meats, the freshest seafood and the seasons best harvest to harmoniously blend together for a sublime meal. Top it off with wine selections that brings the whole to a delightful balance.
Pilu at Freshwater
pilu.com.au  facebook.com/Piluatfreshwater
On the Beach Moore Rd., Freshwater  Ph: 02 9938 3331
If you are up to tasting the wonders of regional Italian Sardinian cuisine, drop by Pilu at Freshwater. Set in a heritage listed Beach house the food is the perfect complement to the stunning scenery preparing only the freshest locally sourced ingredients cooked in contemporary Italian style. They are open for lunch and dinner and have several function spaces for special events.
Sotto Sopra
sottosopra.com.au  facebook.com/sottosopranewport
Translated as 'upside-down' expect some surprises from this relaxed Italian Trattoria on the beach. They have vegetarian and vegan options as well as being fully licensed with the Coravin system in place to ensure access to exceptional wines. Enjoy your food a la carte or on the more Italian style of sharing, tasting, and feasting.
The Boathouse – Palm Beach
www.theboathousepb.com.au
Barrenjoey Boathouse, Governor Phillip Park Palm Beach, NSW, 2108 Ph: 02 9974 5440
The Boathouse Palm Beach offers modern Australian cuisine for breakfast and lunch. The contemporary beachside setting allows you to sit back and relax, whilst enjoying flavoursome meals created by their chefs with the freshest local produce and seafood.
Belaroma Coffee Centre
www.belaromacoffee.com.au/coffee-centre
75 Kenneth Road, Manly Vale, NSW 2093 Ph: (02) 8966 4343
There is no excuse for drinking a bad cup of coffee. If you really want fresh coffee, go to the source. Belaroma had been roasting specialty coffees on Sydney's Northern Beaches since 1968. The coffee here isn't simply an accompaniment to the food; the food only plays second-fiddle.
Le Kiosk
www.lekiosk.com.au
1 Marine Parade, Shelly Beach Manly NSW 2095 Ph: (02) 9977 4122
Le Kiosk offers spectacular views of Shelly Beach with ocean views to Manly. This makes a unique setting for special celebrations, as well as business and casual dining, whilst offering superb Modern Australian cuisine, exceptional seafood and an extensive wine list.
Bluewater Café
www.bluewatercafe.com.au
28 South Steyne, Manly NSW 2095 Ph: (02) 9976 2051
Whether you are yearning for your first coffee after an early morning dip in the ocean, a light lunch after a morning with the kids at the beach or an affordable way to dine as the sun sets Bluewater Café- Manly has the quality of food and service to improve your day.
Fiasco Italian Restaurant
www.fiascoitalian.com.au
Shop 4 25-27 South Steyne Manly 2095 Ph: 02 9977 0044
Fiasco Modern Italian restaurant is an ideal location to enjoy the best of Italian Cuisine, reflecting the Italian's love for fresh seafood as well as traditional homemade fresh pasta and mouthwatering stone oven pizzas.
Sandbar
www.sandbardeewhy.com.au
25 The Strand Dee Why Beach NSW, 2099 Ph: (02) 9984 8444
Sandbar Café is located right on the beachfront at Dee Why. It has created a mouthwatering lunch and dinner menu with a very complimentary wine list. Featuring modern Australian cuisine with a classic edge, Sandbar has something for everyone.
Mezzanotte
www.mezzanotte.info
13 The Strand, Dee Why Beach NSW 2099, Sydney Ph: (02) 9981 7200
Mezzanotte is located on street level, the ristorante has a passion for serving casual Italian food at value for money prices. It has a private wine room bar and the ultimate place for hosting functions and events with style.
The Café at Alfresco Emporium
www.alfrescoemporium.com.au/cafe-high-tea
1021 Pittwater Rd. Collaroy, NSW 2097 Ph: 02 9919 0619
Relax in style while enjoying an Allpress coffee and delicious gourmet sandwiches. Be amazed at the selection of French and Italian cakes and pastries. They offer a beautiful high tea that runs from 10-12 or 2-4pm on Tuesdays. Bookings are essential by Monday noon.
Pilu at Freshwater
www.piluatfreshwater.com.au
Moore Road, Freshwater NSW 2096 Ph: (02) 9938 3331
Situated on the shores of beautiful Freshwater Beach with spectacular views out to the ocean, Pilu at Freshwater is an award winning Italian restaurant, proudly receiving two chef's hats in the Sydney Morning Herald Good Food Guide.
In Situ Restaurant Bar
www.insitumanly.com.au
1/18 Sydney Rd, Manly NSW 2095? Ph: (02) 9977 0669?
In Situ is a cafe by day and bar by night. Known for its consistently sound coffee and legendary all day breakfast and lunch menu, it's a bit of a local gem. Meet with friends and enjoy the sunny courtyard or cosy up indoors on those colder days on the lounge or by the fire.
Curly's on the Corner
www.facebook.com/pages/Curlys-on-the-Corner/120156458015449
77 Pitt Rd. Curl Curl, NSW 2099 Ph: 02 9401 0195
Tucked away in North Curl Curl lagoon and beach is this local hangout serving excellent Belaroma coffee and delicious food. The casual and friendly beach vibe of Curly's makes it one of those cafes that serve everyone well from families with young children to trendy surfers.
Flying Fox Café
www.flyingfoxcafe.com.au
2 Mona St. Mona Vale NSW 2103 Ph: 02 9986 0980
Flying Fox Café is a family and pet friendly café, offering the best venue on the beaches for a quiet breakfast, lunch or even a private party. Pets are welcome at the Flying Fox and provided with bowls of fresh water.
Ray's Pizza Café
www.rayspizzacafe.com.au
193 Condamine Street, Balgowlah Sydney, NSW Ph: 02 9948 9942
Sydneys Best Pizza's from a real wood-fired terracotta oven – the authentic Italian way plus traditional pasta dishes. Everything is always freshly made, homemade desserts, family run and very Italian!
Pronto Creative Food
www.prontocreativefood.com
1095 Barrenjoey Rd, Palm Beach Ph: 02 9974 5695
This small café located right on the main road offers some of the most delicious homemade meals. It is one of those haunts where locals gather for leisurely breakfast and lunch. Their opening hours are 8:30am to 3:00pm during the week and 8:00am to 4:00pm on the weekend.
Little Manly Beach Kiosk
www.facebook.com/littlemanlybeachkiosk
Little Manly Beach is a casual beach Cafe by day and restaurant by night. Perfect family destination, it is a protected cove with no waves and glistening white sand. The Kiosk makes it the perfect day out as you enjoy everything the beach has to offer with great coffee and food.
Seachange Café
www.seachangecafe.com.au
3/20 The Strand, Dee Why NSW 2099 Ph: (02) 9971 9692
Seachange is a family friendly café on Dee Why Beach famous for their all day breakfast available until 6:00pm. They offer tasty all-day breakfasts, paella nights, grilled meats and fresh fish. They also offer a kids menu for lunch and dinner.
Aubergine
www.auberginesydney.com.au
24 The Strand, Dee Why Beach Sydney, NSW, 2099 Ph: 02 9981 2061
Aubergine Sydney is located on the strand of Dee Why Beach. The menu offers a harmonious blend of European and Mediterranean cuisines complemented with carefully selected Australian/NZ and imported wines as well as a quality friendly service.
Penny Lane Café
www.facebook.com/pennylanecurlcurl
Shop 1, 31 Brighton St. Curl Curl, NSW 2096 Ph: 02 9905 0022
Penny Lane Café is a perfect combination of relaxed beaches vibe with fresh housemade delicious food and coffee. Their machine churns out perfect Allpress coffees all day long and has the locals queuing. The food is always fresh, delicious and well-priced.
Deck Bar & Dining
www.deckdeewhybeach.com.au
Deck 2/23 The Strand, Dee Why NSW 2099 Ph: (02) 9971 0744
Deck Bar & Dining Deck is the ideal place to chill, eat and take in music and views. It offers two levels of alfresco dining and live music four nights a week, topped off with fantastic views of a long stretch of beach and Pacific Ocean.
The Boatshed Café & Bar
www.theboatshedcafe.com.au
Lower level, 11 Narrabeen St, Narrabeen NSW 2101 Ph: 02 9913 8938
The Boatshed Café is a favourite family destination for local. It offers a serene atmosphere on Narrabeen Lake, flock of geese for little ones to feed, two nearby playgrounds, great coffee and fantastic food. Open daily, breakfast, lunch, dinner functions only.
Hemingway's
www.hemingwaysmanly.com.au
48 North Steyne, Manly Ph: 02 9976 3030
Hemingway's Manly is a small bar, café, casual dining spot and provider of all things fun. The café resembles an old English library, open daily from 8:00am to midnight. They have four separate menus (breakfast, lunch, dinner and bar food).
Barefoot Coffee Traders Coffee Shop
www.facebook.com/pages/Barefoot-Coffee-Traders/150665311637460
47A Sydney Rd. Manly NSW 2095 Ph: 415 816 061
Specialist and small batch coffee brewer on the beachside suburb of Manly; famous for its relaxed atmosphere and waffles. If it gets too busy, grab a sweet treat first and then head next door to a new location adjacent to Adriano Zumbo store to enjoy your coffee.
Coffee Brothers
www.coffeebros.com.au
54 Darley St, Mona Vale NSW Ph: 02 8411 2190
Ordering Coffee Brothers allows you to contribute towards the livelihood of the hardworking farmers from Tanna Island. When you order from Coffee Brothers, you're not just drinking fair-trade coffee, you're drinking beyond fair-trade coffee."
Zubi Espresso Bar
www.facebook.com/zubinarrabeen?ref=stream
323C Barrenjoey Rd, Newport NSW 2106 Ph: 02 9999 1519
Zubi Bar is an unexpected gem on dusty old Barrenjoey Road, the decor is rustic in design, giving the space a warm, cozy feeling. Take the morning newspapers, order a Campos coffee and food. Eating is best experienced in the cool garden setting at the rear of the café.
21 Grams Espresso Bar
www.21grams.com.au
3 South Creek Road, Dee Why, NSW Ph: 0477 414 447
21 Grams is a trendy little cafe serving their own house blend coffee. The menu covers all your cafe basics at reasonable prices. The café is very kid friendly, in the back corner kids have their own playroom with a pretend kitchen, workbench, books and toys.
Le Trefle
www.letrefle.com.au
6/35 Tramore Pl, Killarney Heights NSW 2087 Ph: 02 9975 2290
Go for delicious fresh crepes and great Allpress Espresso coffee at Le Trefle. They also serve gourmet sandwiches which they serve on organic bread baked in Sydney by Brasserie Bread.
Bronze Kiosk
www.bronzekiosk.com.au
1 Surfview Road, Mona Vale Beach 2103 Ph: 02 8411 1224
If you're looking for lovely ocean views, good food, coffee and a playground nearby try Bronze Kiosk in Mona Vale. They have seasonal breakfast and lunch menu so the dishes remain fresh. Gluten free and vegetarian options are also available.
Fika Swedish Kitchen
www.fikaswedishkitchen.com.au
5b Market Lane, Manly, NSW 2095 Ph: 02 9976 5099
A great little cafe on Market Place in Manly which serves authentic Swedish food in a relaxed homestyle atmosphere. The menu is shown on the blackboard, breakfast is served from 7:00am until 11.30am, lunch from 12:00nooon and sandwiches from 3:00pm.