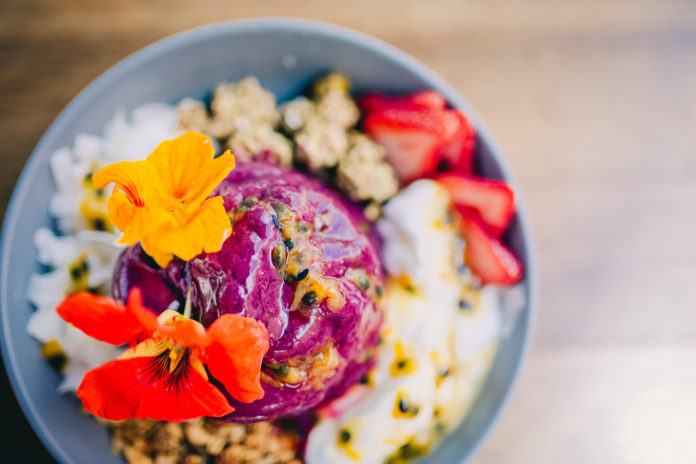 Mr. Good Beans
Shop 1 Monterey Arcade
100 Harbour Drive Coffs Harbour, NSW 2450
Ph: (02) 5606 1322
It all began in Moonee Beach where Dan Gibson, a soul passionate about coffee if ever there was one, started Mr. Good Beans after a career in hospitality doing everything from nightclubs to restaurants to cafes in Sydney and overseas. With Coffs Harbour offering both a sea change and a tree-change, as well as a spot half-way between both sets of his daughter's grandparents in Brisbane and Forster, he took his love of coffee and dream of always wanting a coffee business and made it a reality.
In late 2014, after 2.5 years of winning over Moonee Beach locals, he saw a chance to move into the Coffs Harbour CBD 14 kilometres away. "There are a lot of coffee machines in this town" he says of the competitive market that is Coffs, but Dan's hard work in the preceding years gave him an advantage – his Moonee Beach regulars have followed him. "They've shown a huge level of support," he says, "they've definitely kept us buoyant".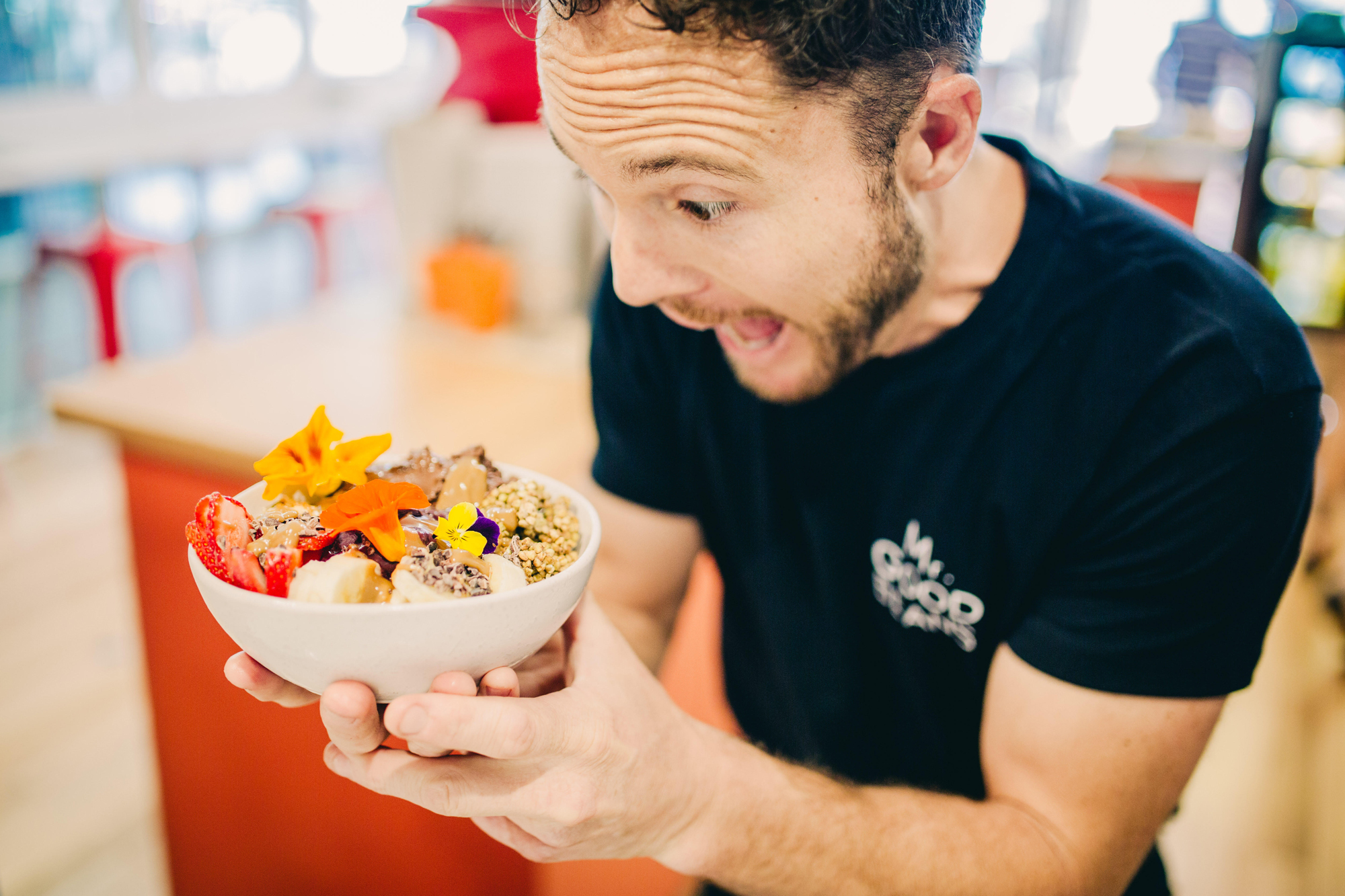 Since then Mr. Good Beans has been serving up great coffee, acai bowls, breakfast, lunch, and great vibes to Coffs Harbour locals, winning them over from the absolute heart of the CBD with a close-knit team that's passionate about the local community and creating an atmosphere of heart and soul. Mr. Good Beans is also the first cafe in the region to serve acai bowls. Having perfected the recipe and texture, they now have a menu of seven different varieties of 100% vegan, low-sugar, superfood-packed acai concoctions including caramel, raw chocolate mousse, paleo espresso and peanut butter.
"It took me a good couple of months of experimenting to get them right," Dan says. "You want a consistency that is fluffy, but thick enough to be scoopable, but not so dense that it doesn't blend all the way."
As progressive as these acai bowls are, Coffs Harbour locals are not quite the organic-mega-healthy-foodies one might surmise from such offerings – you might be thinking Coffs Harbour is the new Byron Bay if this is what the locals are eating? Not so, says Dan, and Mr. Good Beans still ensures it caters to Coffs Harbour locals who are resistant to change. Even when fit, healthy young adults come into his cafe, they'll still usually say "I just want a massive feed" and order the generously-portioned Mr. Good Beans Brekkie, which outsells all other dishes.
But for those he can push to try something different, Dan offers an actual "money-back guarantee" on his Beefed Up Eggs Benny, which features slow-braised tender beef cheeks with sautéed spinach, hollandaise, pickled mild chilli and capsicum sauce. If he or his staff can talk people into it, they find the customers become big fans of this dish – maybe a cafe in Sydney should start serving this too?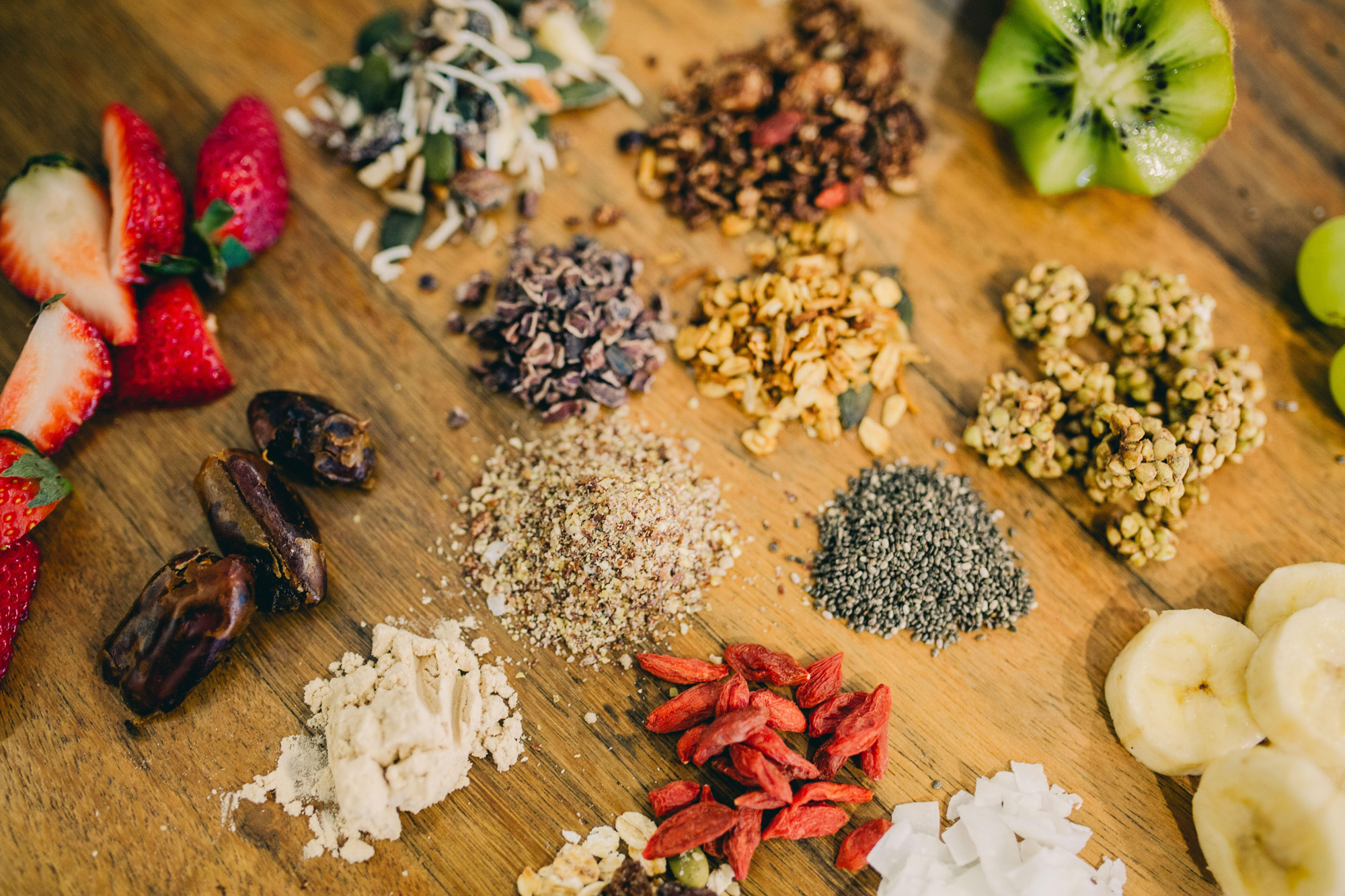 Good Philosophy
Mr. Good Beans has always foregrounded the intention of growing a cafe that's tailored to the local community, offering a great experience no matter if it's simply a takeaway coffee on the run to work, a business lunch or a relaxed dine-in breakfast or morning-after brunch at the weekend.
Dan's philosophy is based around positive customer service, and understanding that everyone experiences food and coffee differently, and has different needs. He believes meeting those needs contributes to an enjoyable experience that lingers long after you've left the cafe. He also believes consistency is the key to making you want to return every time.
Never has there been a time when there has been so much progression in the food and beverage industry, and Mr. Good Beans is excited about bringing new and exciting concepts for their customers to experience and experiment, while ensuring the staples are well catered for. They believe in the delight of the journey, and want you to join them for the ride.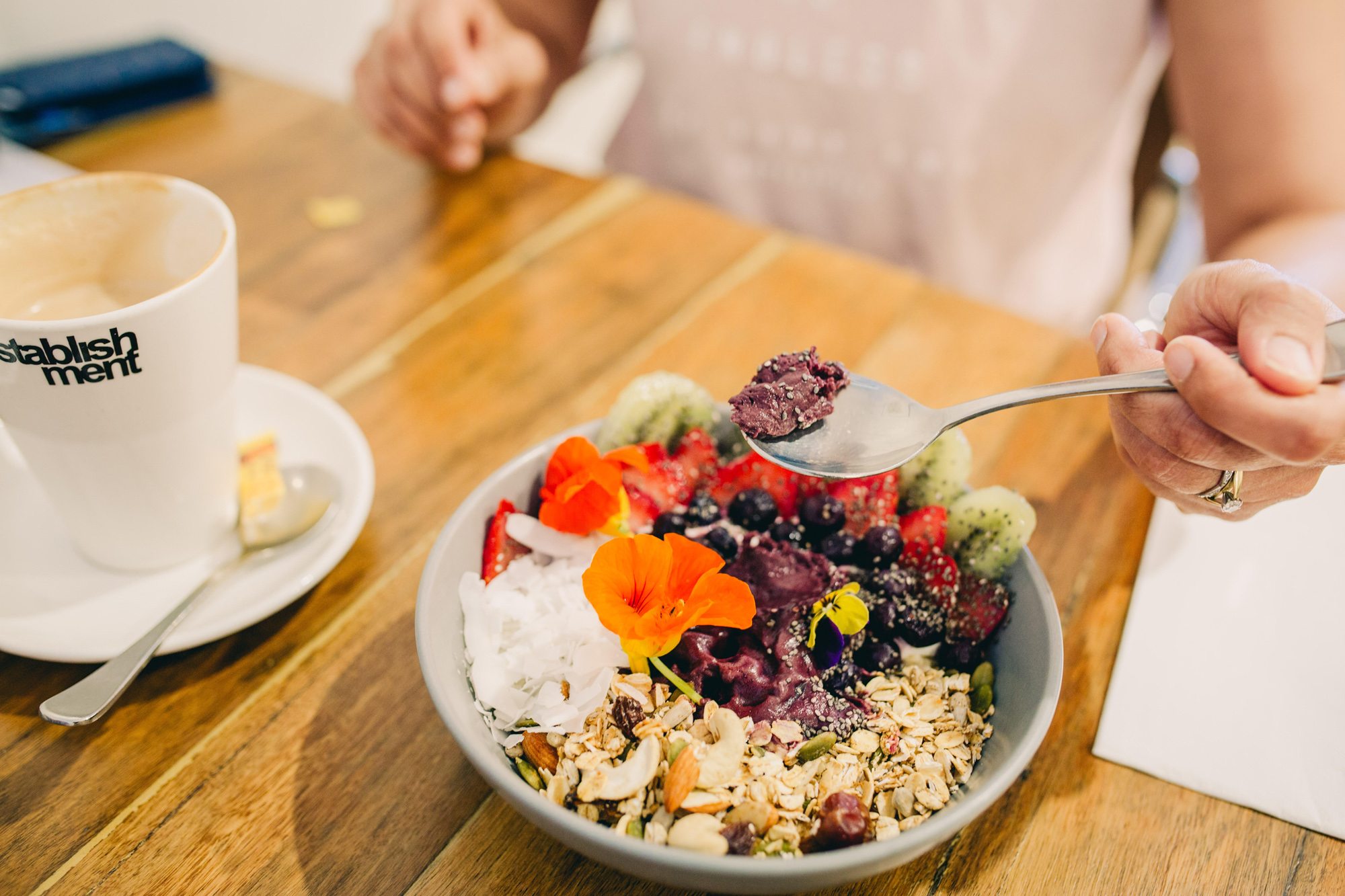 How they do the Best Coffee in Coffs Harbour
At Mr. Good Beans, they like coffee. A lot. They drink it all day – and they're pretty damn fussy. They also realise that the way THEY like their coffee may not always be the way YOU like yours. That's why they always have a selection of beans to choose from, and they encourage you to be as bossy with them as you like – tell them how you like it, so they can tailor your brew to suit your tastes. Nutty, strong, mild, creamy, hot, drink-me-now temperature … you tell them, they will do it.
All small coffees are brewed with a double ristretto shot. This provides a rich, bold, creamy espresso with great mouthfeel, a rich dark crema and minimises any bitter flavours.
Their larger coffees are brewed using a full 20g double shot. The longer extraction time yields more complexity in the flavour, and adds strength to the espresso.
And they choose to use the beans roasted by Brisbane's The Establishment Coffee Company. In a town where most cafes use one of two roasters, for Dan using this roasting company is a point of difference he's quasi-religious about. Likewise he doesn't believe in employing a barista who doesn't touch the merchandise – "you must be a heavy coffee drinker if you're our barista", he says unflinchingly.
With an extensive beverages menu including everything from Athol Glen Turmeric Golden Milk Latte to Coffs Harbour's own Red Sparrow Teas and Bondi Chai – "people rave about our chai lattes" says Dan, Mr. Good Beans is not just up there as a strong candidate for the best coffee in Coffs – there's just so many thirsts to be quenched, and on hot days there's a-plenty in the realms of juices, smoothies, milkshakes, iced drinks such as an iced chai latte, and even extreme thick shakes to delight even the fussiest drinker.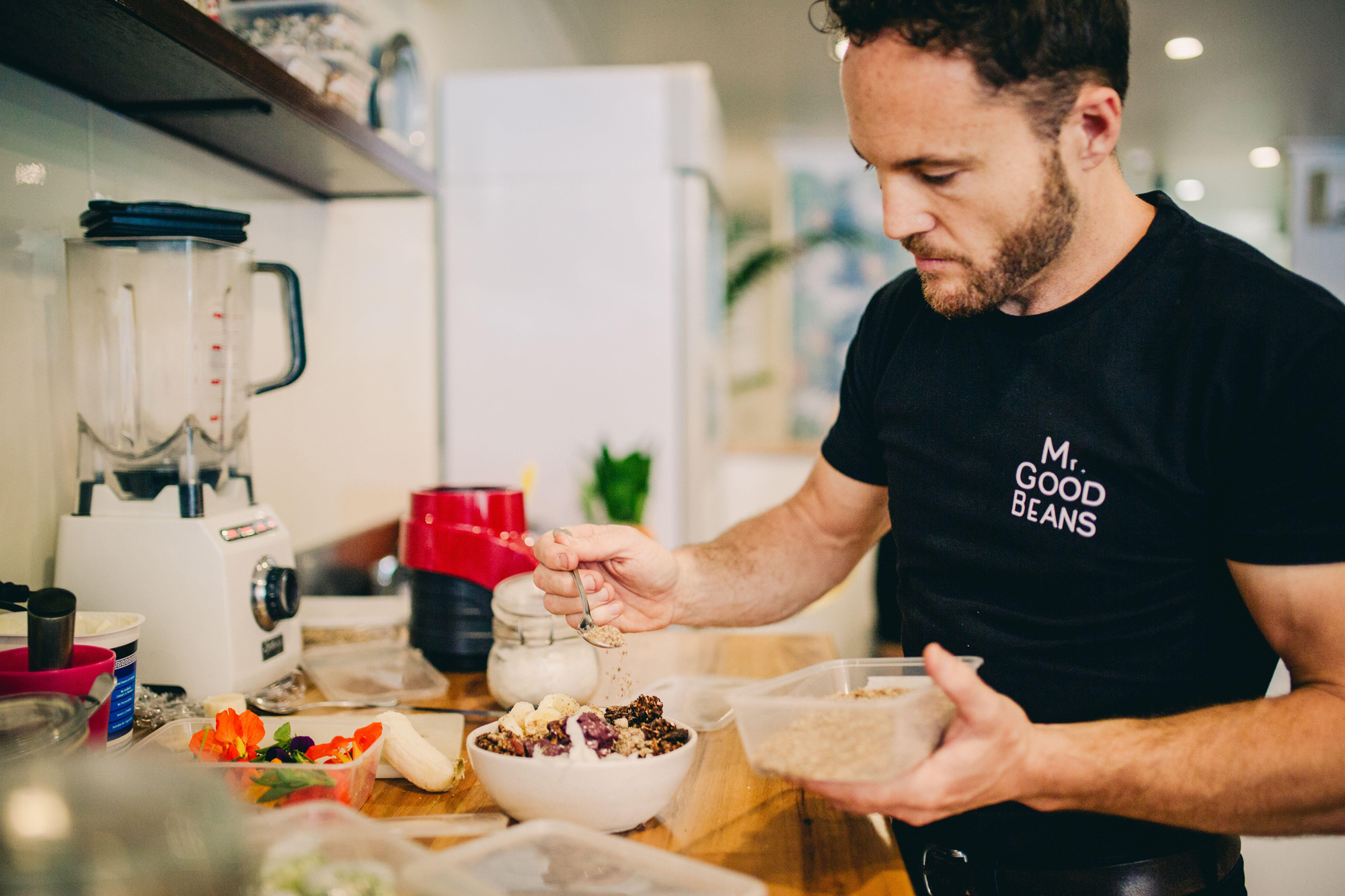 In a low-density regional area, you don't have the depth of population to get too specific. "A purely vegan cafe wouldn't last in Coffs because there isn't the population to support it," says Dan. So Mr. Good Beans has to be fairly broad in what they cater for. Their Hot-smoked Salmon Poke Bowl sits calmly on the menu next to their Big BLT, while their Bim Bim Bap marinated chicken Korean-style sits spicily close to their Scrambled Pesto Tofu and their Egg & Bacon Roll – clashes of foodie cultures that are almost dangerous to have under the one roof.
And yet, in going one step further by having their unique menu of seven fully vegan and sugar-free versions of their acai bowl, it's not just passers-by from the Gold Coast, Brisbane and Sydney who are digging it – it's becoming ever-more of a timely dish for the gradually-expanding health-conscious, switched-on, sun-loving Coffs scene.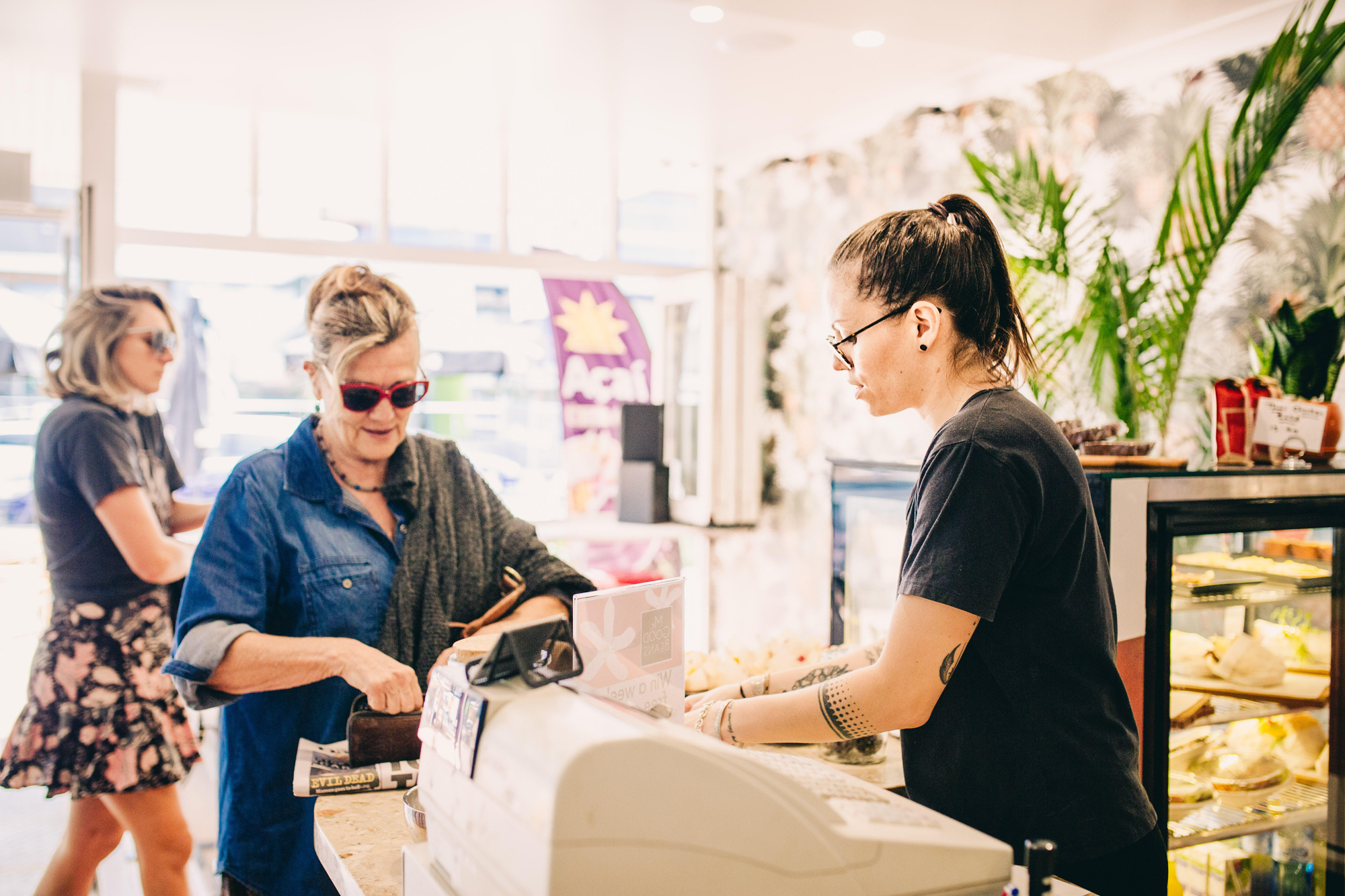 "People are definitely getting more aware of what they're eating. We have businessmen asking for them, gym-goers, as well as mums concerned about what their young kids are eating. But at the end of the day it's all about the taste."
"It's a premium product – we put a lot of love into it".
Mr. Good Beans
Shop 1 Monterey Arcade
100 Harbour Drive Coffs Harbour, NSW 2450
Ph: (02) 5606 1322
www.mrgoodbeans.com.au
www.instagram.com/mrgoodbeans
www.facebook.com/MrGoodBeans