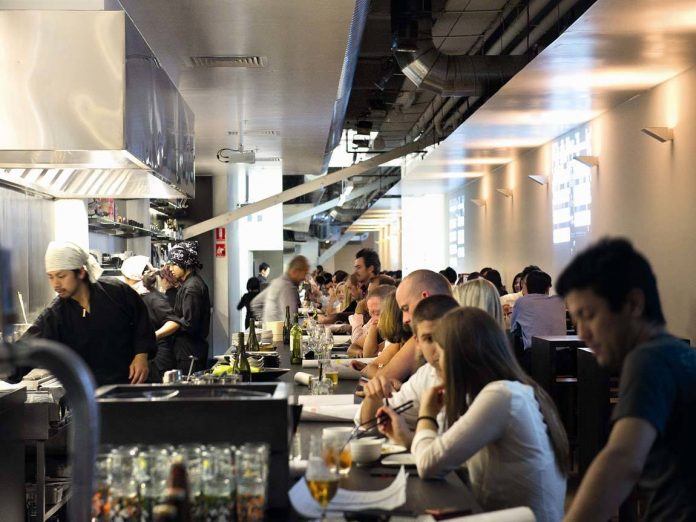 Satisfy your cravings and desires of your late night cuisine experience in Sydney
Badde Manors
37 Glebe Point Rd Glebe
9660 3797
Spend night relaxed and satisfied with the meals provided at Badde Manors. Badde Manors serve a diverse range of cultural dishes from Asia, North Africa, Middle East, Latin American and Mediterranean regions. This means that customers and guests will never run out of options when it comes to the dishes served at Badde Manors. The restaurant serves vegetarian dishes as well making it great for vegan lovers out there. Also, gluten free bread is available for those who want to avoid gluten from their diet.
Bazaar Beer Café
1 Albany St St Leonards
9438 1999
www.bazaarbeercafe.com.au
Experience fun filled nights with you and your friends at Bazaar Beer Café. Drink and be merry especially this October as Bazaar Beer Café celebrates Oktoberfest with their customers serving a variety of dishes that goes well with your drink. Mixed sausage platter, salt and pepper squid, fish and chips, Bazaar chicken burger and Bazaar steak sandwich are great snacks that complements the beverages that they are serving. You can also go all out with their main course as they also serve a variety of dishes.
Cafe Gioia
126A Norton St Leichhardt
9564 6245
www.gioiacafe.com
If you are craving for a late night Italian cuisine, you can find such place at Café Gioai. When talking about Italian delicacies, pizza is something that instantly comes to mind. Café Gioai has a wide variety of Pizzas available in medium and large sizes. Check out their Leichhardt Special which consists of Ham, cabanossi, pepperoni, mushroom, capsicum, onion, pineapple, olives, tomato and cheese. You can also add extra toppings depending on your taste and preference. Gluten free pizza and pasta is also available from their Café.
Cafe Hernandez
60 Kings Cross Rd Kings Cross
9331 2343
www.cafehernandez.com.au
Make your night memorable by trying out different dishes to breathe new life to your dining experience. Perhaps a Spanish inspired cuisine will interest you with their unique flavors and spices. For that matter, you can find such menu when you visit Café Hernandez today. Enjoy their Tortilla with salad, Chorizo roll, Lavish wrap chicken, Lavish wrap vegetarian, Jamon Serrano, and more when you visit their Café. You can also find a variety of Spanish sweets such as Arroz con leche and Churros spanish donut.
Christo's Gourmet Pizzeria
224 Glenmore Rd Five Ways Paddington
9360 6796
www.sydneycafes.com.au/christos.html
Another interesting café to add to your late nigh food trips at Sydney is Christo's Gourmet Pizzeria. Pizza is a very popular food that can be eaten at anytime of the day. Wherever your hunger may take you, it is good to hear that Christo's Gourmet Pizzeria provides take away or home delivery services which is a very convenient and handy feature. Try out their Hot Salami which is perfect for spice lovers out there. The restaurant also serves pastas available which is in different flavors.
City Extra
Shop E4, East Podium Circular Quay
9241 1422
www.cityextra.com.au
Get a great value with your money when you dine at City Extra today. City Extra offers lunch and dinner specials which consists of a variety of cuisine one can choose from for their meal. This includes the Steak burger that has prime rump steak with all the usual trimmings on a roll served with fries, Calamari Deep fried calamari rings with lemon and fries and Chicken Burger with Thai chicken breast fillet with all the usual trimmings on a roll served with fries.
East Ocean Restaurant
421-429 Sussex St & 86-88 Dixon St Haymarket, Sydney
9212 4198
Make you dinner memorable with a taste of authentic oriental cuisine available at East Ocean Restaurant. East Ocean Restaurant is one of the most famous Chinese restaurants in Sydney making it quite popular with the locals as well as guests. If you want to try something new, their Yum Cha menu will not disappoint you with an assortment of fried dumplings, seafood, vegetable, spring rolls, calamari and a lot more awaits their guest upon their visit.
Faheem's Fast Food
247 Enmore Rd Enmore
9550 4850
www.faheemfastfood.com.au
If you are ever in a craving for Indian or Pakistani inspired food in Sydney then you will be pleased to hear that Faheem's Fast Food provides such dishes to satisfy your desires. You can try their diverse range of curry meals each with their own unique and distinct flavor using natural spices and herbs. This ensures their customers that the meals provided at Faheem's Fast Food is always served fresh. Check out their Tandoori Naan Breads today.
Giardinetto Italian Restaurant
62 Stanley St Darlinghurst / East Sydney
9361 3633
www.giardinetto.com.au
Pasta usually comes up with a conversation when talking about Italian restaurants as they make the best pastas out there. It is good to hear that you can find a huge variety of Italian inspired cuisines at Sydney without the need to travel to distant places. Giardinetto Italian Restaurant has tons of options available with regards to their pastas. Discover unique and flavorful blend of pastas at their restaurant which includes spaghetti marinara, fettuccine con salmon, tortelli di zucca and more when you visit their store today.
Gotties Italian Restaurant & Woodfired Pizzeria
Erskine Park Shopping Centre Swallow Drive Erskine Park
9670 1800
www.facebook.com/pages/Gotties-Woodfire-Restaurant-Pizzeria/150045128357411
Pizza is quite a popular Italian cuisine that is served to countless number of people on a regular basis. Many restaurants are able to make this delicacy however only a few is able to capture their unique and authentic taste. If you are craving for specialty pizzas in Sydney, then you are in luck as Gotties Italian Restaurant & Woodfired Pizzeria is able to provide their customers with fresh pizzas right from their kitchen. What makes them quite unique is with how they prepare and cook their pizzas using only wood fire.
Hanabi Restaurant
Shop 3, 122 Liverpool St Sydney City
9262 7288
If you are looking for something fresh and new with regards to your overall dining experience, then look for further! Hanabi Restaurant provides Japanese and Korean inspired dishes served with the finest and fresh ingredients available in the market. To tickle your fancy with regards to Asian cuisine, Hanabi Restaurant has prepared a huge variety of menu which includes sushi, deep friend dumplings, teriyaki chicken, seafood udon, hotpots and more awaits customers during their visit and stay at Hanabi Restaurant.
Harry's Cafe De Wheels
Cowper Wharf Rd Woolloomooloo
9357 3074
www.harryscafedewheels.com.au
Sometimes all you'll ever need to eat during late night strolling is a quick food on the go. This can be consumed in short and quick burst making it perfect in sating late night hunger. For that matter, Harry's Cafe De Wheels is just the thing that you are looking for. The café has a variety of Pie menus, pasties & sausage roll menus, hotdogs & hot rolls, sweets and more available for their customers on a regular basis.
Maisy's Café
164 Military Rd Neutral Bay
9908 4030
Late nights are great for drinking and unwinding from a stressful and tiring day. Sate your cravings for wine while filling your stomach up with the food served at Maisy's Café. Maisy's Café has a diverse and huge selection of beer & wine available to their customers on a regular basis. They have beers, white wines, red wines and sparkling which can be enjoyed per glass or per bottle depending on your preference. Don't leave with an empty stomach and order food along with your drinks.
Prague Czech Beer Restaurant
42 Kellett St Potts Point
9368 0898
www.sydneycafes.com.au/praguerestaurant.html
It is quite rare to find a Czech inspired cuisine nowadays especially in Sydney. With that said, it is good to hear that Czech dishes are getting their fair share of the spotlight especially with food served at Prague Czech Beer Restaurant. The first thing that you will notice is their almost subterranean atmosphere with their sandstone walls, arched windows and wood-barrel bar. Try out their Bohemian dish served with Smoked Pork, Roast Pork, Golden-Brown Duck, Sausage, Red Cabbage, Sauerkraut, Potato Pancakes & Bread & Potato Dumplings.
Superbowl Chinese Restaurant
41 Dixon St Sydney
9281 2462
No you won't find any football related themes here in this restaurant. However, what you will find is a huge variety of Chinese inspired dishes served fresh and hot to their customers on a regular basis. The Superbowl word is meant to describe the bowls they use to serve their dishes. These include the chicken fillet congee, chicken and sweet corn soup, prawn dumpling noodle soup, crab congee, Pork & century egg congee and the likes. This is great to warm you in the cold nights.
(The) Victoria Room Bar Restaurant
Level 1 235 Victoria St Darlinghurst
9357 4488
www.thevictoriaroom.com/site
Spend the night with your loved ones or friends in a fine and stylish establishment located at The Victoria Room Bar Restaurant. Their cocktail bar menu is diverse and varied giving guest tons of options when they decide to spend their evening at The Victoria Room Bar Restaurant. This is great if you just want to unwind and relax with your friends while sharing light snacks along the way. Try out their Peppered Wagyu Skewers and Crispy Zucchini Flower today.
Zachary's Gourmet Pizza Bar
28-30 Bayswater Rd Kings Cross
9380 4500
www.sydneycafes.com.au/zacharys.html
Have a taste of gourmet pizzas served fresh right from the oven available at Zachary's Gourmet Pizza Bar. Late nights at Zachary's Gourmet Pizza Bar become a good resting place because of their great tunes which starts at around 6pm. Their deluxe pizzas are great for party of friends and they also serve pastas, salads and snacks along the way. Don't go out just yet. Enjoy the rest of the evening with their cocktail drinks for you and your friends.
Corinthian Rotisserie
283 Marrickville Rd Marrickville
9569 7084
Satisfy your cravings and desire with regards to Greek cuisines at Corinthian Rotisserie. The restaurant serves beef casserole, roast lamb, moussaka and spanikopita on a regular basis which is served fresh along with other orders. Their salads as well are fresh making it delightful to consume. A huge selection of Greek wines is also available making the place perfect for late night dining with you and your friends. The restaurant also provides take-away orders which are great for short stops.
Lotus Bar & Restaurant
22 Challis St Potts Point
9326 9000
If you have a large group and are looking for a great late night dining experience, you will be pleased to hear about the services that Lotus Bar & Restaurant provides to their customers. Lotus Bar & Restaurant's dishes are great for sharing making it a very good value for your money. Each of you can order a different dish and share it across friends making the overall dining experience varied and unique. Cocktail drinks are also readily available at their Bar.
Port Orient Asian Fusion Restaurant
Level 2, Shop 449 Harbourside Shopping Centre Darling Harbour
9282 9922
Have a taste of different oriental cuisines from various cultural origins served fresh at Port Orient Asian Fusion Restaurant. If you have been looking for authentic Asian inspired dishes, your search has finally ended. Port Orient combines different oriental menu giving their customers tons of options making each trip at their restaurant different from before. Late nights are perfect in trying out something new and fresh with regards to dining experience and you and your friends will surely enjoy the dishes provided