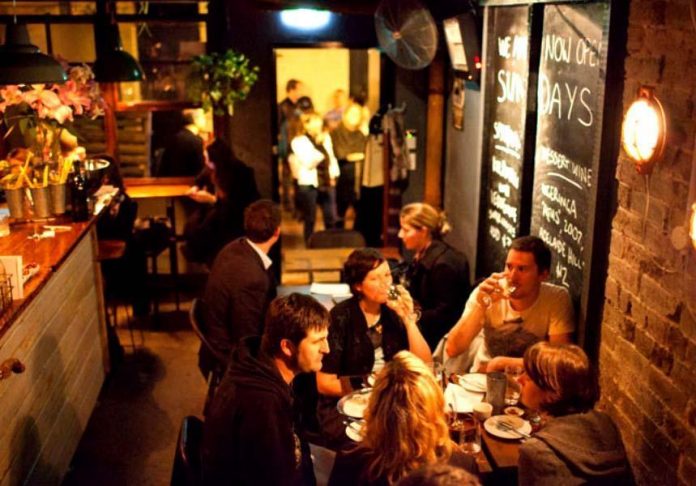 Looking for Celebrity Spotting Cafes, Restaurants & Wine Bars in Sydney? Where Do The International Celebrities Dine? Paris Hilton can be found at Zeta Bar, Justin Bieber fans might wish to head to Bondi Icebergs or Aria. If you spot a celebrity out dining tweet us @sydneycafes and we'll let their fans know …
The Hanging Ladder
Ph: (02) 9810 5255
485a Darling Street, Balmain
www.thehangingladder.com.au
https://www.facebook.com/thehangingladder/
https://www.instagram.com/thehangingladder/
A courtyard full of edible plants is the quirk which piques the curiosity of first-time visitors to The Hanging Ladder, but it's not the only lasting impression when they leave. Its friendly atmosphere is instantly palpable, the cafe oozes art-gallery design, and the freshest of ingredients linger on the palate – for fresh and delicious is what gives this place a well-deserved spot among the many foodie highlights of Balmain-town. Lunch is a sandwiches, salads or burgers affair. For the first, a salmon or steak sandwich, B.L.A.T. or roast pumpkin sandwich with goats cheese, caramelised onion, pistachio and rocket are all at the gourmet end of the spectrum. The second offers a beetroot salad, crisp skin salmon fillet with nicoise salad, chicken salad or roast pumpkin and quinoa salad. While in the third category The Hanging Ladder reveals a ribald secret – it's regarded as the best burger joint this side of the equator by those who have partaken of their lavish creations. The Hanging Gardens themselves are somewhat more humble – they're happy to promote as "the best burgers in Balmain".
Double Cross Espresso Bar
118 Willoughby Rd, Crows Nest
and 8 Broadway, Chippendale
Ph: (02) 9438 1058
facebook.com/doublecrossespressobar
instagram.com/doublecrossespressobar
Owner/chef Samuel Lee is into fusion. He and his business partner, Quinton Ng, have established a modern relaxed venue serving casual food with an Asian and French twist. Sam and Quinton were high school friends working in the hospitality industry for 4-5 years and one day came together with the common dream to own their own cafe. The name originates from both of them, as they both identify with two different nationalities which they believe represents the cafe in what it is; an Asian twist on modern food. Hence the name Double Cross. Worthy of standout mention on their menu is their take on mentaiko spaghetti, a Japanese-Italian dish made with marinated cod roe. It uses a soy-sauce and lemon base and has a crème fraiche and egg on top. The result is a subtle marinated-cod flavour (nutty and not much fishy) or you can choose to blend the cream in to enjoy a taste similar to the creamy prototype. And yes, both Double Cross venues are dog-friendly!
Dunes Restaurant & Kiosk
Ph: (02) 9974 3332
1193 Barrenjoey Rd
Palm Beach NSW 2108
www.dunespalmbeach.com.au
Dunes is a much-sought-after destination for weddings, with their manicured gardens and surrounding natural Australian flora, they offer the perfect setting for an intimate ceremony to include pre-reception drinks. Or if you are looking for a larger reception, Dunes can cater for a seated or a cocktail style event. Troy and his team are happy to create menus to suit every couple. They can also help you with everything from the celebrant, flowers and decorations, to pointing you in the right direction for a good photographer in the area. Equally enjoyable if you're of a mind for something more casual, is the Dunes Kiosk. Families and friends can enjoy a meal outside – you can be as barefoot and sandy as you like – in a breezy Mediterranean courtyard equipped with basket chairs and umbrellas. Whether you've visited Palm Beach to swim, surf, play or trek, Dunes Restaurant & Kiosk will leave a rich memory that will most likely last a lifetime.
Cafe 191
14/191 Ramsgate Road
Ramsgate Beach 2217
Ph (02) 9529 6066
https://www.facebook.com/Café-191
https://www.instagram.com/cafe191
Fatemah started in hospitality at the age of 14 where she learnt to cook and make coffee and gained the skills required to run Cafe 191. Fatemah respects the locals and has incredible customer service. Her kind nature and willingness to always create enjoyment is what makes Cafe 191 unique and distinctly popular. Contemporary Lebanese fusion is probably how you'd describe it, all food options are Halal, all in-house water is alkaline water from their very own kangen machine – great to see a cafe which cares about serving up more than just plain old fluoride-infested Sydney tap water. They offer delicious vegetarian and vegan options, tradies' specials, they're truly a community-focussed cafe. All recipes are Teta's recipes (meaning grandma's recipes) – traditional Lebanese with a modern twist. They're yet another dog-friendly cafe – two woofs approval, and besides vegan & vegetarian, there's gluten-free options too. Coffee and Co is their coffee of choice, and they get their food fresh daily, meat supplied from the local butchers (Butcher Boys) who are award-winning butchers. So many reasons to enjoy, and you most surely will.
Twenty Four Restaurant & Bar
Ph: (02) 9981 2061
24 The Strand, Dee Why
www.24deewhy.com
www.facebook.com/24DeeWhy
Like most of the cafes and restaurants on The Strand, Dee Why's beachside boulevard, Twenty Four boasts ocean views and a relaxed atmosphere. The menu combines Australian classics with some unexpected flavours from around the world which seem included to surprise and ultimately satisfy the senses. Twenty Four simultaneously appeals to the executive dining set, taking their steaks very seriously – Scotch Fillet, Eye Fillet and Rib Eye each occupying a trinity of highest-price items, all steaks served with slaw and your choice of one side and one sauce – their sauces are gluten-free and this is where they vary from conventional steaky scripts, offering not just mushroom and barbeque, but also a scrumptious gorgonzola jus, as well as chimi churri. Mains cater to pretty much every tongue on the Sydney foodie radar, nota bene this quick run down the menu: John Dory Fish 'n Chips, Prawn & Mango Salad, Pumpkin Salad, Half Roast Chicken, Wagyu Beef Burger, Chicken Burger, John Dory Fish Burger, Veggie Burger, Pumpkin & Mushroom Gnocchi, Spaghetti Allo Scolglio with Mixed Seafood, and Crispy Skin Barramundi. In catering to a broad range of tastes, Twenty Four also has plenty of vegetarian and gluten free options, making life easier for those with dietary requirements.
Pheast
pheast.com.au facebook.com/pheastwaverley
302 Bronte Rd, Waverley Ph: 02 9387 6020
Pheast is a small casual eatery that features inspired dishes made with the freshest local produce available. They let the quality of the ingredients speak for themselves vegetables on a prominent role. Servings are meant to be shared. Globally inspired, inventive, beautifully presented.
Restaurant Hubert 
restauranthubert.com  facebook.com/Hubert
15 Bligh St, Sydney Ph: 02 9232 0881
French restaurants are the best places to take someone for a romantic evening. Hubert is one such perfect spot. It perfectly sets the mood. Food is sublime, ambiance great and if you are at a loss for wine choices, they would give informed suggestions for you to choose from. At the end one would feel as if transported to romantic France.
Rockpool Bar & Grill 
facebook.com/rockpoolsydney  rockpoolbarandgrill.com.au
66 Hunter St., Sydney Ph: (02) 8078 1900
Perfectly wood fired grilled meats sourced directly from producers and dry aged onsite and seafood from the very best producers. This comprises the best dining experience. Only from the freshest and best do you get the greatest steaks, sides and wine to accompany your meal. Grab a seat by the bar while you wait for your company or just chill, enjoy your food and people watch.
Sails on Lavender Bay
2 Henry Lawson Ave, Mcmahons Point Ph: 02 9955 5998
sailslavenderbay.com facebook.com/sailslavenderbay
Enjoy the majestic beauty of Sydney in one of Sydney's longest running restaurant, Sails on Lavender Bay. They serve classic French cuisine with a twist targeting a refined modern Australian palete highlighting seafood and fresh local produce for lunch, dinner and drinks. Their award wine list consists of local Australian and international wines.
Sasaki 
21 Alberta St, Sydney Ph: 02 8068 9774
sasaki.com.au 
facebook.com/Sasaki
Restaurant Sasaki is quite like visiting Shimane, Japan since most of the cutlery, fittings are from where Yu Sasaki, the owner, hails from. No expense was spared recreating this place that truly feels authentic. The food is divine, freshly made. The atmosphere, it is like being transported to another place.
Sotto Sopra
G04/316-324 Barrenjoey Rd, Newport Ph: 02 9997 7009
theboathousepb.com.au  facebook.com/sottosopranewport
Translated as 'upside-down' expect some surprises from this relaxed Italian Trattoria on the beach. They have vegetarian and vegan options as well as being fully licensed with the Coravin system in place to ensure access to exceptional wines. Enjoy your food a la carte or on the more Italian style of sharing, tasting, and feasting.
St. Claude's 
10 Oxford St, Woollahra Ph: 02 9331 3222
stclaudes.com.au 
facebook.com/St.Claudes
More than a modern French bistro, St. Claude's is the best known secret in Sydney. They have a history of good food from the best soufflé to their amazing wines. They have fantastic atmosphere and attentive service without being intrusive. If you love French food, you simply must try this place.
Three Blue Ducks
143 Macpheron St, Bronte Ph: 02 9389 0010
threeblueducks.com 
facebook.com/threeblueducks
Three Blue Ducks takes both food and fun seriously. They serve breakfast, lunch and dinner with a smattering of boutique beer, cider, coffee, wine and other drinks to go with your meal. Fresh ingredients come directly from their kitchen garden onsite. They are very passionate in going green and committed to using eco-friendly, biodegradable products and use renewable energy where they can.
The Unicorn Hotel 
106 Oxford St, Paddington Ph: 02 9360 3544
theunicornhotel.com.au 
facebook.com/theunicornhotel
In 1941 the first beer was poured at Paddington's the Unicorn Hotel. A pokie free, smoke free Aussie pub, they feature a quirky take on traditional Aussie food with excellent drinks and great beer selection. They have a friendly environment and a beer garden nice enough to chill on a laid back afternoon alone or with mates.
Bondi Icebergs
1 Notts Ave Bondi Beach NSW 2026
02 9130 3120
www.icebergs.com.au
An authentic dining experience awaits customers at Bondi Icebergs with their amazing and one of a kind facilities and amenities. The Bondi beach location is a very relaxing place for your family and friends to experience as well as try out their huge variety of dishes. This is great if you have a free time over the weekend or during holiday vacation. This is the reason why a lot of celebrities such as Sienna Miller, Nicole Kidman and Keith Urban, Pink, Michael Clarke and Oprah visit Bondi Icebergs during their visits at Sydney.
Beppi's
21 Yurong Street (Cnr Stanley St) East Sydney, NSW 2010
02 9360 4558
www.beppis.com.au/
Italian restaurant offer a unique and authentic dining experience and this is my many individuals travel to distant places just to try out their Italian cuisine. With that said, it is good to hear that more and more Italian restaurants are expanding their reach globally. Sydney was able to get their fair share of Italian restaurants. Beppi's is one of the oldest Italian restaurants established in Sydney making them quite popular to the locals. Big time celebrities make their visits at Beppi's during their travel because of its popularity.
Café Sydney
5th Floor, Customs House 31 Alfred Street Circular Quay, NSW, 2000
02 9251 8683
www.cafesydney.com
A great harbour view at the heart of the metro located at Café Sydney. Café Sydney sits at the top of Customs House at Circular Quay. The view is indeed at sight to behold making the overall dining experience authentic and unique from the rest. There is no question that a lot of celebrities have indeed visited Café Sydney because of their pleasing atmosphere and view alone. With that said, their dishes are great and delicious as well.
Harry's Café de Wheels
Corner Cowper Wharf Roadway & Brougham Road Woolloomooloo, NSW 2011
02 9357 3074
www.harryscafedewheels.com.au
One really has to think outside of the box when they decide to look for celebrities. You might be surprised to see celebrities out in the open enjoy their meal in the streets. Harry's Café de Wheels has indeed had their fair share of the spotlight with regards to famous celebrities. They offer food on the go which makes it very convenient for a short trip and visit. You can head over and scout some famous celebrities on a random occasion.
Manta Seafood Restaurant
6 Cowper Wharf Road Woolloomooloo NSW 2011
02 9332 3822
Restaurants situated in Woolloomooloo Wharf are home to many great celebrity eateries. This is because tons of options are available when one chooses to spend their evening in there. The Wharf at Woolloomooloo is overall an incredible melting pot for celeb spotters with the likes of China Doll, Manta, Kingsleys and OTTO the go-to place for every visiting celebrity. A variety of international and oriental restaurants wow upmarket diners which makes dining here a stellar adventure. Manta Seafood Restaurant for example, serves a huge selection of seafood dishes fresh on a daily basis. Famous celebrities have indeed visited Woolloomooloo Wharf and Manta Seafood Restaurant tops their list for Aussie tucker.
Watts on Crown
368 Crown Street Surry Hills NSW 2010
02 8068 0461
www.wattsoncrown.com.au
It should be noted that celebrities dine in the best restaurants available out there. In Sydney, Watts on Crown is a warm and relaxing place to stay and dine with your friends. They serve different types of dishes from breakfast to dinner giving customers tons of options available when they choose to dine in Watts on Crown. Their menu changes on a regular basis making the overall experience worthwhile. Who knows perhaps on your next visit your will spot a celebrity?
Muum Maam
Shop 1/50 Holt St Surry Hills NSW 2010
02 9318 0881
www.muummaam.com.au
Celebrities are always looking something quite new and different with regards to their dining experience. They may try oriental dishes on a few occasions. The Thai cuisine is quite a popular dining option of choice because of their distinct taste and flavors. Muum Maam serves a variety of Thai inspired dishes that can satisfy the cravings of their customers for an authentic dish. Add Muum Maam as list to your dining options and you may see celebrities eating their as well.
Chiswick
65 Ocean Street Woollahra NSW 2025
02 8388 8688
www.chiswickrestaurant.com.au
People love to drink as way to relax and unwind from a stressful and tiring day. Celebrities also love their fair share of cocktail drinks to ease their tension away. Chiswick is an ideal place to visit when one is looking for a huge variety of cocktail list using fruits and herbs from the garden. After a healthy and scrumptious meal, you can decide to spend the rest of the evening at Chiswick with tons of options available with their drinks.
Ivy
Level 1, 330 George Street, Sydney, 2000
02 9254 8100
www.merivale.com.au/ivy
The Ivy is your one stop shop for everything dining related. You can bring your friends not only to dine but also have a wonderful evening. They have an amazing selection of dishes served fresh on a regular basis. With that said, other side activities are available at The Ivy has many bars, restaurants and even a ballroom. This is the reason why The Ivy has celebrities visiting them on a few occasions because they are able to enjoy the rest of the evening there.
Bar H
80 Campbell St Surry Hills
02 9280 1980
www.barhsurryhills.com
A mix of modern and oriental style of dishes awaits hungry eaters at Bar H. Restaurants that offers a huge variety of food selection that is inspired by different cultures and cuisines are great places for celebrities to visit. Bar H is indeed one of the Hot Spots found at Sydney. Japanese and Chinese menu are available at any given time to their customers making every trip worthwhile. Pair these with authentic wine for a fulfilling meal that you and your friends can enjoy.
Fratelli Paradiso
12 – 16 Challis Ave, Potts Point, NSW 2011
02 9357 1744
www.fratelliparadiso.com
One of the best and busiest restaurants in Sydney, Fratelli Paradiso is an Italian restaurant which gets regular visits from the locals in Sydney. They serve lunch & dinner as well as breakfast meals making their restaurant available throughout the course of the day. They also have tons of variety of desserts and wines available for consumption at any given time. Because of their busy environment you might bump in with celebrities without you even noticing it. So keep your eyes peeled!
The Apollo
44 Macleay Street, Potts Point Sydney, NSW, 2011
02 8354 0888
www.theapollo.com.au
Experience Modern Greek inspired cuisine with a touch of authentic and distinct restaurant setting found at The Apollo. The place is indeed an amazing sight to behold giving it a very unique dining look and feel to their customers. Celebrities are always looking for such experience during their travels and The Apollo restaurant has gained a number of followers and fans making it a great place to visit and stay. Enjoy their huge variety of meals from Greek styled BBQ chicken to their Grilled pork radicchio.
Orto Trading Co
38 Waterloo St, Surry Hills
0431 212 453
www.ortotradingco.com.au
Customers would love to dine at a restaurant whose menu changes in every occasion. Orto Trading Co makes the needed adjustment to their dishes to keep them relevant and always up to date. Their winter 2014 breakfast and lunch menu is available for viewing today and you can find a lot of variety with the dishes that they offer. Celebrities do love restaurants that update their meals every now and then as this makes their trip very worthwhile. Visit them today.
Bootleg
175 Victoria Street, Potts Point NSW 2011
02 9361 3884
www.bootlegbar.com.au
No dining experience is complete without its complementary beverages. Customers as well as celebrities do look for restaurants that have a huge selection of wines for them to relax and unwind. You can find such place at Bootleg with their tons of options regarding their wine list. This along with their meatball specialty with salads and sides turns your meals into a filling and scrumptious evening. Have your bloody martini or a classic martini ready when you visit them today.
Bills
79 Hall Street Bondi Beach NSW 2026
02 8412 0700
www.bills.com.au
Celebrities are of course drawn by their celebrities as well. Celebrity chefs and their respective restaurants are great places to spot a celebrity. Bill Granger the founder of Bills is a quite famous Chef with his signature dishes and recipes available for consumption to customers on a regular basis at his restaurants. Bills served breakfast, lunch and dinner to their guests as well as a huge variety of drinks to complement their meals. Also available are smoothies, juices, shares, and frappes.
Rockpool
11 Bridge St, Sydney NSW 2000
02 9252 1888
www.rockpool.com
Another famous celebrity chef is Neil Perry who is one of Australia's leading and most influential chefs. Such name does indeed bring a lot of popular celebrities in the table with regards to the restaurant that he is handling. This increase the chances of customers spotting famous celebrities at Rockpool while at the same time experience amazing and top class dining experience. Enjoy a huge variety of menu under different categories to give you a different and distinct experience in every visit.
Aria
Located at Circular Quay, on the very edge of Sydney Harbour
02 9240 2255
www.ariarestaurant.com/sydney
Matt Moran is quite a famous celebrity chef in Australia. He appeared in several TV show hosting and has made 2 cookbooks featuring recipes from Aria. His name is indeed well established making his restaurants a popular place to visit not only to customers but other celebrities as well. They serve a variety of dinner and lunch menu for their guests to enjoy. A huge wine list also awaits their customers during their visits at Aria. Bring your friends with you today.
Red Lantern
Red Lantern on Crown – 545 Crown Street Surry Hills & Red Lantern on Riley – 60 Riley St Darlinghurst Surry Hills, New South Wales, Australia 2010
02 9698 4355
www.redlantern.com.au/index.php
A popular restaurant to visit with Luke Nguyen serving healthy and scrumptious meals on a regular basis to their customers found at Red Lantern. Red Lantern has dozens of awards and recognition that they've received which makes them a popular dining option of choice to the local audience. Tourists and travelers also love to visit Red Lantern which also makes it a possible target for celebrities to dine and enjoy their evening. Red Lantern is great for groups of parties.
The Darling
The Star, 80 Pyrmont Street, Pyrmont NSW 2009 Australia
02 9777 9000
www.thedarling.com.au
Those elusive celebrities who prefer to stay at hotels during their travels and trips are quite hard to spot. The Darling is a popular hotel in Sydney that offers a lot of side activities to their guest. Dining, spa, nightlife, casinos and a lot more are available at The Darling making it a very popular place to visit and stay. Celebrities do love these activities making The Darling an all around place which you and your friends can stay.
Cafe Giulia
92 Abercrombie St Chippendale
02 9698 4424
www.cafegiulia.com
Breakfast is a very important meal of the day. People who wish to spot celebrities in Sydney should not overlook as breakfast can also be a good time to find popular celebrities as well. Hot drinks, fresh juices, smoothies, muffins & pastries and more await customers during their visits at Cafe Giulia. Have a taste of their popular Tuscan toast and breakfast muffins as well as bacon egg rolls. Enjoy your breakfast while waiting to spot a celebrity today.
Ms. G's
155 Victoria Street Potts Point, 2011
02 9240 3000
www.merivale.com.au/msgs
Enjoy a scrumptious and healthy Asian at Ms. G's as they create mouth-watering dishes for you and your family to enjoy. Ms. G's offer lunch, dinner and banquet menu available at any given time. For large events and special occasions, Ms. G's function rooms and group bookings is perfect for private gatherings. Ms. G's also has an exclusive use feature with a capacity of serving up to 100 people. You will most likely see celebrities dining at Ms. G's today.