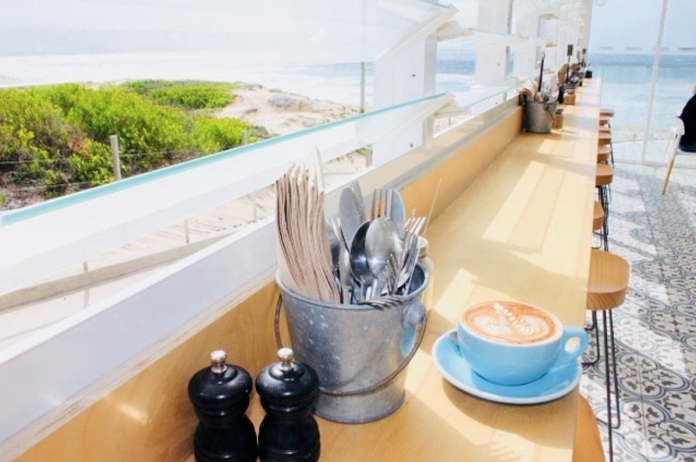 Bianchini translates from the Italian as "guardian of life", which is perfect for a Cronulla cafes location which combines surf, sun, sand, lifesavers and that great passion of Australians everywhere, espresso.
Just as there's a Father, Son and a Holy Ghost in Roman Catholicism, so there's also a father, son and sandy surf spirit in the triumvirate of Bianchini's Espresso – the father opened up on Surf Rd in Cronulla four years ago – and continues serving mainly coffee and cake. The son has appeared in Gymea, witnessed first by nuns serving all day breakfast, a fine tradition if ever there was one. And now their holy beachside manifestation, virtually on Elouera Beach, a stellar location putting diners in touch with the sky, the ocean and the land. And the transcendent qualities of La Hacienda coffee – one of the finest brews to ever grace God's earth.
Rise early, bean worshippers, and on a Monday to Wednesday between 7-8am you can get two coffees for the price of one. A Cronulla cafes favourite with gym junkies from nearby Fitness First. Some folks have the energy for anything, being a dawn fitness freak and drinking two coffees all on their own? No wonder Cronulla is a growth area.
At breakfast you can burn through a bacon and egg roll with head chef Brooke Scott-Young's house-made chilli jam. Or you can explore new dimensions of Sutherland Shire foodie wonderment with dishes such as:
CHARCOAL, SMOKED SALMON & EGGS (GF)
Activated Charcoal & tricoloured Quinoa Toast with feta, kale chive scramble & smoked salmon.
POWER VEG BOWL
Sautéed garlic kale spinach, squash, sweet potato zucchini with sesame almond crusted poached eggs, roast tomato and housemade pickled veg slaw.
SUPERFOOD PORRIDGE
Vanilla cinnamon spice quinoa, chia, oats with almond milk, organic maple & fruit compote.
At lunch:
BIANCHINI'S STYLE PULLED PORK WRAP
Slow cooked Asian spiced pulled pork, sweet corn, rocket & cabbage slaw with tasty cheese & chipotle aioli. Served with fries. **STAFF PICK**
PROTEIN BOWL
Grilled Paprika chicken, sautéed kale sweet potato & sesame almond crushed poached eggs with lemon & feta.
ROSEMARY BEEF & LAMB BURGER
Premium house rolled Patty, tasty cheese, lettuce, tomato, onion & housemade pickle with garlic aioli. Served with fries.
FLATHEAD & SQUID
Beer battered flathead, salt pepper squid, fries, rocket cabbage slaw
with housemade tartar.
There are so many qualities to appreciate at Bianchini's not the least being its instant status as a spectacular view cafe – and while the food is exemplary, plaudits must be given to the fine barista skills of Mitchell Hennessey, who sure knows what he's doing with a coffee machine. The team at Bianchini's also make a great Bondi Chai, you can also have an Iced Chai which is basically a chai thickshake, and the Bondi Chai powder is even used in their banana cake. Chai lovers … let them eat cake!
Speaking of all things sweet, a hot tip is Bianchini Espresso's apple pie – thick salted caramel, stewed apples and ice-cream served in a cup with whipped cream and cinnamon. For a cafe which has soooo many healthy options, from paleo muffins to superfood porridge to gluten free bread to their power veg bowl to their options of macadamia milk as well as almond and soy milk, this youngster among Cronulla cafes sure knows how to do just the right amount of indulgent, shoot-down-all-your-health-goals-for-purely-delicious apple pie.
Located next door to the excellent Summer Salt restaurant, this is a cafe which is getting everything just right. It's not third time lucky for the Bianchini's brand, it's third time magnificent.
Bianchini's Espresso
80 Mitchell Rd, Elouera Beach
www.bianchinis.com.au
facebook.com/bianchinisespresso
instagram.com/bianchinisespresso