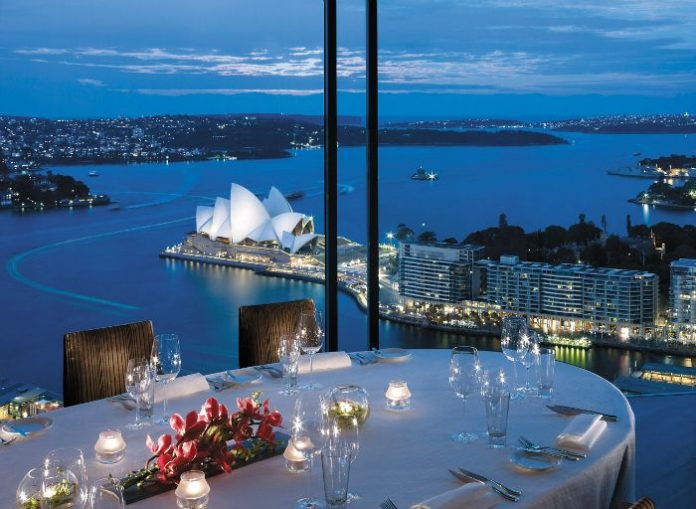 Enjoy the most spectacular Cafes and restaurants cuisine of Sydney with celebrity Spotting Cafes Restaurants Wine Bars in Sydney Australia.
O Bar and Dining
Level 47 Australia Square 264 George St, Sydney Ph: 02 9247 9777
obardining.com.au
facebook.com/Obardining
Treat your senses to the wonder that is O Bar at George street. A 360-degree panorama, contemporary Australian food, exquisite cocktails and the best dining companions, O Bar and dining guarantees a great time, every time. Their healthy eating philosophy ensures  sumptuous vegetarian and vegan options. Good food, great views, fab times.
Papi Chulo
22-23 Manly Wharf, Manly Ph: 02 9114 7341
https://merivale.com.au/venues/papichulo
facebook.com/papichulomanly
Relish the big flavours that Papi Chulo is known for using the best ingredients to complete your dining experience. Luscious marinated meats, the freshest seafood and the seasons best harvest to harmoniously blend together for a sublime meal. Top it off with wine selections that brings the whole to a delightful balance.
Otto 
Area 8, 6 Cowper Wharf Road, Woolloomooloo Ph: 02 9368 7488
ottoristorante.com.au/sydney
facebook.com/ottoristorantesydney
Expect to be dazzled with Otto's harbour location. A modern Italian restaurant, Otto is beloved because it has more than Italian food and have something for everyone. It is vegetarian friendly with gluten free and vegan options. Kid friendly and with outdoor seating, Otto has a full bar where you could order your fancy. A Sydney dining experience is never complete if you have not had the Otto experience.
Relish the big flavours that Papi Chulo is known for using the best ingredients to complete your dining experience. Luscious marinated meats, the freshest seafood and the seasons best harvest to harmoniously blend together for a sublime meal. Top it off with wine selections that brings the whole to a delightful balance.
Public Dining Room Balmoral
2A The Esplenade, 2088 Mosman Ph: 02 9968 4880
publicdiningroom.com.au facebook.com/PublicDiningRoomBalmoral
Situated in the charming banks of Mosman, Public Dining Room delivers stunning sights and an air of sophistication, the perfect backdrop for a leisurely lunch or a memorable dinner. Their modern look and kid friendly atmosphere adds to the relaxed tones of the restaurant. They have an excellent range of menu options and wonderful wine selections.
Quay Restaurant
Upper Level, Overseas Passenger Terminal, The Rocks Ph: (02) 9251 5600
https://www.quay.com.au/   facebook.com/quayrestaurant
The only thing that can beat the view at Quay Restaurant would be their food. Their signature dish, the world famous snow egg is included in every food lovers bucket list and those who tried it are never disappointed. One of Australia's highly regarded restaurant, this is the go to place for wold class dining.
Aria Restaurant
1 Macquarie St, East Circular Quay, Sydney Ph: (02) 9252 2555
www.ariarestaurant.com
If you're intent on seeing the best of Sydney, you surely would want to view Opera House up close and sexy. This is one fact that the owners of Aria Restaurant had in mind when they decided on its location. From the restaurant, you could certainly see the great view of the iconic building. Aside from this, the restaurant is also famous for its eclectic mix of cuisines. These include crispy skin snapper with saffron taglierini, and rolled roasted kangaroo island chicken with nori and chicken stuffing.
Bather's Pavilion
4 The Esplanade, Mosman, NSW Ph: (02) 9960 5050
www.batherspavilion.com.au
The fact that it is a seaside restaurant is enough reason why you should try Bather's Pavilion. This café is located in Balmoral Beach, in which you could certainly enjoy the sight of the great ocean and breathe the fresh sea breeze. Of course, it is not just the location that counts a lot. The service and the food that it offers to guests are simply amazing. You could choose from a wide selection of seafood fares and enjoy its wonderful desserts afterwards.
Blu Horizons Bar
Level 36, 176 Cumberland St, The Rocks Ph: (02) 9250 6013
www.shangri-la.com/sydney/shangrila/dining/bars-lounges/blu-bar-on-36
Just by its name, you can tell that Blu Horizons Bar is a sophisticated hub for urban dwellers. Actually, Blu Horizons Bar is already considered as an attraction in the city. Everybody knows it and a lot of people have been there. Once you have tried its fine selection of wines and its wide array of champagnes and cocktails, you too would decide to make it your choice of night hub. It serves dinner to hungry guests with a very interesting menu.
Dunes Restaurant & Kiosk
Ph: (02) 9974 3332
1193 Barrenjoey Rd
Palm Beach NSW 2108
www.dunespalmbeach.com.au
Dunes is a much-sought-after destination for weddings, with their manicured gardens and surrounding natural Australian flora, they offer the perfect setting for an intimate ceremony to include pre-reception drinks. Or if you are looking for a larger reception, Dunes can cater for a seated or a cocktail style event. Troy and his team are happy to create menus to suit every couple. They can also help you with everything from the celebrant, flowers and decorations, to pointing you in the right direction for a good photographer in the area. Equally enjoyable if you're of a mind for something more casual, is the Dunes Kiosk. Families and friends can enjoy a meal outside – you can be as barefoot and sandy as you like – in a breezy Mediterranean courtyard equipped with basket chairs and umbrellas. Whether you've visited Palm Beach to swim, surf, play or trek, Dunes Restaurant & Kiosk will leave a rich memory that will most likely last a lifetime.
Bonsai Japanese Restaurant
467 Bronte Rd, Bronte Beach Ph: (02) 9386 5666
Bonsai Japanese Restaurant is probably one of the best of its kind in Sydney. It serves amazing Japanese goodies such as fresh sushi and sashimi along with other traditional delicacies from the Land of the Sun. What makes the place even more interesting is that it dares to mix Japanese cuisine with modern contemporary Australian cooking. Complementing the great food that you may have on your table is a wonderful view of the beach. All these could certainly make your experience in this restaurant pleasant.
Café Sydney
Level 5 Customs House, 31 Alfred St, Circular Quay Ph: (02) 9357 6060
www.cafesydney.com
Café Sydney is one restaurant that everybody in Sydney knows about. And probably international travelers in their millions know about it too. Its reputation could be attributed to two factors: location and great food. Indeed being in Circular Quay, which is one of the city's best attractions, is enough reason why people would love to go here. Aside from this though, the restaurant is also famous for its amazing food, which is mostly based from the bounties of the ocean. Among the favorites are shrimps, oysters, as well as grilled fish.
Catalina Rose Bay
Lyne Park, New South Head, Rose Bay Ph: (02) 9371 0555
www.catalinarosebay.com.au
If you love oysters, you would certainly grow to love Catalina Rose Bay. The restaurant is indeed famous for its oysters that are shucked to order. With a reliable bunch of suppliers, it guarantees freshness in all the items on the menu. This includes the best fishes caught through fishing lines. The restaurant also offers traditional Japanese foods, such as sushi and sashimi. For those who prefer meat and poultry-based foods, they could certainly order these too and have these prepared according to their desires.
Flying Fox Café
2 Mona St, Mona Vale Ph: (02) 9986 0980
www.flyingfoxcafe.com.au
Flying Fox Café is one of the few cafe in Sydney that is genuinely family-friendly. You can see this from the design of the interior, the warm approach of the waiting staff, and even from the items on the menu. If you have kids, you certainly do not have to worry about plates they are having because there are dishes dedicated to them. The restaurant also has toys and activities to entertain the kids. It's in a great location and is an ideal destination for families on Sydney's north shore.
Forty One
Level 41, 2 Chifley Square, Sydney Ph: (02) 9221 2500
Since it is located on the uppermost floor of the Chifley Tower, you could be sure that Forty One would provide you a great view of the urban landscape of Sydney. While waiting for your order to be served, you could certainly get to enjoy looking at this beautiful city. Of course, you would surely anticipate the arrival of the food that you ordered. This is because the restaurant is very famous for it. Among those that are highly recommended are yabbies poached in saffron buillion.
Fu Manchu
229 Darlinghurst Rd, Darlinghurst Ph: (02) 9360 9424
www.fumanchu.com.au
Fu Manchu is relatively young since it was established only in 1994. However, since it won the hearts of many Chinese food lovers, nothing much has changed when it comes to how it looks. This is what makes it even more endearing to its customers. The bonus is that the menu has already extended a lot when compared to the original 10 dish menu when it started. The great interior design and the lovely food it offers remain its best assets.
Harbour Kitchen & Bar
7 Hickson Rd, The Rocks Ph: (02) 9256 1660
Harbour Kitchen & Bar is located in The Rocks. This is enough reason to have the impression that this restaurant offers a great view of the of the city's harbor. However, it is surely not just the view that you would come for. You would come here to eat and definitely you would not be disappointed. The restaurant offers a wide array of delicious foods on its menu. Most of these are gluten-free, which promises healthy alternatives for its guests.
Harry's Fish Café
Level 1, 81 Parrawi Rd, The Spit, Mosman Ph: (02) 9968 3049
If you love to eat fish, you certainly have to try what Harry's Fish Café has to offer. Once you are seated at your table, you would be offered choices between ten types of fresh fishes. It is up to you on how these should be prepared by the chefs in the kitchen. So your meal could even become more satisfying, you would also be asked to choose from a selection of great wines that are priced affordably. Of course, it is the fish that really matters here.
Helm Bar
Aquarium Wharf, Wheat Rd, Darling Harbour Ph: (02) 9290 3049
www.helmbar.com.au
Relaxing at the seaside is indeed a wonderful idea. This is what Helm Bar realizes. It is here that you would be able to enjoy the combination of the sea breeze and sight and the typical bar atmosphere at night. This has an Upper Deck bar where you could find a more relaxing space away from the bustle. If you want to get some sun, the Lower Deck beer garden would be the ideal spot. The bar also offers live entertainment.
Hi-Lights Revolving Restaurant
Blacktown Workers Club, Campbell St, Blacktown Ph: (02) 9830 0600
Hi-Lights Revolving Restaurant is considered by many people in the locality as Blacktown's premier attraction. This is especially true in the evenings when it becomes the liveliest part of the town. While dining here, you could enjoy the view of not just one part of the city but most of it. You could thank the revolving platform that the restaurant has for this. Aside from the 360 degree view of Blacktown, you would also love the food here. Great food and great view; you definitely could not ask for more.
Jonah's Palm Beach
69 Bynya Rd, Palm Beach Ph: (02) 9974 5599
www.jonahs.com.au/restaurant
Being located in Palm Beach, there is definitely no reason at all to think that the view that Jonah's offer is boring. In fact, many customers think that if there is anything else that could overwhelm the great food that it offers, it would be the stunning view of the ocean. Of course, people come here to eat and they never regret their decisions. The restaurant is popular because of the food that it prepares for guests. The selection of wines is another attraction.
MCA Café
Museum of Contemporary Art, 140 George St, The Rocks Ph: (02) 9241 3942
www.mca.com.au/visit/eating-drinking-cafe-restaurant
People who love the arts would certainly make it a point to go to the Museum of Contemporary Art. It is here that they would be able to see the best works of art not just in Sydney but in the entire country as well. For those who would like to enjoy having coffee or dining in the midst of all these creative wonders, the MCA Café is indeed a welcome sight. The café promises a relaxing dining atmosphere and offers a varied menu that change by the season.
Sanders Cabarita
D'Albora Marina, Cabarita Rd, Cabarita Ph: (02) 9736 2468
One of the reasons why you surely fall in love with Sander's Cabarita is its great location. This restaurant offers an amazing view of the Sydney Harbour as well as the Parramatta River. You could really have your eyes feast on such view. However, what would make you come back always is the food that it prepares for its guests. From freshly shucked oysters to the more sophisticatedly prepared seafood fares, you could definitely satisfy your appetite here. The wines are also interesting.
Speedos Café
126 Ramsgate Ave, North Bondi Ph: (02) 9365 3622
www.speedoscafe.com.au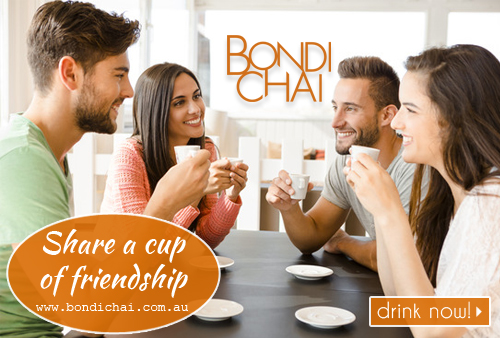 Since it is Bondi Beach, you could already tell that a lot could be expected from Speedos Café. If you want to see wonderful people and get to know them, this café could be the place to go. If you want to have a great view of the beach and the ocean, get a table in this café too. However, you would surely get to love the delicious items on its menu. The range of food and beverages is just awesome.