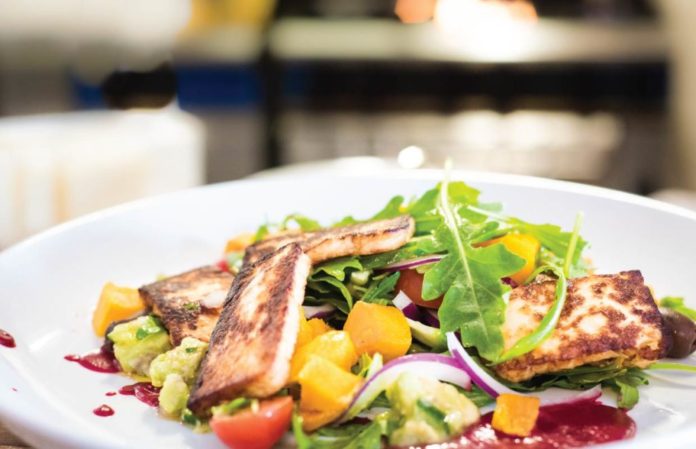 Little Beach Boathouse offers pretty much everything you could wish for when dining out in the watery wonderland that is Port Stephens.
They have an unsurpassable beachside setting. Their food is always perfectly cooked, with a strong emphasis on local produce. The menu is tantalisingly fresh Modern Australian cuisine. They have beachy furnishings and interiors which effortlessly complement the triply-beachy exterior (especially at sunset).
View this post on Instagram
Launched in August 2016 the Little Beach Bar is now Below Deck Cafe and Bar, while now also offering breakfast and the perfect complement to their upstairs restaurant. Taking advantage of the stunning seaside view, it's become a popular choice for any event, from a catch-up with friends all the way through to corporate events and functions.
Enjoy fresh Modern Australian seafood within their beachside waterfront setting. The staff offer a friendly relaxed coastal atmosphere, bringing together the very best of what Port Stephens has to offer.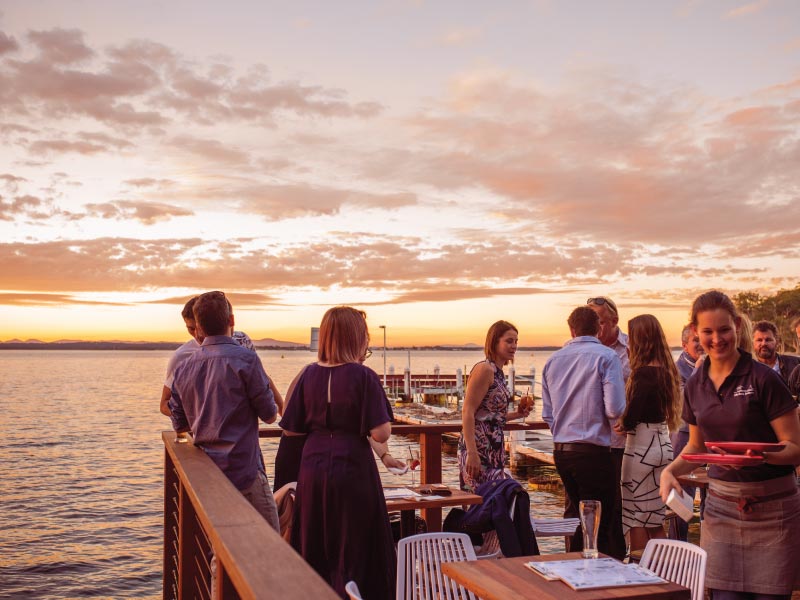 Events + Functions
This unique location is the perfect place for your next function or event. Whether it's a birthday party, a Hens day, or just a get together with friends and family, Little Beach Boathouse will deliver something that suits your needs and will make your day memorable.
A Much Loved Location
They are located at the old Little Beach Marina in Nelson Bay, situated right on the water overlooking Little Beach, Nelson Bay with their much-loved spectacular views.
View this post on Instagram
Fresh Local Produce Dominates Their Menu
With an emphasis towards seafood and locally-sourced foodstuff, their menu is overwhelmingly sumptuous, here's the dinner choices:
House-made Dumplings
Blue swimmer crab, prawn mousse, Taiwanese 5 spice sauce, chives
Fried Squid
Boathouse salt & pepper blend, pickled fennel, black sesame & lime aioli
Spring Bay Mussels
Coconut & lemongrass broth, Thai basil & coriander w/ toasted bread *GFA
Boathouse Prawn Cocktail
Local prawns, cos lettuce, sumac brik pastry, avocado salsa, Boathouse cocktail sauce *GFA
House Cured Atlantic Salmon
Salad of cos, beans & potato, goats cheese, yuzu mayonnaise *GF
Mushroom & Roast Garlic Ravioli
Roast pumpkin, cherry tomato, balsamic glazed onions & rocket w/ roast garlic brown butter
Hervey Bay Scallops
Japanese togarashi & lime butter w/ pear & fennel salad *GF
Squid Ink Spaghetti
Tossed w/ king prawns, mussels, squid, cherry tomatoes, rocket, herbs & lemon
Miso Glazed Atlantic Salmon
Red papaya, Chinese cabbage, mint & coriander salad, avocado salsa, Japanese black pepper sauce *GFA
Crisp Pork Belly
Salt & pepper prawn, carrot puree, roast potato, broccolini, pear & vanilla jam w/ red wine jus *GFA
Spiced Lamb Backstrap
Roast garlic field mushroom, chats, green beans, tomato jam, goats cheese & jus *GF
Lemon Thyme Chicken Breast
Roast potato, basil pesto, rocket & parmesan salad, grilled chorizo *GF
Market Fish
Eggplant & pecorino raviolo, broccolini, cauliflower puree, green pea & macadamia butter *GFA
Saltwater Barramundi
Butternut pumpkin, balsamic glazed onion, roast tomato, rocket, Binnorie feta, candied almonds & romesco *GF
With genuinely wonderful food and attentive, efficient service without being intrusive, Little Beach Boathouse is a lovely place for a special day or evening. Whether you desire a refreshing drink such as a cocktail, a Bondi Chai or Snickers Smoothie or their exceptional coffee, sumptuous eats, a best sunset view or all of the above, this is a must-visit destination when enjoying a stay in Nelson Bay.
View this post on Instagram
Opening Hours
Tuesday, Wednesday, Thursday, Friday And Saturday
Lunch – 12.00pm to 2.00pm
Dinner – 5.00pm to 9.00pm
Sunday
Lunch – 11.30am to 2.30pm
Below Deck
Tuesday to Thursday & Sunday
Cafe – 8.00am to 3.00pm
Bar – 3.00pm to Sunset
Friday & Saturday
Cafe – 8.00am to 3.00pm
Bar – 3.00pm to 9.00pm
Closed Mondays
View this post on Instagram
Little Beach Boathouse
4 Victoria Parade
Nelson Bay NSW 2315, Australia
Phone: (02) 4984 9420
Email: info@littlebeachboathouse.com.au
Website: https://littlebeachboathouse.com.au
Social Media Links
Instagram: @littlebeachboathouse
Twitter: @LBboathouse
Facebook: @littlebeachboathouse