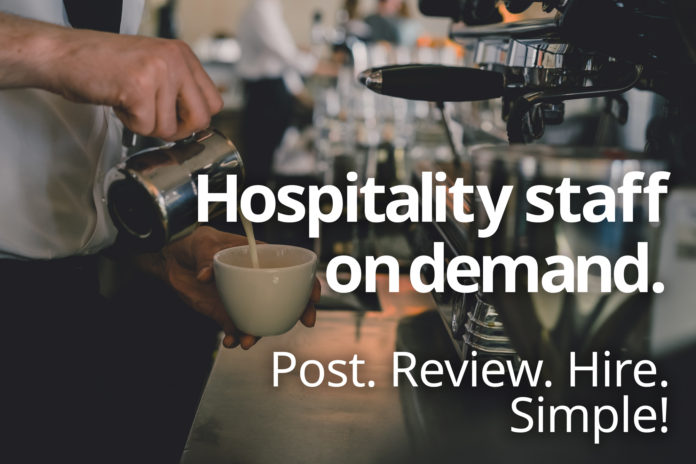 One of the greatest challenges in running a cafe or restaurant is handling hospitality staff. Great staff will make a business, good staff will keep a business afloat, while unreliable staff will eventually drive a cafe owner crazy.
But now there's an app which makes finding staff at the last possible moment into a very achievable activity.
Fillin is a completely mobile recruitment solution to help businesses find a "fill-in" to cover for a last minute sickie.
Their website is at https://www.fill-in.com.au
The idea was conceived about 2 years ago when CEO and founder Nick Greico was standing in his kitchen, watching his father in-law, a restaurateur (Owner of 2 restaurants) walk up his corridor with his head in his hands as another one of his pizza makers had called in sick for the second time that week.
"After him asking me to help him out for the 100th time, and me reminding him my pizza making skills are at a fifth grader level, I asked … "isn't there an easy way to find staff at the last minute?" He looked at me and laughed and literally said "I F#@king wish!" – because at the time there wasn't much around in terms of 24-hour, last-minute support via an app," Nick reveals.
"So together we worked on a hospitality jobs concept, which evolved into our Fill-in app."
"We started this business to really help small business owners," says Nick.
"Our charges to use the app are very minimal compared to your regular recruiter."
"There's no contracts, no commissions and no hidden fees."
"Our aim is to keep the costs for business owners as low as possible. They have enough costs running a business so we don't want this solution to be an added burden."
For hospitality staff, Fillin is also a boon, because it means they can pick up extra shifts at any time – and it tends to bring the more motivated hospitality staff to the surface of the industry.
While in the age of social media, Fillin creates greater communication across the industry, between staff, managers and owners among cafes and restaurants like never before.
We had a coffee with Nick recently to find out some more details on this very handy app.
How do you go about promoting your service – do you contact cafes and restaurant owners and managers directly?
We have tried many forms of advertising including social media but we've had the best response by going out and visiting businesses and chatting with the owners. This gives us great insight into what businesses want.
How do cafe owners know who to select of the people who respond?
Each application will show a mini resume/CV which will include a short introduction, A rating out of 5 which will be visible once the staff has completed 2 shifts, references, qualifications and skills.
We'll also be introducing profile videos where the staff can add a short video introduction of themselves for the business owner to view.
What types of hospitality jobs do you cover – is it mainly chefs and waiting staff – or are there other jobs likely to be advertised?
We are trying to cater for every position in the hospitality industry. From delivery drivers, cleaners all the way through to baristas, pizza makers, chefs and even managers.
Do you have a plan to expand the app beyond Sydney?
Yes, definitely! We'll soon be offering our solution to all of Australia.
How do you plan to promote the app to hospitality staff?
Currently running ads, Facebook and Instagram. We also have a refer a friend promo where you'll receive a $5 HeyYou app voucher for each referral.
Find out more at https://www.fill-in.com.au