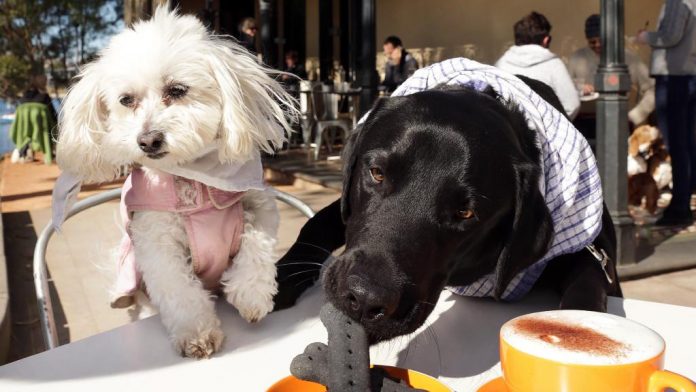 If you thought eating out in Sydney means leaving your dog behind, think again. Today more and more cafes are allowing diners to brunch with their dogs. We've picked out our favourite dog-friendly cafes in Sydney where you can enjoy dining out with your best friend in the world … furry of course …
The Unicorn Hotel 
106 Oxford St, Paddington Ph: 02 9360 3544
theunicornhotel.com.au 
facebook.com/theunicornhotel
In 1941 the first beer was poured at Paddington's the Unicorn Hotel. A pokie free, smoke free Aussie pub, they feature a quirky take on traditional Aussie food with excellent drinks and great beer selection. They have a friendly environment and a beer garden nice enough to chill on a laid back afternoon alone or with mates.
Café Bones
www.cafebones.com.au
Hawthorne Canal Reserve, Leichhardt, NSW Ph: (02) 8086 2433
Made for doggies! Fun for humans! Café Bones is the ultimate destination for your canine friends. With outdoor seating only, it's the best place for owners and pets to socialise, and your doggie can even enjoy a pupaccino.
Chew Chew
www.chewchew.com.au
Shop 3, Railway Walk, Wollstonecraft Station, Wollstonecraft; (02) 9460 7111
Chew Chew is the ultimate place to pamper your dog. It's a café where only your dog will get served. But don't worry pet owners can bring in coffee or something to eat from the cafe next door and join their pet at the table.
Centennial Parklands Dining
www.cpdining.com.au
Centennial Parklands Dining, Grand Drive, Centennial Park Ph: (02) 9380 9350
Centennial Parklands Dining offers a range of flexible dining and events spaces suitable for private and corporate events. Centennial Parklands is a dog haven, it even have its very own dog grooming service, available seven days-a-week nearby.
Double Cross Espresso Bar
118 Willoughby Rd, Crows Nest
and 8 Broadway, Chippendale
Ph: (02) 9438 1058
facebook.com/doublecrossespressobar
instagram.com/doublecrossespressobar
Owner/chef Samuel Lee is into fusion. He and his business partner, Quinton Ng, have established a modern relaxed venue serving casual food with an Asian and French twist. Sam and Quinton were high school friends working in the hospitality industry for 4-5 years and one day came together with the common dream to own their own cafe. The name originates from both of them, as they both identify with two different nationalities which they believe represents the cafe in what it is; an Asian twist on modern food. Hence the name Double Cross Espresso Bar came into being. Worthy of standout mention on their menu is their take on mentaiko spaghetti, a Japanese-Italian dish made with marinated cod roe. It uses a soy-sauce and lemon base and has a crème fraiche and egg on top. The result is a subtle marinated-cod flavour (nutty and not much fishy) or you can choose to blend the cream in to enjoy a taste similar to the creamy prototype. And yes, both Double Cross venues are dog-friendly!
Park Café on Chalmers
www.facebook.com/ParkCafeOnChalmers
1/51 Redfern St. Sydney Ph: 02 8399 0661
The Park Café on Chalmers is open 7 days for breakfast and lunch with free Wi-Fi, and beautiful views of the park. It's a popular hangout for neighbourhood animals. The regulars have their own water bowls delivered to their table.
Brown Sugar
www.brownsugarbondi.com.au
106 Curlewis Street, Bondi NSW 2026 Ph: (02) 9130 1566
Contemporary, chilled Bondi cafe by day, relaxed candlelit bistro by night, Bondi's Brown Sugar impresses with its versatile ambiance and friendly service. They won't shoo away your pet, they have an outside seating and a bowl of refreshment for your pooch.
Skipton's Café
https://web.facebook.com/SkiptonsCafe
541 High Street, Penrith Ph: (02) 4722 8668
Skipton's offers food and drink to suit all tastes ranging from traditional British fare to something more exotic. You will always be sure of a warm welcome in each and every venue. It has a lovely outside court where dogs are welcomed with a bowl of water and treats.
Pasticceria Dolce Mia
www.facebook.com/dolcemiapenrith
5/6 The Broadwalk Arcade High St. Penrith NSW 2750 Ph: 4722 4111
Pasticceria Dolce Mia serves amazing coffee and delicious freshly baked pastries. It's a delight for both dogs and dog owners. The staff are very dog-friendly, the proprietor even bakes special dog treats!
Elizabeth Bay Café
www.darleystreetbistro.com/ElizabethBayCafe
45 Elizabeth Bay Road, Elizabeth Bay, NSW, 2011
Husband and wife team café, whether you're having a light snack or a full breakfast they got it covered. They got 5 tables outside to accommodate you and your furry friend.
Café Neptune
www.cafeneptune.com.au
87 The Grande Parade, Brighton Le Sands NSW 2216 (02) 9567 8590
Cafe Neptune is a sumptuous beachside café that offers you exquisite Modern Australian cuisine with an Italian and Mediterranean influence. It's also a beachside café that welcomes dog lovers.
The Commons Local Eating House
www.thecommons.com.au
32 Burton Street, Darlinghurst Ph: (02) 9358 1487
The Commons sits right behind Oxford on Burton St. and does a very good breakfast and brunch. Coffee and breakfast are served in the front courtyard from 8am on weekends. They also allow dogs outfront and guide dogs anytime.
The Norfolk
www.thenorfolk.co
305 Cleveland St. Surry Hills NSW 2010 Ph: (02) 9699 3177
The Norfolk food is mega decent and they always have new things on the menu. They will not deny you a dog in the courtyard while you grab a Bloody Mary and eat while everyone swoons over your best friend and asks you what breed it is.
The Duck Inn Pub & Kitchen
www.theduckinnpubandkitchen.com
74 Rose Street, Chippendale; Ph: (02) 9319 4415
Well the cold weather has set in now, but the sun is out and there are heaters in the garden so don't let that put you off! When many dog-friendly venues are outdoors only, a dog in the pub is a fine tradition with The Duck Inn Pub & Kitchen.
Organic Bread Bar
www.organicbreadbar.com.au
356 South Dowling Street Paddington,NSW 2021 Ph: (02) 9357 4448
Organic Bread Bar does put together a very decent little menu for you. There's a cafe front to the bakery with racks of breadboxes with the day's fresh loaves. The front area will gladly accommodate all of your dog's needs with limited pedestrian interference.
Café Guilia
www.cafegiulia.com
92 Abercrombie Street Chippendale Ph: (02) 9698 4424
Café Giulia is as popular for its coffee, warm ambience & the comfort of its breakfast menu as it is for the diversity & freshness of its lunches & fresh juices. Everyone at Café Guilia is friendly and will surely look after you and your pooch.
The Winery
www.thewinerysurryhills.com.au
285A Crown St, Surry Hills Ph: (02) 9331 0833
The Winery has a playful all day menu and Sydney's only wine laneway. It has an intimate laneway atmosphere ideal for dogs. Dogs are allowed in the outdoor courtyard and, as long as the weather's fine, there's no better place to be if you're thinking of a date night with your pooch.
Four Ate Five
www.fouratefive.com
485 Crown Street Surry Hills NSW 2010 Ph: (02) 9698 6485
Four Ate Five is small cafe with a bank of tables outside, a long interior and courtyard to the rear. They also have friendly staff to cope with any number of guests with furry friends, ensuring that everyone is kept happy.
Gnome Espresso and Wine Bar
www.facebook.com/GnomeEspressoandWineBar
536 Crown Street Surry Hills Ph: (02) 9332 3191
This family and pet-friendly café is the perfect spot to go in for brunch, lunch or dinner. Gnome is a cosy cafe and wine bar with a rustic atmosphere. They have an array of delicious dishes perfectly matched with a specialty coffee or glass of wine.
Room 10 Espresso
www.facebook.com/room10espresso
10 Lankelly Place Potts Point NSW 2011 Ph: 425 810 174
Room 10 is a hole in the wall espresso bar that has won Best Small Café in the SMH. They have a bunch of little tables outside, your dog will surely be grateful for all the table scraps and pats s/he will receive.
Queens Park Shed
www.queensparkshed.com.au
Darley Rd, Queens Park NSW 2022 Ph: (02) 9380 9350
The Queens Park Shed presents an impressive café offering in stylishly converted parkland shed. Casual dining experience and reservations are not required. Best stop after a walk at Queens Park, it has plenty of outdoor seats for you and your dog.
Forty Beans
www.forty-beans.com.au
2/11 Lower Beach St, Balgowlah Ph: (02) 9907 9709
Forty Beans do a great selection of juices, smoothies, decent breakfast feed and groceries. Espresso – Certified Fair-trade Organic Coffee by Toby's Estate, Certified Fair-trade loose leaf tea by Somage. The frontage announces that it's a dog-friendly café.
The Marina Café
themarinacafe.com.au
1856 Pittwater Road, Church Point Ph: (02) 9997 3847
The Marina Café is a hidden gem at the Quays Marina a popular spot with the locals. Dogs are made to feel welcome at this place after a long walk; they have water-bowls situated around the deck area. Yay for dog-friendly cafes who advertise the fact as simply as that – a water bowl.
About Life
www.aboutlife.com.au/store/content/370/rozelle
605 Darling St, Rozelle Ph: (02) 8755 1333
About Life in Rozelle is a spacious dog friendly cafe attached to a grocery store packed with healthy, organic produce and brands. It is a hub of healthy eating and quality produce.
First Drop Café
https://www.facebook.com/1stDrop/
69 Baptist Street, Redfern Tel: (02) 9690 1611
First Drop Café is located in a renovated corner shop in Redfern, favourite with locals and Sydney visitors. It's the first point of call for its coffee, food and atmosphere. Dogs are always welcome in this café; you can even have your dog's birthday brunch here.
The Boathouse
www.theboathousepb.com.au
Governor Phillip Park Palm Beach, NSW, 2108 Tel: (02) 9974 3868
The Boathouse has a fabulous breakfast and lunch with great outside dining in superb setting. They have amazing coffee and fresh modern cuisine. It is quite possibly the most picturesque of all dog-friendly cafes in Australia!