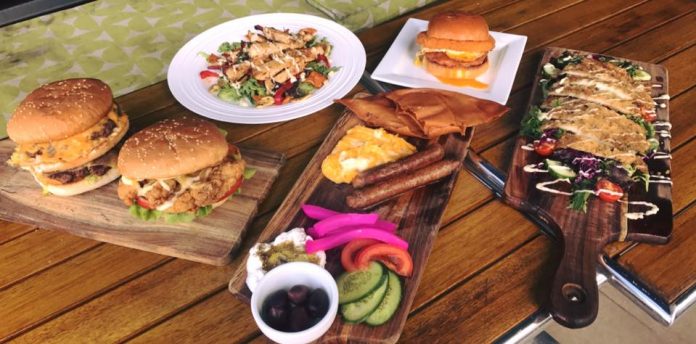 Coffee Bean Corner
Ph: (02) 9822 7934
Unit 6, 12 Regent Crescent, Moorebank
www.coffeebeancorner.com.au
facebook.com/CoffeeBeanCorner
instagram.com/coffeebeancorner
Recently under new ownership, Coffee Bean Corner is a small cafe located within the Moorebank industrial estate. As a cafe they have fantastic food like a Mediterranean breakfast plate, a delightfully fluffy chicken schnitzel salad as well as a range of very satisfying burgers and many other ultra-fresh salads.
As caterers, Coffee Bean Corner is developing a reputation for corporate catering for business meetings, school functions and Christmas parties, specialising in Halal catering.
All their food is prepared from farm fresh ingredients. Their food and coffee, they promise, are sure to please the guests at your function. They're a hidden foodie gem of Moorebank, 27 kilometres south-west of the Sydney central business district.
Many locals rave about their coffee, breakfast & lunch, because Coffee Bean Corner pride themselves on using fresh local produce to craft a crowd-pleasing predominantly burger and salad-driven menu which is wooing new fans by the day. Their coffee The Colombian Reserve by Schibello Caffe is supremo blended with 100% Arabica beans from PNG, Colombia, Brazil and Ethiopia. A nutty and warm spiciness in the aroma leading to a sweet orange and chocolate flavour. With the sweetness typical of the Colombian coffees, the depth of the Ethiopian ones and the brightness of the Brazilian coffees, this coffee is extremely elegant with outstanding flavours, and Coffee Bean Corner are great at topping it with the perfect crema.
Inside Coffee Bean Corner is a strong ethos – all food is Halal, they use all fresh produce – nothing is from frozen stock, their meat is bought daily, chips and the fried chicken burger are the only fried food they serve, they have gluten-free options, and they only use local produce as they like to support local food producers – for example they source their eggs from a farm in Leppington. A dedication to quality courses through everything they do.
"We're right off the M5 so it's a good pit stop for people traveling past to stop for their coffee,  breaky or lunch," says Michelle the new owner.
"I like to let people know that all food is fresh not frozen. We pride ourselves in using quality fresh produce. So they know what they're eating is good."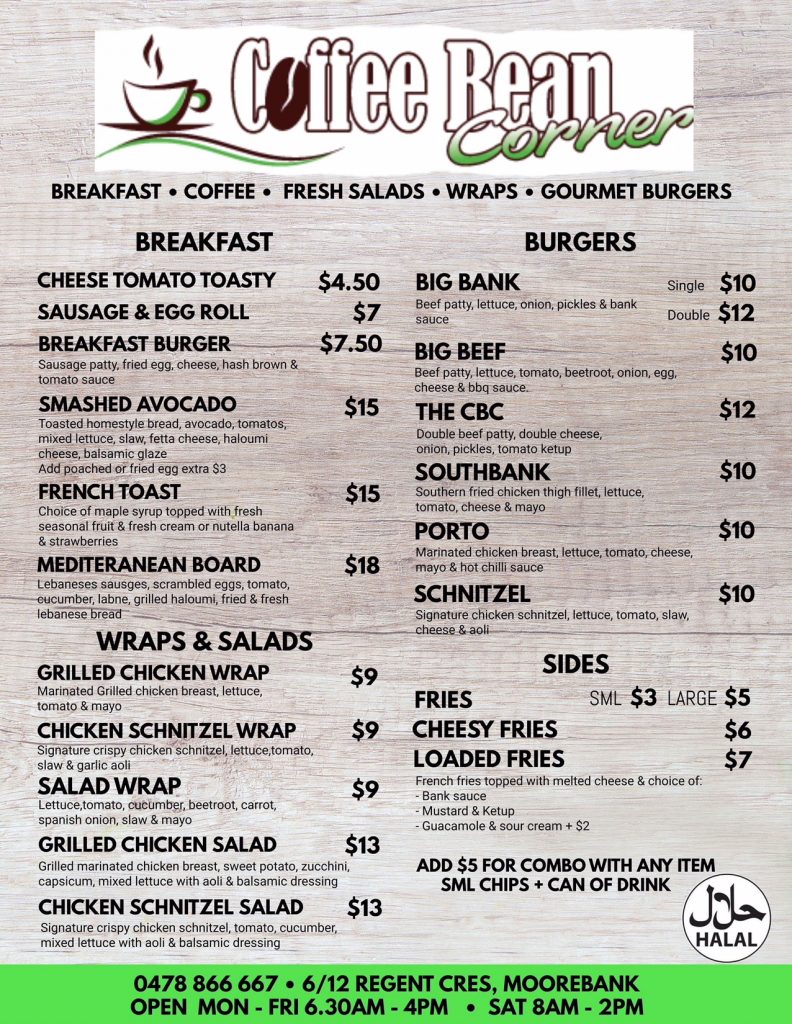 Coffee Bean Corner has something to cater for even the fussiest of eaters. Most of their food can be tailored to your dietary requirements, so most visitors will find something to enjoy whether the fresh fruit platters, salads, delicious hot food or tasty sweets and desserts.
Brekky fans love that Coffee Bean Corner offer an all-day breakfast and while they're generally very busy serving food to to Moorebank industrial estate locals during the week, they're also a good spot for Saturday brunch.
They're also child-friendly, with a price-friendly kids menu.

Yet ultimately Coffee Bean Corner knows the value of pleasing the tradies who hop off the M5 Motorway to get their foodie fixes. Their Big Bank Burger is becoming famous – 2 layers of succulent 100% handmade beef patties, double melted tasty cheese, lettuce, onion, pickles and their secret bank sauce. Pretty well a must when you've hurried up a hunger working hard from 6am …
Satisfied & Saying It
"My colleague and i stopped by today for a quick bite to eat, i went with the grilled chicken salad my colleague had a smoked salmon wrap. We were very pleasantly surprised with what was served to us. My chicken salad was so delicious and the chicken was tender and fresh and was beautifully presented. My colleague's wrap was just as delicious. The owner was so friendly and willing to cater for our fussiness all with a smile we would definitely recommend them."
"The coffee here is fabulous, my daughter loves the chocolate milk shakes. It's our regular Saturday morning stop."
"I had the privilege of enjoying a coffee at this lovely cafe. Friendly staff and outrageously tasty desserts."
Coffee Bean Corner
Ph: (02) 9822 7934
Unit 6, 12 Regent Crescent, Moorebank
www.coffeebeancorner.com.au
www.facebook.com/CoffeeBeanCorner
www.instagram.com/coffeebeancorner