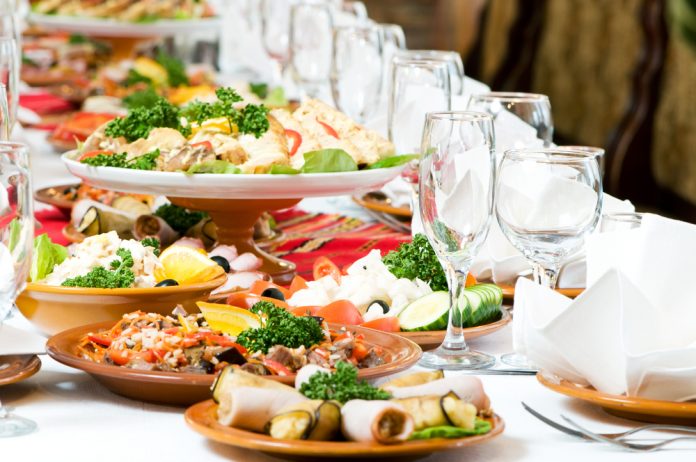 Looking for the best caterers Sydney has to offer? Finding a caterer who cares as much about the freshness and deliciousness of the food as the presentation is so vital to the success of any function, corporate event or wedding. Well here's a selection of the absolute best caterers in Sydney …
Hatrick Catering
www.hatrickcatering.com
Rear entrance, 382 Darling St, Balmain
Ph: 0400 648 699
With a team of awesome people, they take on events from 10 to 300 cooking on sites such as polo fields, wedding venues, launch events and even your own home. Catering isn't just a job to Hatrick, it's their passion. Check out their client testimonials and you're sure to be convinced.
Catering By Design
www.cateringbydesign.com.au
10c Ponderosa Parade, Warriewood
Ph: 0412 269 049
Based on the northern beaches, Catering By Design will travel even to the Southern Highlands to cater for an event. Owner Karin Slade has been delighting people with her delicious food and perfect reliability for 31 years. Catering for weddings, parties, corporate events and even funerals, a fun, abundant, delicious and satisfying time is certain.
Sydney Catering Company
www.sydneycateringcompany.com
6/322 Annangrove Rd, Rouse Hill Sydney, NSW, 2155
Ph: (02) 9679 2731
Why go out and blow your budget, have your delicious selection of gourmet finger food delivered straight to your place. Sydney Catering can tailor an exciting menu for any budget from $5-$100 per head.
Sydney Corporate Catering
www.sydneycorporatecatering.com.au
152 Falcon St, Crows Nest NSW 2065
Ph: (02) 8065 6871
Sydney Corporate Catering delivers first class food, designed around your needs. From boardroom lunches to cocktail parties, they use the finest local produce available to deliver fresh, simple and vibrant handmade meals.
Sydney Catering Services
www.ablecaterer.com.au
Sydney Catering Services Sydney NSW
Ph: 1300 792 208
Australia's first and only caterer who guarantees all the food you can eat or your money back. Great menu selection and a lot of foods to choose from. Catering Australia Wide: Sydney, Melbourne, Brisbane, Adelaide, Perth, Canberra.
The Caterer Sydney
www.thecaterersydney.com.au
2/97-101 Anzac Parade Kensington NSW 2033
Ph: 0422 005 663
At The Caterer their food philosophy is simple – they source the best produce they can possibly find and treat it with respect. They acknowledge the individuality of each client to be able to deliver a unique and personalized experience.
Sydney Functions Catering
www.sydneyfunctionscatering.com.au
PO Box 2046 Sydney, NSW
1300 734 561
Sydney Functions Catering offers a large variety in cuisine with choices that can be tailored to suit most events and budgets with a selection of menus for breakfast, lunch and dinner, brunch, morning and afternoon tea and supper.
Toast Food
www.toastfood.com.au
38 Young Street, Sydney, NSW, 2000
Ph: (02) 9241 3951
Toast Food is an events, function and office catering company that has the exclusive rights for catering to many of Sydney's event locations. They cater from 10 people to 3000 guests with their events tailored for each occasion.
It's Delicious
www.itsdelicious.com.au
Ph: 0413 431 686
47 Eastern Avenue Sydney, NSW
It's delicious can help design the perfect party for you or deliver just the right food for your event, for you to serve at your leisure or with the use of their experienced wait staff. It's Delicious Catering available Sydney wide.
Avocado Group
www.avocadogroup.com.au
181 Elizabeth St, Sydney, NSW
Ph: (02) 9264 1300
Avocado Group can cater for Sydney private corporate events in the convenience of your office or boardroom for all of your event catering requirements. Whether it's a smaller client meeting or end of month staff cocktail party.
Blue Stone Sydney
www.bluestonesydney.com.au
Corner Hunter & O'Connell St Sydney, NSW 2000
Ph: (02) 9221 1841
Blue Stone boast a full breakfast, lunch, and dessert menu, packed full of your favourites as well as an ample gourmet selection. And if your group can't make it down, Bluestone offers a full catering service to the northern Sydney CBD.
Elizabeth's Catering
www.elizabethscatering.com.au
95 Enmore Road, Enmore NSW
Ph: (02) 9517 3332
Elizabeth's Boutique Caterer specializes in corporate and private catering. If you are looking to impress your clients in the boardroom or simply require platters of sandwiches, Elizabeth's will deliver with a passion that is unequalled.
Fabulous Catering
www.fabulousfingerfood.com.au
PO Box 6040 Wetherill Park, NSW, 2164
Ph: 1300 735 020
Fabulous Finger Food is Australia's ONLY national licensed finger food company! They are based in all states, Melbourne, Sydney, Brisbane, Adelaide & Perth, providing a dedicated catering service that delivers the finest quality dishes for you to enjoy.
Tall Poppies Catering
www.tallpoppiescatering.com.au
329 Glebe Point Road Glebe, NSW 2037
Ph: (02) 9799 4297
Tall Poppies Catering specializes in office catering in the Sydney CBD as well as catering for everything from cocktail party to corporate lunches. They deliver exciting menus that accommodate all tastes and dietary requirements.
Stone Catering
www.stonecatering.com.au
Northern Beaches Sydney NSW
Ph: 411 256 507
Private function & corporate events specialist which offers perfect solution to make your event memorable. Caters to all events across Sydney call them for all your Corporate and Private catering needs.
Order-In
www.orderin.com.au
Level 7 504 Pacific Hwy St Leonards, NSW, 2065
Ph: 1300 851 900
Order-In is the only catering, kitchen supplies & gift supplier you'll ever need. Partnering with best-class suppliers they provide endless menu choices, convenient online ordering and the confidence your order will arrive on time.
Simmer Catering
www.simmercatering.com.au/
Shore 2/3 Walsh Bay 13 Hickson Road, Dawes Point NSW
Ph: (02) 9247-5362
Whether you are looking to host a corporate cocktail party for 1,000, a memorable wedding reception for 100, or an intimate dinner for 10, Simmer Events and Catering will create an event from memorable to truly sensational.
Vanilla Blue Catering
www.vanillablue.com.au
Ground Floor, Shop 1 40 Hotham Parade Artarmon NSW
Ph: 1300 556 086
Corporate catering specialists inspired to delivering beautiful, innovative and consistent catering solutions to all CBD locations. They know that variety on their foods ensures your guests keep coming back for more.
Box Catering
www.boxcatering.com.au
80 Longueville Rd. Lane Cove NSW 2066
Ph: 02 9418 3170
As one of the leading catering companies in Sydney, Box Catering not only prepares a large selection of food for a wide range of events and occasions, they also have a great range of drinks and quality chefs and waiters to call on.
Art Kitchen
www.artkitchen.com.au
Shop 4 939 Pacific Highway Pymble NSW 2073
Ph: (02) 9144 6627
Art Kitchen offer a personal, professional and flexible service with tailored solutions to suit your event from menu design to event styling, staff and equipment hire. They can tailor events to suit the overall experience you want.
Flavours Catering + Events
www.flavourscatering.com.au
1 / 23 Hotham Parade Artarmon NSW 2064
Ph: 1300 368 605
As one of Sydney's leading caterers, Flavours Catering + Events is committed to delighting its clientele with inspiring flavours, innovative concepts and an unsurpassed level of service.
Ashton's Kitchen
www.ashtonskitchen.com.au
New South Wales 2146
Ph: 02 8011 1920
As one of Sydney's leading caterers, Ashton's Kitchen is committed to giving their clientele an unsurpassed level of service while guaranteeing the freshness, quality, and food presentation that will satisfy your senses.