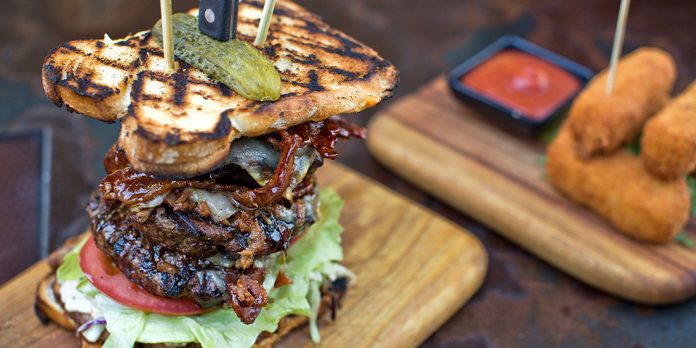 Whoa. I've just had lunch with my bro at the newly opened Ze Pickle in Surry Hills. It's part of a franchise with humble beginnings a few years ago on the Gold Coast in what was once an old bookstore. Three mates, Nathan (who used to be behind the wheels of steel as N-Zed and behind the counter at Spank! Records), Aaron and JD, launched the burger joint with the idea of combining dude food, fat beats, and tasty craft beer (check out the beverage menu!) Late last year they opened a second Pickle in BrisVegas, and a few weeks back they (finally) opened a Sydney joint, and I'm very happy.
So, yeah, whoa. The Ze Pickle burger experience is a big one. Not necessarily big in size, although they are a very decent handful – actually, you'll need both hands on deck for these juicy babies, but very much big in flavour and in satisfaction. There are eight wagyu mince burgers, two chicken breast burgers, and a vegetarian option (which doesn't look half bad). The Ze Pickle signature, and most popular burger on the menu, is the "3AM" ($18.5); a hand-pressed wagyu beef patty, maple-smoked bacon, kanye's fried cheeze (sic) sticks, guacamole, and zp sauce. There's a pickle speared to the top of the burger through the fantastic, exclusive recipe, sesame-sprinkled brioche buns. My bro ordered the "3AM", and I ordered the "Pablo Escoburger" ($17); ground wagyu beef, cheeze, guacamole, queso, smoked jalapeñoa, corn chips, and zp sauce. We also grabbed a side order of "ze chips" ($12.5), a large plate of fat crinkle-cut fries with beer cheeze sauce, maple-smoked bacon and zp sauce, which came out first with our Brookvale Union ginger beers ($11, served in a jar, and too sweet for my taste), and "ze chips" were awezem, with the maple-smoked bacon adding a sweet zing, and that zp sauce is really something.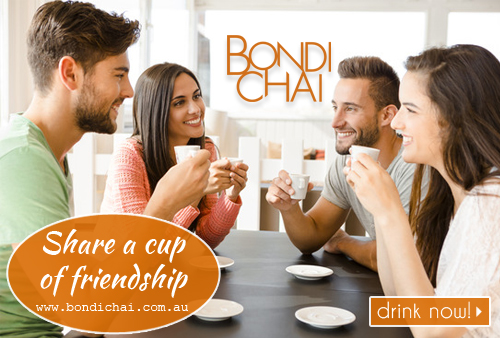 The open-plan design of Ze Pickle really works, especially as it uses a dark colour scheme to one half of the walls, while the other half is covered in mock-up American marijuana hemp sacking, complete with militia and cannabis strain stamps. The menus are clipped onto old license plates, and the music was high calibre hip hop/trip hop. With seating for around eighty, some on long low tables, others on small round high tables, and some at the bar, the service at lunch was efficient and friendly. Although they do bigger trade at nighttime, as the kitchen is open Thursday to Sunday noon 'til around midnight, they only have a restaurant license, so you can't just drink at the bar. But hell, with awesome burgers like these – and there are eleven on the menu – you'd be insane not to wrap your laughing gear around one. I like the sound of the "K F Ze"; crispy fried chicken, smoked jalapeños, ipa beer cheeze, and mum's slaw, although the "Chicken Waaangs" (buffalo, Korean BBQ, or smoked honey) from the bar snack menu did look sensational from a distance.
Who am I kidding? Next time I'm gonna be all over that "3AM".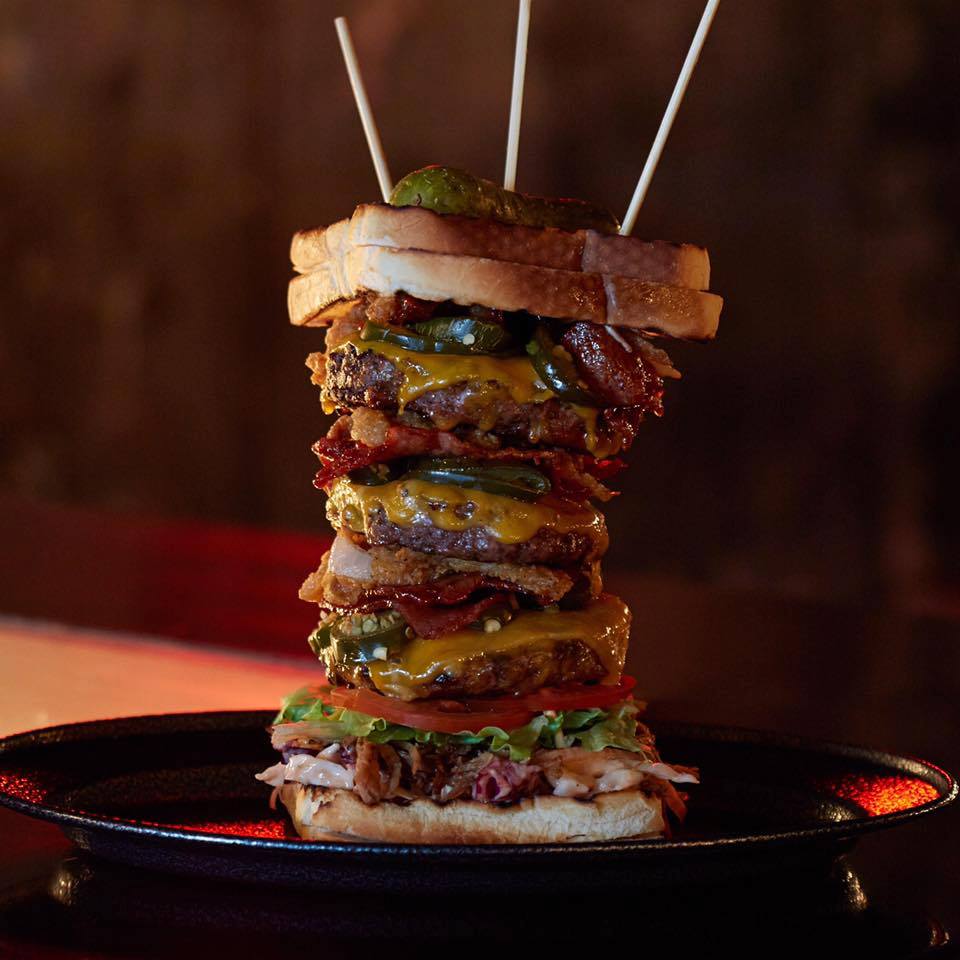 Could you finish this? Asks Ze Pickle on their Facebook page …
Don't get me wrong, my "Pablo Escoburger" was delicious, but it wasn't quite what I was expecting, and it was messier than I anticipated. I don't mind a burger that drips, but because mine was burger mince, not an actual patty, they whole thing just oooozed, and I ended up having to use a fork to collect all that goodness left on my plate. Essentially "Pablo" was a cross between nachos and a burger. There was a corn chip embedded in my bun and a selection of chips as a burger bed, and then there's the smoked jalapeños, which give the burger heat without fire.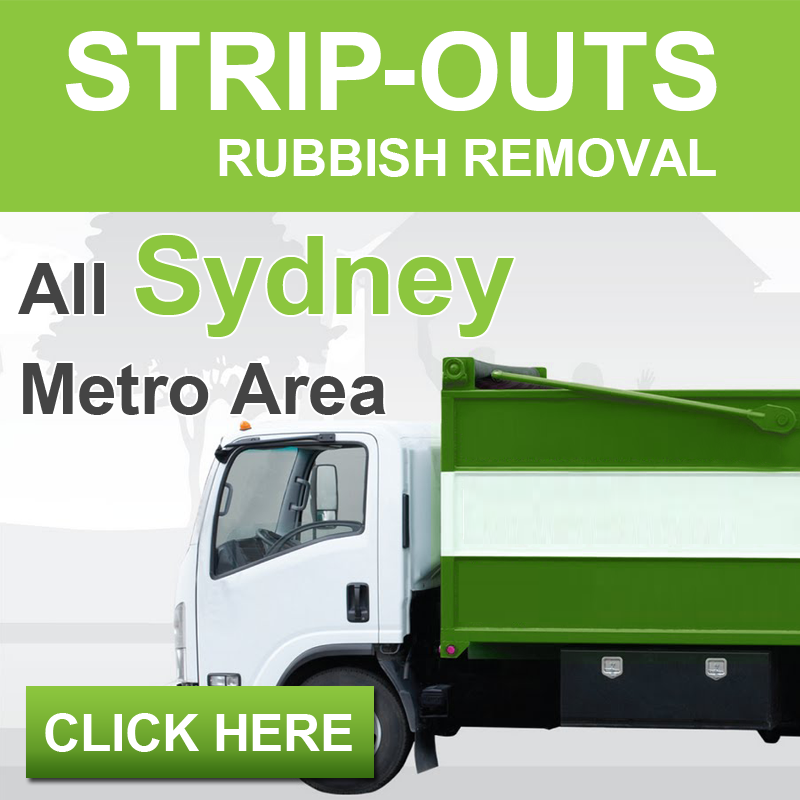 My bro allowed me a few mouthfuls of his "3AM" and I gotta say, it's a real contender for the city's best burger. An amazing amalgam of taste and texture, beautifully contained between the brioche buns, and those crumbed fried cheeze sticks, wow. When you bite into those, there's a burgalicious party going on in your mouth.
In a city that is entrenched in a battle of the burgers, Ze Pickle slides on in and is climbing fast to the top of the heap. I'm definitely coming back to Ze Pickle, though, let's be real here, it might have to be a monthly excursion, as I don't think my arteries could handle a weekly visit.
— Bryn Tilly
Ze Pickle
6/17-51 Foveaux Street
Surry Hills
Sydney
Open:
Tues to Weds, 5pm 'til late
Thurs to Sun, noon 'til late
They don't take bookings, and no BYO.