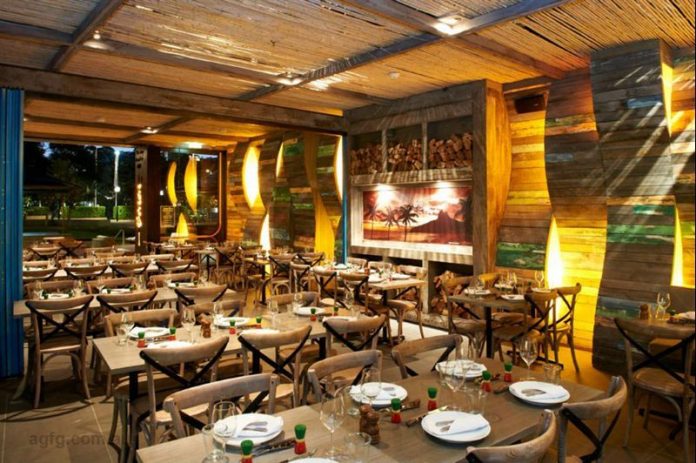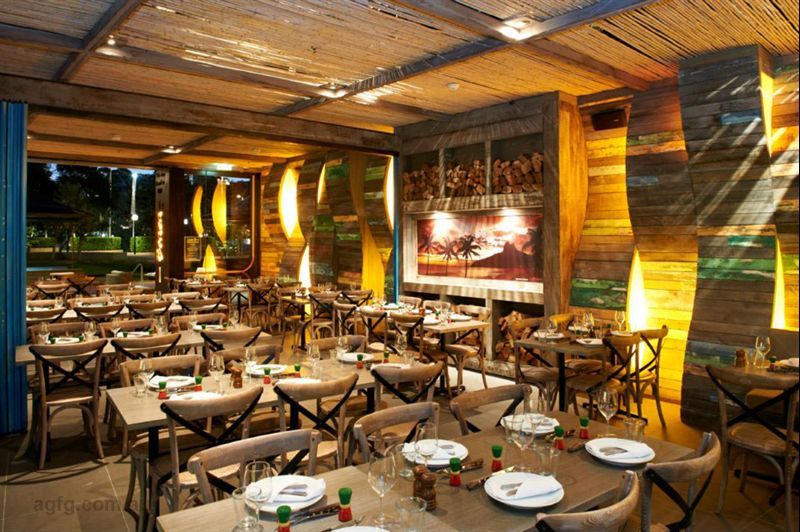 In the last decade Brazilian restaurants have taken off in Sydney. Brazilian-born SydneyCafes writer CATHERINE BLUM details many of the hottest, sassiest, tastiest Brazilian restaurants on the Sydney dining scene …
With the World Cup and the Olympics coming up, Brazil is more than ever in the spotlight. If you've heard of Brazil before I'm sure you're familiar with samba, Carnival and football. But Brazil is much more than that. The world's fifth largest country has in its history a mix of many different cultures, including Indigenous, African, Portuguese, Italian, German, Dutch and numerous others. The combination of all those backgrounds reflects on the country's traditions, which can vary depending on the region. South of Brazil for instance has a big European influence, mainly German, whilst the north has a great Indigenous influence.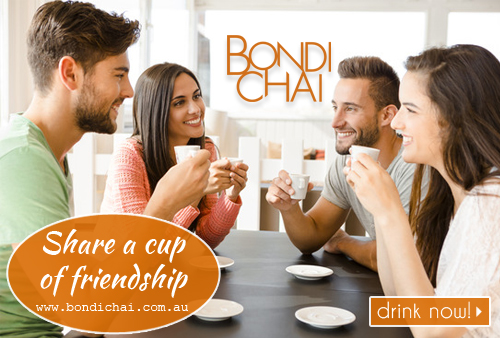 And as expected with such a cultural variety, Brazilian food is also a great mixture. From seafood to perfectly cooked meat, in Brazil you have it all. Fish stews (Moqueca), black beans and pork stew (Feijoada), Cheese Bread (Pão de Queijo), chocolate and condensed milk balls (Brigadeiro) are some of the country's typical dishes. For example, a typical everyday lunch meal consists of rice, beans, beef and chips (and some salad if you're healthy at heart). In fact, Brazilians are much like Australians when it comes to meat: they love a good barbecue. Have you ever heard of their famous steakhouses, or in Portuguese, "Churrascarias"? All of them are "rodízio" style, which is when waiters/waitresses rotate from table to table offering different types of meat, in no specific order, until you tell them to stop. This means that for a fixed price, which often doesn't include drinks or desserts, you can eat all the meat you can take. Excited much? If you can't go there for a visit or for any of those events you can surely taste a bit of Brazil right here in Sydney. Catherine Blum put together a list of 15 Brazilian Restaurants and Cafes for you to get to know a little more of Brazilian cuisine.
Churrascarias (Steakhouses)
The restaurants below are all-you-can-eat rodizio style and the price doesn't include drinks or desserts. There you can also find the famous Brazilian drink named Caipirinha (an alcoholic lemon drink made with Cachaça, sugar cane alcohol). Most also sell typical Brazilian food, such as Brigadeiro (sweet chocolate with condensed milk) and Pão de Queijo (Cheese Bread). Vegetarian options and functions (parties or corporate) are also available in most restaurants but it's advised for you to check availability beforehand with your chosen establishment.
Braza
13, Norton Street, Leichhardt, NSW.
Ph: 02 9572 7291
313, Barrenjoey Road, Newport, NSW.
Ph: 02 9999 6038
1-25 Harbour Street, Darling Quarter, NSW.
Ph: 02 9286 3733
www.braza.com.au
Braza is a rodizio style restaurant where you'll find several different meat cuts as well as a great variety of drinks, including wine, cocktails and Caipirinha. In Braza Darling Harbour you can enjoy live authentic Brazilian music on Thursdays and Fridays from 5pm. Check detailed information on opening hours on their website.
Casa Brasil
77 New Canterbury Road (Cnr of Gordon St), Petersham NSW 2049,
Ph: 02 9560 9595
www.casabrasil.com.au
Casa Brasil started out in 2006 as a shop of typical Brazilian foods and ingredients. It became a restaurant in 2007 and in 2010 it started offering the 'rodizio style' barbecue. Rump cap, lamb, pork sausages and chicken hearts (a big Brazilian hit) are on the menu. The restaurant also offers a à la carte menu for dinner with more traditional Brazilian dishes.
Churras
219 Oxford St, Darlinghurst, Sydney NSW 2010.
Ph: 02 8084 2151
www.churras.com.au
For 5 years in the Sydney food scene, Churras claims to be the authentic Churrascaria. Its chefs and waiters are from the South of Brazil, which is a region known for good quality barbecue. Also Alternative Media Group of Australia elected this establishment as Best of Sydney in 2013, 2012 and 2010.
BahBq – Brazilian Barbecue
35 Albany Street, Crows Nest NSW 2065.
Ph: 02 9966 8203
www.bahbq.com.au
Owned by Brazilians born in the south of the country, BahBQ offers a great selection of meat, poultry and sides, such as cassava chips, cheese bread, black beans and rice. They also have haloumi cheese and roasted pineapple as well as a kid's menu.
Churrasco
60-70 William Street, Woolloomoollo, NSW 2011.
Ph: 02 9360 6070
240 Coogee Bay Road, Coogee, NSW 2034.
Ph: 02 9665 6535
Shop 3/227-281 Kingsway Caringbah, NSW 2229.
Ph: 02 9525 7717
www.churrasco.com.au
First opened in 2006, Churrasco now has three locations: Wolloomoollo, Coogee and Caringbah. Among many options, there you can taste rump steak, chargrilled chorizo and chicken saudages. And besides the full menu, every Wednesday is all you can eat for beef and pork ribs.
Pau Brasil
214 Parramatta Road, Homebush NSW 2140.
Ph: 02 9746 9046
www.paubrasil.com.au
A bit further off of Sydney CBD food scene, Pau Brasil offers a complete Brazilian experience. They offer 'rodizio style' barbecue and live entertainment after dinner on Saturdays. There you can watch (and participate on) samba and capoeira (Brazilian martial arts) demonstrations.
Restaurants and Cafes
Tequila Mockingbird 
6 Heeley St, Paddington Ph: 02 9331 6749
tequila-mockingbird.com.au 
facebook.com/TequilaMockingbirdPaddington
Bold, fresh and exciting! This is how Tequila Mockingbird in Paddington is best described. They offer sensational flavourful food inspired by traditional Latin American dishes in a warm atmosphere with a great beverage list. With that clever a play on their name, it is an indication of your dining experience; cozy, satisfying and looking forward to your next time.
Brazuca Bar
49 Sydney Road, Manly NSW 2095.
Ph: 02 8416 5065
www.brazuca.com.au
Brazuca offers an exclusive way of dining that's very popular in Brazil: per kilo. You choose what you want to eat in the lunch buffet and pay according to the weight of your food plate. Brazuca also has a great selection of finger foods (cassava chips, cod fish cakes, chicken dumplings and more) and drinks, including Caipirinha and Brazilian beers.
Bronte Belo
469 Bronte Road, Sydney NSW 2024.
Ph: 02 9369 5673
https://www.facebook.com/brontebelo
With amazing views of Bronte Beach, at Bronte Belo you can taste Feijoada (black beans stew with pork), Moqueca (fish stew), cassava chips, cod fish cakes and Brazilian style chicken croquettes. Check their Facebook page for opening hours and updates.
Cafecito
Shop 25 Town Hall Square, 473 Kent Street, Sydney NSW 2000.
Ph: 02 9267 5575
www.cafecitosydney.com
Located at Town Hall Square, Cafecito is well known among Brazilians. Besides Australian dishes, such as traditional breakfast, there you'll find cheese bread, Feijoada (black bean stew), Açai (Amazon berry sorbet), Pastel (pastry with different fillings), Brigadeiro and much more.
Ovo Cafe
Shop 13 Oxford Square, 63 Oxford Street, Darlinghurst, NSW 2010.
Ph: 0410 174 461
www.facebook.com/OvoCafeSydney
At Ovo Cafe you can try Açai (Amazon berry cream), Strogonoff (creamy beef or chicken stew), Feijoada (black beans and pork stew), Brazilian style chicken croquettes, cheese bread, a great variety of cakes, Brigadeiro, Beijinho (coconut and condensed milk balls) and much more. Check their Facebook Page for more information and updates.
Biroska
531 South Dowling Street, Surry Hills NSW 2010.
Ph: 0432 294 227
www.biroska.com.au
Biroska offers Brazilian food besides other common options: all day breakfast, coffee, snacks, sandwiches and salads. Among the Brazilian dishes you can try Feijoada, Strogonoff (creamy stew made with beef, or in this case, chicken) and Guaraná (soft drink made of Guaraná berry from Amazon).
Cafe Brazil
195 Bondi Road, Bondi Beach NSW 2026.
Ph: 02 9386 9595
www.cafebrazil.com.au
Located at famous Bondi, Café Brazil offers plenty of options for its customers. Open for breakfast, lunch and dinner, there you can find all the typical Brazilian foods and drinks: Guaraná Açai, Feijoada, Cheese Bread and much more.
Elmo's Restaurant
200 Arden Street, Coogee NSW 2034.
Ph: 02 9665 8230
https://www.facebook.com/pages/Elmos-Restaurant/189845757740000 With stunning views from Coogee Beach, Elmo's Restaurant mixes modern Australian cuisine with traditional Brazilian dishes. There the Brazilian Chef, Elmo Capela, prepares Moqueca (creamy fish stew), cassava chips, cheese bread and more.
Sanduba
16/259 George St, Sydney NSW 2000
Ph: 02 9252 2004
www.sanduba.com.au
Sanduba is not a typical Brazilian restaurant but it has a very Brazilian concept in its core: selling fresh foods and drinks. The name refers to a Brazilian slang for 'sandwich' so you'll find many different sandwich options in there, as well as fresh juices, salads and cakes, all ready to go. Among the many healthy treats, the Brazilian options are Açai (smoothies or bowls) and a Picanha baguette that's very popular with customers (not to mention among Brazilians as Picanha, or rump cap, is the most loved meat cut in Brazil).
Fogo – Brazilian Churrasco
152-162 Campbell Parade, Bondi Beach NSW 2026.
Ph: 02 9130 7657
Level 4, Food Court Westfield Chatswood, 408/1 Anderson St, Chatswood NSW 2067.
Ph: 02 9884 8414
Top Ryde City Shopping Centre (Crn Blaxland Rd & Delvin St), Ryde NSW 2112.
Ph: 02 9808 3687
Level 5 Westifeld Parramatta, Shop 5061/159 Church St, Parramatta NSW 2150.
Ph: 02 9689 1920
Shop 2068 Food Court, Stocklands Merrylands, 3 McFarlane St, Merrylands NSW 2160.
Ph: 02 9897 9971
www.fogobrazilia.com.au
Fogo uses the traditional Brazilian way of barbecueing: roasting skewers on an open fire. With an adapted menu, it offers meat, chicken and seafood. There you can also find meals named after some of the biggest cities in Brazil, e.g. Brazilia Platter (beef, chicken, lamb and beef chorizo selection with salad or fries) and São Paulo Chicken (chicken burger).