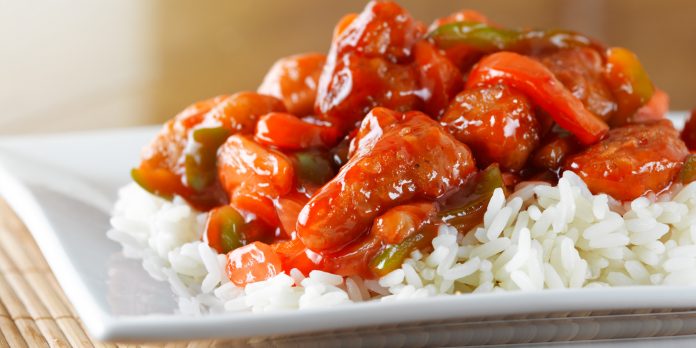 China has eight great regional cuisines: Sichuan and Hunan cuisines: hot and spicy; Anhui and Fujian cuisines: inclusion of wild foods from their mountains; Guangdong (Cantonese), Fujian, Zhejiang, Jiangsu: great seafood, and generally sweet and light flavours; and Shandong Cuisine: fresh and salty with a lot of seafood dishes – and all of them can be found in Australia. Indeed when it comes to Chinese restaurants, Sydney has the best selection of any city in Australia. Here's some of our readers' favourites …
Queen Chow
https://merivale.com.au/venues/queenchow 
facebook.com/merivalegroup
167 Enmore Rd., Enmore Ph: 02 9114 7333
Queen Chow in Enmore puts a spin on what we naturally love, local Chinese and local pub. A fusion of Hong Kong classic dishes and inspiration from locally available produce. Still present are the steamed, baked and fried dumplings, roast duck and meats as well as some popular pub staples. With their diverse menu, seating and decor, Queen Chow really is really where East meets Inner West.
Ginkgo Bar & Dining
facebook.com/ginkgobardining
231A Victoria St., Darlinghurst Ph: (02) 9380 5556
Ginkgo Bar & Dining sits now at where Bar Brose used to be. They deliver the authentic flavours of Harbin in northeast China and Asian fusion dishes with servings of sea urchin, dumplings and artisan cocktails. On weekends you can find them open until the wee hours of 3am Fridays and Saturdays and 1am on Sundays.
Spice Temple
facebook.com/spicetemplerockpool
Ph: (02) 8078 1888
This is a modern Chinese restaurant with a menu from the lesser known regions of China. Chinese food that rarely have been seen in Australia. They serve banquet style as they believe food is to be shared paired with fairly strong cocktails that complement the spiciness of some of the dishes. Their desserts prove effective in cooling and cleansing the palate.
HongFa Chinese BBQ Restaurant
21 Oaks Ave, Dee Why
Ph: (02) 8068 2289
"The best Chinese restaurant on Sydney's Northern Beaches. Food is excellent and made on-site. Full marks to waitress Caroline and Connie the owner," is one of many glowing reviews on Hongfa's Facebook page – for indeed this is a place much valued by locals. Hongfa have a large range of Chinese food to choose from with an addition of a few Thai and Malaysian dishes, and the duck laksa is generally regarded as "incredible". Many people have all their major family events at HongFa, as all their food is exceptional and diners report they're always made to feel very welcome. Make sure you order their Hongfa Roast Duck, the Sizzling Mongolian Lamb, or Garlic King Prawns to satisfy the craving we all get for quality Chinese food. When done as well as HongFa does it, you'd only conclude that Chinese food is the best cuisine in the world.
Din Tai Fun
http://www.dintaifungaustralia.com.au/
188 Pitt St, Sydney NSW 2000 PH: (02) 8246 7032
If you are craving for some Chinese cuisineto satisfy your appetite, then look no further! Din Tai Fun is home to one of the best dumplings in Sydney. Watch the magic unfolds as customers are able to see these dumplings made in real time, in front of their eyes which ensures one that all of the dishes served are fresh and new. Don't miss this opportunity and definitely try one of the many varieties of dumplings that are available in their stores today.
China Lane
www.chinalane.com.au
2 Angel Place Sydney 2000 Contact: (02) 9231 3939
Delve in and experience stylish and lavish dining at China Lane. China Lane is the perfect place to visit especially forgroup of individuals who to plan to have wonderful meal. China Lane allows groups for up to 10 guests for an intimate and private time. Their Jai-Vegetarian menu is perfect to those who plan to enjoy Chinese cuisine in a green and leafy way. Add an extra spice to your dishes by ordering up their Chilli bean vegetable salad with cherry tomato, soy bean, & black fungi ($14).
Kam Fook
http://www.kamfook.com.au/contact_us.htm
1oo Oxford Street, Bondi Junction Tel: 02-93869889
A seafood restaurant can be a breath of fresh air especially to those who eat pork and beef on a regular basis. Chinese restaurants offer a touch of uniqueness with their blend of seafood specialties. Kam Fook is a famous Chinese restaurant that is able to cater and attend to the needs of their many customers due their 600 seating capacity. This guarantees that a seat is always ready and available just for you. A variety of menu based on scallops are served on a regular basis to their customers. Check out their seafood main courses today.
Mr. Wong
http://merivale.com.au/mrwong
3 Bridge LaneSydney NSW 2000 Contact: 02 9240 3000
If you planning taking your friends or loved ones to dinner, perhaps try Chinese restaurant that opens at such time of the day. Mr. Wong is a post-midnight dining option which perfect for those individuals who have most of their free time at the end of the day. Their huge variety of Chinese dishes makes customers come back for more. You can choose from steamed, fried, roasted and even raw. You can also go all natural with their tofu & vegetable meals.
Lees Fortuna Court
http://www.leesfortunacourt.com.au/
24 Falcon St. Crow's Nest, NSW 2065 Contact: (02) 9906 3838
Lees Fortuna Court has been in the industry for quite some time. Established in 1978 by the Lee, this Chinese restaurant offers banquet menu for large orders with abudget ranging from $45 – $40 per person. For small dining, customers can choose the takeaway menu which has a variety of Chinese dishes such as the Crispy Skin Roast Duck ($22.00) or the Boneless Lemon Chicken ($19.80). If you're the vegetarian type, Lees Fortuna Court has a vegetarian menu with a touch of Chinese history and culture.
China Republic
http://www.chinarepublicrestaurant.com.au/
680 George Street, Sydney NSW 2000 Contact: (02) 8081 0888
If you are looking for great atmosphere and ambience while enjoying your Chinese menu, check out China Republic with its dark carved wooden walls and warrior statues located near their entrance. This gives off that authentic Chinese vibe which makes customers feel like they are actually eating their food in China. Chinese cuisines are known for their extra blend of herbs and spices with their menu. The sweet and sour pork spareribs ($21) and the likes are a perfect representation of their method of cooking.
Palace Chinese Restaurant
http://www.palacechinese.com.au/
Shop 38 Level 1, Piccadilly Tower, 133 – 145 Castlereagh Street Sydney 2000 Contact: (02) 92836288
Choose from a variety of Chinese dishes all packed and served with their unique and authentic Chinese platter. Palace Chinese Restaurant is open for lunch and dinner and most of their dishes can be shared and eaten by groups of individuals. Their poultry and duck menu is rich in variety with more than 10 mean different types of meals to choose from. Their Peking duck which can be served either with Sang Chao Bao or noodle ($68.00) is a treat that many will enjoy.
Zilver Restaurant
http://www.zilver.com.au/
Haymarket, Sydney NSW 2000  Contact: 9211 2232
Have a taste of both classic Chinese cuisines with a mix of modern interpretation to give customers a very memorable journey with their meal. For a more intimate experience, Zilver Restaurant offers private dining which allows their customers the much needed exclusive space to accommodate a variety of different events. Many scrumptious meals await and their Barbecued specialties are perfect to those who love their meals grilled. Zilver special crispy skin duck is offered in half and full orders at $28.80 and $50.80 respectively.
Imperial Peking
http://www.imperialpeking.com.au/
15 Circular Quay West Campell's Storehouse The Rocks, NSW Australia Contact: (02) 92577073
Imperial Peking boasts fine dining and ambience with their Harbor side view overlooking Sydney's Opera House and other beautiful attractions. Customers are able to enjoy great Chinese cuisinewith great view. Have a taste of their Fusion food menu with massive exotic spices, curious herbs and a vast expanse of fruit and vegetables. Customers can also choose to customize their menu as Imperial Peking allows them to choose between 3 courses of fusion banquets to fit their customer's preference and taste.
Fu Manchu Restaurant
http://www.fumanchu.com.au/
229 Darlinghurst Road Darlinghurst NSW 2010 Australia Contact: (02) 9360 9424
Chinese cuisine is not complete without noodles. Fill your desire for noodles and rice with the dishes found at Fu Machu Restaurant. Choose between Soy chicken egg noodle soup ($15) or Roast duck wonton egg noodle soup ($17) and many more. Rice is served in two categories white ($13) or brown ($14) and they blend perfectly well with their Chinese fried rice dish.If you have children with you, don't hesitate on bringing them as they have their own dedicated menu made specifically for them.
Longrain Restaurant
https://longrain.com/sydney
85 Commonwealth St Surry Hills, NSW 2010 Contact: (02) 9280 2888
Get the complete Southeast Asian cooking experience at Longrain with their four essential elements found in their meal: Hot, sour, salty & sweet. Choose between a varieties of menu that can vary depending on the time of your visit. Lunch and dinner are given different treatmentswith their dishes making every trip to their restaurant very worthwhile. For large gatherings, Longrain offers private dining with a budget of ($65) per person. These include smoked river trout, freshly shucked oysters, pork, prawns, green curry and many more.
Karaoke Restaurant
http://www.karaokerestaurant.com/
2 Albert Street, Sydney, New South Wales, Australia Contact: (02) 9251 9288
Enjoy Chinese dishes and party all night at Karaoke restaurant. If you are looking for a great way to spend the night, definitely visit Karaoke restaurant and try their Chinese delicacies for you and your friends. Don't go home immediately as this restaurant has plenty of entertainment options for you to choose from.Your dining experience will definitely be incomplete without trying theirKaraoke's out. Sing withyour heart's content after having a wonderful meal at Karaoke restaurant as they also offer private rooms to their guests.
East Ocean Restaurant
http://www.eastocean.com.au/
421-429 Sussex Street, Haymarket, New South Wales, Australia Contact: (02) 9212 4198
One of the most famous and popular Chinese restaurants in Sydney, East Ocean offers high quality and authentic Chinese cuisine that you and your friends can enjoy. The awards that they have received definitely speak volume of their quality and recognition for years of service. If you are looking for one of the very best with regards to Chinese dining experience, definitely check out East Ocean restaurant out. Experience different Chinese method of cooking which includes stir-frying, barbecuing, poaching and steaming using fresh ingredients with every meal.
Golden Century
http://www.goldencentury.com.au/
393-399 Sussex Street, Sydney, New South Wales, Australia Contact: (02) 9212 3901
A Chinese restaurant which specializes in different seafood dishes, Golden Century serve healthy and scrumptious dishes that's fit for the king. If you are quite new to Chinese dishes and want to try the best ones out there, Golden Century has Chef's recommendation which gives their customers the hottest and best dishes available for orders. There is plenty to choose from and you can try out their Live Abalone Sashimi, Live Lobster Sashimi, Steamed Scallops, and Steam Lived Prawns and more.
Lynn Shanghai Cuisine
http://www.lynnshanghaicuisine.com.au/lynn_shanghai_cuisine.html
199 Castlereagh St Sydney NSW 2000 Contact: (02) 926 777 80
There is no need to travel to South East Asian countries to experience their authentic food and dishes as the owners of Lynn Shanghai have brought their talents in Sydney sharing different Chinese cuisines at an affordable price. Have the option to choose between hot or cold appetizers to prepare you for the meal. Dive straight in to their live seafood menu or choose from a variety of poultry menu selections that customers choose from. They also serve pork, beef and lamb.
Dumpling and Noodlehouse
http://www.dumplingandnoodlehouse.com.au/
Shop 1 165 Victoria Street Potts Point Contact: (02) 93269639
Another Chinese restaurant to look for is the Dumpling and Noodle House. A Chinese dining experiencecannot be complete without the staple dishes that are served regularly to customers which includedumplings as well as noodles. They have a huge selection of dumplings each with their unique twist and flavor. Steam dumplings ($10.49), Pan Fried Dumplings ($12.99), Steamed Prawn Dumplings ($13.49) and more dishes can be found at their restaurant. Pair these with Noodles and rice to make your experience complete.
Lotus Dumpling Bar
http://www.lotusrestaurant.com.au/
3 16 Hickson Road Walsh Bay Contact: (02) 9251 8328
Get an authentic look and feel to your Chinese dining experience at Lotus Restaurant with Chinese characters scrawled all over their walls and bricks and hanging copper lights which gives their own touch of uniqueness. They have different menus to choose from as dessert, dim sum, entrée, mains and pan friend are categorized to give customers a wide of variety of options to choose from. Check out their Pan fried pork buns ($10.8) or their Pad fried pork & chive dumpling ($10.8).
Fei Jai
http://feijai.com/
31 Challis Avenue Potts Point (Kings Cross) 2011 Contact: (02) 8668 4244
Fei Jai which is a Cantonese word referred to as Fatboy is a Chinese restaurant that serves a slew of different cuisine. Don't let the name discourage as their meals often leave customers full and satisfied. Some of their dishes are great for groups of individuals who plan to dine and experience authentic Chinese food. Their steamed scallop with pawn and broccoli stem dumpling ($15) can be shared by 4 people as well as Steam chicken and Sweet corn dumpling ($11).
Bar H
http://www.barhsurryhills.com/
80 Campbell Street Surry Hills Contact: (02) 9280 1980
Don't let the look fool you as Bar H is definitely one of the many Chinese restaurants found in Sydney. Established in October 2010, this restaurant offers a slew of Japanese style Chinese dishes which gives that unique and authentic flavor that many are clamoring for. Have a taste of their Chinese bread and pork butter or Oysters, fermented garlic and bacon for your main course which definitely gives that authentic Chinese vibe and feel. Japanese themed dishes are also available for orders.
LL Wine and Dine
http://www.llwineanddine.com.au/
42 Llankelly Place Potts Point Contact: (02) 9356 8393
This is another Chinese restaurant that has that same authentic Chinese dining experience. Their wonderful ambience and feel transports customers to China as they feel like they are actually eating on that location. Meals can be shared by group of individuals especially with their dumplings. Steamed shanghai dumplings ($9.5) or the Steamed prawn dumplings ($9.5) is great for group meals and discussion. For a heavier course, their Calamari ($15) is a seafood specialty to look for. You can find out more when you visit their site.