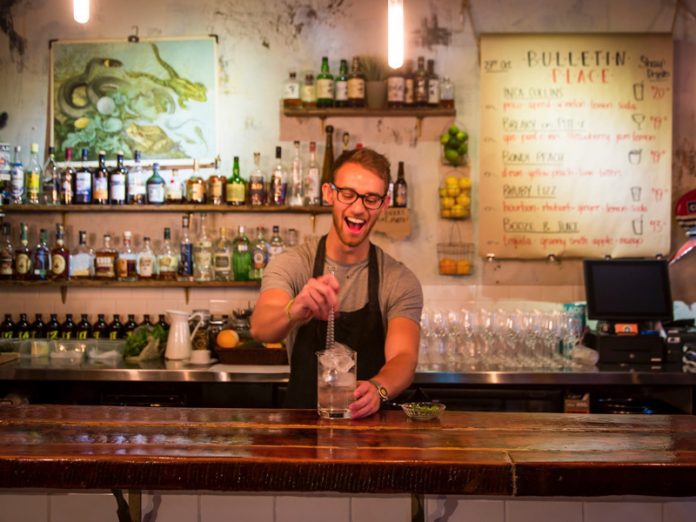 Sydney's Best Bars, Big or Small, but Mostly Small …
Small bars have exploded onto Sydney's nightlife. In the past four years, over 120 small bar license applications have been received by the city, bringing a new dimension to hitting the town. Literarily-inclined barflies JANE LOUISE and BRYN TILLY bring you their selection of 20 great Sydney bars …
Now that we're so spoiled for choice in the small bar arena, where do we go? We'll have left off someone's favourite – let us know what yours is by tweeting us: www.twitter.com/barsinsydney
Bar Racuda
105 Enmore Rd, Enmore (02) 9519 1121
www.bar-racuda.com.au
One that should be at the top of any barfly's list. You'll find Bar Racuda opposite the Enmore Theatre. Gio is the most passionate bartender I've ever met, and it shows in his cocktails. My current favourite is his limoncello and basil martini. Made with home-made limoncello, no less. Early funk and soul are high on the stereo's rotation; regulars sit at the bar discussing unusual cocktails; dating couples at tables for two; small groups in between. They threw a mean NYE last year – I'll be clearing space for their next party for sure.
Since I Left You
338 Kent St Sydney, ph (02) 9262 4986
www.sinceileftyou.com.au
www.facebook.com/SinceILeftYouSydney
In their own words: "Built and owned by the three guys behind the bar, Since I Left You is the realisation of a lifelong dream and the product of a lot of hard work." Named after The Avalanches song, Since I Left You is a fabulous use of the hidden inner city spaces (just visit their courtyard). Inside it's minimalist but friendly, with the right buzz of noise. Most reviewers gripe about their standard cocktails – try sampling from the beer or wine list.
Earl's Juke Joint
407 King St, Newtown
Pasan Wijesena, ex Shady Pines, has brought Shady Pines' signature blend of rollicking good times to Newtown. As he told Time Out, "The bar is inspired by the darker side of New Orleans and in particular the mix of French and African cultures. Think gris gris, voodoo queens, post-World War II rhythm'n'blues'n'rock'n'roll." Instantly established itself in mid-July as Newtown's greatest new watering hole. As per Shady Pines, expect snacks with your drinks such as spicy Indian or Bombay mix of crisp chickpea noodles and dried peas.
Sticky Bar
182 Campbell St, Surry Hills ph 0416 096 916
http://www.tablefor20.blogspot.com.au
One thing I love is when the barmen don't need to follow a recipe. Tell them what you want here, and they'll make it. Sticky Bar resides above Table for 20. If you can get in, go there for dinner and upstairs for a magnificent cocktail afterwards. "A little low key after hours goodness to wipe off the day." Cash only.
Green Room Lounge
156 Enmore Road, Enmore ph 8021 8451
www.greenroomlounge.com.au/
The Green Room is another favourite of mine (Jane), and not just because I get to DJ there! The Green Room was the first small bar to appear on Enmore Road, and distinguishes itself by the mix of free live entertainment and DJs, with just enough room for a dance floor amongst all the lounges. Naturally the cocktails are delicious – and their cheese platter deserves to be sampled.
The Anchor
8 Campbell Parade, Bondi ph 8084 3145
www.anchorbarbondi.com/
www.facebook.com/AnchorBarBondi
The glam bar for those who like to slum it, the bar for buccaneers on shore leave, the drinking hole for pirates with attitude; Bondi Beach's rock'n'roll haven, at the south end of Campbell Parade, The Anchor Bar & Restaurant (well, more like a bar with a kitchen), makes understandable claim to serving some of the best cocktails and dude food in the Eastern Suburbs. Hell, they've got acclaimed mixologist Andy Penney as Captain, what's not to toast? Oh, and first Sunday of every month they host Bermuda Sloop, a yacht rock DJ gig of distinction.
Midnight Special
44 Enmore Rd, Sydney ph 9516 2345
www.facebook.com/MidnightSpecialNewtown
Old-school rhythm and blues… this is one cool hangout. Last time I was there my group was lucky enough to nab a table out the back (this was a surprise, as Midnight Special is always crowded), and what was intended to be one drink turned into… let's say a couple more… as fresh pressed apple juice cocktails were the special of the evening. Their signature snack is a selection of surprisingly good hotdogs (with carefully selected not-dogs for the vegos amongst us).
Shady Pines Saloon
Shop 4, 256 Crown St, Darlinghurst
http://shadypinessaloon.com
Rockabilly-themed small bar for under-25s. I fully expected a Blazing Saddles-style Western brawl to break out any moment, but that was unlikely considering the slim & gentile undergraduate middle class finery of the patrons. Once you find it (there's no signs and it's located on a small lane parallel to Oxford Street) you'll be glad you ventured out. Complete with taxidermy and Indian statues, this is a wild west saloon you'll be reluctant to leave. Like all great bars, the cocktails are divine. The bar staff take their cocktails seriously: you can sip a whiskey sour, New York sour, negroni, mint julep (which is the house cocktail), gin martinis, daiquiris, as well as beer or a natty glass of sauv blanc. Try their house special and go from there. To get a little secret youtube video vibe of the place click here. Open 7 days, 4pm to midnight.
Black Penny
648 Bourke St, Surry Hills ph 9319 5061
www.blackpenny.com.au/
www.facebook.com/BlackPennyBar
Food, drinks, music, and even an art gallery our back. The Black Penny bar on the corner of Cleveland and Bourke Street, Redfern (or the other side of Surry Hills if you think you're being hip) claims they've been dishing out chow, slinging drinks, and saving souls since forever, but the reality is, this wee bar hasn't been open that long. But what's so impressive, is that once you've stepped inside you feel like it's been here for ages, so warmly established is the vibe. With its impressive wall graphic art and funkycosyfeel, this exudes a Melbourne feel, but in all the right ways.
Grandma's
Basement 275 Clarence St, Sydney Ph: 9264 3004
www.grandmasbarsydney.com.au/
www.facebook.com/GrandmasBarSydney
Tucked away in a cosy basement you'll find Grandma… or her bar, anyway. And boy, does she know her cocktails. Nominated and winner of many awards, you'll see why when you visit. They describe themselves as "retro-sexual haven of cosmopolitan kitsch and faded granny glamour" – and who am I to disagree? Friendly, upbeat, casual, with all the trimmings you'd expect in Grandma's home. Baked bean or spaghetti jaffle? Yes please… and I'll have that with the knickerbocker. Include Grandma's in your next small bar crawl.
For more on Sydney's nightlife check out Sydney By Night
Small Bar
48 Erskine St Sydney, ph 9279 0782
www.facebook.com/ErskineStreetSmallBar
www.smallbar.net.au
Officially Sydney's first small bar, Small Bar is found in Erskine St Sydney and now also in Crows Nest. Still going strong despite all the competition, Small Bar (Erskine St) is favoured for its wine by the glass menu, the basement lounge space, and the laneway space. We find it amusing that reviewers gripe about the smallness! After all…! But it does get crowded. We'd advise going with a very small group – and watch those stairs if you're wearing heels. Perfect for an after-work catch up.
Black Sheep
256 King St Newtown, ph 8033 3455
www.blacksheepbar.com.au/
www.facebook.com/blacksheepsmallbar
In the heart of Newtown, Black Sheep is yet another lovely little space. Open from lunch time every day, Black Sheep was formerly Funky Bar. All in all a better name, although being a little on the old and jaded side, I don't see many black sheep left in Newtown proper these days … anyway, I digress … their menu comprises of a selection of tapas – perfect for a group snack or two just before hitting the Dendy. Most reviewers focus on the food – the cocktails are above average but not quite as good as elsewhere. Still definitely worth a visit – although you'll get better service if you're a hipster. Just sayin'.
Absinthe Salon
87 Albion Street, Surry Hills ph 9211 6632
www.absinthesalon.com.au
Absinthe Salon is a homage to the Green Muse. I (Jane) sincerely wish I liked Absinthe so I could do this bar justice. It's beautifully decorated, and in their words: "we encourage all our guests to use their imagination in choosing their attire" – fabulous! They offer a selection of 30 of the finest French and Swiss absinthes available, all of which are whole herb distilled and do not contain artificial colours, flavours or additives. They enforce a 1 drink minimum, 3 drink maximum per person. Absinthe goes well with sweets, so include their sweet plate when you visit. Yum. A perfect after-dinner treat.
Hemingway's
48 North Steyne, Manly ph 9976 3030
www.hemingwaysmanly.com.au
https://www.facebook.com/hemingwaysmanly
Opposite the beach, and open from 8am to midnight (to 10pm Sundays) – there are two highlights straight away. And with passion pop on the menu (honestly!) they obviously don't take themselves too seriously. Hemmingway's is bigger than most small bars, even catering for parties of up to 100 (upstairs). Like the beach culture, Hemmingway's is laid back, friendly and welcoming at any time. While Hemmingway himself may not have wholly approved of this bar, order a Sidecar and make Papa a silent toast.
Button Bar
65 Foveaux St Surry Hills, ph 9211 1544
www.button-bar.com.au/
www.facebook.com/ButtonBar
In their own words: "Subtle pirate theme'd, cocktail slinging, Rock n' Roll watering hole. …We can be found at an unmarked wooden sliding door at the lower end of Foveaux Street in Surry Hills. No X marking the spot, so if you find it, half the battle has been won!"
Open Mon – Sat 4pm til Midnight.
Pocket Bar
13 Burton Street (corner of Crown), Darlinghurst, Ph 9380 7002
www.pocketsydney.com.au
www.facebook.com/pages/Pocket-bar
Launched by the folks who run Button Bar and Stitch, Pocket Bar is a friendly and casual bar popular with the locals. I love Pocket Bar's quirkiness – for example, bring in a recent parking fine and you'll get 20% off your bill! They are known for their crepes (I recommend 'four', the roasted pumpkin) and frpm their share menu, I refuse to share the mystery croquettes! Décor-wise, think pop art warehouse – Warhol would have enjoyed this space. For a final dash of quirkiness, the Snozberry cocktail is a cute little experience.
Mary's
6 Mary Street Newtown
Newtown's best-kept secret, Mary's is tucked away down the side street of, well, Mary Street, next to Kelly's on King Street, Newtown. The site was once a Greek Club and a pool hall. They've transformed the interior by adding a mezzanine, and creating a seriously cool southwest American-flavoured bar, with tiny kitchen that serves outrageously simple, but oh so yankee grub (their cheeseburger rivals the Anchor's), a range of tap beers, and yet has a tasty European pilsner in a can! Add lashings of hard grinding loud rock music and you've got yourself a serious drinking hole. Brought to you by bearded boys from Bodega and Gardel's. I'm going to get shot by a few locals for allowing this to come out!
Love, Tilly Devine
91 Crown Lane, Darlinghurst ph 9326 9297
lovetillydevine.com
www.facebook.com/pages/Love-Tilly-Devine
I love that Love, Tilly Devine describes themselves as a 'sly wine bar'. With room for only 40, their 300-strong wine list is deadly serious, but their attitude is friendly. While the food menu changes daily, you can get an idea from their website of the goodies they provide – from Australian cheeses to crostini with broadbean dip, all perfectly delicious. Love, Tilly Devine is a place to eat and drink well, and THE perfect place to go if you're a wine connoisseur – if not, read up a little from their info-menu on their website.
121 BC
121 BC, 4/50 Holt Street – entrance is on Gladstone Street, Surry Hills Ph 9699 1582
www.facebook.com/121BC
With one fan describing 121 BC as 'like a secret society hideout', you can say my (Jane) interest has been piqued. Visitors tend to get there early and settle in, so be warned! There are no tables and chairs other than the bar (this is the smallest of small bars), but once you are settled in you can have your pick of well-priced, excellent Italian wines galore. The bar snacks, too, are Italian – and best of all, they're not just tasty, but cheap too. Don't know much about Italian wine? The bar staff are very approachable.
Vasco
421 Cleveland Street, Surry Hills ph 0406 775 436
www.vascobar.com/
www.facebook.com/vascojoint
Rock. And. Roll. Mix that with homemade ginger beer, a two-hour daily happy hour and you have a recipe for small bar success. Throw in some tasty Italian bar snacks and an award-winning bartender and you have Vasco. If you like your bars like your rock'n'roll – slick and loud – then this is the place for you. Rock on.
Open Tuesday to Saturday, 5pm to Midnight (10pm Sundays).
Tio's Cerveceria
4 Foster Street, Surry Hills
www.tioscerveceria.blogspot.com.au/
Located just a few doors down from the Hollywood Hotel, Tio's Cerveceria is a Mexican themed bar which invariably means chillies in one form or another. Aside from the complementary chilli popcorn, the form they've chosen is the jalapeno margarita – if you like your margaritas hot, then this is a must-try. If not, then there's a huge selection of tequila on offer – would you expect anything else? Loud and busy, this is probably not the best place for a first date.
302 Bar
302 Crown St, Darlinghurst ph: 9368 1548
http://low302.com.au/
Blues, Soul, Rock'n'Roll and Jazz – and that's just the DJs. Kidding! There's live music til late and loads of other things. I've been warned that once I (Jane) go to 302 I may not want to leave, but by the looks of the red velvet curtains, baby grand and other retro touches, I'm tempted to try it anyway. Especially when the kitchen doesn't close til 2am – who needs to go home (or find a greasy kebab) for a midnight snack? Hand me a(nother) Number 3!
Soda Factory
16 Wentworth Ave, Surry Hills ph: 8096 9120
sodafactory.com.au/
www.facebook.com/thesodafactory
Boasting a house band, a Wednesday night folk night… in fact, at least one awesome drawcard a night, this is the place the kids need to go. Anywhere that plays retro funk and disco will get my nod of approval (although the hipster kids might draw the line at me busting some moves). Cheap, cheap food (Dollar Dog Tuesdays), movies (Movie Mondays – free entry AND free popcorn!) and live music the rest of the week. And I haven't even touched on the icecream soda cocktails… Enter via Bobby's Boss Dogs.
To have your bar added to this list contact us via our Facebook page www.facebook.com/sydneycafes
More Great Nights …
The Victoria Room
Darlinghurst, Cocktail Bars, High Tea
Richly decorated in British-Raj style, this exotic dining room and award-winning cocktail bar exude bon-vivant chic. The martinis are so good, and the wines so irresistible, that our pathetic photographer ended up sleeping in his car …
Sydney Nightlife Listings A-Z
Absinthe Salon
Tues-Sun 4pm-10pm
87 Albion St, Surry Hills Ph (02) 9211 6632
The Green Fairy's First-Ever Bar
Aqua Luna Bar
Open Most Nights
5-7 Macquarie St. East Circular Quay Ph (02) 9251 0311
Great views of Sydney Harbour
Arq Nightclub
Seven nights – Weekend Cover Charge
16 Flinders St, Darlinghurst Ph (02) 9380 8700
Huge Gay-Friendly Dance Venue
Arthouse Hotel
Mon-Thurs 11am-midnight, Fri 11am-3am, Sat 5pm-3am
275 Pitt St, Sydney Ph (02) 9284 1200
Massive and Popular
Astral Bar
Seven Nights 5.30pm-late
Level 17 Hotel Tower, Star City – Pyrmont Ph 1800 700 700
Fantastic City Views
Bar Europa
Daily Mon-Thurs noon-midnight Fri noon-3am Sat 7pm-3am
82 Elizabeth St Sydney Ph (02) 9232 3377
Seductive & Chilled
Bazaar Beer Cafe & Bar
Tues-Sat 12 Noon-Midnight
Sun-Mon 12-10pm 1 Albany St St Leonards Ph (02) 9438 1999
Euro-style Beer Cafe/Bar – Czech Beers On Tap
Blu Horizons Bar
Mon-Thurs 5pm-1am Fri noon-2am Sat 5pm-2am Sun 5pm-midnight
Level 36, 176 Cumberland St, The Rocks Ph (02) 9250 6013
Chic, Sleek, Sexy & Vistaesque
Bondi Icebergs Club
Sun-Thurs 10am-midnight Fri-Sat 10am-2am
1 Notts Ave Bondi Ph (02) 9130 3120
Hotspot for the Cool Crowd
Bourbon Bar
Open 24 hours
24 Darlinghurst Rd Kings Cross Ph (02) 9358 1144
Big Ongoing Party Crowd
Caesars Bar
Seven nights 92-94 Parramatta Rd Camperdown
Mixed Crowd Cheap Drinks
Cargo Bar
Mon-Thurs 11am-1am Fri-Sat 11am-4am Sun 11am-midnight
52 The Promenade (Cnr King & Lime Sts) King St Wharf
Ph (02) 9262 1777
Great for Locals & to impress New Arrivals!
Ceruti's
Seven nights
15 Sydney Rd Manly Ph (02) 9977 7600
Italiano-Style Bistro-Bar
circa
Seven nights
Tea Gardens Hotel, 2 – 4 Bronte Rd, Bondi Junction
Ph (02) 9389 3288
Svelte Art Deco Hang
Civic Hotel
Mon-Thurs 10.30-1am Fri-Sat 10.30-4am
388 Pitt St Sydney CBD Ph (02) 8267 3181
A Big Night is Possible Downstairs
Crossroads Bar
Mon-Thurs 11am-midnight Fri & Sat 11am-1am Sun 11am-10.30pm
Merchant Court Hotel 68 Market St Sydney/City Ph (02) 9238 8888
Easy After-Work Option
Cruise
Seven Days 10am-late
L1 Overseas Terminal, Circular Quay Ph 9251 1188
Harbour Views Knowledgeable Bartenders
Curve Bar
Daily noon-midnight
Rushcutters Harbourside Hotel, Bayswater Rd Rushcutters Bay
Ph 9361 3000
Getting Better & Better
Darlo Bar
Seven Nights 'til midnight
Cnr Liverpool St & Darlinghurst Rd Darlinghurst Ph 9331 3672
Chatty Urban Cool
Deck 23 Bar & Bistro
Seven Nights
23 The Strand Dee Why
Ph 9971 0744
Beachy Vibe
East Village
Seven nights
234 Palmer St East Sydney Ph 9331 5457
Rooftop for Functions is the Highlight
Eastbank Cafe Bar Restaurant
Weekdays 11am-11pm, Weekends 7.30am-11pm
Quay Grand Hotel 61-69 Macquarie St Quay Level East, Circular Quay Ph 9241 6722
Bit Touristy
ECQ
Mon-Fri 10.30am-midnight Sat noon-midnight Sun noon-9pm
Quay Grand Hotel 63 Macquarie St East Circular Quay Ph 9256 4000
Lovely & Posh
Epoque
Mon-Sat noon-10.30pm
429 Miller St Cammeray Ph 9954 3811
North Sydney Needs This
Establishment
Mon-Tues 11-1am Wed 11-2am Thurs-Fri 11-3am Sat noon-3am Sun 3pm-1am
252 George St Sydney City Ph 9240 3000
Justin Hemmes' Empire Started Here
Excelsior Hotel
Seven Nights
101 Bridge St Glebe Ph 9660 7974
Local Character Pub
Fix Bar
Daily 6-11.30pm
The Kirkton Hotel 229 Darlinghurst Rd, Darlinghurst
Ph 9332 2566
Too Cool for School
Flying Squirrel Tapas Bar/Parlour
Nightly 'til Late
249 Bondi Rd Bondi
Ph (02) 9130 1033
Funky Foodie Scene
Front Bar
Daily 6.30am-midnight
Pier One Parkroyal, 11 Hickson Rd Walsh Bay Ph 8298 9999
Not Reviewed Recently
Grand Pacific Blue Room
Sun, Tues & Wed 6pm-1am Thurs-Sat 6pm-3am
Cnr South Dowling & Oxford Sts Paddington Ph 9331 7108
Generally Welcoming & Fun
Guillaime at Bennelong Bar
Mon-Sat 5.30pm-late Fri from noon
Sydney Opera House, Bennelong Point, Sydney CBD
Ph (02) 9241 1999
Ultra-grand Harbour Bridge Views
Harbour Bar
Daily 11am-midnight
Park Hyatt Sydney, Hickson Rd, The Rocks, Sydney CBD
Ph 9256 1500
Swish
Helm Bar
Mon-Sat 11am-late Sun 11am-late
Aquarium Wharf Wheat Rd Darling Harbour Ph 9290 1571
Relaxed Sophisticated & Stylish
Home Nightclub
Seven nights
Cockle Bay Wharf Darling Harbour
Sweeping Popularity – Huge Place
Hugo's Lounge
Daily 6pm-1am
33 Bayswater Rd Kings Cross
Ph 9357 4411
Infested with Sydney Swank
Industrie
Mon-Fri 7am-2am Sat 11am-2am
107 Pitt St Sydney Ph 9221 8001
French Style Great Cocktails
Innc
Mon-Fri 11am-late Sat noon-late
244 Pitt St Sydney Ph 9262 7333
Cool & Funky
Ivy Pool Club
Seven Nights 'til Late
Level 4, 320 George St, Sydney
James Bond meets Octopussy in Swimwear
Jimmy Liks
Mon-Sat 6pm-midnight
186 Victoria St Potts Point Ph 8354 1400
Ever-Fashionable Thai Themed Cocktail House
La Boheme Czech Restaurant & Bar
Seven Days Seven Nights
Shop 9 Men's Institute Arcade 332 Darling St Balmain
Ph (02) 9810 0829
Now Has Bar Licence – Great Place
Lily's Restaurant, Bar & Function Centre
Seven Days & Nights
162 Prospect Highway Seven Hills Ph (02) 8818 5555
Tapas+Cafe+Mod Oz+Mediterranean
Longrain
Tues-Sun 6pm-midnight
85 Commonwealth St Surry Hills Ph 9280 2888
A Quality Spend
Lounge
Tues-Fri 5pm-late Sat 6pm-late
Ground Floor 173 Darlinghurst Rd Darlinghurst Ph 9331 0539
Elegant or Casual Cocktail Bar & Restaurant
Macquarie Lounge
9am – Late Seven Days Per Week
30 Pitt St Circular Quay Sydney Ph 9259 7279
Live Entertainment 5 nights per wk
Madame Fling Flong
Mon-Sun 4pm-late
Level 1 169 King St Newtown Ph 9565 2471
Retro Euro Bar For All Ages
Mars Lounge
Open nights 'til late
16 Wentworth St Surry Hills Ph 9267 6440
Cool Young Boho Crowd
Melt Bar
Thurs-Sat from 8pm Sun from 9pm
12 Kellett St Kings Cross Ph 9380 6060
Fun, Eclectic & Funky
Middle Bar
Thurs-Sun 5pm-late
1st Floor Kinsela's 383 Bourke St Taylor Square Ph 9331 6200
Pretty Wild for Pretty Things
MoS Cafe
Mon-Fri 7am-9pm Sat-Sun 8.30am-5pm
37 Phillip St (cnr Bridge St) Sydney Ph 9241 3636
Now with New Bar Licence
One World Sports Bar
Mon-Fri 11am-midnight Fri-Sat 11-5am
1-25 Harbour St Darling Harbour Ph 9264 5200
Perfect For Sports Fanatics
Orbit
Seven Days Noon-midnight
Level 47 Australia Square 246 George St Sydney/City Ph 9247 9777
360-degree City Views
Peppermint Lounge
Tues-Sun 6pm-midnight
281 Victoria St Kings Cross Ph 9356 6634
Great When Quieter
Port Orient
Asian Fusion Restaurant & Bar
Mon-Sun 12pm – 2am
Level 2, Shop 449 Harbourside Shopping Centre Darling Harbour
Ph (02) 9282 9922
Spectacular Views & Great For Functions
Republic Bar
Mon-Fri noon-late
16 O'Connell St Sydney/City Ph 9221 0533
Consistently Good Vibe
Shady Pines Saloon
Daily 4pm-12midnight
Shop 5, 256 Crown St, Darlinghurst
Blazing Saddles for Under-25s
Small Bar
Mon-Fri 10.30am-midnight Sat 6pm-midnight
48 Erskine St Sydney Ph (02) 9279 0782
NSW's First Bar Created By New Laws
Soda Bar
Thurs-Sun 6pm-late
1st Floor, 429 New South Head Rd Double Bay Ph 9327 5877
Groovy Eastern Suburbs Hang
Soho Bar
Seven nights 'til late
171 Victoria St Kings Cross Ph 9358 6511
One of The Most Popular Nightspots in Sydney
Statement Bar
Mon-Fri 4pm 'til late Sat 6pm-late
State Theatre, 49 Market St Sydney Ph 9373 6758
Make a Statement!
Sticky Bar
Wed/Fri/Sat 6pm 'til late
Above Table For 20, 182 Campbell St Surry Hills Ph 0416 096 916
One of Sydney's Finest New Small Bars
Tank Nightclub
Fri-Sat 10pm-6am
3 Bridge Lane Sydney Ph 9240 3094
Subterranean Luxury
Tantra Bar
Seven nights Call for times
169 Oxford St East Sydney Ph 9331 7729
Popular & Populist
The Cocktail Bar
Mon-Sat 11am-midnight Sun 11am-10pm
Harbour View Hotel 18 Lower Fort St The Rocks Ph 9252 4111
Great Bridge View
The Cushion Bar
Mon-Wed 11am – 11pm Fri & Sat 8am-1am
Cnr Arden & Carr Sts Coogee Ph 9315 7600
For the Coogee Cocktail Set
The Grove Bar at George's
Sun-Thurs noon-midnight Fri-Sat noon-1am
King St Wharf No 3 Sydney Ph 9279 4445
Top People-Watching Spot
The Royal Hotel
Mon-Sat 10am-midnight Sun 10am-10pm
Five Ways 237 Glenmore Rd Paddington Ph 9331 2604
Paddo Pub, Bar & Great Restaurant
Tonic Lounge/Bar
Tues-Sat 8pm-midnight
62-64 Kellett St Kings Cross Ph 0425 338 802
Alternative & Relaxed
25th Floor Bar
Tues-Sat 5pm-midnight
Boulevard Hotel William St East Sydney Ph 9383 7222
Somewhere Different
Uchi Lounge
Mon-Sat 6.30-11pm
15 Brisbane St Surry Hills Ph 9261 3524
Arty Lefty Ultra-Cool Spot
Verandah Bar
Mon-Thurs 11.30am-midnight Fri 11.30-3am Closed weekends
60 Castlereagh St Sydney Ph 9238 0888
Where the Suits Unwind
(The) Victoria Room Bar Restaurant
Dinner Tues-Sun from 6pm High Tea Sat 2-4pm Sun 1-5pm Late Night Dining Fri-Sat 11pm-2am
Level 1 235 Victoria St Darlinghurst Ph 9357 4488
Innovative, Stylish Cocktails & Mediterranean Cuisine
Water Bar
Tue-Sat 4pm-Midnight Sun/Mon 4pm-10pm
W Hotel Woolloomooloo Wharf 6 Cowper Wharf Rd Woolloomooloo
Ph 9331 9000
Classy Eclectic Punters
Will & Toby's "The Supper Club"
Wed-Sun 7pm-late Sat-Sun Morn 4am-10am
134 Oxford St Taylor Square Ph (02) 9331 3467
Fashionista Bar & Live Music Venue
Yardhouse
Tues-Fri from noon Dinner daily from 5pm
308 Pacific Highway Crows Nest Ph 9436 4047
Thirty Somethings in Munich
Zachary's
Seven Nights Sun-Thurs 4pm-late Fri & Sat 4pm-3am
28-30 Bayswater Rd Kings Cross Ph 9380 4500
Classy & Casual Gourmet Pizza Cocktail Bar
Zanzibar Zen Den
Tues-Sat 4pm-late
323 King St Newtown Ph 9519 1511
Loud Moroccan Party Vibe
Links to More Late Night Entertainment
Adult Services
Phone Sex in Australia
Perth Nightlife
Escorts