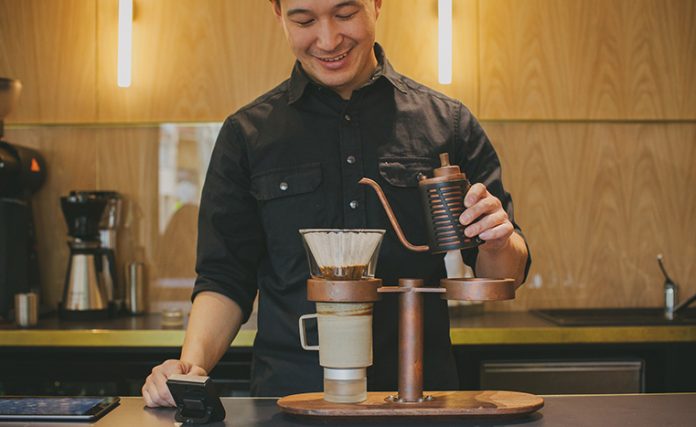 Campos Coffee
www.camposcoffee.com
193 Missendon Road, Newtown NSW
Ph: 02 9516 3361
No menu still. Just walk up to the counter and order your coffee. All the classics are there. If coffee's not your thing they serve a delectable hot chocolates, chai lattes and small range of T2 teas.
Mecca Espresso
www.meccaespresso.com
67 King Street, Sydney
Ph: 02 9299 8828
If you want your coffee fruity and fun, Mecca Espresso is best for you. Mecca will leave you highly satisfied and will surely draw you back, if not for the coffee, but even just for the free coffee cupping sessions on Fridays.
Le Monde Café
www.lemondecafe.com.au
83 Foveaux St. Surry Hills NSW 2010
Ph: 02 9211 3568
Some of Sydney's great breakfast are served in the demure dark wooden walls of this small streetside café. Coffee comes in both clover and espresso form. Top notch coffee and a terrific selection of tea will surely make your day.
Chippendale Café and Roastery
www.tobysestate.com.au/
32-36 City Road, Chippendale NSW 2008
Ph: 02 9112 1131
Chippendale Café serves Toby's Estate coffee along with a choice of specialty teas from across the globe. Eat breakfast and lunch menu while watching some of the coffee roasting action through the glass wall at the back of the café.
Vella Nero
www.vellanero.com.au
259 Clarence St. Sydney
Ph: 02 9268-0755
Vella Nero is the perfect escape for enjoying exquisite fresh-as-can-be coffee, grabbing a scrumptious bite to eat, and stocking up on coffee for the office or home. They are roasting on site so the pure coffee quality envelopes your senses while you eat.
Café Giulia
www.cafegiulia.com
92 Abercrombie St. Chippendale
Ph: 02 9698 4424
Café Giulia is popular for its coffee, warm ambience & the comfort of its breakfast menu and the diversity & freshness of its lunches & fresh juices. The café is fully licensed and accepts all credit cards.
Piccolo Bar Café
www.piccolobar.com.au
6 Roslyn Street Kings Cross, NSW
Ph: 02 9368 1356
Piccolo Bar is a King Cross Icon, being the longest running cafe in Kings Cross. Known to be the bohemian bar/cafe in the area for about 60 years. Over the years, it retained its look but the coffee's still great!
Café Hernandez
www.cafehernandez.com.au
60 Kings Cross Road Potts Point NSW 2011
02 9331 2343
Café Hernandez has been in the coffee business for more than 40 years. The café has been open 24/7 throughout the year. Café Hernandez had been associated with the roasting of superior coffee beans which are supplied to restaurants, cafes, hotels and offices.
Single Origin Roasters
www.singleoriginroasters.com.au
60-64 Reservoir Street Surry Hills NSW 2010
Ph: 02 9211 0665
Single Origin Roasters spun customers with their fruit driven blend and range of single origins. Today in addition to Surry Hills café and brew bar they have Roast Works in Botany where they roast for like-minded coffee folk locally and intestate.
Four Ate Five
www.fouratefive.com
485 Crown St, Surry Hills, Sydney
Ph: 02 9698 6485
Four Ate Five is a busy and unpretentious cafe on Crown Street, the food, the coffee and the tea offerings are all very good. Fresh, high-quality produce makes customers keep coming back.
Reuben Hills
www.reubenhills.com.au
61 Albion Street Surry Hills
Ph: 02 9211 5556
Reuben Hills is a cafe, coffee roastery and retailer in Surry Hills, Sydney. The cafe menu is inspired by their coffee buying trips through Central and South America. Join in their coffee lab for coffee cupping/tasting sessions every Friday at 10am.
Bondi Organic Café
www.bondiorganic.com.au/
188a Bondi Road, Bondi NSW
Ph: 02 9387 8981
Find all your healthy favourites at Bondi Organic Café. Eat out with a clear conscience at the Bondi Organic Cafe where the coffee is fair trade, the victuals are wholefoods, and everything is organic, chemical-free, dairy-free, additive-free, low GI and gluten-free, and vegetarian.
The Book Kitchen
www.thebookkitchen.com.au
255 Devonshire St. Surry Hills NSW 2010
Ph: 0420 239 469
This cafe/restaurant/book shop is simply all organic from the coffee to the food served. The coffee here is excellent and should not be rushed but enjoyed while relaxing and watching the business of Surry Hills pass by.
Gardener's Lodge Café
www.gardenerslodge.com.au
Victoria Park, Corner of Broadway and City Road Camperdown
Ph: 02 9692 9778
This café has a lot of Aboriginal history, something of a tourist attraction. It's entirely different to anything people had experience before. They made bush foods accessible to new audiences.
Katipo Café
www.katipocafe.com.au
101 Bondi Rd Bondi 2026
Ph: 02 9389 6405
This Bondi café serves up breakfasts you can bank on – and liquor when you need it, that's not going to be a problem if you are breakfasting at Katipo – licensed café by day, cosy neighbourhood bar by night.
MCA Café and Sculpture Terrace
www.mca.com.au
Level 4, 140 George St. The Rocks Sydney 2000
Ph: 02 9250 8443
Break up your museum tour or simply pay a visit to soak up the harbourside views offered at the MCA Cafe, open daily for mod oz breakfasts, morning teas and lunches.
Ampersand Café Bookstore
www.cafebookstore.com.au
78 Oxford St Paddington 2021
Ph: 02 9380 6617
The first one to realize that cafés and book shops could live together in harmony was a genius, and their legacy lives on in places like this. This cafe & bookstore is a haven of tranquility where you can relax in a vibrant atmosphere, read a good book, drink home-made Chai Tea.
Micky's Café
www.mickyscafe.com
268 Oxford St Paddington 2021
Ph: 02 9361 5157
Micky's has been a part of Paddington with the same management for over 20 years. They are fully licensed and have air conditioning for the warmer months and a cosy fireplace upstairs & heaters in our courtyard for the cooler months.
A vibrant café set in a nostalgic and ornate old church. Open 7 days a week and serving delicious home style light meals and morning and afternoon teas.
Bills
www.bills.com.au
433 Liverpool St Darlinghurst 2010
Ph: 02 9360 9631
The service at Bills is some of the best in Sydney cafés: if the guys working the floor are out-of-work actors or part-time COFA students, you wouldn't know it. They don't have someplace better to be than Bill's.