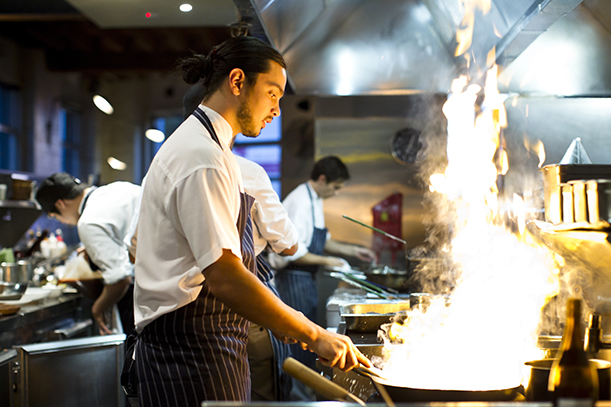 Rocker
2 Mitchell St, North Bondi Ph: 02 8057 8086
rockerbondi.com.au
facebook.com/rockerbondi
A casual neighbourhood café, Rocker Bondi is the ultimate laid back surf-side spot, the name 'Rocker' being the curve of the surfboard, an invitation to relax and have fun. They are open for breakfast, lunch, dinner, coffee and drinks. They mostly serve European food but have equally diverse snacks, starters and mains. Also offers co-working space for North Bondi creatives.
Stanbuli Restaurant
135 Enmore Rd, Enmore 02 8624 3132
stanbuli.com.au
facebook.com/StanbuiRestaurant
Stanbuli is located in the midst of bustling Enmore, a meyhane serving traditional food and beverages that conveys just a touch of nostalgia and romance as is customary to Turkish culture. Here people drink Raki, conversations are memorable, deals made and socialize. They offer a sophisticated menu inspired by Istanbul and Northern Cyprus' culture with cold starters to hot dishes finally ending in meats cooked over coals enjoyed with a drink of your choice.
Garçon
4 Tramsheds Harold Park 1 Dalgal Way, Forest Lodge Ph: 0497 347 302
garcon.com.au 
facebook.com/GarconSydney
Inspired by The Grand Budapest Hotel, Garcon aspires to be the premiere specialty coffee and wine bar in Sydney serving The Little Marionette specialty coffee, martinis, bubbly, reds or white wine. It is reminiscent of a bygone era of elegance and sophistication. Bringing in a bit of Parisian vibe, their signature blends are a must-try. The location is superb and is a great spot for coffee or a glass of wine.
Edition Coffee Roasters 
265 Liverpool St, Darlinghurst Ph:
editioncoffeeroasters.com 
facebook.com/editioncofeeroasters
Coffee is the ritualistic beverage for mornings. For edition coffee roasters, it is so much more than that. A cafe and small batch roasters, they offer breakfast, lunch and coffee.Their seasonal dishes can be accompanied with your choice of coffee or try some of the tea that they carry. They are open for dinner on Saturdays and Sundays.
Tommy's Beer Café
123 Glebe Point Rd Glebe NSW, Australia Ph: +61 2 9660 6870
www.tommysbeercafe.com.au
Looking for a legendary European restaurant in Sydney? Look no further because you can find that at Tommy's Beer Café! He gives you the best beer any European restaurant could give and boy, you really need to taste that liquor. You can quench your thirst, satisfy the most ravenous hunger and enjoy the eclectic atmosphere as you pass the time with friends and strangers alike. They have traditional recipes for their food which comes from Slovakia, Czech republic, Hungary, Austria, Germany and many more.
Na Zdrowie
161 Glebe Point Rd Glebe NSW, Australia Ph: +61 2 9660 1242
www.nazdrowie.com.au
Na Zdrowie was created to introduce Polish food to Sydney in an inviting atmosphere where people can experience and celebrate while savoring the flavors. Na Zdrowie has won many awards and their food has been the subject of rave reviews. Their chefs strive to expand on their success and display their long culinary traditions as not only hearty and traditional but also to create diverse and delicious combinations. Given the wide variety of dishes & delicacies available which Na Zdrowie has on offer you will find gastronomic treats to suit any palette.
Bar Reggio
135 Crown St Darlinghurst NSW, Australia Ph: +61 2 9332 1129
www.barreggio.com.au
Bar Reggio has been in business for over 20 years creating unforgettable eating experiences for residents of Sydney. With its rich Italian background and professional chefs, Bar Reggio is the best place to visit for a fantastic dining experience. They are located in the center of Sydney which is Darlinghurst. The place is without a doubt the people's choice for food and affordable prices. If you have an occasion to celebrate then Bar Reggio will be happy to serve you with their utmost service!
Subsolo Restaurant
161 King St Sydney NSW, Australia Ph: +61 2 9223 7000
www.subsolo.com.au
Enjoy fast and delicious Spanish tapas in their buzzing basement Lunch Bar and Restaurant. There's a place for everyone with casual high bars, restaurant tables and private dining options. Descend into Sydney's finest urban dining den and best kept secret. Experience the memorable flavors of specialty barbeque grills and Paellas which was awarded to Subsolo as "Sydney's Best Spanish Restaurant". Their chic cocktail and wine bar is Sydney's ultimate meeting place for a social gathering. Drop by for a drink and eat some tapas before going to an event nearby.
Ash St. Cellar
1 Ash St Sydney NSW, Australia Ph: +61 2 9240 3000
www.merivale.com
A modern European-style bistro, Ash St. Cellar and wine bar is intimately tucked away behind ivy. Classic café chairs, warm wooden décor and Parisian 'plein aire' seating creates an ideal hideaway from the hustle and bustle of Sydney's CBD. Head chef Zac Ahrens creates stylish European tapas with French, Italian and Spanish influences to compliment the fabulous array of wines. The charcuterie starters are a favorite, but leave room the tart of the day. Franck Moreau, Merivale's award-winning Master Sommelier, presides over a world-class wine list that doesn't disappoint.
Athenian Greek Restaurant
111 Barrack St Sydney NSW, Australia Ph: +61 2 9262 2624
www.athenian.com.au
Well established as the finest Greek Restaurant in Sydney, The Athenian is located in an elegant heritage building on the walk to Martin Place. They are offering traditional and modern Mediterranean cuisine, slow baked roast lamb as their signature dish. They provide a customized menu catering for vegetarians and any specific dietary requirements. The Athenian is a classic and elegant venue with exceptional service and superb food at an affordable price. This place is loved and dedicated by family who are owners of the place and they have enough experience for any type of event.
Baia
114 Cockle Bay Wharf Darling Harbour NSW, Australia Ph: +61 2 9283 3434
www.baiatheitalian.com.au
Looking for some good drinks and food late in the evening? How about some good pasta and pizza to go with that? Then you have to definitely visit Baia which has all of the foods and drinks you need to satisfy your cravings for Italian food. You can enjoy their Italian environment which sets it very uniquely in the heart of Cockle Bay. Enjoy some good meals with their top food and drink it all down with some great beverages and excellent wines too.
Eiger Swiss Restaurant
552 Parramatta Rd Petersham, NSW 2049 Sydney Australia Ph: (02) 95641160
www.eigerswissrestaurant.com.au
For an authentic taste of Switzerland, there is none other than Eiger Swiss Restaurant in Petersham. They serve authentic Swiss cheese fondue exactly as it would be served in any small restaurant in Alpine Switzerland. Their cheese fondue is designed to be shared between two or more people, they don't do single serves, and it comes with basket of bread cubes for dipping. If you are not watching your weight or cholesterol you could even order a side of spätzle which is soft noodle-like dumplings or rosti to further dip away with.
Casa Asturiana
77 Liverpool St Sydney 2000 Ph: 02 9264 1010
www.casaasturiana.com.au
For a true taste of Spanish cuisine and ambiance try Casa Asturiana in Liverpool Street, Sydney. Though there are many Spanish eateries along this strip, and a multitude of trendy tapas places in Sydney, Casa Asturiana has a much more authentic look and smell that is uniquely Spanish. Looking at the interior alone you could easily convince yourself you were in a small cafe in Northern Spain. The smell is uniquely Spanish, it is a combination of garlic, smoke and a sense that cooking pots have used for many years, with many flavors cooked into the surface.
Essen Restaurant and Beer Café
1333-135 Broadway Ultimo NSW Ph: 02 92113805
www.essenrestaurant.com.au
For an ample filling of hearty German food head to Essen Restaurant on Broadway at Ultimo. Essen is the name of a town in Germany it is predominately German influenced and much less commercialized than their German counterpart the Bavarian Bier Café. The only Dutch influence on the menu is two entrée dishes of pickled herring and croquette, which is a good thing as the Dutch are not too renowned for their cuisine. Try them out and you will soon be back for more.
Austrian Schnitzelhaus
Shop 5, The Hive, Erina Fair, Karalta Rd Erina, NSW 2250 Ph: 02 43 67 4874
www.austrianschnitzelhaus.com.au
The menu for Austrian Schnitzelhaus is very similar to other German restaurants, with schnitzels in nine variations and other favorites such as pork knuckle and pork belly. They do have a few different authentic Austrian dishes such as rissoles, their own style of goulash, and "black forest" pork fillets – that is pork wrapped in bacon. The poor pigs never stood a chance in northern mainland Europe. They also have some food challenge that many enjoy challenging which is called the schnitzel challenge. You have to finish in an hour one kilogram combo of schnitzel, chips and sauces, a one liter of stein of beer and schnapps.
Belgian Beer Café Heritage
135 Harrington St The Rocks, NSW, 2000 Ph: +61 2 8488 2460
www.bbcheritage.com.au
Heritage's food menu includes many traditional Belgian favorites and of course you cannot have a Belgian inspired menu without having mussels dominate the menu. The mussels come in eight different flavors and with a side dish of the other obligatory Belgian favorite – chips with mayonnaise. Other uniquely Belgian dishes on the menu include Belgian sausages, croquette and white rabbit pie. This refers to the color of the meat not the breed of rabbit, though it is probably not their most popular dish around Easter.
Altitude at Shangri-La Sydney
176 Cumberland St The Rocks NSW 2000 Ph: +61 2 9250 6123
www.bestrestaurants.com.au/restaurants/NSW-Sydney-altitude.aspx
This place was awarded One Chef Hat- The Sydney Morning Herald Good Food Guide 2010-2011. A first class dining experience awaits you from the dizzy heights of the Shangri-La's 36th floor at Altitude. Overlooking Sydney's most iconic attractions such as the Harbour Bridge, Opera House and Sydney Harbour, Altitude is the perfect place for a special occasion. Apart from the picture-perfect views, the restaurant is equally noted for its sophisticated Modern Australian cuisine and well-rounded wine list. The wine is superb and a must to be tasted.
Ananas Bar and Brasserie
18 Argyle St The Rocks NSW 2000 Ph: +61 2 9259 5668
www.bestrestaurants.com.au/restaurants/NSW-Sydney-brasserieananas.aspx
"Ananas", meaning pineapple in French, is a sign of hospitality and abundance, and this is exactly what this restaurant delivers. Brasserie Ananas is a contemporary French and Mediterranean restaurant located in the heart of the historic Rocks precinct on Argyle Street. Perfect for hospitality and shift workers, Ananas is open for late-night suppers. They were awarded One Chef Hat – The SMH Good Food Guide for 2014. You would not miss their awesome French food now would you? Get ready to get your taste buds go crazy for it.
Ash Street Cellar
1 Ash St Sydney CBD NSW 2000 Ph: +61 2 9240 3000
www.bestrestaurants.com.au/restaurants/NSW-Sydney-ashstreetcellar.aspx
Step off a paved pedestrian laneway and into Ash Street Cellar, a charming piece of Paris hidden in the heart of Sydney. With an impressive wine list, an excellent salumi selection, and the best 'scrambled eggs for dinner' dish in town, it is a great choice for an after-work wind down. You have to try out some Parisian food from them which they say are famous in Paris right now. They want to bring the flavors of Paris to Sydney and that is why they serve it here.
Aubergine Sydney
24 The Strand Dee Why NSW 2099 Phone: +61 2 9981 2061
Right across from Dee Why Beach, Aubergine Sydney combines European and Mediterranean flavors to create an elegant menu, complemented by a carefully selected wine list. The third restaurant to open, with restaurants already in Auckland, Aubergine is more than a casual beachside café. Popular for private functions, wedding receptions, business dinners and events, Aubergine has a capacity of up to 80. Try out their different European dishes and as well some Mediterranean ones too and sometimes they mix them together to get that awesome flavor.
Balcone Bar
2-4 Bronte Road Bondi Junction NSW 2022 Ph: +61 2 9389 7077
Established in 1854, and named after the gardens which never quite made it to Bondi Junction's Bronte Road, the iconic Tea Gardens Hotel serves up Italian favorites and beer at its merry Balcone Bar. Boasting a great view over the junction, this casual bar and eatery is perfect for a post-work or beach meal, serving steaks, pastas and pizzas alongside its fully stocked bar and dessert cabinet that is overflowing with treats. Try out the different dishes and great beer at their bar right now.
Bastille Dining and Terrace
105 Victoria Rd Drummoyne NSW 2047 Ph: +61 2 9819 7713
With so many options for dining just outside Sydney, it can be difficult to have one that stands out for the patrons. Bastille Dining and Terrace however offers diners a unique atmosphere with different rooms designed for whatever mood you may be in. This includes a stunning terrace for casual meals, a cocktail lounge and a more formal dining room. With generous servings and friendly staff, Bastille will stand out for you as well. Their prices are pretty affordable too, pretty good for those who want to save up a bit.
Bavarian Bier Café Bondi Beach
108 Cambell Parade Bondi Beach NSW 2026 Ph: +61 2 8988 5935
The Bavarian Bier Café on Campbell Parade, in the heart of Bondi Beach offers diners amazing views of one of the world's most famous beaches, welcoming bar staff and a rustic, cozy interior that demands several visits. The range of "biers" and wines, Bavarian food and good-value "Happy Hours" every weeknight draw in the crowds, so get there early, grab a table and start your journey through the menu. You definitely need to try out their cool beverages that come with different styles and strokes by their master mixer.
Blue Angel Restaurant
223 Palmer Street Darlingurst NSW 2010 Ph: +61 2 9380 5941
Having opened in 1961, Blue Angel Restaurant remains one of Sydney's favorite seafood restaurants. Located just off Oxford Street, not far from Hyde Park, Blue Angel Restaurant is known for preparing the freshest seafood with a European bent. The menu also delves into flavors of Asia, with a dedicated sashimi section and items like Thai beef salad on the extensive menu. Try out the good dishes and some of the Asian food too. Definitely a good combination of exquisite tastes.