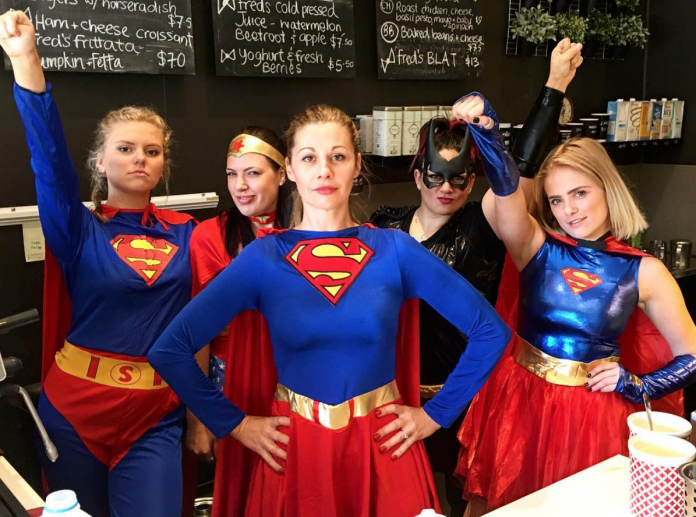 Cafe Fred is a hub for Penrith's cafe-loving community, it's like a daytime house kitchen party for High Street. A shimmering light among Penrith cafes, it's also a destination for more than just great food and coffee.
Its black exterior and interior sets a strong tone – this is serious coffee culture in the vein of Melbourne cafes, with an urbane, arty and slightly grungy vibe which would not be out of place in New York City – but from this first impression, the serious side then surrenders to the friendliness and sense of foodie fun which is Cafe Fred's lifeblood.
Four years ago owner Michelle Galloway launched Cafe Fred. Michelle had a career in marketing and HR, but she fondly remembered her time working in hospitality when at university – she'd caught the foodie bug back then and four years on, living her dream continues to broadcast a very enthusiastic attitude to life which permeates her team and all who walk in the door.
Fred is Michelle's grandfather to whom as a girl she'd always said she wanted to open a lolly shop – plenty of sweet treats on offer at Cafe Fred but the savouries are the stronger suite – everything fresh every single day, even they roast their chickens daily.
The neighbourly vibe of Penrith was apparent even before Cafe Fred opened when Michelle discovered the neighbours were willing to pitch in helping set the place up, painting and decorating, and four years on more people than ever look to Cafe Fred for more than a good feed – the friendliness and culture is infectious and it's far more than just them doing up the place and themselves for Halloween or doing promotions to raise funds for worthwhile causes.
All day breakfast continues to be very popular, while for lunch the Paleo Bowl of sweet potato, guacamole, bacon, baby spinach, fried egg & chilli, with optional grilled haloumi, is a stand-out for local health fanatics.
Many locals love their "OGs", abbreviation of on-the-goes, as in coffee on-the-go or breakfast on-the-go. While Cafe Fred provides excellent catering options in conjunction with sister venue Cafe Upstairs who have an industrial-size kitchen.
They have delicious way-above-average gluten-free bread and also offer macadamia milk for people who are a bit over soy milk, rice milk and almond milk. Mmmm macadamia milk, this is an advance in our civilisation for sure.
Yet for many regulars Cafe Fred is the place to go for jaffles! You can have 'em sweet, you can have 'em savoury, just have 'em any way you choose.
This is a cafe which knows how to tempt the Penrith locals with food and drinks they can't resist. Eggs on toasted sourdough whether scrambled, poached, fried or boiled … An Avocado Smash with lime, coriander, feta, baby spinach & chilli on toasted sourdough – add a poached egg if you wish … or a Granola of super grains, almonds, macadamias, pumpkin seeds, sunflower seeds, coconut, cranberries with vanilla yoghurt, mixed berries and honey … these are three all-day breakfast delights which most of us wouldn't mind for dinner either. And wash it all down with seriously good coffee or a Bondi Chai, they also do a great Bondi Chai & Strawberry smoothie.
Cafe Fred seems like a glimpse into a utopian future of the Sydney western suburbs – if Penrith and its surrounds are gonna be this awesome, maybe we should move there right now while it's still a little bit cheaper than the rest of Sydney!
Indeed Penrith's CBD is alive and well – on a Monday to Friday anyway, for that's when Cafe Fred is open.
Cafe Fred
Ph: (02) 4708 1248
Shop 7, 354 High St, Penrith
facebook.com/cafefredpenrith
instagram.com/cafefredpenrith