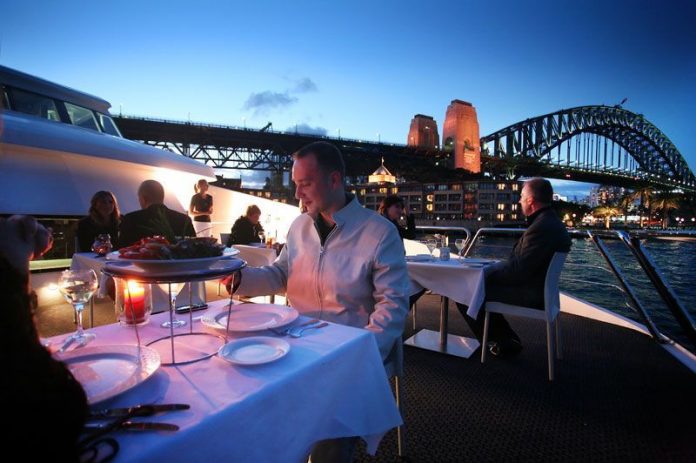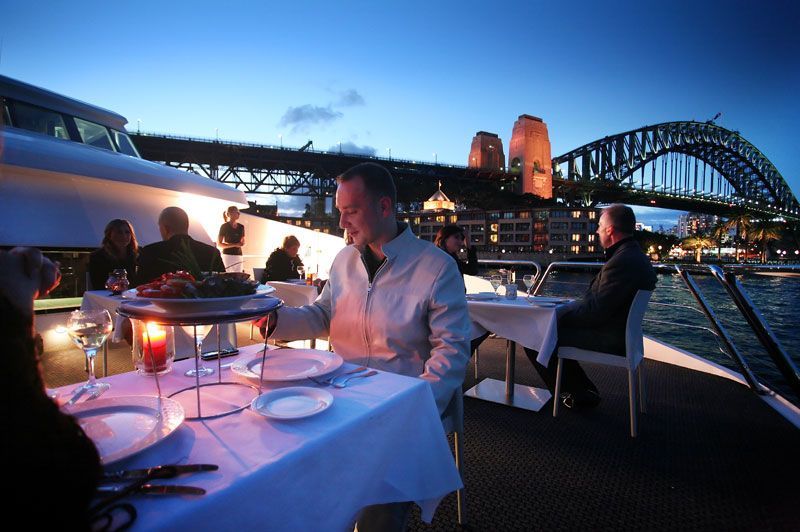 Enjoy and relax a great cruising dining cuisine across Sydney served with the freshest dishes.
Captains Cooks Club Dinner Cruise
No.6 Jetty Circular Quay, Sydney NSW 2000, Australia
02 9206 1111
Captains Club Dinner Cruise
Enjoy a relaxing and fun journey across Sydney served with the freshest dishes which is available on a day to day basis with Captains Club Dinner Cruise. There are a lot of side activities travelers can engage themselves with at Captains Club Dinner Cruise from dining to dancing the night away with their live band. Their open Star Deck allows guest to watch the nightfall which is a sight to behold with their loved ones or friends. Visit them today.
High Tea on the Seas
Peninsula Searoad Transport Pty Ltd 1 Wharf Street East, Queenscliff, Victoria, 3225
03 5258 3244
www.searoad.com.au/high-tea
A cruise in Sydney is not complete without enjoying a great dining cuisine. This is indeed quite true as travelers will be looking for food during their trips. High Tea on the Seas provides their guest with a huge variety of dishes for them to enjoy thoroughly. They have several dining package to choose from depending on your budget. This includes the Standard package, the BBQ package and the Gourmet package. They are priced $55, $65 and $85 respectively.
Magistic Cruises
32 The Promenade King Street Wharf 5 Sydney, NSW 2000
02 8296 7222
www.magisticcruises.com.au
Have a blast with different variety of daily cruises offered on a regular basis at Magistic Cruises. They provide daily lunch cruises, dinner cruises and sightseeing cruises to their guest along with gift vouchers that you can send to your friends or loved ones. This is quite a very handy and convenient feature as you can surprise them with a wonderful dining cruise around Sydney with these gift vouchers available at Magistic Cruises. Get your reservations prepared in advance today.
Sydney Showboats
32 The Promenade King Street Wharf 5 NSW 2000 Sydney Australia
(612) 8296 7200
www.sydneyshowboats.com.au
A Harbour cruise around Sydney should not be short while not overstaying their welcome either. Tourists need to make the most out of their time and a harbour cruise definitely makes their visit in Sydney worth. Sydney Showboats provide showboat dinner cruise package which is a 3 hour cruise with 3 course dinner along with a showboat show. A dinner cruise can indeed be a very romantic dining experience with your loved ones especially with the ambience and scenery that it provides.
Sydney Harbour Tall Ships
Ticket Booth – Wharf 5, Circular Quay
02 8015 5571
www.sydneytallships.com.au
If you really want an immersive harbour cruise experience, perhaps the events which Sydney Harbour Tall Ships provide will catch your attention. Why settle for a limited and straightforward harbour cruise when you can go all out at Sydney Harbour Tall Ships? They provide the unique and fun shows which kids as well as adults can fully enjoy. Birthdays and small group parties are also offered at Sydney Harbour Tall Ships making it quite accessible to a huge number of guests.
Harbour Queen
Po Box 530 Pyrmont NSW 2009
02 9786 0999
www.harbourqueen.com.au
Harbour cruise ships need to be a bit spacious in nature for their guests to roam around and enjoy the overall journey. Kids will also be able to play around not feeling limited with the cruise. You can find such place with Harbour Queen as they provide a luxurious and comfortable cruise experience. They have plenty of rooms available each with their own bar and sound system. Harbour Queen is able to accommodate a huge number of individuals reaching up to 180 guests in one single trip.
Rhythmboat Cruises
Departs Pyrmont Wharf Sydney Harbour
(02) 9879 3942
www.sydneycafes.com.au/rhythmboatcruises.html
Enjoy buffet meals for you and your family to enjoy while touring Sydney on boat at Rhythmboat Cruises. Rhythmboat Cruises has a lot in stored for their guest during the course of their visit and trip. A lot of attractions can be seen as well as fun and relaxing shows that showcased to their guests. This makes their guest preoccupied with a lot of activities making them never get bored during their stay at Rhythmboat Cruise. Visit them today!
Sydney by Sail
Festival Pontoon National Maritime Museum 2 Murray Street Darling Harbour NSW 2000
02 9280 1110
www.sydneybysail.com
Enjoy daily sailing trips for you and your family to enjoy through Sydney by Sail. Sydney by Sail provides a three hour sailing experience which is not that short or too long either and is perfect for tourists as well as guests. This gives them an ample time to enjoy the sights and sceneries of Sydney through boat. Sit back, relax and enjoy the ride offered at Sydney by Sail today. Visit their site to find out more.
Prestige Harbour Cruises
02 8765 1225
www.prestigeharbourcruises.com.au
Enjoy a variety of dining cruises which are available on a regular basis at Prestige Harbour Cruises. One will not find any short of cruise variety when they visit Prestige Harbour Cruises today. These includes private dining, sightseeing dinner cruise, VIP deck private dining, Latino dinner cruise, azure private dining, cabaret dinner cruise and more awaits guest upon their visit and reservation. This gives every trip with Prestige Harbour Cruises worthwhile and fun at the same time.
Private Charter
02 9879 3942
www.privatecharter.com.au
Reserve and plan a harbour cruise for those special occasions and events and make them memorable especially to your guests with Private Charter. Private Charter offers a lot of variety to their guests for them to be able to reserve party cruises on any occasion. These includes corporate function cruises, Christmas party cruises, cocktail party cruises, birthday party cruises as well as a Rhythmboat private charter. This is perfect especially to those who want a more intimate and private experience with their Harbour cruise.
Rhythmboat Cruises
02 9879 3942
www.rhythmboat.com.au
Experience a new and exciting way in riding on a Harbour cruise trip with Rhythmboat Cruises. Guests and travelers will not find any shortage of fun and unique variety of cruise variety as Rhythmboat Cruises has tons of options available to their guests. They have a very detailed events calendar which is great especially to those who love to plan ahead before a trip as they are able to see what Rhythmboat Cruises has in stored for them upon their visit and reservation.
Vagabond Cruises
1300 862 784
www.vagabond.com.au
Variety is always a factor traveler and guests often look for during their travels. The same can be applied with regards to harbour cruises especially when one wants to try something new. Vagabond Cruises offer their guests different events, entertainment shows and Function cruises which they can choose from to make the overall cruise experience unforgettable. For dinner, they have Aqua Latino dinner cruise and for lunch they have the Aqua Jazz lunch cruise that you and your family or friends can enjoy.
Sydney Harbour Dinner Cruise
02 8296 7296
www.sydneyharbourdinnercruises.com.au
Enjoy your trip at Sydney with a relaxing travel and cruise around the city with Sydney Harbour Dinner Cruise. Sydney Harbour Dinner Cruise makes use of its online capability by giving their guests an overview of their prices with cruise highlights available at their website. If you love being surprised, their Mystery dinner cruise deal is perfect for you. Bring a friend or a loved one and check out their Mystery dinner cruise deal for an unforgettable evening.
Matilda Cruises
02 8270 5188
www.matilda.com.au/
If you are leaning for a more private and secluded harbour cruise for you and your friend to enjoy, perhaps the services of Matilda Cruises will be able to satisfy your needs and desire. Matilda cruises. This is great for big time events that requires a bit of privacy. They provide corporate cruises, social party cruises, private dining rooms, school formal cruises, weddings, Christmas party cruises and more to their guests on a regular basis. Visit them today.
Sydney Pearl Cruises
Blackwattle Bay Marina 100 Pyrmont Bridge Road Pyrmont NSW 2009
1300 657 103
www.sydneypearlcruises.com.au
Sydney Pearl Cruises provides boat tours and sightseeing to their guest on a regular basis. Roam around Sydney and see their sights through boat. If your party is a bit large, don't fret! Sydney Pearl Cruises is able to serve up to 140 guests with their function harbour cruises making it ideal to big time events and special occasions such as weddings, birthdays, Christmas parties and more. Their boat is equipped with a large dining area along with 5 plasma screens and a large parquetry dance floor.
Sydney Princes Cruises
PO Box 135 Pyrmont NSW 2009
02 9518 7813
www.sydneyprincesscruises.com.au
Enjoy a relaxing lunch or dinner that is able to cater a large amount of individuals with Sydney Princess Cruises. Sydney Princess Cruises provides several function rooms for big time and special events. A winning sale or an approved contract calls for a big celebration. Bring your team with you and motivate them through a corporate cruise. The experience is indeed worthwhile which helps boost your team's overall morale and confidence. Let them experience the warm and sunny atmosphere at the sea with Sydney Princess Cruises.
Starship Sydney
King Street Wharf 4 Darling Harbour
1300 669 403
www.starshipsydney.com.au
Plan holiday events and special occasions in advance and make them truly unique and one of a kind. Starship Sydney provides the needed facilities and amenities which a guest requires to make their evening memorable indeed. Create special functions with their celebration package for anniversaries, birthday parties, school formals and more awaits their guest upon with visit. Giving them a harbour cruise for these said events will indeed leave a very lasting impression to them making the event successful.
Tour Chief
02 8296 7233
32 The Promenade King Street Wharf 5 NSW 2000 Sydney Australia
Tour Chief
Enjoy a wide array of harbour cruises available to guest on a regular basis at Tour Chief. If you are a bit tight on schedule, you can still enjoy harbour cruises which Tour Chief provides as they have a 1 hour Sydney harbour sightseeing cruise which is great for short trips. With that said, they also have a 3 hour dinning cruise an even an incredible 24 hour cruise pass Sydney harbour crossing with 8 stopovers.
Whale Watching Sydney
02 9583 1199
www.whalewatchingsydney.net
Have an unforgettable cruise experience with your kids or your friends and watch whales go around in their natural habitat. Whale watching Sydney offers a huge variety of harbour cruise available to satisfy your cravings and desire to be one with nature. Seeing these whales move around naturally on their own accord is a sight to behold. Depending on your free time, you can engage in a 2 hr adventure cruise, a 3 hr discovery cruise, a 4 hr true blue cruise and more awaits guest upon their visit.
Captain Cooks Gold Dinner Cruise
No.6 Jetty Circular Quay, Sydney NSW 2000, Australia
02 9206 1111
Captains Gold Dinner Cruise
Have a taste of an amazing dinner experience for you and your friends to enjoy with Captain Cooks Gold Dinner Cruise. For those who want a more intimate and private cruise, Captain Cooks Gold Dinner Cruise offers the needed amenities and facilities for their guests to enjoy. Specially selected Australian wines are available throughout the journey making the trip indeed very relaxing. Priority boarding is its one of their noteworthy features making it great for early reservations done in advance.