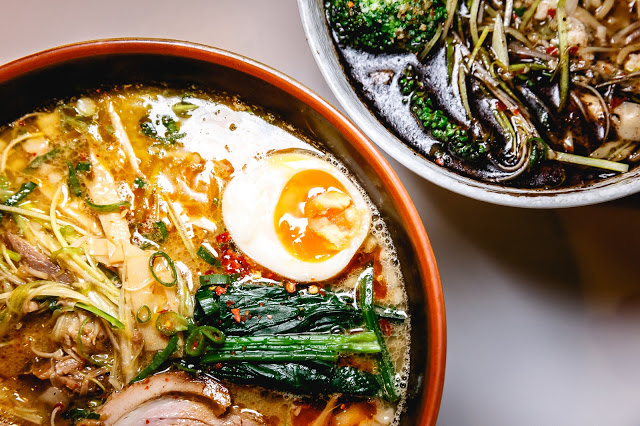 For those who want quick service without having to worry about the noodle being compromised, grab a taste of the best Japanese noodles.
Ippudo Sydney
http://www.ippudo.com.au
Level 5 Westfield Sydney 188 Pitt St, Ph: 02 8078 7020
Ippudo is one of the original ramen shops that can be found in Sydney. In fact, it started to exist as a top noodle restaurant in Hakat, otherwise known as Japan's ramen capital. Since its astounding success, the rest of the world have been able to grab a taste of the best Japanese noodles as the Ippudo consequently opened shops in many countries, including Australia. What makes one even enjoy the food is the interior of the restaurant which is the typical architecture of traditional Japanese noodle houses.
MenyaMappen
http://mappen.com.au
Shop 11, 537-551 George St, Ph: 02 8283 5525
For those who want quick service without having to worry about the noodle being compromised, MenyaMappen would really be an amazing find. The bar does not only specialize in a few kinds of noodles. There is a wide variety of Japanese ramen-based delicacies that are available. Among its most popular orders is bukkake stewed wagyu beef, which is actually categorized as one of its premium offers. For those who may prefer their noodles to be a bit saucy, bukkake chili pork and bukkakeontama could be good choices.
Gumshara Ramen
https://www.facebook.com/pages/Gumshara-Ramen
Shop 211, 25-29 Dixon St, Ph: 0410 253 180
It is almost impossible for genuine ramen lovers to miss out Gumshara Ramen. This noodle shop happens to be one of the most popular in Sydney. While it may have gained fame because of its efficient service, it has definitely carved a name in the industry because of its exceptionally good noodles. A lot of people actually say it has the best ramen in town. Whatever the comments of people are, it is best that you actually give it a try too.
Ryo's
125 Falcon St, Crows Nest, Ph: 02 9955 0225
Ryo's is basically a shack located in Crows Nest. However, the impression that you get that it is just a small noodle bar that does not deserve any attention is totally wrong. This is especially true once you get the see the long line of people ordering its ramen. The moment that you also find out the ramen types that it offers, you may also find yourself joining the rank and ordering some too. You could be even coming back for more.
Menya Noodle Bar
http://menya.com.au
Shop 2, 1 Market St, Ph: 02 9267 4249
When it comes to fresh ramen noodles that are cooked to impress, one could only think of Menya Noodle Bar while in Sydney. According to those many people who have actually made a habit out of eating here, Menya's noodles are really delicious. The soups are made of the best pork and chicken stocks with flavors one would really love. The Shoyu or the special soy sauce prepared for alongside the noodles is unforgettable. There are many varieties that customers could choose from but the more favored are Shio and Tonkotsu.
Ramen Ikkyu
http://www.menikkyu.com.au
Sussex Centre Food Court, Shop F1A 401 Sussex St, Ph: 02 9281 0998
The smell of ramen whenever you pass through the Sussex Centre Food Court is unmistakable. This is especially true once you are right outside Ramen Ikkyu. The moment that you are able to smell the noodles, you would certainly find yourself being hypnotized and dragged towards a waiting table. From there, you would be provided a menu that is not only varied but also is also filled with the most delicious ramen noodle preparations that you could think of. This is how Ramen Ikkyu works.
Ramen-Kan
90 Hay St, Haymarket Ph: 02 9211 6677
Ramen-Kan does not have a website. One would think that this could be a disadvantage because the noodle bar would not have the means to advertising itself to more people. However, this definitely does not give any problem at all. This is because by mere word of mouth, people are actually queuing at Ramen-Kan to get an order of their most beloved noodles. Its Karaage Cheese Curry Ramen is one of its most popular offerings that never fails to impress genuine Japanese noodle enthusiasts.
Tan Viet Noodle House
100 John St, CabramattaPh: 02 9727 6853
If you are planning to dine on authentic Vietnamese noodles, the best place to go would be the Tan Viet Noodle House. It is here that you would really get a taste of Vietnam right in the heart of Sydney. Aside from its popular noodle dishes, such Crispy Chicken with Dry Noodles and Egg Noodle Soup, you would also find yourself ordering other Vietnamese delicacies. These include Pork Belly, Crispy Chicken with Tomato Rice, and many others. Even the desserts here are favorites too.
Ichi-ban Boshi
http://www.ichibanboshi.com.au
500 George St, Level 2 Ph: 02 9262 7677
In order to prepare the best ramen, fresh noodles are the primary requirement. This is exactly what Ichi-ban Boshi has in mind as it tries to continue impressing its large client base. The noodle bar actually makes its own noodles with the highest quality. It may be using the best local Australian flour but it prepares it in the most delicate way that the Japanese often do. As soon as the ramen is done, it is then mixed with the finest ingredients that customers love so much. In fact, the noodle shop is known for its al dente preparations too.
Chinese Noodle House
Prince Centre, 8 Quay St, Haymarket Ph: 02 9281 4508
It is impossible not to think of Chinese delicacies whenever one eats noodles. Noodles after all have always been a staple in China and in many other East Asian countries. In Chinese Noodle House though, you will indeed experience how noodles are made in the Chinese way. Aside from this, you would also get to enjoy many other wonderful side dishes that also possess authentic Chinese flavors. Among those that you would surely love are Special Braised Eggplant and Beef and Noodle Stir Fry.
Pho Sam Noodle House
14 Oxford St, Epping Ph: 02 9869 0799
One particular thing that makes Pho Sam Noodle House different from the others is that it promises to provide vegetarians a lot of options. Apparently, meat is an ingredient that has always been found in almost all noodle varieties. However, at Pho Sam, you could actually choose from many vegetarian noodle preparations. Aside from this, the noodle bar also offers authentic Vietnamese dishes to go along with your noodles. This is primarily the reason why a lot of people go to this restaurant.
Madam Nhu Surry Hills
http://www.madamenhu.com.au
82 Campbell St, Surry Hills Ph: 02 9212 3311
Eating at Madam Nhu would tell you much about the colonial history of Vietnam. There are several reasons for this. However, the most peculiar of which is the fact that it is here that your genuine Vietnamese-style noodles possess some distinct French flavors as well. This is indeed quite an experience, eating something that is influenced by two other countries while in Sydney, which is an Australian city. Aside from the noodles, you would also get the feel of how Vietnam was when it was still a colony by the design of the restaurant interior.
Jap's Table
245 Abercrombie St, Darlington Ph: 02 8399 1127
Just by the name itself, it is already implied that Jap's Table offers the most popular delicacies from Japan. While it may have gained fame because of its ramen, it is also a fact that Jap's Table offers more than just noodles. Among the heavy favorites are Mackerel Sushi, Chicken Giblet Yakatori, and Negi Toro Sushi Roll. Beef lovers would surely crave for its Yakitori Wagyu Beef. Of course, the ramen here have always managed to attract customers. These are after all its top sellers.
Express Thai Noodle Hut
339 Penshurst St, Sydney Ph: 02 9417 0555
When it comes to noodles, Thailand definitely does not fail the expectations of many. In fact, the country's culture has contributed a lot to the ever increasing number of noodle varieties all over the world. Thanks to its distinct Thai flavor, their noodles have come a long way too. Even while you are in Sydney, you could also get to enjoy these through Express Thai Noodle Hut. It is here that you would be able to grab a taste of the world-famous Thai stir fried noodles, with Pad Thai as the main attraction. Aside from these, you could also choose from any of the great side dishes that also possess the much vaunted Thai flavors.
Dumpling and Noodle House
http://www.dumplingandnoodlehouse.com.au
165 Victoria St, Potts Point Ph: 02 9326 9369
If you are an avid fan of Chinese dishes, you would certainly come up with the conclusion that there could be no other good side dish for your noodles than a set of tasty dumplings. This is the combination that you would surely order for when you are Dumpling and Noodle House. In here, you could be sure that your noodles are just as fresh as the dumplings that go with it. These have the best of local ingredients but prepared in an authentic Chinese way. The noodles are hand-stretched and you could tell by it by its texture.
Sydney Dumpling King
http://www.sydneydumplingking.com.au
183E Burwood Rd, BurwoodPh: 02 9701 0055
There are two things that you may want to find in a restaurant; quick service and tasty food. Unfortunately, the two most oftentimes fail to go along together. It is one or the other. However, at Sydney Dumpling King, you would definitely get to experience the best of both worlds. It is here that you would savor the rich taste of Asian noodles after it has been prepared at such amazing speed. While the dumplings here are very popular, you would also get to enjoy its beloved noodles which are usually prepared in the Taiwanese way.
Ramen Zundo
https://www.facebook.com/RamenZundo
Shop 1030 World Square 644, George St, Ph: 02 9264 6113
Ramen Zundo has always been known as great ramen shop. However, its description does not stop there. This is because the noodle bar also offers special treats regularly. Currently, it boasts of providing customers with Hakata Tonkotsu Ramen, which is a uniquely prepared noodle soup that originates from Fukuoka prefecture, a place that is in southern Japan. While it does have the usual Zundo light colored soup, you could be sure that its flavor is really thick. In cold weather, this is definitely a treat.
Miss Chu
http://www.misschu.com.au
185 Burke St, DarlinghurstPh: 02 8356 9988
Miss Chu is all about Vietnamese food. Just take a look at the menu and you would find the varieties that it serves are all with the authentic flavors of the Southeast Asian country. Aside from these, it also serves many other Asian favorites. However, if you are a noodle lover, you would surely come to appreciate the restaurant all the more. This happens to serve also noodles that are made very famous by Vietnam. While savoring these, you may order the delicious side dishes as well.
Alice's Makan
http://www.alicesmakan.com.au
580 George St, Sydney Ph: 02 9262 7771
Malaysia is known for a lot of delicacies. However, what makes it more distinct is the way that it makes its noodle soup. You certainly have the means of tasting this even while you are in Australia, particularly Sydney. You could thank Alice's Makan for this. The restaurant is one of the very few restaurants in Sydney where you could really have a taste of what Malaysia has to offer. While here though, make sure to order its noodles. When served hot, you would definitely come to adore its spiciness. This is what Malaysian noodles usually are.
Zenya Noodle Bar
http://www.zenyanoodlebar.com
217 Rowe St, Eastwood Ph: 02 9874 2122
Zenya Noodle Bar specializes in ramen, which is known as one of Japan's best contributions to the world of culinary arts. Aside from this, the restaurant also boasts of its Udon and many other side dishes that possess unique Japanese flavors. You definitely do not have to go to Japan or anywhere else outside Sydney to experience rich Japanese-styled cooking. You could get this right here in Sydney, courtesy of Zenya Noodle Bar. You could order Bento boxes but make sure to have some ramen too.