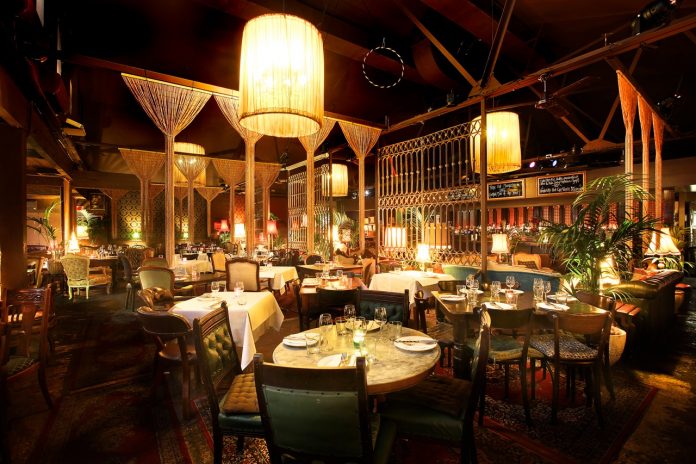 NOTE: The Victoria Room Restaurant has now closed and is now known as the Darlo Country Club: www.darlocountryclub.com.au
Address: Level 1, 235 Victoria St, Darlinghurst
Phone: (02) 9357 4488
Hours: Tues-Thurs 6pm-midnight; Fri 6pm-2am; Sat 12pm-2am; Sun 1pm-midnight
The Victoria Room restaurant and bar in Sydney's Darlinghurst is an ultra-smooth dining establishment.
Richly decorated in British-Raj style, this exotic dining room and award-winning cocktail bar exude bon-vivant chic.
The Victoria Room offers a superlative menu, wine and cocktail list. In the restaurant patrons can dine on a fine selection of Mediterranean dishes, each moderately priced and designed to share. Dining has never been so relaxed. The perfect table will be found against a backdrop of decorative screens, paintings, lush palms and rich wallpapers.
We were fortunate enough recently to attend their 5th Anniversary. The theme of the night was "Bohemian Elegance" and a search on Google landed our editor in Newtown's down-market second-hand clothing store "Scragg's House of Fashion" where he procured a mint-condition Laura Ashley shirt which somehow gave him a bo-ho edge with a 1970s Californian twist. This type of Sydney cross-dressing occupies the more subtle end of the spectrum by the greatest of margins, and ladies you'll be envious: it cost just twenty bucks.
On arrival we were greeted by rose-petal martinis which had been doused with a heady splash of lychee liqueur. From there the night became ever-more festive as Sydney celebrities mixed with more anon types such as us: we chinked glasses with actress Zoe Carides, singer-songwriter Tiffani Wood, Cream Magazine publisher Antonino Tati, man-about-town Grant Booker, Sunday Telegraph social writer Ros Reines and some chap Ben from Neighbours that our two female staffers Tiffani and Vana were particularly enamoured by.
Great canapes took the edge off the alcohol but the martinis were so good, and the wines that followed so irresistible, that our poor photographer ended up unable to drive home and so slept the night in his car (forward planning for this event would have simply called for a taxi booking). Disturbed by the contrast of his pounding headache with the 8am Darlinghurst commuters walking past his car on the way to work, he was heard groaning "never again" to colleagues all day long, that is until his 4pm appearance at the New Zealand in a Glass wine expo at the Westin Hotel in Martin Place, whereupon he took a hair of the dog to restore his usual verve.
The Victoria Room certainly fulfilled its billing of the night as that of "decadence, intrigue and opulence". But then it gets plenty of practice, as most of the other nights of the year it's cultivating the same atmosphere. This is without doubt one of Sydney's best bars, and in another 5 years, we're sure it still will be. Timeless, classic and yet just a little cheeky (the bar staff have got their repartee just right), the sartorial colonial backdrop is a welcome bulwark to these challenging post-colonial times.
And the sophistication doesn't end here. High Tea, comprising a traditional selection of sandwiches, cakes and the finest tea and champagne, is available Saturdays 12pm – 5pm & Sundays 1pm – 5pm. High life and tiffin indeed.