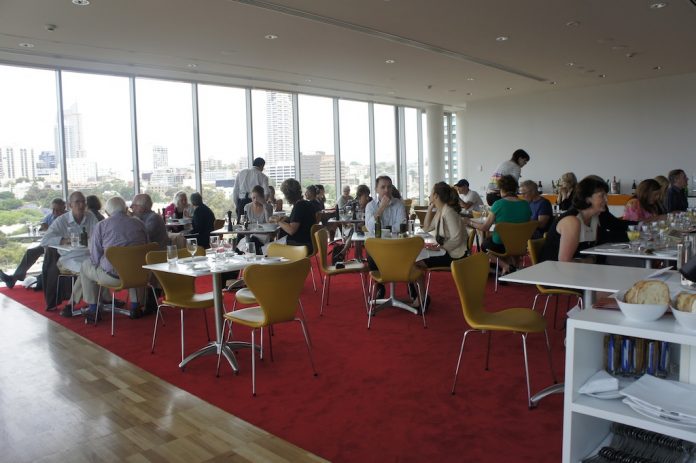 At Perry Lane Cafe
Paddington, Cafe & Coffee Shop, Art Gallery, Function Venue
Address: Rear, 264 Oxford St, Paddington NSW 2021
Phone: (02) 8354 1222
Hours: Tues-Sat 8am-5pm, Sun 9am-5pm
If you find yourself on Oxford Street in Paddington, make sure you seek out the café "At Perry Lane". You'll have to search it out though, as it's hidden away in a very discreet and ramshackle Paddo laneway only frequented by locals in-the-know – as well as some intrepid travellers who've recently discovered At Perry Lane through the Lonely Planet.
At Perry Lane is best found at the rear of 264 Oxford Street, via the laneway directly adjacent, which sure enough is called Perry Lane. Not your typical café, it's a contemporary space over three tiers, with a retractable shade cloth and bougainvillea forming an occasional 'roof' to a large portion of the space. Only in inclement weather, mind. When the sun's shining, it's blue sky all the way.
Our adorable host and co-owner Chris Davies is extremely welcoming and served a couple of their perfect Campos Coffees more quickly than we could take in the surroundings. The grey-blue walls allow the splashes of green and the view of the sky to open up the space into a fine-food-addict's oasis where relaxing is the only option.
Chris, with a background at ninemsn and Microsoft (London) has partnered with Gillian Morris, who previously owned cafes and hair salons, to create At Perry Lane. Their original idea was to produce a salon/photographic studio with the space, but in the end to the joy of us foodie fanatics, they decided on what At Perry Lane is today. They set off at a running start in February 2009 thanks to a very strong local and community connection which sees the place almost constantly buzzing with casual diners – and coffee-aholics often literally queuing for their take-aways.
We were there for brunch, so after some consideration we decided to leave it up to At Perry Lane to bring us their most spectacular dishes. As I anticipated from the skilful vibe of the place, we weren't disappointed. The big breakfast included perfectly poached eggs, bacon, tomato, sliced field mushrooms and chorizo, while I made a mental note to return for my dining partner's breakfast of poached eggs, wilted spinach and cumin lentils with Moroccan tomato relish. Scouring the lunch menu I was also intrigued by their squid, chorizo and rocket salad – for next time!
In spite of the surroundings and delicious food, what really sets At Perry Lane apart is the art space. Designed with emerging artists in mind, the gallery changes its artist every two weeks. When night falls, the café's subtle lighting helps turn the space from café to arty function venue (something too rare in Sydney), turning into the perfect space for boutique events, parties and launches (also available for private hire). At Perry Lane seats 55 yet can cater for up to 130 standing with drinks and canapés. However they're just as happy acting as off-site caterers for groups of ten upwards – contact At Perry Lane for more details.
Another unique offering At Perry Lane provides is tarot and jewellery readings. These are by appointment and can be for an individual or group.
At Perry Lane describes itself as "sophisticated, charming and cheekily hedonistic but never pretentious". I couldn't sum it up better myself.
At Perry Lane is open Tues-Sat 8am-5pm, Sun 9am-5pm.
Rear 264 Oxford Street, via Perry Lane
Ph: 02 8354 1222
Email: atperrylane@live.com.au .