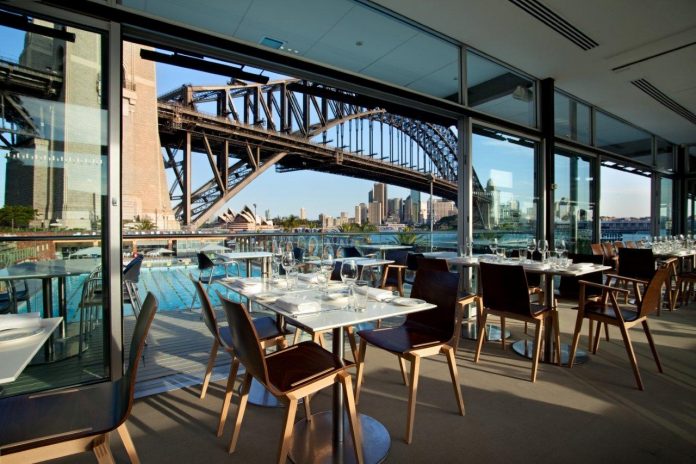 Spend an exquisite dining experience with an amazing backdrop and view just for you and for your loved ones.
Lily's Restaurant, Bar & Function Centre
162 Prospect Highway Seven Hills
8818 5555
www.lilys.net.au
If you are looking for a great dining venue for you and your loved ones, Lily's Restaurant, Bar & Function Centre has got you covered. Their restaurant has a very warm and welcoming atmosphere with its comfort and elegant design. To match this sophistication, their menu is filled with authentic Italian cuisine served by their professional chefs. The restaurant also got you covered with regards to functions making celebrations easy to setup. BYO is also provided at their establishment.
Aria Restaurant
1 Macquarie St East Circular Quay
9252 2555
www.ariarestaurant.com/sydney
Spend an exquisite dining experience with an amazing backdrop and view at Aria Restaurant. Aria Restaurant is situated in a great location and their window view makes the evening relaxing and romantic. Try out their Crispy Skin Snapper with saffron taglierini, baby artichoke and fennel and lobster butter. The restaurant also has a wide range of wines and other types of beverage available at any given time. With that said, customers are able to bring their own bottles with them.
Bazaar Beer Cafe & Bar
1 Albany St St Leonards
9438 1999
www.bazaarbeercafe.com.au
October is a great month to drink and unwind with you and friends as the world celebrates Oktoberfest. This is a good opportunity to try out new unique and authentic drinks. For that matter, Bazaar Beer Cafe & Bar provides a wide variety of for their customers and guests along with a huge selection of menu that goes well their beverages. Sky is the limit at Bazaar Beer Cafe & Bar as they also allow their customers to bring drinks with them.
Blue Orange Cafe/Restaurant
49 Hall St Bondi Beach
9300 9885
www.sydneycafes.com.au/blueorange.html
Have a taste of Modern Australian cuisine perfect for not only for the locals but also for their guests found at Blue Orange Cafe/Restaurant. The place is great to those who want to spend their nights in a quiet and secluded manner. Check out their Seared Venison, Wasabi-Crushed Potatoes, Baby Bokchoy and Soy Truffle Dressing which is perfect for any time of the day. Cocktail drinks await customers during their visits though they are also a fully licensed BYO café on Sydney.
Cafe XXll
22 Union St Pyrmont
9552 3093
www.cafexxii.com.au
A mix of Mediterranean and Australian flavours made with the finest and fresh seasonal produce found at Cafe XXll. There is a diverse range of dishes available at their café. Vegan lovers out there will be pleased to hear that Cafe XXll serves vegetarian meals on a day to day basis. Enjoy their special blend of roasted coffee prepared by only highly trained baristas. On the other hand, you can also bring drinks with you as Café XXII is a licensed & BYO Café in Sydney.
Chikyu-Ya Japanese Cuisine
106 Ebley St Bondi Junction
9386 9534
www.sydneycafes.com.au/chikyu-ya.html
Dine with friends in a cultural mixed restaurant at Chikyu-Ya Japanese Cuisine. Customers and guests are always welcome to dine at their restaurant. Even though a lot of cultural differences exist, all of their guests come into terms that their dishes are truly amazing and delicious. Try out their specialty dishes which includes Teriyaki fish, Pan fried Gyoza dumplings, Sushi and Teriyaki Chicken, Tofu salad and steak and a whole more awaits their customers during the visit and stay at Chikyu-Ya.
Christo's Gourmet Pizzeria
224 Glenmore Rd Five Ways, Paddington
9360 6796
www.sydneycafes.com.au/christos.html
Pizza is a popular food that is great to be shared with friends or loved ones. They can be enjoyed at any time of the day making them a perfect meal that almost anyone can enjoy. You can find a huge variety of pizzas available at Christo's Gourmet Pizzeria. The restaurant provides not only pizzas to their customers but also pastas, gelatos, wine and beer. You can also bring drinks with you during your visit as they are a licensed BYO café.
Dov at Delectica
130 Victoria St Potts Point
9368 0600
www.cafedov.com.au
Individuals who have a busy and tight schedule will be quite pleased to hear that they can enjoy breakfast and lunch meals prepared in a short amount of time with Dov at Delectica. The restaurant offers light meals on the go for their customers on a regular basis which perfect to those who want to dine fast. They have a sandwich bar and you can choose from different types of sandwiches available at their stores. Try out their lamb burger today.
Essen Restaurant & Beer Café
133-135 Broadway Ultimo
9211 3805
www.sydneycafes.com.au/essenrestaurant.html
Experience a mix between Australian and European atmosphere with your dining experience at Essen Restaurant & Beer Café. This gives their restaurant and café a unique and diverse blend of Australian and European culture. The place is great for dining and relaxing as they served both meals and drinks to their customers on a regular basis. Their bar and function is spacious which is able to hold up to 70 people. This is great for those medium sized events.
Giardinetto Italian Restaurant
62 Stanley St Darlinghurst / East Sydney
9361 3633
www.giardinetto.com.au
An authentic Italian dining experience awaits you when you visit Giardinetto Italian Restaurant today. If you are looking for unique Italian cuisines, then look no further! Giardinetto has a lot of Italian inspired dishes in stored for their customers upon their visit. Pastas and Pizzas may come to mind when talking about Italian restaurants and Giardinetto is quite confident with their pasta and pizza menu. Their Pepperoni Pizza goes well with Lasagna. The restaurant is also a fully licensed restaurant to boot.
Gotties Italian Restaurant & Woodfired Pizzeria
Erskine Park Shopping Centre Swallow Drive Erskine Park
9670 1800
www.facebook.com/pages/Gotties-Woodfire-Restaurant-Pizzeria/150045128357411
Fresh and hot pizzas served straight from a wood fired oven found at Gotties Italian Restaurant & Woodfired Pizzeria. Pizza created and prepared in its natural ways keeps the flavors intact. Such method of preparation is done at their Pizzeria making it great for friends to enjoy. Gotties also serve Italian dishes aside from pizzas making it a great place to dine and stay. They provide takeaway orders as well as bookings and caterings.
Helm Bar
Aquarium Wharf Wheat Rd Darling Harbour
9290 1571
www.helmbar.com.au
Dine with an amazing ambience and atmosphere to become immersed not only with the food but also with the location. You can find such place at the Helm Bar. The Helm Bar offers a variety of locations within their restaurant to give customers an option with their dining experience. Their upper deck is great for relaxation while the lower deck becomes lively with the warm and sunny weather. They have a lot of drinks and beverages to those that want to unwind and spend the night away.
La Boheme Czech Restaurant
Stonemason's Cottage at 199 Glebe Point Rd, Glebe
9660 5639
www.laboheme.com.au
La Boheme Czech Restaurant is perfect place to dine and celebrate special events and occasions with your friends and loved ones. The total seating capacity is up to 150 persons and this does not include the outdoor dining which is 20, the ground floor bar/dining able to serve up to 50 individuals and its upper level dining which is 80. Those who wish to bring drinks with them are able to do so since La Boheme allows BYO.
Otto Ristorante
Area 8 Woolloomooloo Wharf
9368 7488
www.ottoristorante.com.au
A truly authentic dining experience awaits customers and guest during their visit at Otto Ristorante. Their menu is filled to the brim with a huge selection of Italian cuisines served fresh with the finest ingredients available in the market today. You can try out their Primi, Pasta e Risotto, Secondi, Dolci and a lot more available when you visit their restaurant today. Vegan meals are also provided along with children menu. BYO is available through customers need to pay $7 per person.
Peroni's Restaurant
48 Station St East Parramatta
9633 2889
www.peronisrestaurant.com.au
Italian cuisines are always popular with a huge number of individuals because of the distinct taste and flavor that it brings to their taste buds. Peroni's Restaurant is an Italian inspired café which offers a unique culinary experience with their gourmet Italian cuisine along with a fine selection of fine vintage and contemporary wines. Peroni's Restaurant was able to heed the call of their customers as they are now offering BYO service (wine only) on a regular basis.
Seachange Café
Shop 3 20 The Strand Dee Why
9971 9692
www.sydneycafes.com.au/seachange.html
Seachange Café definitely requires to be experienced firsthand especially because the café is located inside a business establishment. With that said, the menu that they serve can be your travels worth it. Definitely try out their Cajun Kangaroo Fillets and Dill-rubbed Salmon Steak along with their Paella which is great to be enjoyed by large group of friends. This makes the overall group dining experience worthwhile when visit Seachange Café. The café is BYO making it great to bring wine with you during your visit.
Speedos Café
126 Ramsgate Ave North Bondi
9365 3622
www.speedoscafe.com.au
Speedos Café is an all around amazing restaurant as they serve meals to their customers from Sunrise till Sunset. This opens up tons of opportunity for guests and customers to try out different variety of dishes served at different time of the day. Speedos also provide breakfast and lunch catering as well as function rooms for those special occasions and events. This includes birthdays, weddings, Christmas, anniversaries, corporate events and a lot more depending on the needs and demand of their customers.
Splash Seafood Café
226 King St Newtown
9550 1229
www.sydneycafes.com.au/splash.html
Seafood specialty inspired by European tradition awaits customers upon with visit at Splash Seafood Café. Freshness is guaranteed with every seafood order that their restaurant. The ambience itself also emits a watery vibe with its blue décor dining area. For meals, try out their huge selection of lobsters prepared with different ingredients. This includes the likes of Lobster Mornay and Lobster Devine. Their Mixed Grilled Platter is also great to be enjoyed with friends or with loved ones. Visit them today.
Flying Fox Café
2 Mona St Mona Vale
9986 0980
www.flyingfoxcafe.com.au
The Flying Fox Café is one of the most popular destinations in Sydney with their fresh and open ambience available for their customers and guests. A sail roof and clear screens is a reoccurring theme at Flying Fox Café making it look spacious and open. They serve breakfast and lunch menu likes every other cafes and restaurants out there though what makes them quite unique is their Cub Club menu which is perfect for children and kids. Bring them with you in your next visit.