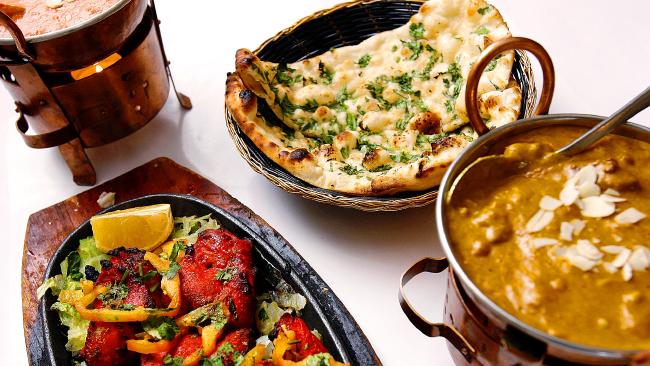 Maya da Dhaba
Surry Hills NSW 2010
02 8399 3785
mayadhaba.com.au
Have a taste of authentic Indian inspired cuisine at the heart of the Metro. Maya da Dhaba offers popular Indian dishes and delicacies without the need to travel to distant location. Their signature dishes make them standout amongst the rest of the restaurants in Sydney. This includes menu such as Goan Fish Curry which consists of fish fillet that is cooked in goan style, Chicken chettinad which is a boneless chicken fillet cooked South Indian style with mustard seeds and curry leaves and many more.
Vrindavan Indian Restaurant
261 Harris St Pyrmont NSW 2009
02 9566 1135
vrindavan.com.au
If you are planning on taking your family or friends to a private gathering with the serving of authentic Indian menu, Vrindavan Indian Restaurant an amazing dining experience which everyone can enjoy. Vrindavan Indian Restaurant offers function room and parties among their guest which is also available through online booking. They also offer outdoor catering is great for those who love to dine with a cool and refreshing atmosphere and ambience. Definitely check out their seafood specialties such as Seafood Panch Foran and Scallop Moilee.
Indian Palace Restaurant
235 Darling Street, Balmain NSW 2041
02 9818 3272
indianpalace.com.au
Experience Indian culture and cuisine with the dishes provided at Indian Palace Restaurant. Indian Palace Restaurant is considered to be one of the top rated Indian restaurants in Australia. Their name truly stood the test of time especially since the restaurant itself was established back then in 1984 and has made a very solid name for themselves. Have a choice between their varieties of dine-in menu depending on your taste. They serve lamb, chicken, beef seafood and vegetarian dishes to their customers on a regular basis.
Bombay 2 Mumbai
Shop 2 / 42 Harris Street, Pyrmont, NSW 2009
02 9660 9699
bombay2mumbai.com.au
Find traditional favorites with regards to Indian dining options in Sydney at Bombay 2 Mumbai. Not only that, Bombay 2 Mumbai also serves innovative recipes made with the best quality food and service which makes their customers always comeback for more. They serve lunch and dinner menu as well as a variety of beverages for their customers to enjoy. This includes beers, wines spirits, juices and many more. Have a taste of fine dining with your friends at Bombay 2 Mumbai today.
The Colonial Darlinghurst Restaurant
118 Crown Street | Darlinghurst, Sydney, New South Wales 2010, Australia
02 8084 6700
thecolonialrestaurant.com.au
Taste the unique flavors and spices of Indian inspired cuisines at The Colonial Darlinghurst Restaurant. The Colonial Darlinghurst Restaurant prepares their food with in a simplistic manner of preparation, storing its flavor and savor in the process. They have online menu ready for orders at any given time which is quite a convenient and handy feature. They are offering specialty menu to their customers that change every season. Their diwali feast and vegetarian diwali feast are up for grabs for a limited time today.
Bijolias Indian Restaurant
Sydney Rd, Sydney, New South Wales 2100, Australia
02 9949 3641
bijolias.com.au
Fine Indian cuisine which uses the freshest and finest ingredients with their menu found at Bijolias Indian Restaurant. Bijolias Indian Restaurant boasts their 25 years of experience and counting in making Indian inspired dishes in a friendly and professional environment. Their menu is filled to the brim with different lamb, beef, chicken and seafood dishes that is great for everyday occasion. Pair these off with their variety of desserts, beverages, wines and specials to complete your overall dining experience today.
AKI's
1/6 Cowper Wharf Rd | Woolloomooloo, Sydney, New South Wales 2011, Australia (City East)
(02) 93324600
akisindian.com.au
This is quite a short name for an authentic Indian inspired restaurant. AKI's delivers with their latest achievements and accomplishments in the field of dining. They received 2 Wine Glasses at the 2014 Gourmet Traveller "Australian Wine List of the Year Awards". This is a truly a testament of their success with regards to their dishes as well as services that they provide. Check out their specials today that includes Tandoori Snapper, Quail Porichadu and a lot more is in stored for their customers when they visit them today.
Delhi 'O' Delhi
3 Erskineville Road, Newtown 2042
02 9557 4455
delhiodelhi.com.au
Amazing Indian dining experience at the heart of the city of Sydney found at Delhi 'O' Delhi. Try out new cuisines when dining with your family and friends by trying out Indian inspired dishes that is both authentic and unique with regards to their taste. Delhi 'O' Delhi shows a fine balance with their menu as variety of their meals can cater to each and everyone's preferences and taste. Whether you are craving for seafood, lamb, chicken or beef, definitely checkout the dishes provided at Delhi 'O' Delhi.
Maya Vegetarian
470, Cleveland St. Surry Hills, Sydney NSW 2010
02 9699 8663
mayavegetarian.com.au
Beef, chicken, lamb and seafood aren't only heart and soul of authentic Indian cuisines as a variety of healthy and green dishes are also served with their own touch of uniqueness. Maya Vegetarian satisfies such cravings for healthy and fresh Indian cuisines to their customers today. Vegans aren't left behind especially if they want to try out Indian inspired dishes as there are indeed a lot of options available at Maya Vegetarian. Their name speaks for itself and you can head over to their site to find out more.
Kashi Indian
233, Annangrove Road, Annangrove NSW 2156
02 9679 0790
kashiindian.com.au
A truly unique and authentic Indian inspired restaurant not only noticeable through their dishes but also the ambience and environment which the restaurant offers. Kashi Indianoffers a lot of side attraction to their guests that can immerse and truly transport them to India without the need to travel. Bollywood night at Kashi and live music is provided to their customers to impart them a truly unforgettable experience not only with regards to dining but also with the entertainment aspect as well.
Zaaffran
Lvl 2, 345 Harbourside Shopping Centre | Darling Harbour, Sydney, New South Wales 2000
02 9211 8900
zaaffran.com
Fine dining cuisine at a reasonable price offered a Zaaffran. This makes their dishes quite accessible to a large number of audiences. Those who wish to experience authentic Indian dishes are able to benefit greatly from the variety of menu offered at Zaaffran. Try out their A la Cater menu with great vegetarian starters. Non-vegetarian starters are also offered as well as mixed seafood to cater to the different preferences of their guests. They also offer banquets which is great for large group of friends.
Nilgiri's
81-83 Christie St | St Leonards, Sydney, New South Wales 2065
02 9966 0636
nilgiris.com.au
A great variety of dining options available to their guests that specializes in Indian inspired dishes found at Nilgiri's. Those who want to spend their money's worth opt for their weekly and Sunday buffet which is a great for family and friends. Free drinks are included with the buffet and it should also be noted that children under three years old are free. Definitely bring your children with you the next time you visit Nilgiri's and enjoy an Indian dining experience.
ABHI's
163 Concord Rd, North Strathfield, Sydney, New South Wales 2137, Australia
02 9743 3061
abhisindian.com.au
Enjoy A la Carte and Banquet menu that is heavily inspired from India at ABHI's. They have a huge variety of dishes available all at a reasonable price. You can start with their entrée dishes with tons of options available. Seafood and vegetables offered readily such as Crab Urundai, Chilli Prawns & Scallops Seekh Kebab, Bhaji Rolls and many more. This is just the tip of the iceberg as many dishes await their beloved guests upon their first visit.
Surjits Indian Restaurant
215 Parramatta Road, Annandale Sydney, NSW
02 9569 8884
surjitsindian.com.au
Tons of online dining options are available at Surjits Indian Restaurant which provides a convenient and handy feature to their guests. This allowed for effortless and hassle free transactions when planning on reserving food for your family and friends. They dishes cater for both vegan and non vegan individuals alike. Their non vege menu comprises of Madrasi Gosht Curry, Korma Zaffar Shahi, and many more. Mix vegetables, aloo ghobi, aloo jeera and the likes are provided and are picked t directly from the vegetable garden.
Govinda's
112 Darlinghurst Rd, Sydney, New South Wales 2010
02 9380 5155
govindas.com.au
Enjoy a fun dining experience with you and your friend at Govinda's. Govinda's dishes are heavily inspired from the culture of Indian giving it an authentic taste and feel. Why go home directly when you can spend your relaxing time at Govinda's with their dining and cinema experience in one fine establishment. This is a very amazing feature as there is no need to travel to watch a movie after a scrumptious meal with your family or friends.
Murraya
Shop 1 607 Kings Way, Miranda NSW – 2228
02 9526 8278
murraya.net.au
Enjoy fresh meals made from the finest ingredients prepared with Indian authenticity in mind with Murraya. If you love the extra kick with your meals with regards to their spiciness, the Murraya is indeed the perfect place for you. Their meals are classified with mild, medium, hot in mind which is great for spice lovers out there. If you are quite confident with your taste buds when talking about spicy meals, definitely try their Murraya's Mixed Platter or Tadaka Prawn.
The Clove
104 Beach Street, Coogee Beach
02 8095 0048
theclove.com.au
Wine and other beverages play a very important part in making our meals complete. The Clove put this principle in mind as their Indian inspired restaurant is filled to the brim with wines and other amazing drinks. With that said, their main meals is not something to overlook for as they provide a huge variety of beef, chicken, duck, king prawns, fish, vegetables, lambs, breads and many more. If you have children with you, their desserts will keep them busy which is available at a very reasonable price.
Himalaya
460 Elizabeth Street | Surrey Hills, Sydney, New South Wales 2010
02 80686088
himalayarestaurant.com.au
Himalaya is great for catering and other special occasion. For those who are looking for authentic and memorable dishes during said events will find the menu at Himalaya truly unique with their touch of Indian inspired creations. Customers can order online as they have their services readily available to a countless number of individuals today. Another noteworthy feature is the 15% discount online ordering deal that they offer with the first 2 orders of their customers. This is a great value for your money.
Curry at The Rocks
27 Kent St, Sydney, New South Wales 2000
02 9247 2020
curryattherocksindian.com.au
Curry is an iconic dish made in India. It is quite hard to manufacture or create such authentic taste even with the ingredients that are readily available today. With that, one can taste such meal in its original form at Curry at The Rocks. Curry at The Rocks is an Indian inspired restaurant that specializes in curry while also offering other Indian inspired dishes to cater to the needs and preferences of their customers on a regular basis.
Jewel on the Bay
639 New South Head Rd, Rose Bay, Sydney, New South Wales 2029
02 9371 4100
jewelonthebay.com.au
An amazing dining experience equipped with great ambience and view at Jewel on the Bay. This place is perfect for a relaxing lunch or dinner with your friends or loved ones. Enjoy healthy and delicious Indian inspired dishes. Complete your meal with their entrée, mains, dessert, drinks as well as sides available at any given time to their customers. Their dishes also have spice meter which is great for those who want to know how hot and spicy their meals are before ordering them.