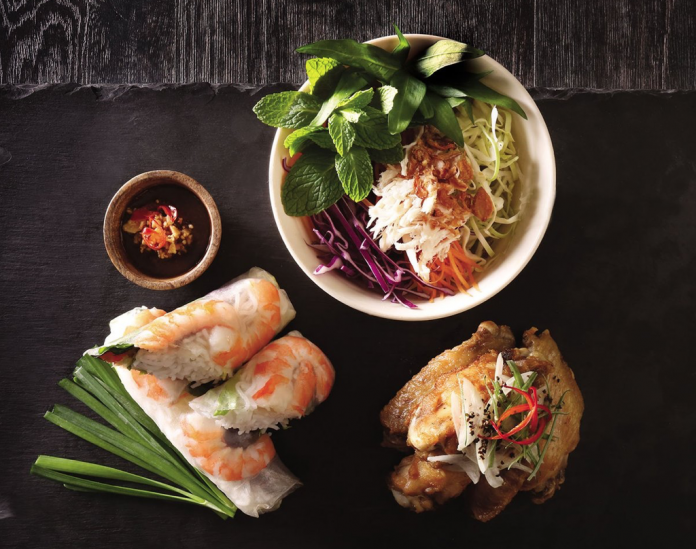 I Love Pho
Ph: (02) 8065 1129
47 Willoughby Rd, Crows Nest
www.ilovepho.com.au
facebook.com/ilovephosydney
instagram.com/ilovepho_restaurant_crowsnest 
Just once and for all, dear Sydneysiders, let's collectively agree we're going to take that final step and pronounce "pho" the way it's meant to be pronounced, which is "fuh". I love pho, you love pho, we love fuh.
Not foe, – fuh, or fur if you must hang it on the familiar.
Are we done now? I know it sounds uncomfortable, it even feels uncomfortable, but even for the hundredth monkey it's time to take that communal leap forward.
Which brings me to a Thursday lunch recently where for the first time ever, I went into a Vietnamese restaurant and there were five of us dining and not a single one of us ordered pho.
I'm usually the guiltiest one, but this time, there was so much else on the menu, the photos on the menu look amazeballs, and so we began a mutual journey into the very heart of Vietnamese cuisine.
The kind of journey which, much like Joseph Conrad's Heart of Darkness, leaves one's soul irrevocably changed … that's pretty much forever.
But enough of the literary allusions, let's talk about the food.
Firstly though, the coffee. Vietnamese coffee … ever had that before? Nup, me neither.
It's strong, it's sweet, much like the culture. It's also cold, they don't like hot coffee in Hanoi. It's sizzling and sticky enough over there. Sure makes for the tastiest, strongest iced coffee I've ever had. Decided not to drink two of them, but was tempted.
That was, however, as clear-headed as we were gonna get that day, because a food coma was on its way. Starting off with the Chao Tom … prawn paste wrapped around a sugarcane stick, then gently fried. Subtle flavour which is the kind of entree we like, as it merely hints at the spicy flavour explosions to come. Can you eat the sugarcane sticks? Of course not! Of course you can … chew them … they taste like sugar.
Arriving at the same time was I Love Pho's famous crispy spring rolls – famous because this delightful Vietnamese restaurant has already clocked up nearly six years in Crows Nest. Seems incredible because it still radiates new and fresh. There's a vitality to the place undimmed by their irrepressible opening hours: 11am until 10pm seven days a week. Mightily impressive to maintain their superlative standards for so long, day in day out.
We also hastily consumed Vietnamese fish cakes, what's the difference between them and Thai fish cakes I hear you ask. Well they're just as bouncy on the tongue and teeth, and that's the way we love 'em!
In 2018, no entree is complete without an intermezzo between it and the mains, and that's where the Crispy Pork Bao Buns performed their cameo. Hard not to eat three of them all to oneself, so be warned – luckily these little Vietnamese hamburgers, if I can be permitted to call them that, are easily consumed by many hands at once. You can get them in vegan colours too, God bless vegans and all the animals they save.
That's when our feast got sultry. The dining companion sitting next to me produced a guilty blush, he was enjoying the sexy, saucy flavours of the Salt & Pepper Squid just a little too much. I soon understood why. Luckily there was enough for the five of us to embrace our fair share, and we knew, like a memorable kiss, that while we couldn't steal another, the pleasure awaits us when next we return. I Love Pho was fast becoming I Lust Squid.
From there, our never-to-be-forgotten Vietnamese lunch took on Himalayan proportions. Excepting the Himalayas are in Nepal, and this wasn't Nepalese cuisine we were gorging ourselves upon, so perhaps it's better to google the highest mountain range in Vietnam – might we say our feast took on Hoang Lien Son proportions, the Prawn and Pork Salad with Papaya was indeed voluminous, the All In One Vermicelli Salad Bowl was highly omnivorous, and there, at the Everest of this Himalayan, nay, at the Fansipan of this Hoang Lien Son of all Vietnamese taste ranges, was the Duck Salad … how well duck goes with ginger, or ginger goes with duck. The Fansipan, the fancy-pants of our afternoon's delights: go the duck salad.
And so, as the clouds of a food coma gradually enveloped my dining companions and I, our host Emma and her sterling compatriots had a perfect tonic for our somniferous state. Five servings of Tra Da … Vietnamese iced tea. Most Vietnamese will consume 10 or 15 of these refreshers every day.
Forget the bottled water, dear Sydneysiders, the daily lives of our Vietnamese cousins are far richer than ours will ever be. While we pay $3.50 for a few gulps of bottled tap water, in Vietnam they pay ten cents for this lovely sugar-free green-tea-and-lemon beverage which refreshes the palate and instantly ices all the fats from lunch away.
We think we're first world, but we're deluded – they have the better life, they have the better food, and they have the better drinks.
Don't Ever Take Our Word For It: These Folks Are Real:
"Love this place! All dishes look delicious on the menu and made it hard for me to choose. Large variety too. Seating areas are available inside and outside. On this occasion I picked outside 'cause the weather was beautiful.
My favourite dishes so far: spring rolls, soft shell crab, all in one bowl, steamed bao bun and fried rice. While you're there you gotta order their iced coffee. So strong, aromatic and the best Vietnamese coffee you can get. They use very popular Vietnamese coffee bean from Vietnam!" – Foodblogs Local Guide.
"Great Vietnamese food. Great service. We were a group of 16 people and the food arrived very quickly." – Ronen Nadri.
"I Love Pho has been one of our favourite local lunch and dinner places that we go often with family and friends. The restaurant offers a wide selection of menu for yummy Vietnamese food. The lovely restaurant owner-Emma is very attentive & always makes us feel very welcome & thank you! We recommend this place for you to spoil yourself, family and friends." – Emily Sun.
I Love Pho
Ph: (02) 8065 1129
47 Willoughby Rd, Crows Nest
www.ilovepho.com.au
facebook.com/ilovephosydney
instagram.com/ilovepho_restaurant_crowsnest