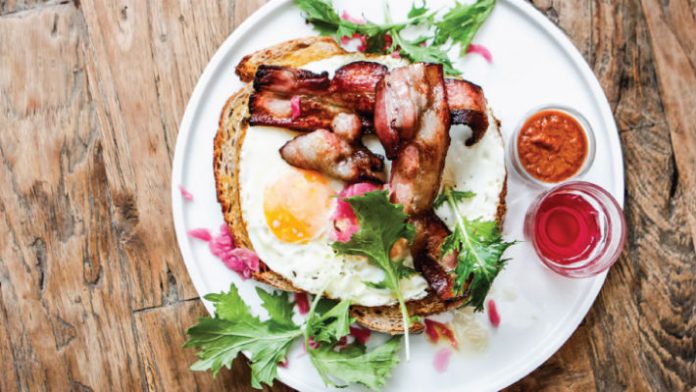 Real Food Connections
2 Sterling Circuit (UPPER), Camperdown
02 9516 0267
www.realfoodconnection.com.au
Indulge in fresh and organic delights to satisfy your cravings for healthy dishes with Real Food Connections. Have as much as you want and still feel guilt free because of the nutrition and health benefits that they offer. Enjoy their salads & sides which consists of fresh harvested fruits and vegetables with a touch of zesty lemon honey dressing or lemon mint, all for the price of $10.00. This along with their fresh fruit drinks and protein shake as well as coffee and tea creates a perfect healthy combination.
Sadhana Kitchen
147 Enmore Road Enmore NSW Australia
02 9516 1334
www.sadhanakitchen.com
Those who are looking for a healthy organic treat will find such menu at Sadhana Kitchen. Health conscious individuals as well as those who have special dietary needs will be happy to hear that Sadhana Kitchen provides 100% plant based whole foods without fully comprising their flavors. Their method of creating raw vegan dishes allows them to keep the natural flavors of their dishes while at the same time, keep the natural enzymes and nutrition intact. Enjoy their raw vegan sandwiches and healthy tacos when you visit them today.
Thr1ve
Shop 5005, Westfield Pitt Street Corner Pitt St Mall & Market St Sydney
02 9221 6664
www.thr1ve.me
Enjoy a healthy and scrumptious meal without the worries of ruining overall workout regimen. Thr1ve prepares high protein & low carb dishes while having no added sugar and gluten in the process. Get your fair share of protein with their healthy char-grilled chicken or shredded pork, as well as salad greens. They have a grab'n go which is perfect for short visits and trips. Get a selection of protein bars and other snacks to go to complement with your diet
Hello Fresh
Level 4 60-64 Reservoir St Surry Hills NSW 2010
02 8188 8722
www.hellofresh.com.au
If you prefer to have a more personalized meal for you and your friends, Hello Fresh are able to provide such need. Why bother looking for healthy dining options when you make them entirely at home. Hello Fresh provides recipes along with their respective ingredients to their clients. This is great especially for those who plan on preparing ha healthy and delicious meal at home. You can choose from their different set of boxes that will be delivered straight through your doorstep.
Egg of the Universe
711 Darling St, Rozelle
02 9810 3146
www.eggoftheuniverse.com
Why settle for a healthy meal when you can find a café that offers nutritious food as well as promote a healthy lifestyle? Egg of the universe is of such place. Their healthy dishes endorses good nutrition and health along with their Yoga studio that offers several classes to the new enrollees and students. After a long and relaxing session of yoga, fill your empty stomach with a variety of their scrumptious meals to help your throughout the rest of the day.
Misschu
297 Exhibition St Melbourne VIC 3000
03 9077 1097
www.misschu.com.au
If you are looking for an authentic dining options, then perhaps Misschu will be able to satisfy your craving for such meals. Misschu is known for their healthy and fresh dishes with a touch of authentic eastern style of cooking as their menu is heavily inspired from the culture of Vietnam. This allows them to provide their customers with dishes that they have probably not even tried yet such as Vietnamese rice paper rolls, spring roll salads, soups and more.
Earth to Table
85 Bronte Rd Bondi Junction Sydney, Australia 2022
www.facebook.com/pages/Earth-to-Table/261044320668510
Prepare your taste buds with organic raw vegan delights only at Earth to Table. They boast their wide selection of healthy and organic menu which makes vegan lover rejoice as they are able to mix and match a variety of dishes at any given time as a result. Chill and unwind during your free time with their fresh juices, smoothies, cold press coffee, salads and desserts. With that said, Earth to Table also offer raw vegan meals to fill your empty stomach.
Kitchen by Mike
85 Dunning Ave Rosebery NSW 2018
02 9045 0910
www.kitchenbymike.com.au
Experience healthy and organic dishes that changes every time you visit. Kitchen by Mike focuses on seasonality, simplicity and freshness with their meals ensuring customers that every menu is ever changing allowing for brand new experience in each visit. Their canteen-like nature makes it quite easy to pick and select from a variety of their organic meals in a short amount of time. They offer breakfast and lunch meals as well as beverages and desserts for their customers to enjoy.
Pure WholeFoods
5/10 Darley Road Manly Sydney, Australia 2095
02 8966 9377
www.purewholefoods.com.au
Tickle your taste buds with a variety of desserts that is both healthy and delicious. Pure WholeFoods provide amazing desserts without the worries of them ruining your diet and healthy regimen. Indulge with their gluten free cakes, raw vegan lemon cheesecakes, raw berry brownies, yummy muffins or gluten free pancakes that are perfect for breakfast. Aside from healthy desserts, Pure WholeFoods also offer main courses for breakfast, lunch and dinner. A complete overall packages with regards to meals is what Pure WholeFoods offer to their customers today.
Bondi Farmers Markets
Randwick NSW, 2031
02 9315 7011
www.bondimarkets.com.au/farmers/
Bring fresh ingredients at home for you to enjoy at Bondi Farmers Markets. It should be noted that some of the best dishes can sometimes be found at home. Create scrumptious and filling meals for your family, friends or loved ones using only the best ingredients available in the market. Bondi Farmers Markets allows their customers to mix and match different ingredients as well as fruits to create a raw and organic feast. Vegans are able to take full benefits of their stalls found today.
Paleo Café
PO Box 1933 Cairns QLD 4870
07 4225 5388
www.paleo-cafe.com.au
Start your day right with a perfect breakfast meal at Paleo Café. Enjoy a heartwarming breakfast made with added attention to your health. This is made possible through their efforts in ensuring gluten free as well as sugar free dishes with tier products. Kids aren't totally left behind as they also provide breakfast for the young ones which are also good for the health This includes kids pancakes, pebbles and bam bam breakfast plates and more. Mix them up with coffee and milk with their drinks menu and you get a perfect combination.
The Suveran
244 Oxford Street, Bondi Junction, 2022, NSW, Australia
02 9369 4040
www.thesuv.org
The Suveran boast their all natural dishes with their gathered from fresh sources. Their healthy dishes with lamb and chicken as well as their marinated sardines is a delight to see as it is prepared in a very fresh and tantalizing way. This makes it very tempting to eat right from the first sight. Food is ordered and picked in the front fridge along with their grab n' go items which makes it quite easy to find what you are craving for.
Churrasco
60 – 70 William Street Woolloomooloo, NSW 2011
02 9360 6070
www.churrasco.com.au
If you and your friends are looking for an unforgettable dining experience, Churrasco can help satisfy your cravings with their all-around buffet style of dining. This means that the dishes are continuously brought to your table until you had enough. Churrasco is Brazilian themed BBQ restaurant. With that said they also cater to other customer's preference and taste as they a serve vegetarian meals for vegan lovers out there. It is available for $44 per person and kids below 12 years old pay only $19.
Chiswick
65 Ocean Street Woollahra NSW 2025
02 8388 8688
www.chiswickrestaurant.com.au
Freshly handpicked herbs, spices and other ingredients found at Chiswick. Chiswick is quite different from other restaurants out there especially with their 150 meter kitchen garden. This provides them with the freshest ingredients without the risk of any harmful chemicals as they are home-grown produced. As season changes, so does the dishes served at Chiswick. This creates an ever changing menu which is great especially for those who want to taste and experience different types of dishes during their visit.
Four in Hand
105 Sutherland Street Paddington NSW 2021
02 9362 1999
www.fourinhand.com.au
Enjoy mouthwatering dishes served on a regular basis at Four in Hand. For those who are quite tired of beef, lamb or chicken with their dishes are in for a great surprise as they are able to find a very healthy and delicious alternative at their restaurant. Four in Hand offers a variety of seafood specialties which include Charred Octopus with Wild Rice and Lettuce, Roast Hiramasa Kingfish with Young Broccoli Leaves and Squid Brandade, Crab Tacos and many more.
Iku Whole Food
Kiosk 33, Leve1, Food Court, 2 Chifley Square Sydney, New South Wales 2000
02-92325062
www.ikuwholefood.com
Iku Whole Food uses environmentally sound products with all of their dishes. Water is naturally filtered to ensure that nutrients aren't lost during the creation of their menu. Organic whole food are made with goals in preserving their natural state while at the same time keep their flavors intact. Definitely try out their different selection of healthy desserts with a variety of snacks and treats to pair them all of. Nutritional value can be seen with their menu through their website which is a very great feature.
Mother Chu's Vegetarian Kitchen
367 Pitt St Sydney NSW 2000
02 9283 2828
www.motherchusvegetarian.com.au
Experience authentic healthy meals and original dishes made from the freshest and finest ingredients at Mother Chu's Vegetarian Kitchen. A menu filled with dim sum specialties that is both healthy as well as delicious. Try out their healthy steam eggplant & crunchy soy, poached Chinese broccoli with vegetarian oyster sauce, pop soy protein, mushroom & snow peas w/ black pepper sauce at Mother Chu's Vegetarian Kitchen and have an unforgettable dining experience for your family or your friends.
Bodhi
Lower Mezzanine Level of Cook and Philip Park 2-4 College St Sydney 2000
02 9360 2523
www.bodhi.id.au
Enjoy a refreshing dining experience along with healthy and nutritious food at Bodhi. One of their most recognizable feature is the venue which people find very warm and heartwarming because of its ambience. Bodhi is situated under a giant moreton bay fig trees which makes their customers feel closure to nature while enjoy their meals. Dim sum dishes with a touch of old Chinese traditional cooking are served to their customers and some of them are also gluten free which promotes good health.
Hari's Vegetarian
157 Broadway Ultimo 2007
02-9212-1010
www.harisvegetarian.com.au
Enjoy a healthy meal that is made specifically for vegan lovers. Hari's vegetarian is a vegan restaurant found in Sydney that offers gluten free meals to their customers using only raw and fresh ingredients. They offer both eat in and take-away orders at any given time. Indulge in a healthy feast at the comforts of your very home. Even with their vegan nature, Hari's Vegetarian offers health friendly burgers & chips, nachos, burritos, lasagnas, pizzas and more which are made from the finest ingredients.
Just Falafel
2 Lee St, Shop 8 (George St, Central Station) Sydney, New South Wales
02 80205717
www.justfalafel.com
Healthy and amazing food on the go only at Just Falafel. They are designed with convenience and accessibility in mind as they are an authentic street food restaurant. This make it quite easy for customers to pick up and enjoy their meals right away. Fresh sandwiches, organic salads, drinks and desserts that is perfect food on the go. Just Falafel acknowledge the busy schedule of their customers and this is why they waste little to no time in serving delicious and amazing meals to them.