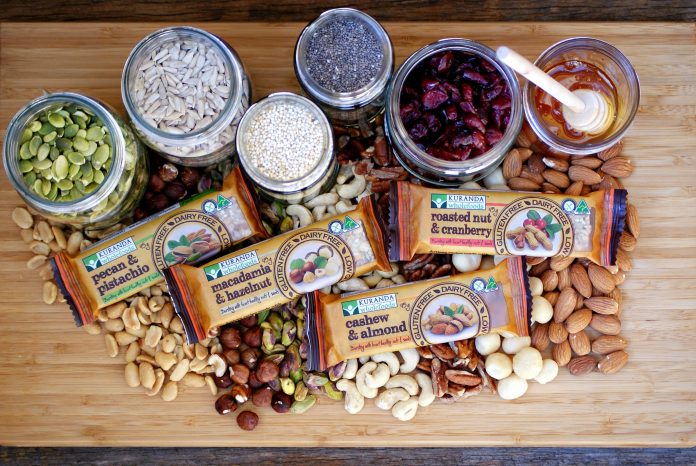 Health in a Bag is a totally new and innovative concept of base packet mixes for wholefood cakes, pies and pastries. It's organic and free from many allergens, some including wheat, gluten, dairy, eggs, nut, soy, corn, preservatives and chemicals. It also gives you the choice to select your own oils or butters with egg substitute options so that you can tailor-make them to your preference.
We speak to the founder of Health in a Bag, Australian chef JEAN DAVY over a nice cup of herbal tea in Port Macquarie about the inspiration behind her progressive food direction, and the help it provides to many Australians who suffer from food allergies
Jean, what was the motivation for you to get seriously involved in health foods?
At 39 I went through a very emotional time. I found that my body was reacting to many foods. I had always eaten well for most part but i found that at that time foods i use to be able to eat where making me sick. At forty I woke up one morning and felt that i wasnt doing what i needed to do – sounds weird but i went with it, I started making biscuits for health food shops. In doing that i met my now very dear friend Mandy and her three gorgeous children.
Mandy's daughter Sally had severe food allergies – I had never seen such problems with so many foods. I thought my gut was playing up but Sally was a very sick little girl and Mandy was extemely worried about her as any mother would. Sally almost lived at the doctors! Anyway the RPA allergy unit at Camperdown in Sydney put her on a restricted diet and Mandy followed it to a tee. I was asked by Mandy if could i help her daughter by cooking for her, I said i would give her my best and hoped i could help.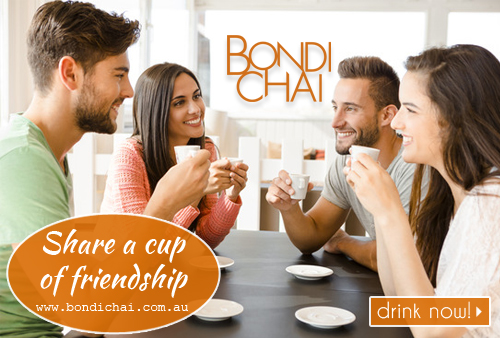 The list of ingredients was very small, one of those ingredients was a baby formula called neocate – it was the most vile taste. Poor little Sally practically lived on it along with many other products i had never even heard of. I knew i was in for a huge learning curve. I made Mandy's little family their first take-away. It was amazing how grateful they were. The food to me was extremely boring – I really had to use my imagination to make their meals!
Then it was onto catering for her 1st bithday party I believe she was turning 4 that year. Thank goodness it was a success. I then got calls from all over Sydney to help with the cooking for people's kids. In many ways I was reluctant, but I took those jobs on feeling I had to help. I can tell you it was a challenge. I would get agitated that these little kids could never go to cafe – so it was then i created Allerjean Cafe. My greatest joy when i would have little anaphalaxis children come and eat at the cafe. My staff had to be trained in very severe food allergies which they took on with great care – I was so proud of them.
How did you conclude that a healthy diet was going to fix your personal illnesses?
I got so ill that i ended up in private hospital with severe gut disorder actually ulcerative colitis. I have had four beautiful children but the pain from the colitis was far worse. I had some tests after that and found i had a severe intolerence to wheat, dairy, eggs and many food chemicals.
It's the preservatives in food that you cant see, which for me are our biggest problems – we just dont know what's in our food. As with everything you get what you pay for. Within a few minutes of eating preservatives I start to react. You cant see them so its hard for people to identify them.
Can you let us know some of the new products that you included in your diet?
A lot more herbs, berries, green and yellow orange vegetables, quinoa and other grains. I eat meat occasionally but am much happier on a vegetarian diet even though i am an 0 blood group.
What were some of the damaging ingredients that you excluded from your diet?
Basically anything with preservatives, wheat even spelt, cow dairy … and I react to many prepared supermarket foods. That's why i try to grow my own produce. And eat organically. Your health is so important.
Were there any people who mentored you during this period?
Working with Sally cetainly opened my eyes to the severeness of food allergies but I also learnt a lot about elimination diets from RPA hospital.
They got me to look at the huge need for low salicylate diets. They were helping lots of children and still do.
How did your family or peers react to you suddenly having new dietary habits?
Were they intolerant of your food intolerances? (boom tish – Ed.)
Actually everyone starts telling you about their own experiences so i really got to listen to what was really happening to many others going through the same problems as myself.
To me that was a blessing because you realise the food we're eating isn't nourishing us in fact it's the opposite – you start to question whether our food is in fact slowly poisoning us.
You mention alcohol as being a contributory factor towards you developing health conditions – what types of alcohol cause the worst effects and and what did it do to you?
I never had a drink untill i was 40 so wine was a new expierience for me. Being a social drinker I didnt realise at the time that the preservatives were playing havoc with my skin and gut, making my skin very itchy. I now drink organic wine gratefully. Always with plenty of water.
You mention spirits are ok, which ones are the purest? What would you regard as an equally pure mixer to have with them?
I like vodka and tonic or water and lots of lemon also gin and tonic and of course water.
What about coffee and tea – do you still drink them?
I drink more herbal teas. I do like a fresh coffee but not too often. I like to keep the cofee experience to attending a local cafe – so make it more of a social drink rather than having one every day.
ean Davy completed a five-year apprenticeship through the East Sydney Technical College, finishing a Trade Commercial Cookery Course. Jean won the Apprentice of the Year three times and the overall Apprentice of the Year three times. Her apprenticeship was through the Royal North Shore Hospital. Jean thrived at North Shore — the catering team of dieticians always supported the use of fresh whole foods, and everything was freshly prepared from scratch. Their passion for excellent produce and ingredients inspired Jean to continue working with whole and chemical free foods, making this her life's work. Check out the products on her website www.healthinabag.com.au and/or by following her on twitter: www.twitter.com/allerjean