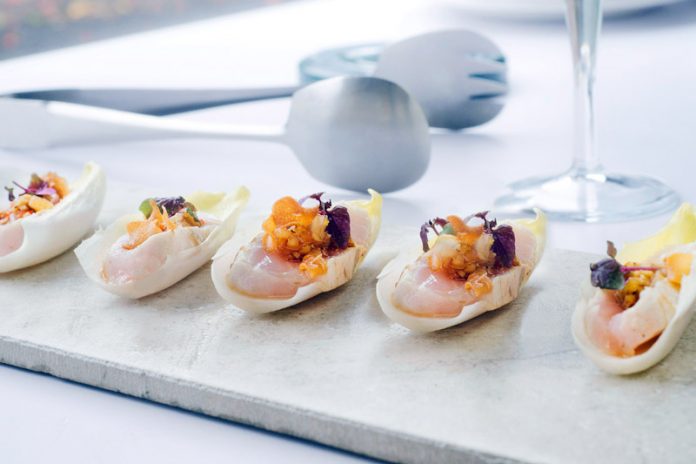 What started in 2006 as a seedling company cooking at home with a few small clients asking for help at dinners and cocktail parties, has since grown organically to become a permanent commercial kitchen in Balmain. With a team of dedicated people, Sydney caterers Hatrick Catering take on events from 10 to 300, cooking on sites such as polo fields, wedding venues, launch events and even your own home. Catering isn't just a job to them, it's their passion.
Hatrick Catering's focus is to provide incredible food, but they are also happy to organise a team of great staff to serve it, glass hire, equipment hire, beverages and ice.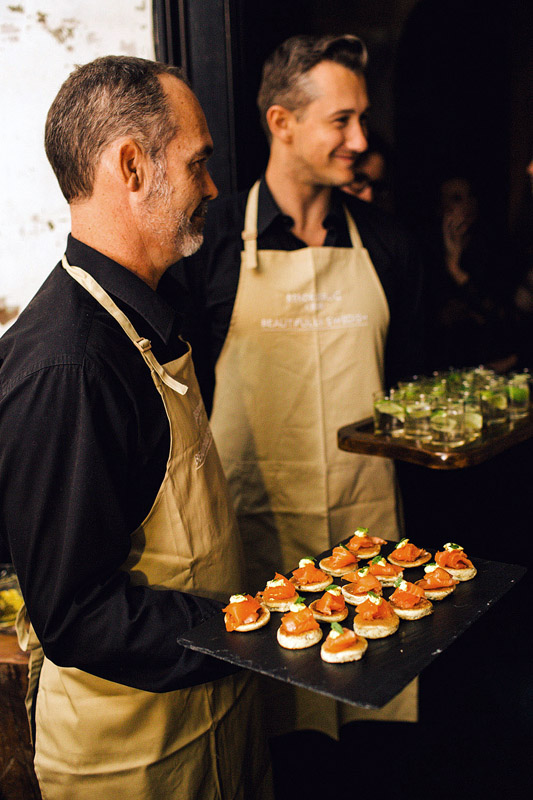 Stand Up Events
Here's an example of the hot canapés Hatrick Catering serve at stand up events:
– Salt and Pepper Squid with Nam Jim and Lime Wedges
– Seared Scallop with Lemon Purée and Baby Mint
– Barramundi Tacos with Corn Salsa, Iceberg and Chipotle Mayo
– Turmeric Spiced Fish in Witlof with Orange and Nasturtium Pesto
– Warm Pulled Pork in Roasted Chat Potatoes with Apple Carrot Ginger Kimchi
– Popcorn Chicken in Little Cones with Homemade Spicy BBQ Sauce
– Quail Breast Wrapped in Prosciutto with Sage and Olive Dust
– Angus Beef Sliders in Brioche Buns with Gruyere and Pickled Beetroot
– Warm Spiced Brisket with Horseradish and Pickled Radish
– Gruyere, Cheddar and Mustard Fruits Toasted Sourdough Sandwiches
– Herb, Honey and Soy Marinated Lamb Cutlets
– Slow Cooked Beef with Sweet Onion and Red Wine Pies
– Beetroot, Lentil, Butternut Spring Rolls with Cashew Coconut Chutney
– Crispy Zucchini Flowers with Fennel Batter and Fennel Pollen Salt
– Wild Mushroom Tarts with Truffle Oil
– Kipfler and Sweet Potato Wedges in a Cup with Chipolte Lime Mayo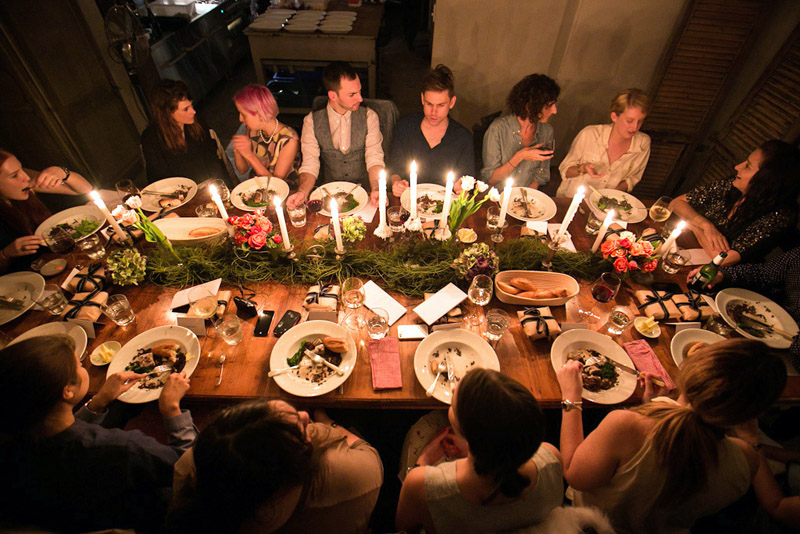 Sit Down Events
Guests are likely to experience these range of delicacies at Hatrick's sit down events:
– King Prawn, Lemon, Shaved Fennel, Radish Salad with Chardonnay Vinaigrette
– Herb Crusted Salmon Fillet on Green Bean, Lemon and Olives with Cured Cucumber
– Baked Ocean Trout Fillet Tarator with Tahini, Walnut, Herb and Pomegranate
– Flaked Salmon Fillet with Asparagus, Witlof, Orange, and Orange Saffron Aioli
– Kingfish Carpaccio with Pomegranate, Flowers, and Mustard Dressing
– Baked Butterflied Sardines Stuffed with Lemon, Parsley, Pinenut, Currant, Bay and Breadcrumbs
– Harissa Roast Chicken, Tahini Lemon Yoghurt, Coriander Salsa, Red Cabbage and Herb Slaw
– Shaved Vitello Tonnato with Fennel and Soft Herb Salad, Tuna Mayonnaise and Cornichons
– Chicken Thigh with a Hard Herb Marinade on Roast Chat Potatoes, Garlic and Rosemary
– Roast Fillet of Beef with Fresh Horseradish and Celeriac Relish, Baby Spinach and Roast
Field Mushrooms with Balsamic Glaze
– Roast Mustard Crusted Beef Fillet with Kipfler Crisps, Asparagus and Rocket with Béarnaise
– Crackly Fennel Pork Belly With Fennel Seed, Cabbage, Fennel, Parsley, Apple Slaw
– Slow Roast Shredded Lamb Shoulder with Coriander, Served on Warm Lentil, Garlic and Roast Onion
– Roast Sage And Lemon Chicken With Sage Parmesan Polenta, Sage Brown Butter
– Grilled Medina Chicken Thigh With Chickpea, Chorizo, Sultana And Kale Salad
– Roasted Coconut, Lime And Tamarind Curry Of Butternut Squash And Spinach
The Hatrick Vision
During the evolution of Hatrick Catering they took some time to think about what they do and how it will affect the planet, the environment and ultimately their fellow humans.
There are a few choices they made consciously that are important to their company ethos.
"If we could, we'd be riding bikes to jobs but I'm not sure where we'd fit the food."
Food
As much as possible Hatrick Catering strives to keep their menus seasonal and source produce as locally as possible.
They source meats from a variety of suppliers using free range sustainable butchers and they use Greenstone Creek free range beef. They always use free range eggs. Where the cost and product is comparable they choose organic.
They use New South Wales Beloka Sparkling Water, a subtle mineral slightly sparkling water in recyclable glass bottles.
They use Murray River pink salt not imported salts.
They don't use large, long line caught fish such as tuna or swordfish, because it takes so long for them to grow into such majestic fish and there is a lot of by-catch including albatrosses that are thrown away.
"There are plenty more sustainable and delicious fishes out there."
At the Kitchen
When they need disposable plates, cutlery and containers they use palm leaf plates and sustainable bamboo cutlery.
Palm leaf plates are 100% biodegradable, with no chemicals or synthetics used in their manufacture, they can also be mulched, given for animal fodder, or used upside down on garden beds as a mulch. The leaf of the Areca palm is extensively cultivated in South India. The leaf sheath naturally dries, falls and regenerates.
The forming of the plates involves no chemicals, resins, dyes or synthetic material. It begins with the collection of the palm leaf sheaths which are pressure-washed. The clean fibre is then sterilised at 180ºC through a pre-heated molding process where the product acquires its shape.
The manufacturer uses a bio-ethical business model where simple and clean huts are erected under the palm groves for the local villagers. The people are paid cash to collect the sheaths and press the bio plates.
All the plastic containers they use are washed and reused. these Sydney caterers try to avoid using foil containers, and single use containers. "We return all our polystyrene boxes that our food is delivered in to the suppliers to reuse."
"We use biodegradable chemicals at the kitchen as much as possible."
"All job sheets, menus and postcards are printed on 100% recycled paper, and we try and keep a paperless office as much as possible."
Even down to the end result, Hatrick use Who Gives a Crap toilet paper, while their fryer oil gets recycled by a company who turn it into fuel for cars.
Glowing & Gushing Customer Reviews
"Thank you for the delicious catering for our engagement party. And thank you also to Bo and Matt. They provided exceptional service and they were extremely competent in everything they did to make the afternoon run smoothly. We could rely on them for everything. They provided relaxed but classy service. I thought they did a terrific job." – Jacquie & Paul
"The Party is over but what a success it was. The food was as usual terrific, everyone commented on it. The service of your staff,   Robert the chef, Matt the waiter and Sascha the waitress were so friendly and fitted in so nicely to our crowd, nothing was too much for them. For instance one of my guest mentioned that she could not eat the salt and pepper squid because for her, the were too hot, so the chef made her a portion that was not . She was extremely touched by this attention to detail and I think that makes a great difference. Thank you and all your team that worked behind the doors and the ones that were here and may I and my husband wish you a Merry Christmas and a Happy New Year." – Margaret & Derek
"I have a long history with Hatrick Catering. I worked with Hattie in fast paced restaurants many years ago. I then had my wedding catered for, from a very new then Hatrick Catering. I then had my own events business and used Hatrick exclusively for everything from banquets, to cocktail to specific white label food and drink matching needs. I've probably made close to 100 referrals and recommendations in the past 7 years too. Hatrick has never, ever once failed me or my recommendations. Everyone adores the food, the service the outstanding value for the overall product and everyone always becomes an ongoing client. If you can't tell yet by this point, then I'll be super clear: You cannot go wrong with Hatrick. Enjoy!" – Alexx
Hatrick Catering
Ph: 0400 648 699
Rear of 382 Darling Street, Balmain
www.hatrickcatering.com
facebook.com/hatrickcatering/
instagram.com/hatrickcatering/