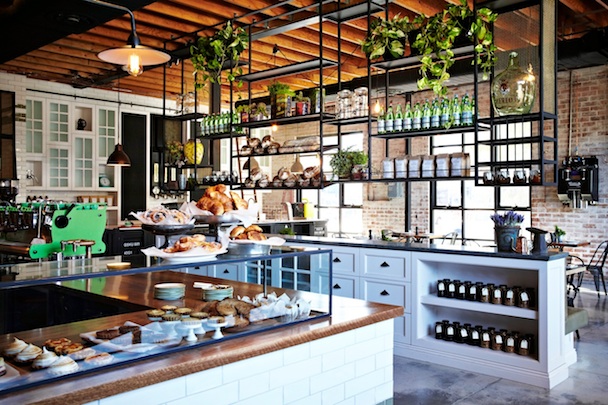 Looking for Inner West Cafes? Sydney's best cafes in Newtown, Balmain, Glebe, Camperdown, Stanmore, Leichhardt, Summer Hill, Pyrmont, Lilyfield and more are to be found here …
Olio Kensington Street
210 Kensington St, Chippendale Ph: 02 9281 1500
olio.kensingtonstreet.com.au
facebook.com/Olio.Kensingtonstreet
Italian food is more than just pizza and heavy creamy sauces. This is what Olio Kensington Street (which means olive oil) is bent on showing Sydney locals. Award-winning, Sicilian-born Chef Lino Sauro highlights seasonal seafood, couscous, saffron and local ingredients in his menu. Vegetarian friendly and degustation menus are also available.
One Ford Street
1 Ford St, Balmain Ph: 02 9818 4232
onefordstreet.com.au 
facebook.com/OneFordStreet
Modern Italian and Mediterranean dishes is what you can expect at One Ford Street in Balmain. The food and setting takes you to Europe and the Mediterranean. The outdoor area could be a fast favourite spot. They have gluten free options and vegetarian friendly menu featuring seasonal produce and awesome seafood and incredible wine.
One Penny Red
2 Moonbie St, Summer Hill Ph: 02 9797 8118
onepennyred.com.au 
facebook.com/OnePennyRed
Summer Hill's little corner that brings people together. One Penny Red will tickle your taste buds and make you feel welcome. They serve lunch, dinner and drinks which are distinctively Australian in flavour. They are vegetarian friendly with vegan and gluten free options. Fully licensed with great views, it is the perfect spot for business meetings or a family get together.
Queen Chow
167 Enmore Rd., Enmore Ph: 02 9114 7333
https://merivale.com.au/venues/queenchow 
facebook.com/merivalegroup
Queen Chow in Enmore puts a spin on what we naturally love, local Chinese and local pub. A fusion of Hong Kong classic dishes and inspiration from locally available produce. Still present are the steamed, baked and fried dumplings, roast duck and meats as well as some popular pub staples. With their diverse menu, seating and decor, Queen Chow really is really where East meets Inner West.
The.Kaf
www.thekaf.com.au
199 Glebe Point Rd, Glebe NSW 2037 Ph: 02 9660 3509
The.Kaf formerly known as Digi.Kaf offers a wide range of dishes with egg free and vegetarian options. This café prepares really good slow-cooked food, coffee and desserts. The.Kaf is worth checking out for a yummy breakfast, but in their new location are now also open for dinners on Thursday, Friday and Saturday nights.
Rising Sun Workshop
1C Whateley St, Newtown Ph: 02 9550 3891
risingsunworkshop.com/cafe/ 
facebook.com/risingsunworkshop
Sydney's first communal workshop space, Rising Sun Workshop is a motorcycle workshop and a dining place where the best ramen can be found. It is where everyone feels welcome and encourages guests to fix and service their bikes while providing great food, coffee and a venue to talk with like-minded individuals. Whenever possible they support and buy local. If they can make it themselves, they will.
Sixpenny 
83 Percival Rd, Stanmore Ph: 02 9572 6666
sixpenny.com.au 
facebook.com/Sixpennysyd
Tucked in a quiet Sydney suburb is Sixpenny, a modern Australian restaurant with amazing food creations some of which was made from their own onsite kitchen garden. They have vegetarian options and a full bar. The chef himself brings out your dish and explains what is in them that conveys how much love and care they placed in making it.
Hatrick Catering
www.hatrickcatering.com
Rear entrance, 382 Darling St, Balmain
Ph: 0400 648 699
With a team of awesome people, they take on events from 10 to 300, cooking on sites such as polo fields, wedding venues, launch events and even your own home. Catering isn't just a job to Hatrick, it's their passion.
SOKYO
80 Pyrmont St., Pyrmont ; PHONE 02 9657 9181
facebook.com/SokyoAtTheStar star.com.au/sokyo
Traditional Japanese craftsmanship to contemporary flavours with a twist, Sokyo is innovation to your customary Japanese dining experience. Open for dinner and drinks, your server can help create your own "Sokyu menu" and the house Sake Sommelier to choose the accompanying sake for your dishes.
Stanbuli Restaurant
135 Enmore Rd, Enmore 02 8624 3132
stanbuli.com.au
facebook.com/StanbuiRestaurant
Stanbuli is located in the midst of bustling Enmore, a meyhane serving traditional food and beverages that conveys just a touch of nostalgia and romance as is customary to Turkish culture. Here people drink Raki, conversations are memorable, deals made and socialize. They offer a sophisticated menu inspired by Istanbul and Northern Cyprus' culture with cold starters to hot dishes finally ending in meats cooked over coals enjoyed with a drink of your choice.
The Welcome Hotel Dining Room
91 Evans St, Rozelle 02 9810 1323
thewelcomehotel.com.au
facebook.com/TheWelcomeHotel
The Welly, as this place is known by the locals, has been given the name because legend says, that the original owner welcomed warmly an Irishman and his dog Winston. The Welcome is living up to its name on excellent hospitality, exciting Italian cuisine, a space to feature craft beer dedicated to local brewers. Here you will find that you're always welcome at The Welcome.
Two Chaps 
122 Chapel St, Marrickville Ph: 02 9572 8858
twochaps.com.au 
facebook.com/twochaps
Two Chaps is a multi-cuisine, produce driven cafe by day with local cheeses their own sourdough and tempting croissants, crumpets and for two nights a week the place opens their doors for dinner. Two Chaps prides itself to be home to Sticky Chai which is a raw honey soaked spiced chai tea made onsite.
Garçon
garcon.com.au 
facebook.com/GarconSydney
4 Tramsheds Harold Park 1 Dalgal Way, Forest Lodge Ph: 0497 347 302
Inspired by The Grand Budapest Hotel, Garcon aspires to be the premiere specialty coffee and wine bar in Sydney serving The Little Marionette specialty coffee, martinis, bubbly, reds or white wine. It is reminiscent of a bygone era of elegance and sophistication. Bringing in a bit of Parisian vibe, their signature blends are a must-try. The location is superb and is a great spot for coffee or a glass of wine.
Cornersmith Annandale
cornersmith.com.au 
facebook.com/cornersmith
88 View St, Annandale Ph: 02 8084 8144
A cafe with a picklery, a cooking school and a spot to buy locally sourced groceries and supplies, Cornersmith Annandale is a family run business that believes in ethical food production and engaging the community. Offering vegetarian dishes, patrons do not feel as if they have been deprived of anything by how tasty the food is. They also have DIY picnic boxes for you to take and enjoy. The menu is seasonal and the cafe supports sustainable business practice.
Brewtown Newton
facebook.com/brewtowncoffeeroasters/
6-8 O'Connel St, Newtown Ph: 02 9519 2920
Brewtown Newtown is a trendy spot in inner Sydney. Enjoy brunch with the best coffee in town or grab some hotcake and fritters downed with a dirty chai. Try a salted caramel cronut or the smoking gun bagel or a gazpacho that will both satisfy your eyes and your tummy. Did we mention good coffee? It is all it promises itself to be. It's a favourite spot for casual meetings or just for a delightful meal.
Big Brekky Café
www.bigbrekky.com.au
316 Stanmore Road, Petersham NSW 2049 Ph: 02 9569 8588
Big Brekky is a friendly little cafe that serves delicious and generous breakfast. This café has a very relaxed atmosphere with a spacious indoor dining room area and a garden space around back perfect for children and pets.
Café XXII
www.cafexxii.com.au
22 Union St Pyrmont Sydney Ph: 02 9552 3093
Café XXII is a lovely heritage sandstone cottage that serves a mix of Mediterranean and Australian flavours. Experience an intimate ambience, friendly service and delicious food when you're at Café XXII.
Try the truffled scrambled eggs on brioche with bacon, a great way to start the day.
Café Giulia
www.cafegiulia.com
92 Abercrombie St Chippendale Ph: 02 9698 4424
Café Giulia is a popular spot for wonderful food, drinks and coffee at reasonable prices. This hidden European café has a warm and pleasant ambience. If you're after something laid back with generous servings plus value for money, Café Guilia would be a great fit.
Citrus Espresso Bar
227 King St Newtown, NSW 2042 Ph: 02 9557 3582
Citrus Espresso Bar is a mini espresso bar style plus fine dining. The venue may not be big but the menu is huge as they have everything from gourmet salads to burgers to pastas. It's an excellent place for the fussiest eaters. This espresso bar also has vegan options.
Glebe Point Diner
www.glebepointdiner.com.au
407 Glebe Point Rd, Glebe 2037 Ph: 02 9660 2646
Glebe Point Diner is a neighbourhood favourite. This joint has a great menu, fantastic wine list and brilliant food that are simple and unpretentious. Everything served to you is made from scratch. Their Baked Alaska is a must try and is as good as it gets. Glebe Point Diner is perfect for a casual get together, an intimate first date or a catch up with mates.
Well Connected Cafe
35 Glebe Point Rd Sydney, NSW 2037 Ph: 02 9566 2655
Well Connected Café has a casual, laidback vibe where you'll feel like you're just hanging out in someone's lounge. There's a downstairs area and a great upstairs section with a balcony overlooking Glebe Point Road. This cafe serves great coffee, frappes and hearty little meals. The chocolate lasagne is a must try, as well as the lamb wrap. They also have some vego choices.
La Grande Bouffe
www.lagrandebouffe.com.au
758 Darling St Sydney, NSW 2039 Ph: 02 9818 4333
La Grande Bouffe is a great little French bistro that emphasizes on traditional French flavours with a delicate modern edge. A favourite restaurant in Sydney's inner west, this little piece of France in Rozelle serves rich but homely bistro food, with attentive and friendly service.
Le Petit Tarte
219 Glebe Point Rd Glebe, NSW 2037 Ph: 02 9692 8739
Le Petit Tarte is a favourite place in Glebe for a quick coffee or a lengthy lunch. This modern Australian café has French influences and serves consistently good food and coffee with a diverse and tasty menu. Le Petit Tarte has a friendly and relaxed service which has been attracting many regular customers.
Thai on Wok
www.thaionwok.com.au
193 Glebe Point Rd Glebe, NSW Ph: 02 9660 9011
Get your Thai food craving fix at Thai on Wok. It is perhaps one of the best Thai noodle places in Sydney which provides generous servings with nice big helpings of veggies that's always fresh. Don't expect high-end cuisine but food is definitely great, cheap and very tasty.
Pasta Vera
186-188 Harris St Pyrmont, NSW 2009 Ph: 02 9571 8690
Pasta Vera serves Italian and modern Australian dishes. It's a busy cafe that offers exceptional pasta dishes using freshly made pastas like pappardelle, tagliatelle, tasagnette, as well as ravioli, tortellini, cannelloni, and gnocchi which have won hearts of many. Pasta Vera has interesting, creative combinations of ingredients, and the roasted pumpkin & ricotta ravioli with burnt butter, sage and amaretti is a must try.
Essen Restaurant & Beer Café
www.essenrestaurant.com.au
135 Broadway Sydney, NSW Ph: 02 9211 3805
Essen restaurant serves authentic northern European cuisine and boutique European beers in an authentically European environment. Experience a culinary journey of Germany, The Netherlands, Austria and beyond with their diverse and thoughtful menu.
The Restaurant at 3 Weeds
www.3weeds.com.au
197 Evans St Rozelle, NSW 2039 Ph: 02 9818 2788
Enjoy a modern European and Australian dining experience at The Restaurant at 3 Weeds. This restaurant is one of the original Inner West pubs that offer a quality pub or dining experience. Food and service is good but is a bit pricey.
Thousand Spices
23 The Crescent Homebush, NSW 02140 Ph: 02 9746 1144
Thousand Spices is a smallish place on the Homebush strip of restaurants that serve some of the best Indian food such as Aloo tikki. Their prawn dishes and curries are really good too. Thousand Spice provides good food at affordable rates and lovely service with friendly staff to match.
Abhi's Indian
www.abhisindian.com.au
163 Concord Rd North Strathfield, NSW 2137 Ph: 02 9743 3061
Experience fine Indian cuisine at Abhi's. This restaurant draws influences from the major food regions of India and uses only the best local produce which combines classical traditional recipes with a modern interpretation creating a much loved culinary experience.
Badde Manors
www.baddemanorscafe.com
37 Glebe Point Rd, Glebe NSW 2037 Ph: 02 9660 3797
Badde Manors Cafe is a warm and inviting place that has maintained its uniqueness and personality since it was established in 1982. Badde Manors' food menu is carefully and methodically crafted to put together a variety of cultural food from Asia, Middle East, Latin American, North Africa, and Mediterranean regions. This restaurant is also constantly adapting to accommodate dietary needs such as the low caloric diets, Gluten Free products, nuts free and vegan meals.
Flying Fish Restaurant & Bar
www.flyingfish.com.au
Jones Bay Wharf, Lower Deck 19-21 Pirrama Road Pyrmont NSW 2009 Ph: 02 9518 6677
Flying Fish is an award winning restaurant and has become one of Sydney's most impressive seafood dining restaurants. This restaurant presents an excellent menu bursting with freshness and innovative flavour combinations. Flying Fish is renowned for its curries and Asian-inspired flavours.
Ladda's Thai Takeaway
593 King St Newtown, NSW 2042 Ph: 02 9516 2870
Ladda's is a cheerful place on southern king and has been around for years. This restaurant has great Thai staples like pad Thai noodles, fish cakes and curries as well as some specialties like green papaya salad which is highly recommend. The best thing about Ladda's is that while the food is cheap, it's pretty tasty too.
Cafe Bones
Hawthorne Canal Reserve Leichhardt, NSW 2040 Ph: 02 9402 9272
Cafe Bones is Sydney's first café to serve food to both diners and their pet dogs. The menu includes coffee, sweet cakes and sandwiches, and other light meals while the pets are provided morsels, liver and lamb treats and a Puppacino in a steel bowl with froth and herbs to garnish. The service here is always friendly.
Cinque Cucina e Caffe
5 Darley St E Mona Vale, NSW 2103 Ph: 02 9999 5555
Cinque Caffe is a fantastic friendly café offering traditional Italian food that's consistently good – tasty and filling. The pizzas are super authentic, fresh and light, and the gnocchi with walnut is a must try. The owners are very welcoming and service is charming.
Bar Italia
171 Norton St Leichhardt, NSW 2040 Ph: 02 9560 9981
Bar Italia is relaxed, simple and tasty. People come here for the Sicilian-style gelato made with fresh, whole ingredients. The decor is a bit out-dated, and the main meals are average but that doesn't really matter because at Bar Italia, gelato is the star.
Macchiato Brasserie
145 Glebe Point Rd Glebe, NSW 2037 Ph: 02 9566 2095
Macchiato features Mediterranean and Modern Australian cuisine. Macchiato serves seafood specials such as the oven-baked whole baby snapper with lemon, garlic butter and seasonal vegetables, pan-seared blue eye cod fillet with panzanella salad and lemon and apple balsamic. You can also order coffee gelato and classic pizza and pasta combinations.
Know a raging hot inner west Sydney cafe or restaurant you'd like us to add to this list? Go to our Facebook page & drop us a note.