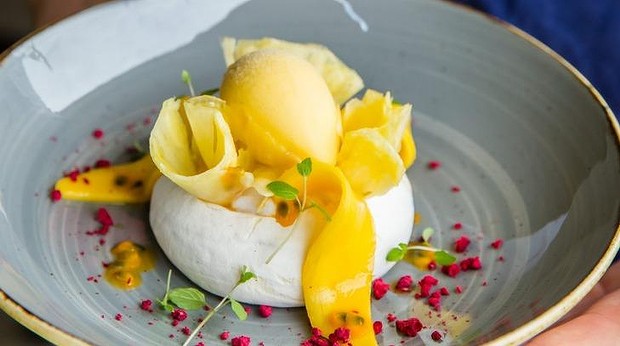 Suzy Spoon's Vegetarian Butcher
22-24 King St Newtown NSW 2042 Ph: (02) 9557 9762
www.ssvb.com.au
Do not let the name confuse you or fool you in that matter. The Suzy Spoon's Vegetarian Butcher is not a café where it serves pork, beef or any type of meat. There is a certain meaning why it is called the vegetarian butcher. It is a vegetarian deli café that make its own vegan sausages, burger patties, schnitzels, seitan, smokey rasher and Bolognese. Many newbie vegetarians who are trying so hard to become one come to this place to satisfy their hunger of meat. At least they will not be worried about eating meat because all of their foods are all vegan.
Arena's Café Deli e Cucina
908 Military Rd, Mosman Ph: 9969 9905
Exuding passion, Arena's Deli Cafe e Cucina have been a Mosman mainstay since 1959. As a community institution they pride themselves on making your gourmet palate their business. A robust assortment of fine oils, meats, cheeses and vinegars run alongside pastas and breads for take away, while antipasti plates can be custom designed for take away or eat in. Arena's is about a pinch of friendly tradition, good taste and real flavor for lovers of Italian. Better have their good food right now for a pinch of Italian.
Broadway Cellars
96 Glebe Point Rd, Glebe Ph: 9660 3908
www.broadwayliquor.com.au
Spanish owner and wine connoisseur Jose Fernandez delivers a carefully edited selection of Spanish and Portuguese wines, rare and vintage reds, ports, sherries and more. You can enjoy different kinds of wines here coming from only the best Spanish and Portuguese wines. You can even enjoy some good meals here to go with these exquisite wines. There are other beverages though if you can't take one glass of wine. This should be a fine and perfect drop for any meal.
Chester White Diner
1/3 Orwell St, Potts Point
The latest venture from the guys behind Buffalo Dining Club, owners Michael Fantuz, Marcelo Garrao, and Peter Kypreos do what they do best; using their combined expertise they've created an exciting menu that focuses on one type of high quality produce. Cured meats served with traditional sides like pickles, cheese, olives – and additional dishes that change according to season. With a deliberately simple wine list the carne plates perfectly balance flavor and simplicity. Enjoy the great selection of food and drinks from this place.
Gladstone Store
37 Grove St, Birchgrove Ph: 9555 9991
Looking for some good espresso and some sandwiches after you did groceries? A little snack would really do you good at this place. Go the Gladstone Store where you can enjoy some of the delicious snacks and treats. You can enjoy some espresso coffee, sandwiches, salads and milkshakes at this place. You can even enjoy their house-made pickles and some good selection of Asian grocery supplies. Better grab them fast because you will really enjoy here and you can relax to your heart's content.
Gourmet Life
52-60 New South Head Rd, Darling Point Ph: 93630775
www.gourmetlife.com.au
Don't walk into this gourmet produce store and expect to leave empty handed. Shelves are lined with exquisite artisanal products hand-sourced from around the world, from hard-to-find olive oils, specialty coffees and chocolates, to Italian pastas and sauces, fresh breads, spices and salts. The store is also Australia's leading truffle, caviar and mushroom importer, which means droolworthy assortments of quality products. Keep a watch for the in-the-pipeline on-site cooking school and local fruit and vegetables sales. Definitely try out some of their dishes and coffee too that they serve.
Pasta Emilia
259 Riley St Surry Hills Ph: 9386 1516
www.emilia.com.au
Looking for some good pasta dishes? What about if we tell you that these dishes are made from only the best ingredients and the freshest produce only? Then you should be heading to the Pasta Emilia where you can find these scrumptious delicacies. Enjoy their different types of pasta dishes and sauces that are only made from the best. If you want to learn from their cooking though, they can also give you lessons in their pasta-making classes you will surely love.
Sides and Main
Shop 7, 5-15 Orwell St, Potts Point Ph: 9350 9119
Are you a person who has little time when it comes to cooking? Are you a person who has poor cooking skills? Then you should head to the Sides & Main gourmet deli & catering for your needs. Sides & Main provides freshly prepared homestyle food to take away for the time poor. The menu changes with the seasons and all food is cooked on site. Pick up lunch or dinner or choose from the extensive catering menu to entertain at home.
Simmone Logue Fine Food Company – Double Bay
2 Cross St Double Bay Ph: 9327 5700
www.simmonelogue.com
Tired of just eating normal type of bread? Do you want some baked goods that would melt in your mouth? Then you should be heading to Simmone Logue Fine Food Company. They have the best breads for you to try out like those flaky croissants that will definitely make your mouth water. They also have some danishes that are definitely heavenly. Their menu is an all-day breakfast so better check out some good meals out from their kitchen. Go right now!
The Deli Erskineville
110 Erskineville Rd, Erskineville Ph: 9557 2685
You want some French food? You want some really great cuisines that are exquisitely made from French chefs in the middle of Sydney? Then look no further because the Deli Erskineville is here to serve you. From Italian olive oils and amazing French cheeses to top-quality small goods, this is a very favorite place for the locals because it has all of the French foods you need. This is the place that you will need to visit if you are looking for some French and Italian food.
The Deli-Potts Point
Shop 5, 65 Macleay S Potts Point Ph: 02 9358 1266
Looking for some imported and local delicacies and some homemade meals? How about some award winning dishes that you will surely love? Then better visit the food lovers' heaven right now, the Deli-Potts Point. This is the place where you can have the most unique, scrumptious goodies that will certainly seduce you all day. They won the Best Deli '08 in the Best of Sydney awards so you better expect some great dishes coming your way. Get there and grab a bite now!
Deli Bellissimo
Top Ryde Shopping Centre Level LG2, Cnr Devlin St & Blaxland Rd Ryde NSW 2112 Ph: 02 9808 1005
Looking for a good place to stay and where the staff is friendly too? Then you do not need to look any further because you can find that at the Deli Bellissimo at Top Ryde Shopping Center. You can find everything you need here and they have a very clean environment too. Their food is very fresh and they and very affordable prices for them. They are also very well stocked for all of your Deli needs.
Encasa Deli
135 Bathurst St Sydney CBD NSW 2000 Ph: 02 9283 4277
www.encasadeli.com.au
This is where you can enjoy some Spanish food and cuisine. It is like a little piece of Madrid in this place in the heart of Sydney. You can't miss this because it is only steps away from Town Hall at 135 Bathurst St, Sydney. They have very giant salamis which are hang over a display cabinet. They also have some whole legs of jamon, wheels of cheese and terracotta dishes which are piled with plump and glistening olives. You definitely need to visit this place soon.
Black Olive Gourmet Food
Kareela Shopping Centre Shop 6, Cnr Freya St and Bates Dr Kareela NSW 2232 Ph: 02 9528 4294
www.facebook.com/pages/Black-Olive-Gourmet-Food/132641617477
Are you looking for some awesome meals at Kirrawee? Well then you simply just head up to the Black Olive Gourmet Food because they have what you want: awesome meals that fit your budget. They have this yummy Kaczanowski Corned beef which is an absolute dish to try out. It has some great garnishes that will make your mouth drool for more. They also have some very yummy treats to choose from. You really need to try out their dishes, they are absolutely delicious.
Wieczorkowski
78 Queen St Woollahra NSW 2025 Ph: 02 9327 7014
www.wieczorkowski.com.au
Eastern European Deli showcasing product from Poland and beyond + home wares, fine food & coffee, delicious sweet treats and take home options. They also have some different dishes for those who want organic stuff. They have Kosher certified, organic and gluten free products. They have some breads if you are feeling eating some and they are very delicious to taste too. They have bagels, bred rolls and more. They also have some chocolates and some confectionery and desserts to try out like Truffles, cookies, fudge and many more.
Delitalia Gourmet Foods
144 Cox's Rd North Ryde NSW 2113 Ph: 02 9889 3992
Looking for some deli foods but it seems that most delis have only a small range of meals to choose from? Then you should be going to Delitalia Gourmet Foods where you can find the best deli foods to taste and they have a great range of it too. This is a good place to catch up with your friends for some good coffee and some nice meals. They have some great Italian dishes that you must surely love afterwards. They also have some very friendly staff.
Ambrosia Delicatessen
121 Mulga Rd Oatley NSW 2223 Ph: 02 9580 7760
Delis have the best meals at the most affordable prices for them. If you are looking for one at Oatley right now then you should be heading to Ambrosia Delicatessen which has the best deli meals that your wallet can even smile at it. They have some great coffee too and some friendly staff to boot which gives you the proper service even for a deli. This place is getting very popular and so you should try out some of their meals real soon.
Jean Louis Joseph Deli Café
Birkenhead Pt Shopping Centre Shop 145, 19A Roseby St Drummoyne NSW 2047 Ph: 02 9719 3300
www.facebook.com/jeanlouisjosephdelicafe
This place serves breakfast, lunch and even takeaways. They have some catering too if you want to have them for some events. Their dietary standards are vegan so expect some organic and delicious dishes from their kitchen. They have some fresh bread, cakes, desserts, fruits and vegetables for their salads and many more. The place itself has an environment where you can definitely enjoy the ambiance of the place. They do not just limit their dishes to vegan though. They also cater those who want some scrambled eggs and a side of bacon which are absolutely good to taste.
Fourth Village Providore
5A Vista St Mosman NSW 2088 Ph: 02 9960 7162
www.fourthvillage.com.au
Soak up the contemporary European food market atmosphere while you get to choose from a wide range of specially selected local and imported produce – fresh produce, organic certified selection, fine cheeses, olive oils, jams, relishes and sauces, a wide range of quality deli items including their succulent home cooked leg ham, pies, and lots more. Check out their restaurant menu too with their daily specials and take your time to enjoy a great meal or a light snack which are created by their Head Chef.
Quattro Formaggi Deli
Shop 3, 803 Military Rd Mosman NSW 2088 Ph: 02 9960 3555
www.qfdeli.com.au
Looking for some good deli foods to shop? Well here at Quattro Formaggi Deli, you can find all of the best deli foods that you need. They have some of the best products that you need for your deli foods like the Tetsuya's Black Truffle Salsa, Fennel and Garlic Salami, Goldkenn Jack Daniels Chocolate and many more. They even have this free gift with $100 to spend with. You will never find a deli with this kind of gift for their customers. Do not miss out their good season deals too.