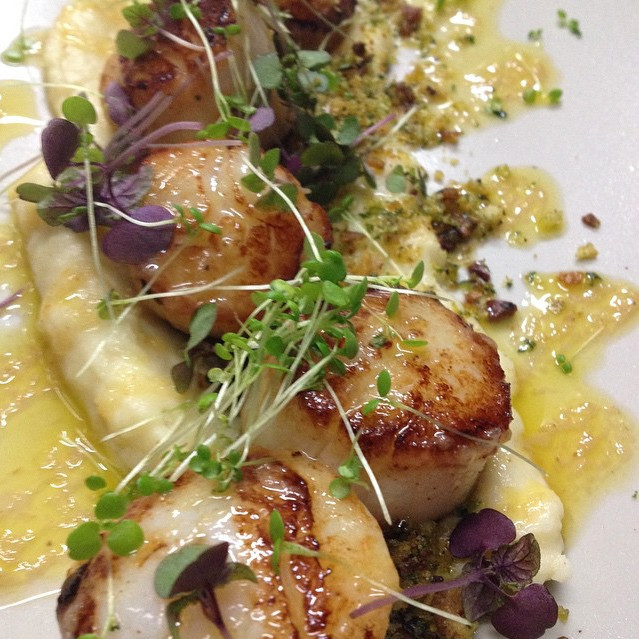 Intreped inner-west foodie JANE LOUISE ventured out of her Annandale-Newtown enclave into the daunting frontier of Marrickville to taste tapas created like never before….
Marrickville is generally known for its working class roots and cheap, excellent pho. But while real estate agents are now trying to bill Marrickville as 'the new Paddington', we wonder if the new breed of cafes and restaurants in Marrickville aren't more like Balmain.
Forage is a good example. By night, Thursdays to Saturdays anyway, Forage is an intimate tapas bar which, while serving a world-class menu (more on that in a moment) is authentic, creative and down-to-earth. Staff were attentive, friendly and thoughtful and the 'little touches' (music, olives on arrival, not having to request water) made it that much more special. Extra attention was given to our dietary requirements and nothing was too much trouble.
And now to the food. To be honest, I'm not sure if I know how to write this without gushing. Thinking of what we know as tapas, we definitely over-ordered (although our plates were still scraped clean). Their tapas are the true style of share plates, with enough for three.
Everything we tried had a well-balanced blend of flavours coupled with perfectly-timed cooking. The haloumi (served with lemon, just the right amount of chilli, and roast capsicum) drove me straight to facebook to announce I had died and gone to heaven! (This on only one glass of their 2012 Greenstone Sauv Blanc – a fresh, light and fruity biodynamic NZ wine.)
Garlic king prawns were served with preserved lemon, grape tomatoes and tiny balls of fregola pasta. The braised Berkshire pork shoulder (grass fed), an in-house favourite, melted to the touch – I could have chosen this as a main and been perfectly happy.
But my stand-out item was their rabbit, quail and pistachio terrine. Presented on a board with thinly sliced bread, petite gherkins and king-sized capers, with a side of mustard quince relish, this smoky treat exceeded all expectations.
An extraordinary amount of care has gone into each detail of the menu, making Forage's passion for their craft clearly evident.
Forage Tapas and Wine Bar is perfect for a date night or for an evening with two or three close friends.!
Forage Tapas, Wine Bar, Bakery & Cafe,
181 Marrickville Rd, Marrickville
To find out more go to their Facebook page: facebook.com/foragemarrickville