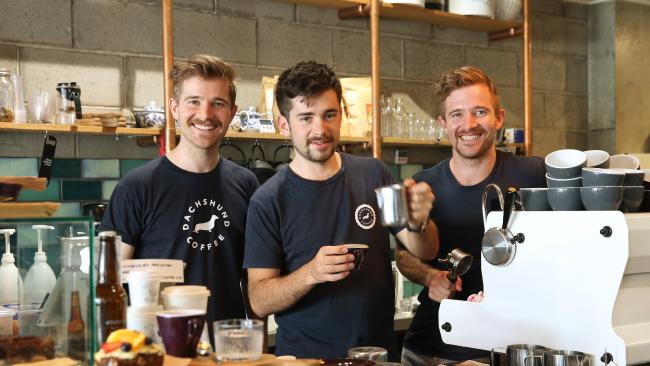 Sydney cafes and restaurants don't just deliver the best food and coffee in Australia – the relaxed vibe and neighbourly tone of most cafes and restaurants means there's an abundance of places where you'll be made to feel welcome and at home. Here are a selection of the friendliest and funkiest cafes in Sydney.
Paper Bird
46A Macleay St, Potts Point Ph: 02 9326 9399
http://paperbirdrestaurant.com/
facebook.com/paperbirdpottspoint
An Asian inspired restaurant and fully licensed bar, Paper Bird is open for breakfast on Saturdays and Sundays closed Sunday night and offers lunch and dinner Mondays to Saturdays. Modern twists to Asian favourites and gluten free options, Paper Bird looks like it's here to stay.
Papi Chulo
22-23 Manly Wharf, Manly Ph: 02 9114 7341
https://merivale.com.au/venues/papichulo
facebook.com/papichulomanly
Relish the big flavours that Papi Chulo is known for using the best ingredients to complete your dining experience. Luscious marinated meats, the freshest seafood and the seasons best harvest to harmoniously blend together for a sublime meal. Top it off with wine selections that brings the whole to a delightful balance.
Pheast
302 Bronte Rd, Waverley Ph: 02 9387 6020
pheast.com.au 
facebook.com/pheastwaverley
Pheast is a small casual eatery that features inspired dishes made with the freshest local produce available. They let the quality of the ingredients speak for themselves vegetables on a prominent role. Servings are meant to be shared. Globally inspired, inventive, beautifully presented.
Porteño Sydney
50 Holt St, Surry Hills Ph: 02 8399 1440
porteno.com.au 
facebook.com/PortenoSydney
Porteño is an Argentinian restaurant committed to deliver the authentic flavours of Argentina prepared on a pit of fire or on a parilla. But it does not stop there, they also offer seafood and vegetarian options and most servings as to be shared as is customary in Argentina. Top the evening off with selections of Australian, South American or Italian wines from our private cellar.
Sagra Restaurant
62 Stanley St, Darlinghurst Ph: 02 9360 5964
sagrarestaurant.com.au facebook.com/sagrasydney
Sagra in Italian is a time to celebrate a single seasonal ingredient and enjoy it at its peak with the community. A meeting of food, community and culture which is the key essence of Sagra restaurant. Their menu changes depending on fresh local produce and the bet ingredients to give you the best dishes on a daily basis.
Kazbah
The Promenade Harbourside Shopping Centre Darling Harbour, NSW 2000 Sydney – Australia
02 9555 7067
www.kazbah.com.au
Dine and enjoy the unique ambience prepared to you at Kazbah. Their menu is distinct and diverse which is inspired by the culture of Middle Eastern, Moroccan and Mediterranean. The place itself shares the resemblance of restaurant found eastern part of the world. This makes the overall dining experience exquisite and fun. Kazbah serves lunch and dinner to their guests on a regular basis along with a huge variety of beverages from coffee, tea, juices, smoothies, frappes, soft drinks are more.
Bitton
36-37a Copeland St Alexandria NSW 2015
02 9519 5111
www.bittongourmet.com.au
Kid-friendly is something that best describes Bitton particularly with the unique services that they provide to children. Families can bring their child with them and enjoy an amazing and fun dining experience. Every Wednesday night for a limited time, Bitton offers kid's meal for free with every adult's meal. This saves guests with children with them a considerable amount of money during their visits at Bitton. Definitely bring your children with you upon your next visit.
Bellagio Café
285 Bronte Road Waverley, New South Wales, Australia 2024
02 9387 1562
www.bellagiocafe.com.au
Enjoy breakfast and lunch dishes served fast to you in a short amount of time at Bellagio Café. They served a variety of dishes to their guest on a daily basis between 7am – 4pm. Try out their Bellagio breakfast which consists of eggs on toast, bacon, Smokey bacon beans, mushrooms, tomato and hash brown which is a great value for your money. You can also purchase coffee, condiments and chocolates to bring home with your for you and your kids to enjoy.
The Grounds of Alexandria
Building 7A, No 2 Huntley St, Alexandria NSW 2015
02 9699 2225
www.groundsroasters.com
Enjoy your brewed fresh and hot right from the start served at the Grounds of Alexandria. With that said, coffee is not the only thing you can find their when you visit their place. They have a variety of starters, platters, sandwiches and salads, as well as beverages and sweets for you to enjoy. Their extensive kitchen garden allows their guest to see the abundance of fresh produce and wholesome goods. During weekends, live performances, arts and craft activities and more awaits their visitors upon their visit.
Sideways Deli Café
37 Constitution Rd Dulwich Hill, NSW
02 9560 1425
www.sidewaysdelicafe.com.au
A testament to the excellent and friendly service which Sideway Deli Café provides to their customers is the award and recognition that they've received being one of only a few cafes to be awarded with the top rating which is three stars. This do indeed say a lot to the quality of service that they render to their guests making Sideways Deli Café a nice and wonderful place to visit. Sideway Deli Café serves breakfast and lunch as well as hot and cold drinks.
Sandbar Caloundra
26 The Esplanade, Bulcock Beach, Caloundra, QLD 4551
07 5491 0800
www.sandbarcafekiosk.com.au/cafe
Great food, good ambience found at Sandbar Caloundra. Dine and experience one of the best Sunshine Coast restaurants found at Sydney today. The warm and sunny environment is the perfect place to enjoy breakfast and dinner with your friends or loved ones. Their breakfast menu is huge and varied with a light and sweet breakfast available to their guest as well as different Sandbar menu which is available for lunch. Check out their coffee & cake special today.
One Six Nine Café
169 Alison Rd. Randwick NSW
02 9398 2007
Breakfast is an important meal of the day and what good of way spending your breakfast is to make it different and varied. One Six Nine Café offers breakfast meals like you've never experienced before. Ever tried burritos for breakfast? Well One Six Nine Café has a Breakfast Burrito which consists of scrambled egg & house beans wrapped in tortilla, topped with tomato salsa & sour cream. Also try out their Corn Fritters for breakfast to start your day with a huge smile on your faces.
Goblin Café
6 Sloane St Summer Hill NSW 2130
(02) 8033 0981
www.goblincafe.com.au
The Goblin Café is an all around good family friendly café. Goblin Café encourages their guest to bring their children with them especially since they serve Kids menu which is perfect in keeping them busy. Muffins, sandwiches toasts, are available on a regular basis. They also serve organic and gluten free dishes which makes it perfectly healthy and convenient for vegan lovers out there. Enjoy your visits and have a taste of a different café experience found in Summer Hill.
Three Williams
613a Elizabeth St, Redfern 2016
02 9698 1111
www.facebook.com/threewilliamscafe
A great dining experience awaits guests upon their visit at Three Williams. Three Williams serve breakfast and lunch to their guest and kids are able to enjoy their wide selection of menu as well. They have scrumptious lemon tarts as well as a smoothie to keep kids busy. Try out their chicken schnitty burger with watercress, fennel, and lime mayo, served with a fistful of fries which is available for only $14. Visit them today.
Burnt Orange
108/1109 Middle Head Road Mosman NSW 2088
02 9969 1020
www.burntorange.com.au
You won't find anything burnt in here as Burnt Orange provides their guests with breakfast and lunch menus served fresh on a day to day basis. Burnt Orange's High Tea is quite popular to the locals especially the way that they are prepared. They are served with Avoca crockery and include finger sandwiches & savory tarts, homemade scones & jams, plus sweet treats and a tea or coffee. They also serve cakes for birthdays and celebration.
Chicken & Fishhead
Ground Floor, 3 Wongala Crescent, Beecroft 2119
02 9484 8149
www.chickenandfishhead.com
An all around café which is also a children's clothe shop by day, Chicken & Fishhead provides a huge selection of activities to their guests. Dine and enjoy light to moderate meals with your children and them shop and look for new clothes for them at the same time. The service is indeed friendly especially since the café is catered with the children in mind. Parties and birthdays can also be celebrated when you visit their café today.
The Boathouse
2 The Esplanade, Balmoral 2088
02 9974 5440
www.theboathousebb.com.au
Breathe new life to your overall dining experience by trying out something different and fresh once in a while. Dine and enjoy the scenery and ambience provided at the Boathouse. The harbour view is a sight to behold making the experience truly unique and refreshing. They serve breakfast and lunch on a daily basis and their scenery is great to be viewed especially during the day. Check out their breakfast and lunch menu by going to their site today.
Nielsen Park Café
Greycliffe Ave, Vaucluse 2030
02 9337 7333
www.nielsenpark.com.au
A stunning harbour view awaits customers upon their visit at Nielsen Park Café. Nielsen Park Café provides bookings and reservation with their functions for special occasion and events. The place is spacious making it great for kids to roam around with little to no worries about minor disturbances. Chill and unwind with a relaxing sparkling & champagne. They also have a wide variety of white and red wines available as well as beer and cinder which is available in an instant.
Armory Wharf Café
Blaxland Riverside Park Jamieson St, Newington 2127
02 9714 7513
www.armorywharfcafe.com
Armory Wharf Café provides their guests with a great view of the harbour along with a refreshing and cool scenery and environment. The riverside is perfect for short walk which is great after enjoying a filling meal. Armory Wharf Café serves breakfast, lunch and dinner menu to customers on a regular basis. The scenery changes each time you visit making it great for return trips with your family or friends. Kids inspired dishes are also served for children to enjoy.
Meadow Café
Address Prince Alfred Park Pool 1004 Chalmers Street, Surry Hills 2010
02 8399 1198
www.facebook.com/meadowcafe
Another relaxing place to visit and stay during the breakfast and lunch can be found at the Meadow Café. The view is nice and scenery is refreshing making it an ideal place to enjoy breakfast and lunch meals with you and your friends. Enjoy the warm and sunny weather along with the beverages served at the Meadow Café. Have a frappe or a coffee or tea to accompany you during your visits at Meadow Café.
West Juliett
30 Llewellyn St, Marrickville 2204
02 9519 0101
www.facebook.com/westjuliettcafe
A fun and exciting way to enjoy breakfast and lunch meals found at West Juliett Cafe. To those who love to bring their pets during their travels but have a hard time looking for a place to leave their dogs during breakfast or dinner will be happy to hear that Juliett Café welcomes these furry companions and encourages customers and guest to bring them with them to socialize. These dogs do stay outside though they are able to enjoy their time with their fellow companions with them.
Petty Cash
68 Victoria Road, Marrickville 2204
02 9557 2377
www.facebook.com/pages/Petty-Cash-Cafe/163033108963
Enjoy authentic and homemade dishes served at Petty Cash. Outdoor seating is available to those who love the open air and the place is quite spacious to hold a number of customers on a day to day basis. Their Vegan Caramel covered brownies is both delicious and healthy at the same time and the same can also be said with their Lemon Meringue Gluten Free Friands available for today. This gives vegans another option to visit their store.
The Local Press
19/331 Balmain Road, Lilyfield 2040
02 9818 1255
www.thelocalpress.com.au
The Local Press is home of house roasted coffees which serves breakfast and lunch meal on a day to day basis to their guests. They have a huge variety of coffee which includes Macchiato, Piccolo Latte, Flat White, Latte, Cappuccino and Mocha. Iced coffee is also served to those who want to cool down from the warm and sunny weather. Customers can choose to dine inside or outside the establishment as they offer tons of seats at their stores.
Copo Café and Diner
M3/135 Victoria Rd, Drummoyne 2047
02 9719 9057
www.copocafediner.com.au
Enjoy a relaxed atmosphere to free yourself from the busy streets of the city when you dine at Copo Café and Diner. For those who want to enjoy their meals outside, Copo Café and Diner provides a shaded Terrace with a view of garden and greenery. This gives their café a perfect atmosphere which is not too sunny or bright. If you have kids with you, they will enjoy their stay at Copo Café and Diner especially with their kiddo menu.
Flying Fox Café
Winnererremy Bay Park 2 Mona Street Mona Vale NSW 2103
02 9986 0980
www.flyingfoxcafe.com.au
The Flying Fox Café is one of the most popular destinations in Sydney with their sail roof and clear screens which makes them unique and different from the rest. This also makes Flying Fox Café cool and warm during breakfast and lunch meals. Their friendly service is not only seen with crew but also with the facilities and amenities that they provide. For small children, they have highchairs and mini toilet as well as menu centered for children.