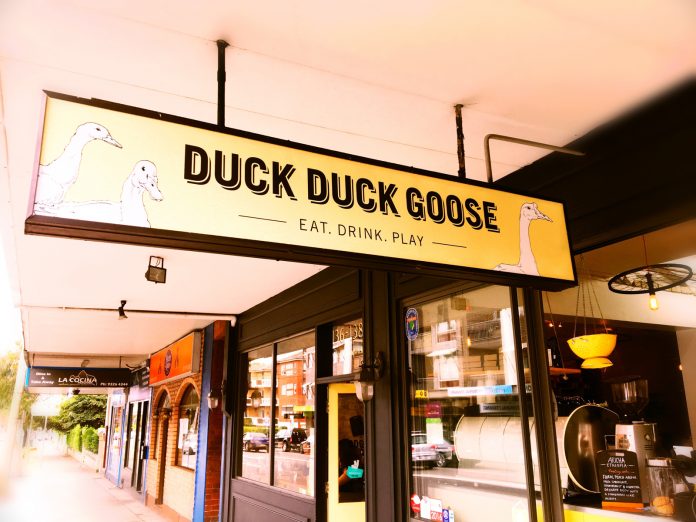 No, it's not a silly name for silly name's sake, it's actually the name of a children's game, popular in kindergarten or pre-school, where kids sit in a circle and a player walks around the outside of the circle, tapping each seated player on the head calling them "duck", until they decide to call one "goose", and that seated player has to jump up and chase and tag the other player around the circle before that player can sit down in the "goose"'s original spot.
There's no antics as crazy as that at Duck Duck Goose, but the sign hanging outside this Randwick cafe does say "Eat. Drink. Play", and there is a small, but defined section at the back behind all the tables where children can hang and entertain themselves with a bunch of toys and a large blackboard. It reminds me of another cafe, Three Williams, that has been tailored for parents with young kids who need a moment-and-a-half when they can sit, clutching their coffee, and stare into space, or converse in non-sequiturs, knowing their child(ren) are safe, nearby, and happily engrossed.
Duck Duck Goose is approaching two years young. Originally it was T's Book Shop, a friendly haven of second-hand literature, everything from classic hardboiled science fiction through to a solid children's section. The book shop eventually added a small kitchen in the front with an espresso station that could be accessed directly from the pavement. It proved popular, delivering decent coffee, and at one point was run by Lucas Parsons, one of the semi-finalists from the first season of MasterChef Australia.
The new owners have stripped back all the wood, jumping on the hip band wagon of industrial chic, and the space looks great, although in a curious way much more intimate than when it was the high-shelved bookstore. It actually feels like its been a cafe forever. Which is a good thing, it provides an immediate sense of familiarity and cosiness. It's a shame, then, that on the Sunday we decided to taste the farmyard animals' wares they were understaffed, and had a newbie kitchen hand. The result was a frantic edge as the cook scrambled with a full house of orders, whilst a waiter ran between the floor and front of house, clearing tables, taking orders, delivering dishes, greeting customers, and making coffees. Eventually he was assisted on the floor, and then there was a huge crash of glass as the new kitchen hand dropped a tray. I guess it was one of those mornings.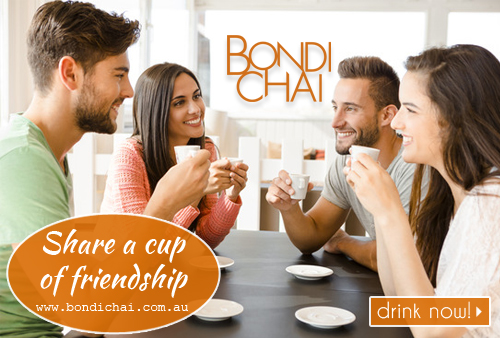 The menu isn't attempting to reinvent the wheel, and for the most part is rather ordinary, but breakfast is served all day, always a plus. I was tempted to get the sweet potato pancakes with crispy Lucas Meats streaked beechwood smoked bacon, roast pear, maple syrup & marscapone ($19), but decided to go for their take on an old standard, Croque Madame, gruyere béchamel, double-smoked ham, toasted and topped with a fried egg ($18). There was a wee wait, but thankfully the coffee (a large flat white) arrived fairly swiftly (all things considered), and boy, it was sensational. They have an exclusive grind, a blend of Columbia-Kenya-Costa Rica-Guatemala-Sumutra-Brazil, roasted with care somewhere in the heart of Alexandria. So good, I immediately ordered a second, regular, which was slightly more bitter, but I put that down to less milk.
My wife was instantly taken by the crispy miso-cured egg, sencha-smoked tofu, avocado, nori, black sesame on warm brown rice, kale and umeboshi plum salad ($22), which she thought was okay, not amazing. I wasn't overly impressed with my French classic done DDG-style. There wasn't enough cheese, and the ham tasted pre-packaged. This suspicion was confirmed by the hash browns I ordered on the side, which were tiny triangles, definitely the kind you buy in a packet in the supermarket. At $3.50, they were a rip-off. At least they gave me three, when I ordered two. My son didn't mind, and devoured two of them.
The rest of the menu sported some serious-sounding burgers (I was tempted, but it was mid-morning), such as the cheese & bacon burger with double American cheese, double beechwood-smoked bacon, DDG special sauce, spicy ketchup*, westmont pickles, tomato and lettuce ($21), and KFC (Korean Fried Chicken), kimchi slaw, gochujang mayo, and DDG special sauce ($18).
There's a booze menu also, with a solid bunch of craft beers (including several Dad & Daves, and a Feral Pig smoked porter), a couple of ciders, and a clutch of wines. A kids' menu features a three-course take involving a smoothie, then main, and a scoop of ice-cream (another parent-friendly option to keep them quiet for a fraction longer).
It was an expensive, and not entirely satisfying brunch, especially when you factor in the 10% surcharge on a Sunday (just what is that exactly?) But that awesome coffee lifted the overall game considerably, and the cafe has a pleasant vibe, no doubt enhanced when they're not understaffed and slightly stressed. Methinks I'll have to return for another coffee, and try one of those burgers, washing it down with a Dad & Daves' pilsener.
There were a bunch of different ketchups and hot sauces on a high shelf, but none of them available to use as a condiment. Meh.
Duck Duck Goose
136-138 Avoca Street, Randwick 2031
Phone: 9326 7389
Monday to Friday, 7am – 3.30pm
Saturday – Sunday, 8am – 3.30pm
Kitchen closes at 3pm both days.
Website: duckduckgooserandwick.com.au
Facebook: duckduckgooserandwick
Instagram: @duckduckgoose_randwick